Getting Proadvisor certified in QuickBooks Online is one way of enhancing one's professional profile, showcasing your expertise, and attracting new clients.
If you have come here for QuickBooks ProAdvisor certification exam questions, then you have arrived at the right place. In this article, we will describe the format of the ProAdvisor test, including length and rules. We will also explain about types of questions, give some examples that will help out any bookkeeper or CPA that is looking for QuickBooks Online certification exam answers 2020.
But first let us know how to get certified:
Sign up for or sign in to QuickBooks ProAdvisor Program and click on the 'Certification' tab in the ProAdvisor Portal.
Choose from the optional training modules. Each module is about 1-2 hours long and includes a supplementary guide that can be viewed at any time.
After completing the training, click "Take the exam". The exam should take 2-3 hours to complete upon which you can download the 'QuickBooks ProAdvisor certificate'
Basic rules of the QuickBooks ProAdvisor Certification Exam
QuickBooks ProAdvisor Online Certification exam has eight sections and or 75 questions. In the certification training you will find there are eight sections or modules that directly corresponds to a section of the exam.
So you can just learn from the training and directly take the exam to easily crack each section. When you go into the exam you can see each of the eight section as shown below corresponding how many questions are there with estimated time to complete them.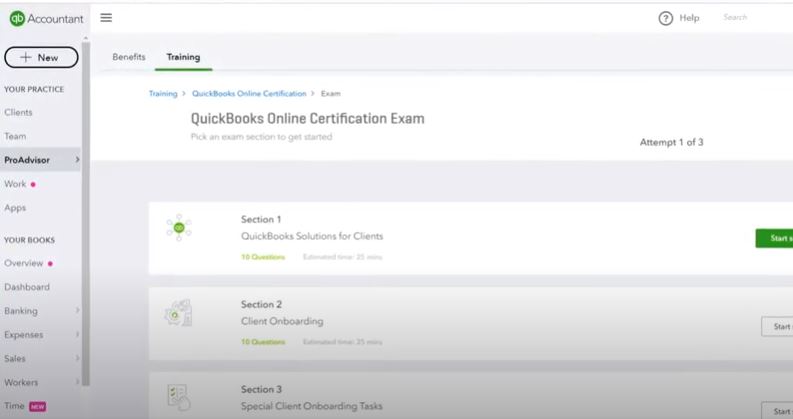 It is really nice that this test is broken up into these different sections because each section kind of like stands alone. So you can take a section and then you finish the whole thing and then you're able to go back and review it.
There is no time limit for the entire section. So you can spend as much time as you need to on this exam which is really great to pass the exam. you need to get 80% or higher. After you pass the exam it doesn't tell you the exact percentage of the score but just display Pass or Fail.
In case you fail, the system will allow you to retake only those section that you fail, so this is really nice. One things you must note that if you don't pass in the third attempt, you will have to wait for 60 days to take the whole test again.
Exam level is moderate and you just need basic knowledge of QuickBooks in order to pass the exam. You will also require a general knowledge of bookkeeping.
QuickBooks ProAdvisor Certification Exam Questions 2020
These are some QuickBooks Proadvisor certification exam/test questions.
Where to find things in QBO
What is the difference between ACCOUNTS and ITEMS?
What are the two primary reports in QuickBooks?
What is the difference between accrual and cash basis?
What is the difference between writing a check and entering a bill?
What is a Sub-Account and why would you use it?
Which customization would quickly condense the size of a Profit & Loss report
What is the difference between the cost of goods sold and operating expenses?
Where can you find the transfer funds function in QuickBooks Online:
Which of the following statements regarding App subscriptions for QuickBooks Online is accurate
Which of these Company Settings must be selected to activate online invoices
Why is setting a closing date and a password strongly recommended
Your client doesn't want to pay a monthly fee for their QuickBooks Payments merchant account. What other option is available to them, and where in QuickBooks Online can they sign up for QuickBooks Payments?
A great feature of QuickBooks Online is that there are other lists you can utilize to make it easier to fill in forms. Where would you go to find these lists?
Where can you go in QuickBooks Online to import a list of products and services?
The Chart of Accounts lies at the heart of a QuickBooks Online company. Which 5 of the following statements are true about the Chart of Accounts, how to make changes to the Chart of Accounts, and how products and services are linked to the Chart of Accounts?
If you want to give one or more of your employee's access to Your Practice, what types of user permissions can be set up?
Where would you go to add a new vendor or find the link to import a vendor list into QuickBooks Online?
Select the Limited radio button and check the Customer and Sales box
Your client wants to transfer $500 from their checking account into a savings account to cover tax liabilities for sales made last month. Where should they start the process?
What are 4 benefits of the Online Invoicing feature within QuickBooks Online?
You have a client business who uses invoicing, the Accounts Receivable workflow and they use the Banking screen to record a customer payment received. They select an income account and then select Add. What 2 problems will this cause?
When would you use the Add other funds to this deposit grid in a Deposit Transaction?
Which 2 of the transactions and tools in the list are Posting transactions?
Which QuickBooks subscription level or levels offer Sales reports that can be run to show location or class?
What 3 types of customer statements can be generated by QuickBooks Online?
Clients can take payments from their customers' credit cards via Online Invoicing if they have QuickBooks Payments set up. How does the customer interact with the invoice to access credit card payment features?
Which option has the correct information about how a delayed charge is used, and how it is created and linked to an invoice?
What 2 reasons from the options shown here might mean a transaction needs to be excluded in bank feeds?
Your client wants to understand the difference between cash-based and accrual-based reporting. Which is the best definition of cash-based reporting?
As with all business owners, you want to have a clear snapshot of how you are doing financially. Reports can provide a valuable insight into which 3 of the following?
Which report would you run to see a list of each customer with an open balance and columns for the age of open balances?
How do you change the status of a project in QuickBooks Online Accountant?
Managing inventory and avoiding out-of-stock situations is critical to the success of this type of client. What type of client does this best describe?
Is it possible for a client to change transactions in a QuickBooks Online company if the books have been closed with a closing date password? If so, how would you track any changes to transactions within the closed period?
Which 2 of these statements are correct when creating a client request in QuickBooks Online Accountant?
QuickBooks Online Accountant allows you to request information from clients. Which of the following 3 statements are accurate?
You have a client who needs a QuickBooks Online solution that includes tracking for sales and sales tax. Which subscription level in QuickBooks Online would you recommend?
The Work functionality in QuickBooks Online enables you to increase organization and efficiency. Can you identify 3 ways it does this from the options shown here?
What 2 options could you use to navigate from a client's QuickBooks Online company dashboard to the Exceptions to Closing Date report?
Taking care of pay reports for employees and subcontractors is a key task when preparing for the year-end. Which of the 2 forms below would need to be sent?
When would you need to reclassify transactions and how would you do it in QuickBooks Online? Select the option that answers both parts of the question correctly.
Which subscription option, if any, includes online banking, access from any device at any time, and integration with a wide range of apps?
So that's all. These were some ProAdvisor test tips for Quickbooks Online. It's FREE and FAST. So you can also take the exam and became Intuit certified QuickBooks ProAdvisor.