Intuit introduced Quickbooks Accountant Desktop 2021 in September 2020 which is better in features, easier and faster compared to an older version like 2020 and 2019. There are many advantages of QuickBooks Accountant desktop like this software is specially developed to reduce the overall productivity of some complex and time-consuming tasks of accounting professionals. It also provides the most exhaustive and customized accounting experience to CPAs and accountants. Go through the complete article here all the features and details are mentioned. For More Info contact our QuickBooks ProAdvisor toll-free: +1-844-405-0904
QuickBooks Accountant Desktop Plus 2021 helps you to enhance your productivity and also gives you better service delivery management. Besides this, Intuit also introduces QuickBooks Desktop solution 2020, and most of the users all reliable with this software. So, let's explain the latest key feature of QuickBooks Accountant Desktop 2021
Key Features Of QuickBooks Accountant Desktop Plus 2021
Improved bank feeds: It helps you to automatically categorize bank transactions with more further detail by using enhanced rules, batch editing, and advanced matching.
Create customer groups: It will help you to create rule-based customer groups based on fields like customer type, status, location, and balance so that you can easily maintain and interact with them.
Automatically send statements: Now you don't need to regularly send your statements to remind your customers of the open balance. Now, just schedule the email to send automatically each time they are sent out, without the need to customize them.
System requirements for QuickBooks Accountant Desktop Plus
System Requirement
Windows 8.1, or Windows 10 update/version supported by Microsoft
Windows Server 2012 (or R2), 2016, or 2019
2.4 GHz processor
4 GB of RAM (8 GB recommended)
2.5 GB disk space recommended (additional space required for data files)
4x DVD-ROM drive (unless user is downloading from Intuit server)
Payroll and online features require Internet access (1 Mbps recommended speed)
Product registration required
Optimized for 1280×1024 screen resolution or higher. Supports one Workstation Monitor, plus up to 2 extended monitors. Optimized for Default DPI settings.
Browser Requirement
Internet Explorer 11 (32-bit)
Integration with Other Software
Microsoft Word and Excel integration need Office 2013 – 2019, or Microsoft 365 (both 32 and 64 bit), E-mail Estimates, Invoices, and other forms with Microsoft Outlook 2013 – 2019, Microsoft 365, Gmail, and Outlook.com, other SMTP-supporting email clients.
Integration with QuickBooks POS 12.0, 18.0 or 19.0.Transfer data from Quicken 2016-2020, QuickBooks Mac 2016-2021 and Microsoft Excel 2013 – 2019, Microsoft 365 (32 or 64 bit)
Key Features of QuickBooks Accountant Desktop Plus 2020
Automatic Payment Reminder- This is one of the most interesting features in QuickBooks Accountant Desktop 2020. It automatically reminds the user when to pay the due payment, follow-up of payment with late-paying customers, all payment-related activities.
Easily adds customers PO number to the email subject in QuickBooks. It saves lots of users time by automating the addition of PO numbers to invoice emails
This version combines multiple emails to reduce the risk of customers inspecting invoice emails. And analyze customer payment processing by combining multiple invoices into just one email
QuickBooks Accountant Desktop version has improved navigation with a horizontal collapse feature. With the help of this feature, you can easily see the hide columns and read jobs and classes.
It offers you advanced help content and instant access to live experts and technical support. You just need to press "F1" for advanced help content or connect to live experts by messaging and call back options.
Accountant 2020 has the improved accountant copy file transfer feature.
key feature of QuickBooks Accountant Desktop Plus 2019
New Inventory Reports Filter:
Intuit introduces a new feature in QB accountant 2019, you can include or exclude inactive inventory items in inventory valuation reports, by these features you will save your time.
Your client's inventory is up to date so you don't' be waste your time for the update
Streamline workflow with the 1-click transfer of credits across customer jobs:

By this feature, your clients can transfer customer credits quickly, easily. When you work for customer credits so you no need for special accounting knowledge.
New time-saving features
QB accountant desktop new features have the ability to delete or void invoices and transactions in bulk. And also it can manage the client's vendor-related expenses in a better way. Therefore, it will save you and your clients valuable time.
This feature will save your time with its easier and faster search.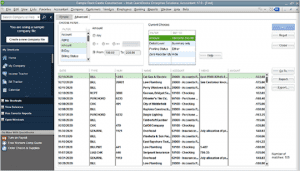 You don't need to remember the exact amount of a transaction. This feature will help you to search for a range of values to find a transaction.
Quickly locate the accounts, clients, and items by typing in a partial name. And also having QuickBooks fill in the rest.
You can use new report filters and view them very easily.

You can see the filters applied to report in just two clicks.
It is very easy to reproduce memorized reports by using visible filters.
Easily toggle back and forth between reports.
It helps to Delete or void transactions in bulk.

Search transactions using filters to delete or void.
It helps you to see the transactions before deleting them, which are connected to others.
It helps to protect your data with integrated backup.
You can help your clients to stay on top of vendor-related expenses with Bill Tracker.

With the help of this feature, you can track all vendor-related bills in a single window.
Also, you can see the bills which are overdue at a glance.
It takes immediate action on any and all open items.
Quickly merge duplicate vendors

For vendor management, A single, consolidated view makes it very easy.
You can search and identify to shortlist duplicate vendors, designate the master vendor in QuickBooks Accountant Desktop. And also merge up to four records at a time.
Multi-Monitor Support:
This feature helps to increase your productivity with Multi-Monitor support. Manage you're in a proper way with multi-monitor. You can work in QB more efficiently with multi-monitor viewing.

Easier and Faster:

You save time with these features. You can search a transaction in a proper way and don't waste time in this process, Search between a range of values to find a transaction. Search a Accounts, clients, and items by typing a partial name and having QB fill in the rest.
The Accountant Toolbox.
Accountant Toolbox is the most significant feature of QuickBooks Accountant Desktop Plus 2019. You can use the toolbox directly from your client's QuickBooks Pro or Premier software.
Write off multiple invoices on one screen.
Fix incorrectly recorded sales tax payments
Find & fix client entry errors faster with Client Data Review in QuickBooks Accountant Desktop plus 2019.
Here are 8 powerful tools given below to save you time.
Reclassify hundreds of transactions all at once.
Write-off multiple invoices on one screen.
Fix incorrectly recorded sales tax payments.
Troubleshoot inventory issues.
You also recognize the changes made to list items from a single window.
View changes to account balances from the previous close in a very quick way.
Immediately match unapplied vendor and customer payments/credits with their invoices/charges.
You can clear the Undeposited Funds Account from one screen.
Some other important features of QuickBooks Accountant Desktop plus 2019
Send a portable company file: Your clients can easily transfer to you a portable company files directly from QuickBooks. There is no need for you to teach and troubleshoot.
Insights on Home Page: Homepage access to crucial client data like profit and loss, and income and expenses, without having to run reports.
Multi-Instance: You can save your time by working in two company files at the same time. It can help you to answer client questions about their file. You don't have to close your own file.
Accountant's Copy: In this, you can work on your client's file, while they also work on it. You can adjust a prior while your client works in the current period. These adjustments are merged quickly and easily.
What's the Price of QuickBooks Accountant Desktop 2019
The first question will arise in the user mind related to Quickbooks Accountant 2019 is, how much Is Price of QuickBooks Desktop Accountant 2019?
The Price does not affect if the released version handles most of the work easily. This edition of QB is only sold through resellers and direct to accountant channels that's why these prices are not published anywhere.
User Edition: $549, $1,399, and $1,549
10-User License: $2899
QuickBooks user uses a different company file they cannot use a single company file. You can easily to turn estimates into invoices in one click and track the sales, expenses, and profit.
Do you know how long will QB Accountant be supported for?
Intuit updates and supports the software for 3 years after release, and sunsets the software support on May 31st of the consequent year, so it is supported until May 31st, 2022. But in theory-based thing is the software works forever means that software works as long as you have compatible versions of windows because of this reason so version can available for a long period.
Best Features of QuickBooks Accountant 2019 compared to QuickBooks Premier 2019?
When you work on the latest version first you think why should I get QuickBooks Accountant instead of QuickBooks Premier 2019? We will describe some of the following features help you get the best choice.
Batch Delete Transactions:
The new batch feature gives you the ability you can delete or void invoice, bill and check transactions.
Batch Enter Transactions:
These features help you to quickly import data from excel to QuickBooks for theses transactions types,
Credit Cards charges
Checks
Deposits
Bill-credits
Invoices/Credit-Memos
Batch Reclassify Transactions:
It helps you to rearrange or reclassify the accountants and classes wrongly categorized in batch.
Client data review:
This feature helps to work in the fastest way such as write off invoices, enter opening balances, fix undeposited funds, fix sales tax, and troubleshoot inventory issues.
Create period Copy:
It is great for exporting a file for audits and data from a limited period.
You easily work with 2 company files simultaneously.
Fixed asset manager:
It helps to calculate the depreciation(a decrease in the value of a currency relative to other currencies) from fixed asset items.
Comments to Reports:
This feature will be help added to print reports with footprints as well.
Statement Writer:
It allows you to create QuickBooks custom financial reports.
For, if you are an accountant receiving a copy of the file from a client,
Receive Accountants Copy:
You easily can make changes and this changes back to a client.
Send Journal Entries:
With the help of this feature Send Journal Entries to clients that send the accountant a copy of the QuickBooks file. Because journal entries show the full details of clients and easy to create a Journal Entry in QuickBooks Online.
Toggle to any version Of QuickBooks:
It will help to be able to see what their clients see.
Is QuickBooks Accountant 2019 has common features of QuickBooks Pro 2019?
Do you know why we should get QuickBooks Accountant or premier instead of QB Pro 2019? Both have the same features and some features are the following:
Sales order:
Estimates and Invoices both differ from each other, Estimates are not posting transactions and do not affect any accounting or inventory. And Invoices are transactions which used to complete a sales affecting sales and inventory. Sales orders have the complete internal control of approved orders or approved estimates and it's a confirmation document sent to the customers before delivering the goods by this receiver don't be confused after confirmation. The sales order key element is Backorder, its give the study of the list of items in stock.
Industry-Specific Reports:
These reports are specific for
Contractor
Manufacturer
Wholesale
Professional Services
Retail,
Non-Profit.
Purchase Order:
Creating Purchase order by estimates or sales orders. The purchase order gives information related to purchasing the item by presale worksheet. To share your Purchase order sheet to another client which is easy to understand because purchase order decide by estimate
Inventory Centre:
This center helps to easily analyze all transactions that involve a particular inventory item and these features were also introduced in version 2012, 2013 and 2014 as well.
Sales Order Fulfillment Worksheet:
This worksheet based on inventory quantities and allows the user to preview all fulfillable sales orders related to a worksheet. It gives prior information on sales orders by worksheet and can batch pick tickets or packing slips. Due to many reasons, the sales order Fulfillment worksheet helps to collect the data in the proper way.
Per Item Price Levels:
Set the custom prices for the item that are associated with different customers or jobs by this you can easily see the price. Do you know QB Pro has fixed percentage price levels only?
10 additional Sample Files:
Include these Industries,
Non-Profit
Contractor
Manufacturing
Consulting
Wholesale
Engineering Firm
Graphic Design
Law Firm
QuickBooks Pro has a general product and general service sample file only.
Inventory Assembly:
This is one type of line item used when you are creating a sales or purchase form. Assembly item is a combination of inventory part items and other assembly items and shows the defining bills materials, which lists the assembly item's component parts. You can create and add assembly items to inventory is a two-step process:
First of all define a bill of materials which helps to specify what components go into making the assembly item, then build a quantity of the assembly item so QBD can deduct the component parts from the inventory and add new quantities of the assembly item.
Now, after assembly items are defined and they are added to inventory by "building" them and an assembly build is necessary to keep inventory quantities accurate.
Enter Min and Max inventory Levels:
It's used for restocking control. QuickBooks Pro only works with Min Levels.
Auto Copy Ship-To Address:
This is a beneficial feature for companies converting sales orders to Purchase orders with DROP SHIP.
Bill of Materials:
This part helps to specify what components go into making the assembly item and then you build a certain quantity of the assembly item and its component parts no longer exist.
Current Availability Windows:
This is a preview of the current availability of Inventory.
Multiple Units Of Measure:
Its help buys by the dozen and sells by the unit.
Billing Rate Levels:
With these features, it is to have custom service item rates for different employees and vendors. So you can easily decide the vendor charge rates for an employee based on the service rendered. We can charges different rates by different vendors by applying this.
Forecasts:
Forecasts add another dimension to budgets with their own reports.
Batch Invoicing:
By used a single batch you send the invoice to multiple or even all customers with the same items and customers can be grouped into Billing Groups.
Invoice From Time & Expenses:
By this, you can easily manage your invoice as list form and any time view your invoice list by filter the list by date, sort your results and select which customers to bill. To check all customers very easily.
Balance sheet by the Class report:
Quickbooks Pro version can do Profit & Loss by class but no balance sheet.
Change Order notes:
These notes help too, an option that adds a note with a timestamp of changes made to an estimate.
Previous Reconciliation Reports:
It saves an unlimited history of previous reports from reconciliations. But QB Pro will only have the last report reconciled.
Reverse Journal Entry:
It creates a journal entry with opposing debits and credits on the next day of the original journal entry.
Job Costing Centre:
Only one worksheet to review all QuickBooks job Costing related functions.
QuickBooks Business Planner:
This is a business solution tool, helps to create a very comprehensive Business plans and it can take the data straight from your QB file to reduce data entry of financial data. New or different business plans help you to grow your business, so you can use this QB business planer.
I hope this will help you to understand the Advantage of QuickBooks Accountant Desktop plus 2019 and know the new features of QuickBooks Desktop Plus 2020. You should also read some good accounting textbooks to enhance your skills & knowledge.
In order to get support, you can talk to a QuickBooks ProAdvisor at our QuickBooks help number +1-844-405-0904 toll-free.