Intuit introduced the QuickBooks Accountant Desktop Plus 2023 as a complete accounting solution for all accountants to complete tasks quicker than before in a productive way. It developed some of its features to an advanced level, and add on some of the features by making work flexible, to make a productive output. 
Go through this article, to know, what's new in the QuickBooks Desktop Accountant Plus, what are the system requirements for QuickBooks Accountant Plus to use, and the compared features of the plan by years.
What's New in QuickBooks Desktop Accountant Desktop Plus 2023
In QuickBooks Accountant Desktop Plus 2023, Intuit tried to improve some of the old features, and add on some of the new features to make the accountants, and their clients focus on business. 
With the old features, QuickBooks added some new features for the year 2023. Here are some of the new features of the Accountant Desktop Plus;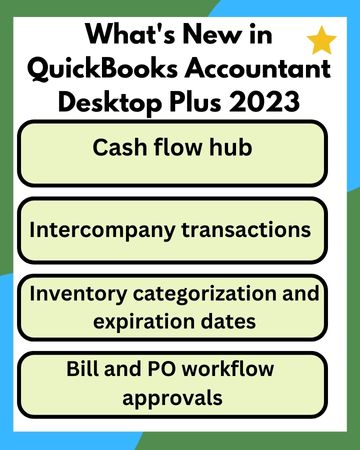 Cash flow hub
Cash flow hub is the additional feature in 2023 that gives you the option of a single dashboard where you can monitor all the incoming and outgoing cash flow. You can track sales receipts, credit memos, invoices, and payments.
Inter Company transaction
You can manage multiple business transactions as well as an intercompany transactions where you can establish a relationship between entities with one dashboard. You can also track transactions after assigning assets and liabilities accounts.
Inventory categorization and expiration dates
This is an additional feature that helps to categorize your inventory that helps to save time. You can boost your sales by categorization the products which help in making report easily. It also helps in assigning expiration dates that reduce business losses.
Bill & PO workflow approvals
With flexible bill and purchase order workflow approvals that produce a digital audit trail for each transaction, you can better manage cash flow, increase transparency, and contribute to fraud prevention. You can delegate confidently while preserving control as well as monitor your cash flow, track unpaid payments and POs, and manage your cash flow all from one dashboard. Employees get timely reminders so that they don't miss an approval deadline, employees receive prompt reminders. You can easily create approval flows that are tailored to your company by customizing your workflow approvals or by using pre-made templates.
Enhanced Computing Power (64-bit)
This time QuickBooks has given emphasis on the working performance of the plan. Now, in this version, you can accomplish your accounting activities faster with reliable, and quicker, and can run QuickBooks with improved performance.   
Pay Vendor Bills Online
Now the vendor's bill can be paid online. You just need to choose the option of digital or physical for the funding source to pay the vendor bill.
Attach Documents to Transactions
Attach the documents through the QuickBooks Desktop mobile app by uploading the documents directly. And transfer the documents faster without any hassle.
What will make you Love to Use the Accountant Desktop Plus or Additional features of Accountant Desktop Plus
With the help of an accountant toolbox, you are able to get action from anywhere and it helps your day-by-day activity easier. If you are using QuickBooks pro or premier remotely then you can access your accountant toolbox from your clients. Here are some of the points that will make you love to use the QuickBooks Desktop Accountant Plus version 2023. Have a look;   
More Productivity with Accountant Toolbox
The Accountant Desktop Plus of QuickBooks gives you a productive output;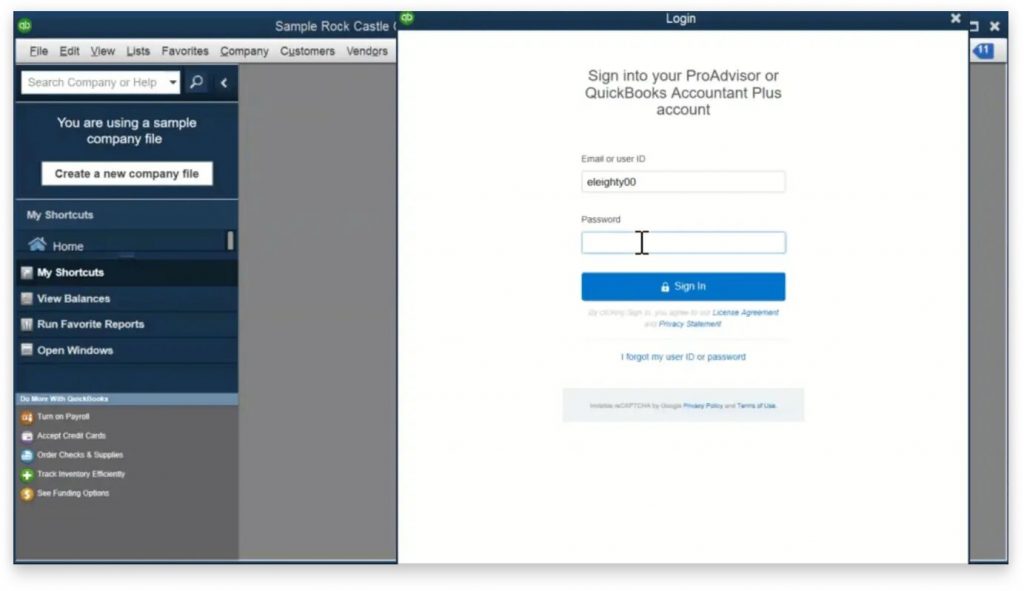 Allows accessing the Accountant Toolbox from your clients. The QuickBooks Pro, Premier is remotely in a hosted setup.
Now you can find the entry error and can fix the error quickly with Client data review.
At the same time, it gives you the facility to delete, void, or reclassify hundreds of transactions at once.
And work in a productive way by writing off multiple invoices on one screen.
Client Collaboration
Accountants copy, make an easy collaboration between you, and your clients to work out the plan successfully.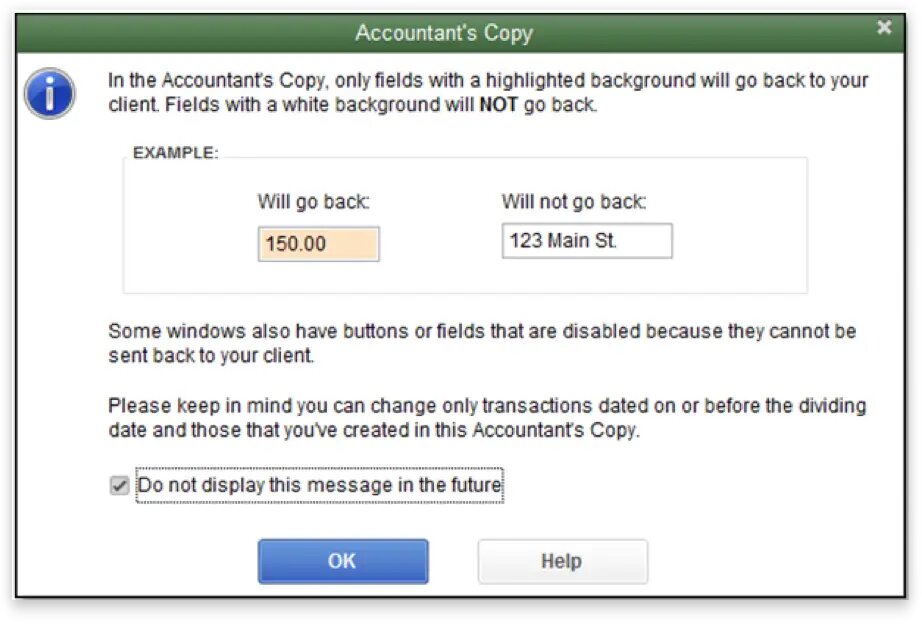 Access, and work on your copy of the client's files. And the best part is, you can work, even if clients are working at the same time.
The settings and adjustments will be merged easily, and quickly.
Transfer the working files to your clients easily, instead of saving the file to a computer or any drive.
Work Flexibility
The QuickBooks Accountant Desktop Plus helps you to work with flexibility, by accessing and viewing multiple client files in one place.
Save your valuable time, by working on multiple company files at the same time. 
Use the 'Search Auto-fill' to locate items, clients, and accounts faster.
Trained yourself to work with QuickBooks with efficiency in multi-user mode.
System Requirements for QuickBooks Accountant Desktop Plus 2023
To take the advantage of all the advanced features of QuickBooks Accountant Desktop Plus 2023, arrange all of the needed system requirements by following the list;  
System Requirements
Windows 10 (64bit) or update/version supported by Microsoft. Linux and windows 8.1 are not supported.
Windows Server 2012 (or R2), 2016, or 2019, 2022 (Regular or small business server)
Required 8GB RAM (For 64-bit application) but 16 GB is recommended.
You need internet access in Plus and Enterprise subscriptions for the payroll and online features.
Active Plus or Enterprise subscription is mandatory in QuickBooks Desktop App. The app must be installed on a camera-based mobile(Android 6.0 or iOS 12 or later). 
2.4 GHz processor
2.5 GB disk space recommended (additional space required for data files)
Optimized for 1280×1024 screen resolution or higher. Supports one Workstation Monitor, plus up to 2 extended monitors. Optimized for Default DPI settings.
Product registration is required.
4x DVD-ROM drive (unless the user is downloading from Intuit server)
Integrated Software
Microsoft Word and Excel integration need Office 2013 – 2019, or Microsoft 365 (both 32 and 64-bit), E-mail Estimates, Invoices, and other forms with Microsoft Outlook 2013 – 2019, Microsoft 365, Gmail, and Outlook.com, and other SMTP-supporting email clients.
Integration with QuickBooks POS 12.0, 18.0, or 19.0.Transfer data from Quicken 2016-2020, QuickBooks Mac 2016-2021 and Microsoft Excel 2013 – 2019, Microsoft 365 (32 or 64-bit)
Browser Requirement
Internet Explorer 11 (32-bit), and Google Chrome are recommended.
Integration with other software: Microsoft 365, Microsoft word, and excel integration that requires office 2013- 2021.

Invoices, Email Estimates, and other forms with Microsoft outlook 2013-2019, Microsoft 365, Gmail, and Outlook.com. Integration with QuickBooks POS 19.0.
Transfer data from Quicken to QuickBooks mac and mac plus as well as Microsoft excel.
Plans & Pricing
QuickBooks Accountant Desktop Plus comes with 2 ProAdvisor bundles plans; ProAdvisor Premier Software Bundle, and ProAdvisor Enterprise Software Bundle. These two bundles are not only available in the QuickBooks Accountant Desktop Plus, but also available in QuickBooks Desktop training and certifications, and 24/7 Customer Support.
These two bundles are available at the cost of;
ProAdvisor Premier Software Bundle: $799/yr
ProAdvisor Enterprise Software Bundle: $1299/yr
How to Get ProAdvisor Bundles in Accountant Desktop Plus
Follow the steps to afford the ProAdvisor Bundles;
Visit the official page of QuickBooks Desktop Accountant Plus.
Then go to the 'Pricing/ProAdvisor Desktop Bundles' section.
There you will get a chart of the ProAdvisor Premier Software Bundle, and ProAdvisor Enterprise Software Bundle with their pricing details.
Decide, which one you want to afford, and click on the 'Buy Now option.
QuickBooks will ask you to add payroll and will provide some of the details like the pricing, and advantages of adding payroll in the bundle plan.
If you agree to add payroll then click on the 'Add Payroll' option.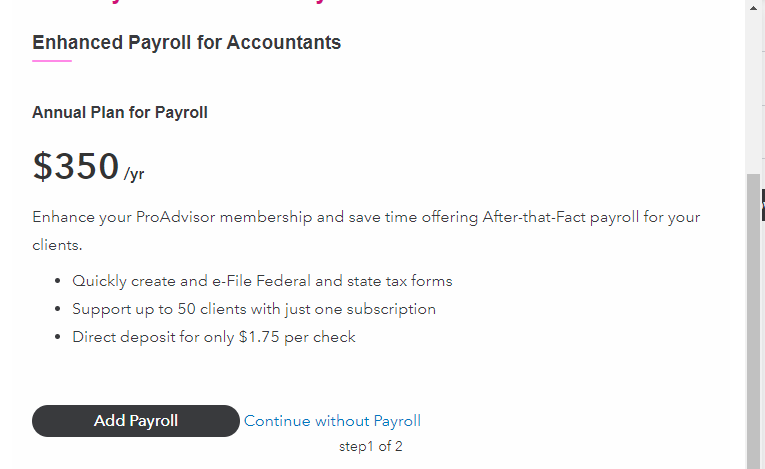 Next, read the terms, and conditions of the plan.
If you agree with the terms and conditions then, check the mark on the 'I agree to these terms and conditions.' box.
And click on the 'Continue to Checkout option.
Now QuickBooks will take you to the 'Intuit Shopping cart' with a budget bill.
Click on the 'Check Out' option.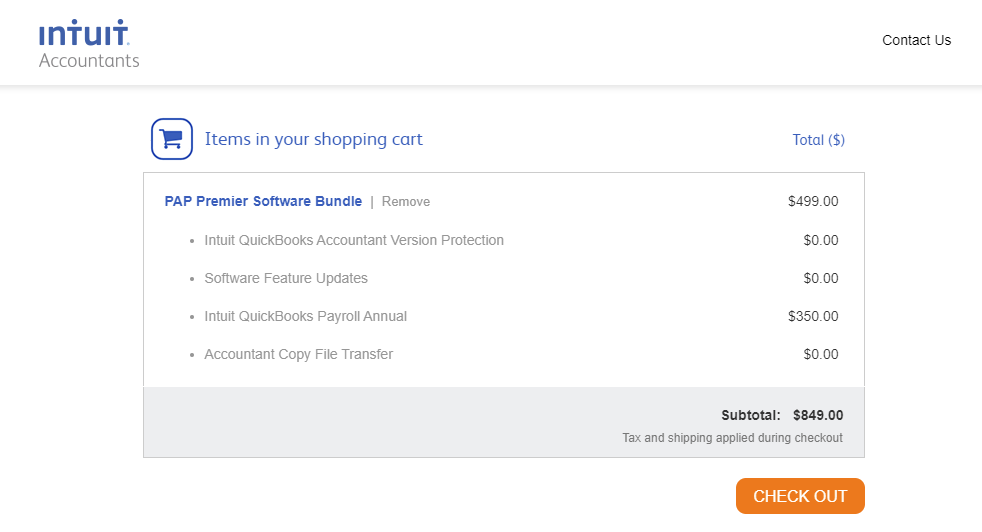 And sign in with your Intuit account credential.
Key Features Comparision by Version Year
Here, we have compared some of the QuickBooks Accountant Desktop Plus features by versions, have a look;
| Key Features | 2023 | 2022 | 2021 | 2020 | 2019 |
| --- | --- | --- | --- | --- | --- |
| Cash flow hub Manage incoming and outgoing cash flow | ✅ | | | | |
| Inter-company transaction Manage multi-business with one dashboard | ✅ | | | | |
| Categorized Inventory categorized your inventory accordingly | ✅ | | | | |
| Bill and Po workflow approval Get timely reminders | ✅ | | | | |
| Enhanced Computing Power (64-bit) (Speed Up your Activity with the new empowered feature) | ✅ | ✅ | | | |
| Pay Vendor Bills Online (Pay your vendor bills digitally) | ✅ | ✅ | | | |
| Attach Document for the transaction (Attach documents using the Desktop app, and make the transaction faster) | ✅ | ✅ | | | |
| Improved bank feeds (Can categorize bank transactions automatically with more detail by using batch editing, enhanced rules, and improved matching.) | ✅ | ✅ | ✅ | | |
| Combine multiple emails (Simplify customer payment processing by consolidating multiple invoices into just one email.) | ✅ | ✅ | ✅ | ✅ | |
| Automatically send statements (Automate regularly sent statement emails, tailored to different customer needs) | ✅ | ✅ | ✅ | | |
| Smart Help (Get smart, and expert help instantly) | ✅ | ✅ | ✅ | ✅ | |
| Customize payment receipts (Customize payment receipt formatting, including logos, for a professional and consistent look across your customer communications.) | ✅ | ✅ | ✅ | | |
| View inactive items in inventory reports (A new filter to include/exclude inactive inventory items gives an up-to-date assessment of inventory) | ✅ | ✅ | ✅ | ✅ | ✅ |
| Create Customer Groups (Create rule-based customer groups based on fields like customer type, status, location, and balance, so you can easily manage and communicate with them.) | ✅ | ✅ | ✅ | | |
| Transfer credits across different jobs (Simplified 1-click transfer of credits across customer jobs for a streamlined workflow.) | ✅ | ✅ | ✅ | ✅ | ✅ |
| PDF Preview (Automatically preview attachments before emailing them to customers.) | ✅ | ✅ | ✅ | | |
| Quickly merge duplicate vendors (Search and sort to identify duplicate vendors, designate the master vendor, and merge up to four records at a time.) | ✅ | ✅ | ✅ | ✅ | ✅ |
| QuickBooks Desktop Manager (Easily find and install all of your QuickBooks Desktop products from a single management tool.) | ✅ | ✅ | ✅ | | |
| Increase productivity with Multi-Monitor support (Increase your efficiency and visibility into your QuickBooks files through multi-monitor viewing.) | ✅ | ✅ | ✅ | ✅ | ✅ |
| QuickBooks Capital (Get access to transparent, easy, flexible business funding —with no origination fees, prepayment penalties, or hidden charges.) | ✅ | ✅ | ✅ | | |
| Accountant Toolbox (Unlock access to powerful accountant tools on the go) | ✅ | ✅ | ✅ | ✅ | ✅ |
| QuickBooks Tool Hub (Fix common problems and errors with a hub containing easy-to-use troubleshooting tools.) | ✅ | ✅ | ✅ | | |
| Send Portable Company File (Clients can send you a portable company directly from QuickBooks.) | ✅ | ✅ | ✅ | ✅ | ✅ |
| Automatic payment reminders (Easily set reminders for customers when their invoices are due.) | ✅ | ✅ | ✅ | ✅ | |
| Send Files Securely (Send Accountant's Copy files through secured Intuit servers with Accountant's Copy File Transfer Service) | ✅ | ✅ | ✅ | | ✅ |
| Customer PO numbers in emails (Easily add customer PO numbers to email subject lines in QuickBooks) | ✅ | ✅ | ✅ | ✅ | |
| Find and Fix errors fast (Find and Fix client entry errors faster with Client Data Review.) | ✅ | ✅ | ✅ | ✅ | ✅ |
| Take a cross-edition expedition (See what your clients see with instant access to all QuickBooks editions in one software package.) | ✅ | ✅ | ✅ | ✅ | ✅ |
Key Features Comparision by Version Year
Key Features Of the 2020 version
Automatic Payment Reminder is one of the most interesting features in QuickBooks Accountant Desktop 2020. It automatically reminds the user when to pay the due payment, follow up on payment with late-paying customers, and all payment-related activities.
Easily adds customers' PO number to the email subject in QuickBooks. It saves lots of users' time by automating the addition of PO numbers to invoice emails
This version combines multiple emails to reduce the risk of customers inspecting invoice emails. And analyze customer payment processing by combining multiple invoices into just one email
QuickBooks Accountant Desktop version has improved navigation with a horizontal collapse feature. With the help of this feature, you can easily see the hide columns and read jobs and classes.
It offers you advanced help content and instant access to live experts and technical support. You just need to press "F1" for advanced help content or connect to live experts by messaging and call-back options.
Accountant 2020 has an improved accountant copy file transfer feature.
Key Features of the 2019 Version
Inventory Reports Filter: you can include or exclude inactive inventory items in inventory valuation reports, by these features you will save time.
Streamline workflow with the 1-click: Your clients can transfer customer credits quickly, and easily. When you work for customer credits so you do not need special accounting knowledge.
Report Filters: You can see the filters applied to the report in just two clicks. It is very easy to reproduce memorized reports by using visible filters. Easily toggle back and forth between reports.
Merge Duplicate Vendors: For vendor management, A single, consolidated view makes it very easy. You can search and identify to shortlist duplicate vendors and designate the master vendor in QuickBooks Accountant Desktop. And also merge up to four records at a time.
Frequently Asked Questions (FQAs)
How is QuickBooks Accountant different from QuickBooks Pro?
QuickBooks Accountant is completely different from QuickBooks Pro. The Accountant version is specially designed for professionals and includes all of the features of QuickBooks Pro and Premier to manage multiple clients. You can find extra features like multi-instance, accountant's copy, email Journal entries, and toggle in the QuickBooks Accountant version.
Can I use QuickBooks to run payroll for the clients?
QuickBooks gives you the facility to serve payroll services as an accountant. You can get the control and flexibility to process the payroll for your clients with Intuit QuickBooks Payroll Enhanced for Accountants.
What is the difference between QuickBooks Online and QuickBooks Online Accountant?
The main difference between these two versions is; QuickBooks Online is used for clients or businessmen, whereas QuickBooks Online Accountant is developed for accountants or professionals. QuickBooks Online is only for self-use. QuickBooks Online Accountant is for accountants, who serve services to multiple clients.
This was the article about the new release version of QuickBooks Accountant Desktop Plus. Hope you find it informative. Still, if you have any queries or doubts regarding the topic then feel free to contact our certified QuickBooks experts through the toll-free number+1-844-405-0904 for further assistance.