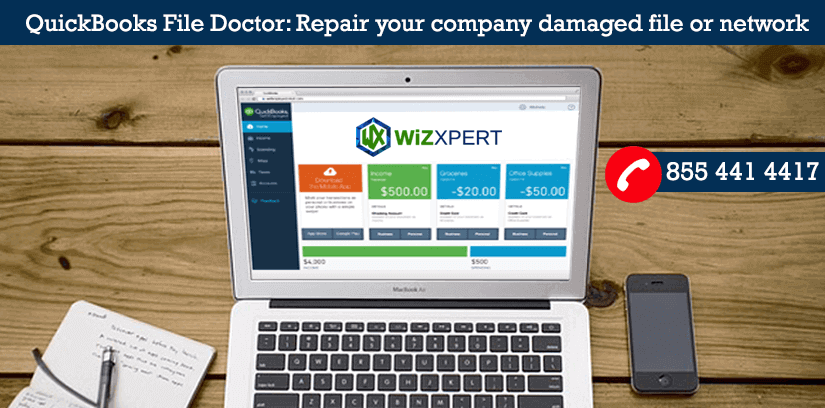 While working with QuickBooks, users often face errors like damaged company files, network connectivity issues. Well if you are searching for a tool to repair, here your search terminates.
QuickBooks file doctor tool can be used to repair your damaged or corrupted company files. As you already understand by the name doctor, like the profession it also recovers certain damages or bugs in any of your QuickBooks files. It can help you resolve following errors:
Fix company file and network issues
Error -6000, -301: An error occurred when QuickBooks tried to access the company file
Error: -6000, -77 when opening a company file
Error: -6073, -99001 QuickBooks is unable to open this company file
Fix Company File in use, Feature in use, Another user doing XXX, or Transaction in use errors
and many other errors & issues
What is QuickBooks File Doctor?
In very simple terms, It is a simple file repairing software to fix the type of file and data corruption, network diagnosis, windows problems, and far more. QB File Doctor checks your company damaged file and try to resolve it quickly as soon as possible.
This tool is one of the most important any easy component of troubleshooting steps when your company files are corrupted or not responding because of any reason. This software only works for UK and US version of QB.
It was launched in 2012 by Intuit. Before this, Intuit had two different programs to solve different issues, which were QB Company File Diagnostic Tool (QCFD) and QB Network Connectivity Diagnostic Tool (QNCD), Intuit combined these two tools in one program that is QuickBooks File Doctor.
It is built-in to 2014 R5 and later versions, but internal File Doctor only helps you with solving data regarding problems, apart from that it will not help you to access company files issues or getting any type of error problem. But if your problem related to a company file that is highly damaged or you are getting error series like 6000 then you can use the built-in QB File Doctor.
This tool will help you with…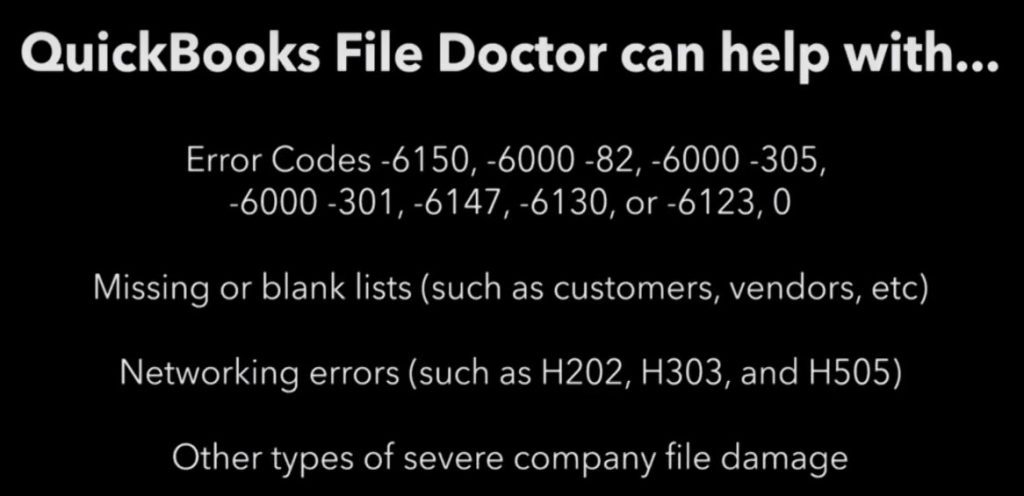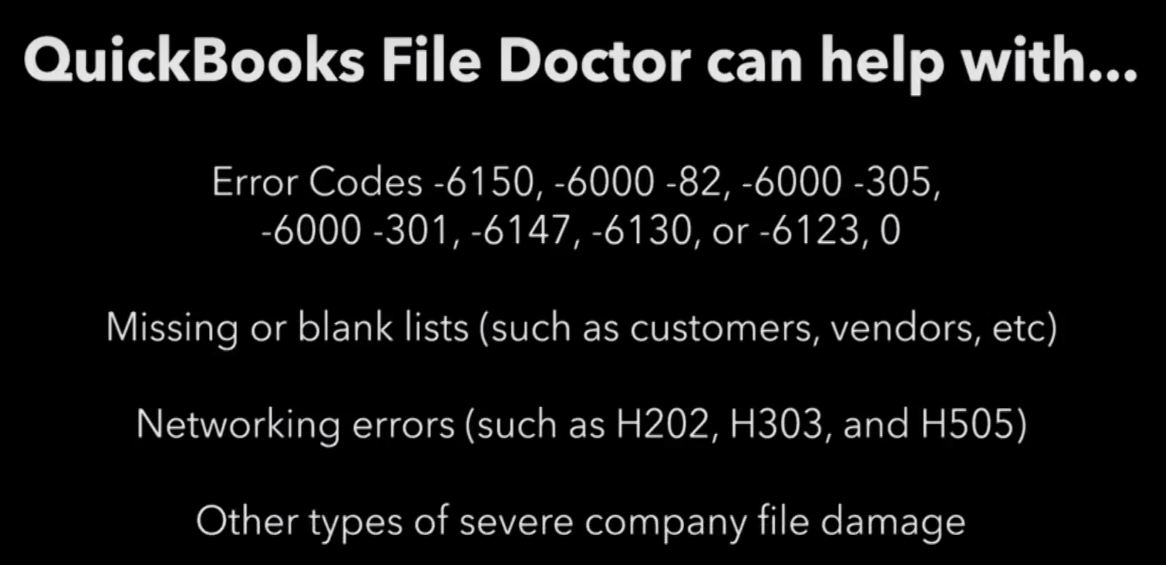 If you are not able to access your company file or facing errors like 6000 series error, 6150, 6146, and 6130.
You have to lose some company files or employee's data files.
Network issues mostly in accessing the multi-user setup problems (Get an error like H101, H202, H303, or H505).
If you are trying to access company files in one system which is stored in another system. (.QBW and.QBA in files extensions).
Advantages of using QuickBooks file doctor tool
The QuickBooks file doctor tool is very helpful in solving network issues.
QuickBooks errors such as the -6000 series may make the best use of the File Doctor tool.
Another advantage of this tool is that it helps the users to fix errors such as H101, H202, H303, or H505.
If the user has lost some important data, the File Doctor tool can help them a lot to recover.
If the user is trying to access the company file in one system, which is stored in another system, then QBFD can work in such cases.
In the case that data is about to be damaged, the QuickBooks File Doctor tool can be lethargic.
Important things about QuickBooks File Doctor tool
These are many important points that you should know about QuickBooks File Doctor tool.
You should uninstall the existing QBFD before downloading the latest version.
Since all QB versions post 2015 come with an inbuilt file doctor in, it has been recommended to use the external file doc tool.
QBFD is accessible with all QuickBooks desktops for windows versions.
QBFD doesn't work with QuickBooks for MAC.
There are two types of File Doctor tool are available:

Built-in file doctor (accessible in all QuickBooks 2016 and later versions).
QuickBooks File Doctor stand-alone version (you can download from the internet).

QBFD may appear automatically in case of some errors. Just click the start button and let the tool do its work. If you use the guide below, in case the doctor does not show you automatically
Compatibility of QuickBooks file doctor tool
QuickBooks File Doctor tool has become the QuickBooks built-in tool for QuickBooks Desktop 2016 and later versions. The File Doctor tool works well with all QuickBooks desktops for the Windows version.
Always remember that the QuickBooks File Doctor tool is not compatible with any version of QuickBooks for Mac.
System requirements For File Doctor
Network diagnosis and repair – Use the Admin login in Windows
QB file repair – This is not necessary to install on your system.
Multi-user repair and diagnosis – Verify that QuickBooks Hosting is in ON mode
Steps to Use QuickBooks File Doctor (Stand-Alone version)
First of all, the user must have the latest version of File Doctor, or if you have already installed then simply uninstall the existing one and install the latest one.
Next, download the QB File Doctor from Intuit's official site or just click run (if you have that already installed)
Double click on the QuickBooks File Doctor tool and go with the on-screen instructions and complete the installation process. Once the tool is installed and is still not visible on the screen, open it using the Windows task-bar or hit the icon twice.
Next, go to the drop-down list to find your company file, or you can click the browse option to manually find it on your hard drive.
Later, click on the check file damage option and next click on the diagnostic file to apply the basic fix. Start QB File Diagnostics to resolve the errors that you are facing while using accounting software.
The File Doctor tool window will give you two options to choose from. Choose the appropriate one for your problem. Both options are self-explanatory.

If you got a -6000 series error or you think your company's file was damaged, you can select the first option.
When you are encountering the Network problems (Error H101, Error H202, Error H303, or Error H505), select the second option.

After that, the user has to type the company file administrator password when asked and choose next.
Later, select from the two options to continue diagnosing and fixing the error.

Choose the Workstation option if you are conducting diagnostics and troubleshooting on the customer's computer. This means that the QuickBooks company file is not stored or hosted on that computer.
Choose the second option, i.e. the server in which you are diagnosing and troubleshooting problems on the QuickBooks client computer, which means that the QB company file does not store or host that computer.

Now, choose Yes, if you are working on QuickBooks Server / Host and if not on a QB workstation.
In the next step, the QuickBooks File Doctor tool will start repairing company files. The user needs to be a little patient, as this may take a few minutes.
Wait until the QBFD diagnoses and determines any possible errors. The time it takes to process can vary due to the size of the QuickBooks company file, the local area network speed, and the severity of the issues with the company file. You should not interrupt the process in between.
Once the repairing process is over, you will get a success message. Now finally close the QBFD tool.
When your repair process is over, you will get a confirmation message. Now lastly terminate the QBFD tool.
Regardless of the outcome of the repair process, open your company's file.
How To Use Built-in QuickBooks File Doctor
Using a Built-in QuickBooks file doctor is one of the best applications to resolve several types of errors, file, and data related issues like corruption, windows setup problems, and network-related issues. It can check your network and help to resolve network related issues that influence QuickBooks application.
Now, the QuickBooks File Doctor has been internally integrated with the desktop version. This is called the internal QuickBooks File Doctor (built into QuickBooks 2015 and latest version). This means, if any error appears, it will automatically trigger the inbuilt file doctor. We have discussed it in detail in the later part of our blog.
Important!
If you are unable to open or install QuickBooks, run the QuickBooks Install Diagnostic Tool first to repair programs or Windows issues.
If you faced H101, H202, or other H series errors when opening QuickBooks company file in multi-user mode Check out this Error H101, H202, H303, or H505 when opening your company file.
Basic information about the Built-in QuickBooks File Doctor(QBFD)
It works for US, CA and UK versions of QuickBooks.
It uses for file and data repair. QuickBooks doesn't need to be installed on your computer.
It uses for network and diagnosis repair. QuickBooks must be installed on the Desktop running the Internal File Doctor.
The Internal QBFD Tool supports Windows 10, Windows 8, Windows 7, Server 2003-2012.
If .NET Framework 2.0 is not presented on your desktop, QBFD will install it through with the diagnostic tool.
Steps to use the built-in QuickBooks File Doctor
Some types of errors in QuickBooks will automatically trigger the internal QBFD. In this case, you will get a blue start button. Simply choose the start button and it will automatically invoke the internal Built-in QuickBooks File Doctor.
Note: You need to sign in as an admin user with Admin rights in order to run the built-in File Doctor.
First of all, open the QuickBooks to the No company open window. Don't log in to the file.
After that, select the File and then click Utilities and then click Repair file and then Network Problems.
A message dialogue opens, click OK. QBFD will re-launch with Admin rights.
After that, choose Yes to the Windows UAC prompt.
Choose the green wrench icon to open the built-in file doctor.
Click Continue.
When prompted to sign in to your company file, type the QuickBooks Administrator username and password, and then choose Next.
Note: File Doctor will begin repairing your file. Please wait until prompted with next steps.
Select your Advanced settings. select the Diagnosis File.
Click Next.
After the diagnosis finishes, Open your company file again and view if the problem is fix.
How to use QuickBooks File Doctor to Repair Common Data Damage
Points to remember before using QB File Doctor:
Need to login as an Administrator.
Make sure you have the internet connection to upload your file.
Remember company file must be more than 2 GB.
At some stages Network diagnosis and repair may not work properly because more than versions of QuickBooks are installed.
Follow the steps to use QuickBooks File Doctor to fix a company file
Download QuickBooks File Doctor
Download the latest version of the QB File Doctor and run the QBFD.exe file.
It is necessary to have .Net Framework on your PC, if you don't have then QBFD set up will download it automatically.
Now follow the simple installation process as another program you install in windows.
Note: Remember if you have a new version on your computer firstly uninstall any previous version before downloading and installing.
Double Click on the QuickBooks File Doctor placed on the desktop to begin the process.
QuickBooks file doctor canm take up to one minute to start & open. You can also manually launch it by search for QuickBooks Desktop File Doc if it dooesn't open within a minute.
After you start the program the following steps will come in front of you in the form of a dialogue box.
Browse your company file on your PC that you want to repair. After that click on "Diagnose File".
Now it prompted Username and password. Enter the login username and password of the company file that you want to check.

Now, wait for several minutes till the QuickBooks Diagnosis process will complete.
After, you will be prompted to select Server or Workstation. This is important to make sure you pick the right option:
If you're using workstation computer means QB file is not physically held on within the system and you access the file through the network in a multi-user environment. If you are using Server computer means QuickBooks file is physically stored in the system
Choose one of the following options, if showing, to share your company file: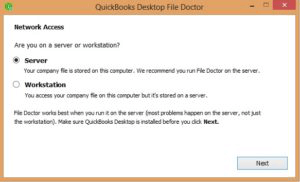 Yes – if you are running File Doctor on your server computer or host computer hosting the company file
No – if you are running a File Doctor on a computer that is not hosting the company file (Workstation).
After QuickBooks File Doctor completes the repair and diagnosis process:
Once the tool is complete, close File Doctor.
Try to open your file again to see if the issue is resolved.
Result possibilities – There will be three possibilities:
1. QBFD didn't find a Problem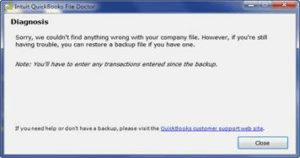 If File Doctor didn't find the problem then you have to log in back into your Company File, and if you're still unable to open the Company file then it's extremely recommended by the QuickBooks to start the Auto Data Recovery setup and enter the transactions since your last backup.
2. QBFD did find a problem and able to fix it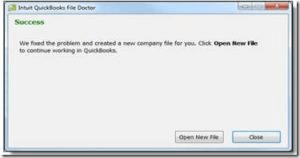 It's good to find the problem and solve it quickly. Just click the "Open New Company" file. Wait for till completed.
3. QBFD did find a Problem and certainly not able to fix it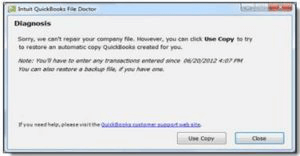 It recommends the Auto Data Recovery Setup and entering the transactions manually since the last backup or upload your file.
Errors which may occur during the process
Data Synchronize Errors
Data Synchronize errors mean there is a problem in your data and due to this reason you are not seeing your full data meanwhile your transactions are lost which were previously present in QB. Vendor, Item or Customer lists show fewer items than it was before so the type of errors you are facing called Data-sync errors. These errors occur when "QuickBooks Sync Manager" is not syncing your company file data and that's why you're facing data loss. You can contact our QuickBooks Error Support team member they will provide you with a relevant solution.
Network Diagnosis
The first thing that you must be logged in as Administrator in Windows and Windows User Account control must be turned off. And logged in with all administrative privileges into the windows than QuickBooks file doctor will turn off the UAC by itself.
You must be looking into these steps if QBFD is giving you errors like UAC is turned on, Search "User Account Control Settings" in the search bar of the start menu and Open "User Account Control Settings". You will see this: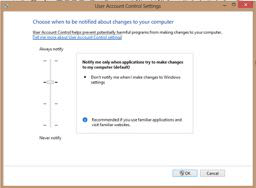 If there are multiple versions installed into the system then QB File Doctor is unable to troubleshoot the problem. So, it is the biggest limitation that user will face, when he is using multiple version in that case you must take your file to another system where there is only one version is installed.
This is the biggest issue that is still present in QBFD and is the biggest barrier for a lot of entrepreneurs to use File Doctor. After this situation as previous tools are not available in the market right now and are not compatible with new versions of the QuickBooks so there is only one possibility that business-facing problems should upload the file to "Intuit Data services".
The Network Diagnosis is started by default you can change the default settings and can stop the Data issues diagnosis. If you want the QBFD to resolve only networking issues. When you launch the application you will see the advanced settings in the first window.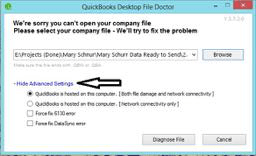 You will find that the first option is marked by default when you see in the Advanced Options. So, whether you see Advanced Settings or Data Issues and Network Connectivity diagnosis at the same time. And also if your problem is the only Network related.
Limitation of using File Doctor in QuickBooks
You should be connected to the internet to upload the QuickBooks file for manual repair.
For data damage problems only, run the File Doctor if you are unable to open the file only. If you can open the file and work on it, don't run it.
Your company file should be lesser than 2GB to upload through the QuickBooks file doctor.
You can restart the download while the tool is still open. But, if the tool is not open, the upload will start again.
You must be signed in as an Administrator to run network diagnosis.
If your desktop windows user account control is turned ON, the tool will be re-launched with elevated admin privileges.
Network Diagnose and Repair functionality may not work properly if multiple QuickBooks versions are already installed on your desktop. Presently, network resolution only works on the latest update of QuickBooks you have installed that is the actual program, not the Database Manager only update.
The QuickBooks File Doctor deals on .qbw or .qba files only.
QuickBooks file repair and network diagnosis are on by default.
Use the advanced settings button to run files only or network only diagnostics.
Another option
If the problem is not resolved by File Doctor, there is an Advanced option recommended by Intuit that you can use with help of Quickbooks Technical Support experts.
To detect and repair the errors by download QuickBooks Install Diagnostic Tool.
Uninstall and reinstall your Software.
After uninstalling, run the QuickBooks Clean Install Tool
Read also Fix -6000,-78 error while opening QuickBooks Company Files.
If this issue is not resolved or you are prompted to run the internal QB file doctor again, please dial our helpline number +1-855-441-4417.
Frequently asked question
How do I backup QuickBooks data?
Investing your time in backing up of your data is a great practice.
The first step to back up your data then, switch to single-user mode.
Then go to the QuickBooks file menu and then select the backup company then create a local backup.
Now go to the create the backup window, select local backup then click the options button.
For the final step go to the backup options windows that appear, click Browse and select the location for the backup copy.
Where are company files stored in QuickBooks?
The default location for a QuickBooks Desktop company files is C:\Users\Public\Public Documents\Intuit\QuickBooks\Company Files. From this location, you should be able to choose the version or year of the application your file is using.
What does QuickBooks file doctor do?
The internal QuickBooks Desktop File Doctor is a tool integrated with QuickBooks2016 and later versions used to diagnose and resolve errors or issues in your company file. Use the File Doctor if you receive -6000 errors preventing you from opening your file.
What causes QuickBooks data corruption?
Ans- Here are some of the most common causes of QuickBooks data damage:
Network glitches-During the disconnecting and reconnecting, the data stream gets changed and resulting in the corrupted database.
Performance bottlenecks-If your QuickBooks data file is in a large amount and you have a lot of people in QuickBooks. your computers are also old, QuickBooks is not going to be able to work with all the read and write requests to the database. The file will get damaged at some point.
power blips- If the power momentarily goes out in your office, it can change data and corrupt the QuickBooks database.
Disk crashes- Hard drives have moving parts, and like any other mechanical device, they will fail after some time.
Conclusion
Hope, after reading this blog, you got to know how to deal with company damaged files and network issues with the help of QuickBooks File Doctor. After this, if you still face any issue with the same or any QuickBooks related problem, please feel free to call us at our toll-free number +1-855-441-4417 and talk to our certified QuickBooks ProAdvisors for instant advanced help.