QuickBooks File Doctor: Repair your company damaged file or network
Last Updated on: April 24th, 2018
Posted by:

admin

Category:

Quickbooks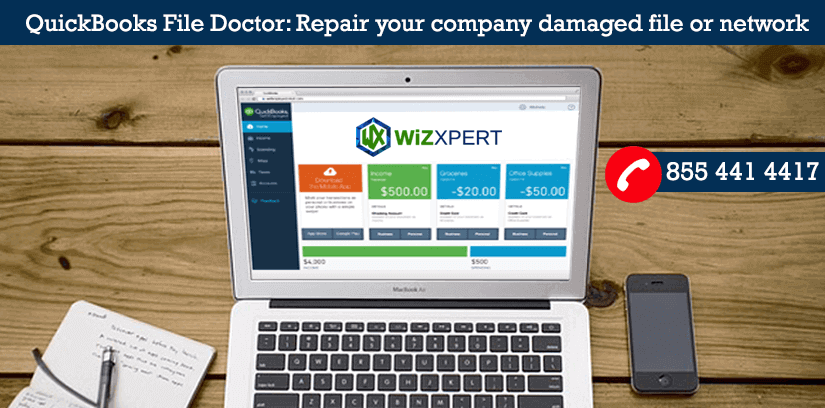 Things you should know about QuickBooks File Doctor
You are here to read this blog, then one reason might be that you are having a problem opening your QuickBooks company file. Quickbooks File Doctor as the name you see a doctor, like the professionals it also heals certain damages or corruptions in any of your QB files. Intuit has launched this in 2012. Before introduced QBFD  intuit has a two different program to solve different issues, which were QB Company File Diagnostic Tool (QCFD) and QB Network Connectivity Diagnostic Tool (QNCD), Intuit combined this two tools in one program that is QB File Doctor.
It is built-in to 2014 R5 and later, but ut internal File Doctor is only supplied with solving data regarding problems, apart from that it will not help you to access company files issues or getting any type of error problem. But if your problem related to company file that is highly damaged or you are getting error series like 6000 then you can use built-in QB File Doctor.
What is QuickBooks File Doctor?
Quickbooks File Doctor, It's a simple file repairing software to fix type of file and data corruption, network diagnosis, windows problems and far more. QBFD check your company damaged file and try to resolve quickly as possible. This  is one of the most important any easy component of troubleshooting steps when your company files are corrupted or not responding because of some reason.  This software works for UK and US version of QB.
How it can help you:
It is most useful and exclusive tool available to solve QuickBooks related problems:

If you are not able to access your company file or facing error like 6000 series error, 6150, 6146 and 6130.
You have to lose some company files or employees data file.
Network issues mostly in accessing the multi-user setup problems (Get an error like H101, H202, H303 or H505)
If you are trying to access company files in one system which is stored in another system. (.QBW and.QBA in files extensions)
How to use QuickBooks File Doctor to Repair Common Data Damage
Before using Quickbooks File Doctor firstly install it:
Installation will start
It is necessary to have.Net Framework on your PC, if you don't have then QBFD set up will download it automatically.
Now follow the simple installation process as another program you install in windows.
Note: Remember if you have a new version on your computer firstly uninstall any previous version before downloading and installing.
Double Click on the QuickBooks File Doctor placed on the desktop to begin the process.
After you start the program following steps will come in front of you in the form a dialogue box.
Browse your company file on your PC that you want to repair. After that click on "Diagnose File".
Now it prompted Username and password. Login Username and password of the company file that you want to check.
Now, wait for the several minutes till QuickBooks Diagnosis process will complete.
You will then be prompted to select Server or Workstation. This is important to make sure you pick the right option:
If you're using workstation computer means QB file is not physically held on within the system and you access the file through network in a multi-user environment. If you are using Server computer means  QuickBooks file is physically stored in the system
Choose one of the following options, if showing to share your company file: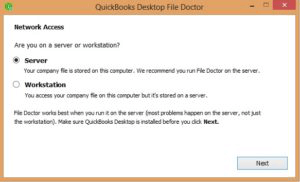 Yes – if you are running File Doctor on your server computer or host computer hosting the company file
No – if you are running File Doctor on a computer that is not hosting the company file (Workstation).
After QuickBooks File Doctor complete repair and diagnosis:
Once the tool is complete, close File Doctor.
Try to open your file again to see if the issue is resolved.
Result possibilities – There will be three possibilities:
1. QBFD didn't find a Problem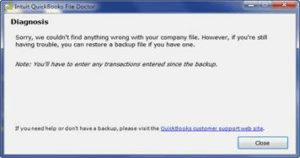 If File Doctor didn't find the problem then you have to log in back into your Company File, and if you're still unable to open the Company file then it's extremely recommended by the QuickBooks to start the Auto Data Recovery setup and enter the transactions since your last backup.
2. QBFD did find a problem and able to fix it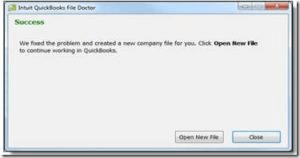 It's good to find the problem and solve it quickly. Just click "Open New Company"  file when the process will finish.
3. QBFD did find a Problem and certainly not able to fix it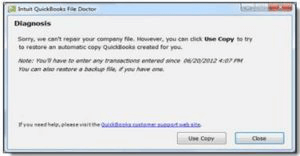 It recommends the Auto Data Recovery Setup and entering the transactions manually since the last backup or Upload Your File.
Data Synchronize Errors:
Data Synchronize errors means there is a problem and due to some reason you are not seeing your full data meanwhile your transactions are lost which were previously present in QB or Vendor, Item or Customer lists show fewer items than it was before so the type of errors you are facing are Data-sync errors, these errors occur when "QuickBooks Sync Manager" is not syncing your company file data  and that's why you're facing data loss. You can contact our QuickBooks Error Support team member they will provide you with a relevant solution.
Network Diagnosis:
The first thing that you must be logged in as Administrator in Windows and Windows User Account control must be turned off. And logged in with all administrative privileges into the windows than QuickBooks file doctor will turn off the UAC by itself.
You must be looking into these steps if QBFD is giving you errors like UAC is turned on, Search "User Account Control Settings" in the search bar of the start menu and Open "User Account Control Settings". You will see this: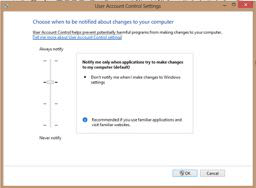 If there are multiple Versions installed into the System then QB File Doctor is unable to troubleshoot the problem. So, it is the biggest limitation that user will faces when he is using multiple version in that case you must take your file to another system where there is only one Version is installed.
This issue is the biggest issue which is still present in QBFD and is the biggest barrier for a lot of entrepreneurs to use File Doctor. After this situation as previous tools are not available in the market right now and are not compatible with new versions of the QuickBooks so there is only one possibility that business facing problem should upload the file to "Intuit Data services".
The Network Diagnosis is started by default you can change the default settings and can stop the Data issues diagnosis. If you want the QBFD to resolve only networking issues. When you launch the application you will see the advanced settings in the first window.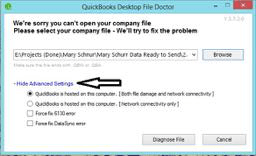 You will find that the first option is marked by default when you see in the Advanced Options. So, whether you see Advance Settings or Data Issues and Network Connectivity diagnosis at the same time. And also if your problem is the only Network related.
Limitations:
You need an Internet connection and must be connected to the work process, for file uploading and manual repair
Your company file should not exceed more than 2GB.
Installed multiple version on your system.
Follow the admin panel to run the network diagnosis and QuickBooks needs to be in hosting mode
File Doctor available for the UK and US version. If your system not from them then contact QuickBooks Technical Support otherwise it will show you an extension
When the Windows User Account Control is ON, the File Doctor will re-launch with elevated admin privileges
Use QBFD only when you are not able to access company file, if you are facing any data loss issue it will not help in this.
Required system requirements
Network diagnosis and repair –use the Admin login in Windows
QB file repair – this is not necessary to install on your system.
Multi-user repair and diagnosis – verify that QuickBooks Hosting is in ON mode
Another option:
If the problem is not resolved by File Doctor, there is Advanced option recommended by Intuit that you can use with help of Quickbooks Technical Support experts.
To detect and repair the errors download QB Install Diagnostic Tool
Uninstall and reinstall your Software
After uninstalling, run the QuickBooks Clean Install Tool