Are you a Freelancer or Solopreneur and still using an Excel spreadsheet or stuffing receipts? Now it's time to upgrade with QuickBooks Self-Employed. In this article, we have shared about QuickBooks Self-Employed such as: What it is, its features, planning or cost, how it differs from QuickBooks Online, and last but not least its pros and cons. Read the complete article to get your query resolved, keep in touch with us to learn new. For any assistance contact our Quickbooks ProAdvisor toll-free: +1-844-405-0904
As a freelancer or entrepreneur, you need the best accounting software that gives you the right solutions for your problems. You may be looking for a tool that helps you to manage your taxes and expenses like QB Self-Employed.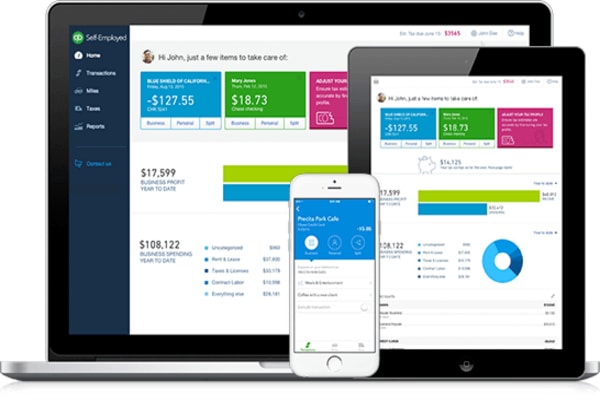 So, first, let's start with its basic introduction.
What is QuickBooks Self-Employed?
It is small accounting software for freelancers or independent contractors, and for real estate agents. The price plan starts at $7.5 per month. It helps you to stay prepared for tax throughout the year. It also helps in making your schedule to separate your personal and business expenses.
What makes it so special?
It not only provides tax-related help but also offers you many features that help you to find and maximize deductions. So, you can get more money back in your pocket. And take your business to a higher level.
Features
QuickBooks Self-Employed is a tax software that is connected to the cloud-based system that helps you to explore the benefits. It helps you to keep track of your income and expenses.
Some of the other reason to choose it:
User-friendly: It is one of the best user-friendly software. With a clean dashboard and simple navigation which makes it easy to find what you need. On the home page, you will find a summary of the business. But with just one click you can easily navigate Transactions, Miles, Taxes, and Reports.
Create and send invoices on goes:
Easily invoice to the customer from your smartphone
Keeps tabs on open invoices and send overdue notifications
Get paid faster by enabling online payments
Easy set-up: You can set-up your account with QuickBooks Self-Employed in few seconds. There are two ways to set-up, it can be online or through an app. It also provides you some extensive features like tracking miles, put a reminder for your tax pay time, and capturing receipts.
Access from anywhere: As you now that QB Self-Employed is cloud-based. So, you can access it from any device, you just need an internet connection. As you can also share your account by giving permission to people, such as your tax accountant, to make tax time easier.
Easy to use client portal: Entrepreneur and Freelancer can easily create, send, and track invoices all in one place. There is also a facility to get paid through the client portal. You can customize invoices and keep track of it when it is being paid.
You can also accept payment online, somehow you have to pay some amount for it.
Automatically track invoices: You always need to keep track of tax time invoices. No need to worry as it helps you to keep track of all your personal and business expenses automatically. You just need to enter information one time.
Then QuickBooks Self-Employed automatically categorizes subsequent expenses by remembers the settings. If you want to connect any bank account or third-party merchant service like; PayPal or Etsy, you can easily connect to it.
Automatically track mileage: If you have QuickBooks Self-Employed app then you don't need to take tension to keep a manual record of your business mileage. The in-app mileage tracker will help you to automatically track from start point to endpoint of your business trip.
Then you can easily level as the business or personal.
Reliably and automatically track miles with your phone's GPS.
Categorize business and personal trips and add trips manually.
You can find approx 45% more deductions by logging your miles.
Pay quarterly taxes: This is the feature that makes QuickBooks Self-employed complete in itself.
Rather than waiting for the IRS announcement or waiting till the last of the year and pay penalties. It is good to make an estimate and pay your tax quarterly.
Before-tax are dues Know what you owe each quarter
Automatic reminders of tax due dates save you from late fees.
Easily organize instant tax filing's incomes and expenses.
There are some points which are not pretty good about QuickBooks Self-Employed:
This software is basically for the freelancers and self-employed who need little help staying organized. But there is something missing in it. For these reasons, a user may want to look elsewhere.
Invoicing is basic: This is the very simple feature to invoicing your clients from anywhere including phones. And saving your client information for future use, the system doesn't track other client information. But you can't set up recurring invoices or customize the look of your invoice.
The reports are basic: Just as the invoices reports are also basic. If you are searching for a more than P&L and tax statement, you need a more robust program. In QuickBooks Self-Employed you can't manage inventory, track project, or time worked. It has all the reports are for tax reporting purposes, with basic accounting features.
After learning about the features now its time to know about the Cost and Planning of QuickBooks Self-Employed.
Plans, Pricing & Their Cost and Features
There are basically three types of plans are available:
QuickBooks Self-Employed
QuickBooks Self-Employed Tax Bundle
QuickBooks Self-Employed LiveTax Bundle
1. QuickBooks Self-Employed (Self-Employed)
Self-Employed is the most basic version of QuickBooks Self-Employed. It comes at only $7.5 per month. You get the 50% discount for 3 months of purchasing if you purchase it directly from the Intuit. With this discount, you only need to pay $5 per month for the first three months.
Features
Surprisingly, it has a very low cost but still, it comes with lots of features. Like you can send and track simple invoices, have the access to monitor open invoices, clear overdue notifications. Rather than it has other features also. These are given below:
Invoice customers using QuickBooks mobile app.
Enable online payments to receive payments from your invoices.
Automatically import transactions from the credit cards, Banks, etc, to separate business and personal expenses.
Automatically sort transactions into tax categories
Phone GPS to track miles
Add trip manually and separate business and personal trips.
You can permit your accountant to access your QuickBooks Self-employed
Customers can get support through live chats, support form, and self-service resources on the QuickBooks website.
It automatically calculates quarterly taxes, and receive automatic tax dues dates.
2. QuickBooks Self-Employed Tax Bundle
This is the second plan for this software. You will receive additional tax features in this plan to further optimize your financial process.
Price of Self-Employed Tax Bundle
QuickBooks Self-Employed Tax Bundle cost is $12 per month. Just the same as in the Self-Employed has lots of features at a great price, it also comes with bunches of features with great discount and price. You will get a 29% discount while purchasing this product for the first three months.
Features
The main difference in three plans is features related tax. It has all the facilities of the first plan with that it has some more additional features also:
Ability to pay taxes directly from QuickBooks.
Accurate estimates of quarterly taxes
Seamless transfer to TurboTax with built-in integration
E-file returns with direct deposit to receive tax refund faster
Export Schedule C directly into the Turbo tax.
One state and one federal tax return file includes
3. QuickBooks Self-Employed LiveTax Bundle
It comes with the highest price range but with more comprehensive features and tools to manage their business expenses and finances.
Cost & Pricing
Its cost is $17 per month. It provides you a 29% discount for the first three months of your subscription.
Features
It has the most extensive tax functionality. It has all the features of the other two plans with some additional features.
Live, personalized-advice from TurboTax certified public accountants (CPAs) and Enrolled Agents (EAs)
Unlimited year-round access to tax experts with 15 years of experience
A CPA or EA to review your tax return, line by line, and sign it to ensure it's completed correctly.
Comparison between QuickBooks Online and QuickBooks Self-employed
If you are an entrepreneur or freelancer and who files a Schedule C, then QuickBooks Self-Employed work for you.
Schedule C is a detailed form regarding the profit and loss report that is submitted with an entrepreneur's personal income tax form 1040.
But if you are a partnership or a corporation, QuickBooks Online will work best with you.
When to use QuickBooks Self-Employed:
Use QuickBooks Self-Employed if you want to file a schedule C and pay expenses with debit or credit card. If you are writing checks manually every month and don't have employees and contractors.
It is also helpful if you do your own taxes, QuickBooks Self-Employed TurboTax bundle will allow transferring data to TurboTax.
In a simple way, QuickBooks Self-Employed work for individuals and business that meets the following criteria:
Files a Schedule C with Form 1040
Pay expenses by debit card, credit card, and cash. It reduces the use of paper checks.
It's limit to write five checks per month.
No more than 10 invoices per month
Does not employ any contractor
does not have any employees as this tool does not have payroll functionality.
If you want to do employ contractors and they are paid $600 per year. Then you need to complete 1099 reporting. And it doesn't support it.
If you want to start your work with this software. You can save 50% off for the first three months. Then start your plan with $12 pr month.
When to use QuickBooks Online:
If you are working in a partnership or as a corporate. And you need to track inventory, manage accounts payable, and pay employees or contractors, then QuickBooks Online is the best choice. You can also do budgeting and forecasting and also provides access to the seven users in QuickBooks Online.
QuickBooks Online work for individuals and businesses that follow the following criteria:
Buy and sell products like retail stores.
Manage heavy account payables
You can hire 1099 contractors that are paid at least $600 or more in the fiscal year.
If you are going toward the QuickBooks online. Then you will need to decide which plan is best for you. QuickBooks Online provides three plan which is started at $20 per month. QuickBooks Online Simple Start, Essentials, and Plus. To learn more about features including in each plan check out QuickBooks Online 2019 Plans, Pricing, Features & Benefits.
Pros and Cons Of QuickBooks Self-Employed
There are varieties of software available in the market. So, choosing the best option that matches your needs and requirement sometimes become difficult.
Below are listed some of the pros and cons of QuickBooks Self-Employed which will help you in making your final decision.
Pros
User-friendly
It helps in tracking mileage
There is an option to invoice multiple customers and clients
Provide a mobile app so you can invoice, track mileage, and organize your income and expenses on the go
Manage income and expenses for schedule C
It helps you to calculate quarterly taxes and allow you to pay them online from any time. And save yourself by paying penalties.
Different options for pricing according to plan
It has been the ability to print off multiple reports for your bookkeeper, accountant, or even for your records.
Cons
Not possible to accommodate invoices outside of your name, address, logo, etc.
It doesn't provide you with support for state, country, or city taxes. So, if you have requirements for any of these you have to figure out them by yourself if your state, country, or city required.
It is difficult to migrate to another accounting software by chance it doesn't work, even if you're just migrating to new options.
There is no option available for time-tracking, so it needs to be used as a separate tool or it.
There is no option available for time-tracking, so you need to use as a separate tool
Bottom Lines
If you are a freelancer or solopreneur with no employees or contractors, QuickBooks Self-Employed is for you. You can sign up for the standard version, and then upgrade to the TurboTax bundle whenever you're ready.
If you are ready to ditch that Excel spreadsheet and get your income and expenses organized, sign up for a 30-day, risk-free trial and check it out for yourself.
That said, as an affordable, user-friendly platform designed specifically for freelancers and contractors, there's no doubt that QuickBooks Self-Employed is a software that can serve self-employed professionals well.
With significant capabilities for managing expenses, preparing taxes, and tracking mileage, it can help you automate and streamline your processes.
On the other hand, with these very specific features (and lack of additional accounting tools) and no upgrade option, business owners who need more from their accounting solution or want a platform that can grow with their business may want to consider a QuickBooks alternative.
Now that we've reached the conclusion of our article, the decision is up to you. As you know your business best, only you can determine which accounting solution is the right one to fulfill your needs.
All of this considered, if you're still unsure if this software can meet your accounting needs, you might decide to sign up for a free trial and test the platform out for yourself.