How to Set Up Invoices, Sales Receipts & Estimates in QuickBooks Online
Last Updated on: October 7th, 2017
Posted by:

admin

Category:

QuickBooks Online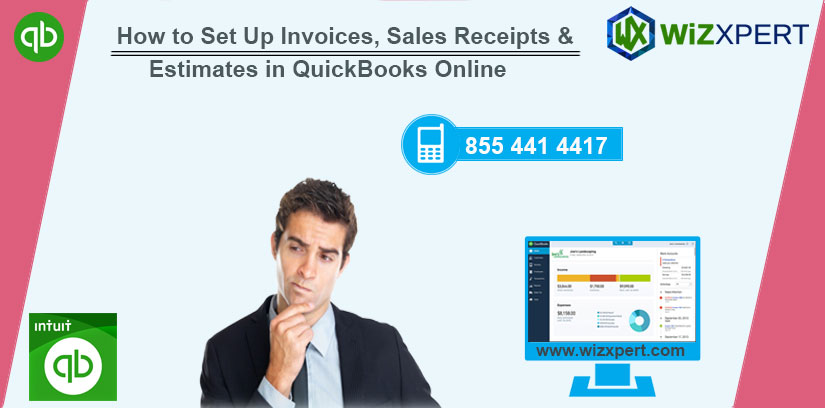 How to Set Up Invoices, Sales Receipts & Estimates in QuickBooks Online
In today article we will discuss How to Set Up Invoices, Sales Receipts & Estimates in QuickBooks Online.
Why Is It mandatory to Set Up Sales Form Content (Invoices, Sales Receipts & Estimates)?
It is mandatory to set up Sales Form Content because with the help of this the selections that you make here, will affect when your consumer/clients pay you as well as how to properly account for any discounts that you just give to customers and deposits received from customers. This is one of those areas that can cause negative cash flow if it is not set up properly.
How to Set Up Sales Form Content?
Before we actually look into how the sales forms (Invoices, Receipts, and Estimates) are setup, let's see why setting them is an important part of using the QuickBooks Online platform.
Setting up these things is important because if done improperly, this can result in negative cash flow and loss to your newly started business. The discounts and offers you make for the customers are all affected by these settings:
Sales form content:
Preferred invoice terms.

Preferred delivery method.

Shipping.

Custom fields.

Custom transaction numbers

Service date.

Discount.

Deposit.
As you can see, there are a total of eight fields that we can edit here to set up Sales Form Content.
Read more:
QuickBooks Integration With Salesforce
How to Create an Estimate in QuickBooks?
How to See Your Business' Health in QuickBooks Online?
Here you will find a brief description of each feature along with how we would set this up:
This allows you to set up default invoice terms for all customers. For example, if you set it to net 30, the customer will have to pay within 30 days of the generation of the receipt. It will save the time needed to set up the invoice terms for each customer separately. However, if you want to set up special terms for a specific customer, you can allow them a separate set of terms while creating a new customer.
Preferred delivery method
This allows you select how the customers get the invoice by default. The options you will see here are print later and send later. By selecting print later, you print and mail the invoices to the customers and if you select send later, it sends the invoice by email. Just like the invoice method, you can set up different terms for some of the customers who do not prefer the general terms.
This feature is available if you are shipping the products to the customers. It includes the options like Shipping dates, shipping address, and shipping duration.
If you have to show additional information on the forms, it can be done by adding a custom field. For example, if you want to show the order numbers on all the pages, add a field for the order.
Custom Transaction Numbers
If you are shifting from some other online books service to QuickBooks, use this feature to convert the same numbering system which is already in place to the numbering system of QuickBooks. If you are starting fresh, you have nothing to do with this option.
If you want to take the date of service other than the invoice date, you can use this option. This feature adds a separate field for the service date on all the forms. This is especially useful for the businesses offering consultation services.
In case you want to give the customers a discount on the transactions, you can enable this option. This will show the discount you have given on the invoices.
If you want to collect some advance deposit from the customers before starting the work, you can enable this option. QuickBooks will automatically subtract this from the total amount and show the balance on the invoice.
I hope you find this article useful. If you have any query related to this or any other topic, you can call QuickBooks Support Phone Number +1-855-441-4417.
Watch this video to learn more about How to Set Up Invoices, Sales Receipts & Estimates in QuickBooks Online.