How to Resolve QuickBooks Error Code 6190 and 816
Last Updated on: February 8th, 2018
Posted by:

admin

Category:

QuickBooks Error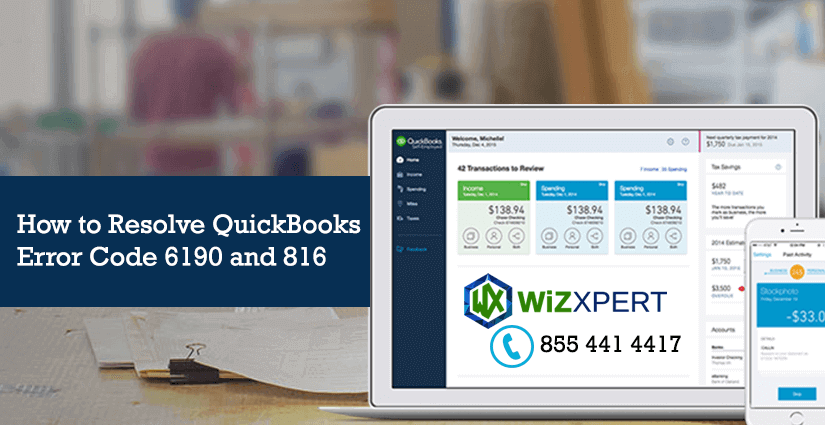 QuickBooks Error Code 6190 and 816 one of the most common errors found. Sometimes when you open your company files then you suddenly get this error 6190 & 816 and you are unable to open the file on the host computer. That doesn't matter how good software is, every software has some errors.
Related Article: Fix QuickBooks Banking Error 102- Wizxpert [A Complete Guide]
Sometimes, the organization file and also the transaction log file don't match, and then the organization file becomes corrupt. Because of these corrupt files, you lose your all important files that are saved within QBW file. You can solve this error by following steps mentioned here. If the problem persists, please Contact QuickBooks Support team of WizXpert and find details and solution.
Why this QuickBooks Error Code 6190 and 816 Occurs:
This error normally occurs when another user is logged into the company file in single user mode. It can also occur when transaction log file (.tlg) and the company file (.qbw) mismatch with among
This can occur due to two of following reasons:
This error is normally arising when Transaction log (.TLG) doesn't match with Company Data File (.QBW) file.
This error also happened if.QBW file is being updated on another computer without the.TLG file.
These are some different type of 6000 series error you can see:
Quickbooks error 6000 -80-This error is also show when a user is trying to access a company file from the server.
QB error 6000 -77 – Incorrect folder permissions of the folder which has the company file inside it or if the QB Database Server Manager is not working properly.
QB Error -6000, -107 – This normally happens if the.TLG file is damaged or corrupt.
QB Error -6000, -1076 – Incomplete QuickBooks installation.
QB Error -6012, -1061 – Occurs if network setting is incorrect.
How to recover this QuickBooks Error 6190 and 816
Whenever you doing any changes in your QuickBooks remember your software will be updated with the latest version. SO, you can easily recover this error by following these three steps-
Use QuickBooks File Doctor Tool:
Firstly Download and install the tool "QuickBooks File Doctor".
Run the tool.
You should be logged in as Administrator. If not, it will guide you that how to do logging as Administrator.
It will indicate you two options: Both file harm and network connectivity and Network connectivity only.
Select the first option as it will identify corrupted or damaged files and will help to fix the error -619.
Next, it will ask for a password. Enter your Admin password.
It will then ask whether the company file is on Workstation or Server.
Select "Yes" if you're using the company documents on your server and "No" if using from Workstation.
Click on "Continue."
Fix the mismatch:
If still showing the same error, proceed to next solution Fix the mismatch. Remember that your computer should be the same one in which you have saved the company files. Next, rename the files. Renaming these files does not cause any data loss. Follow the given below steps:
Open the company files.
Next, need to find the company file. The transaction log file and company file will have the same name but different extensions
The renaming of the files should be finished now with right clicking on the files choose Rename option, don't delete the extension that's necessary a part of the name of any files.
Same way, rename the transaction log file which needs to done after that.
Exit the system now.
Open QuickBooks and try to login in the company file.
Related Blog: Resolve Error Code 31600 in QuickBooks
Single Mode User Check:
Still getting the error, then try this way to fix this QuickBooks error:
Verify that all the users are logged out of the QuickBooks Data file.
Next, restart the computers.
Now copy the data file to the desktop or to another location apart from its source.
Again copy the data file back to its original location.
Sign into QB.

Do you still have any doubt?
Above all is the possible solution to fix QuickBooks Error code 6190 and 819. After this, if you are unable to fix it or can't access it, contact our tech support team QuickBooks Support Phone Number @ +1-855-441-4417, they are available day to night for you.