QuickBooks 2018 Desktop New Cash-Accrual Report Toggle feature
Last Updated on: March 8th, 2019
Posted by:

admin

Category:

Quickbooks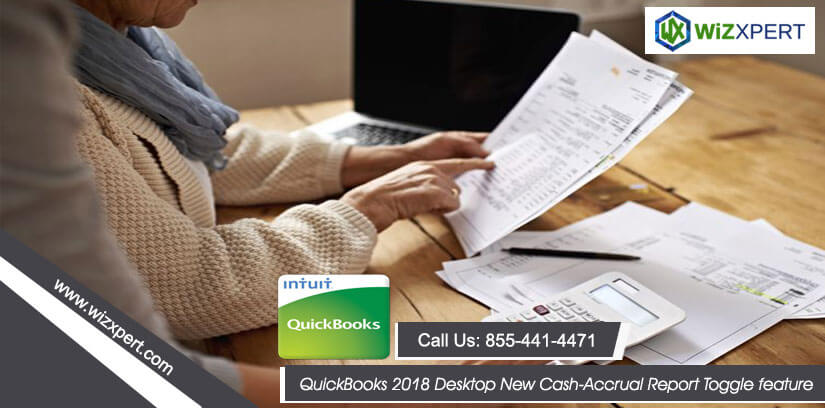 QuickBooks Desktop 2018 has got a new feature for cash and accrual basis reports. In this Blog, I am gonna talk about the Cash-Accrual basis and also the newly added feature.  Firstly Let us know about the Accrual and Cash basis.
What Is Accrual basis?
Accrual Accounting is the accounting when entering a transaction and the actual receive or pay are two different events.  

An Accrual Basis shows income irrespective even if customers have paid invoice and expenses. Irrespective even if you have paid your all bills.
You May also like: Mobile inventory scanner support features in QuickBooks Desktop 2018
What is Cash basis?
This is a Bookkeeping method where you will receive a payment or bill in regard to income or expenses as occurring.

In this, if you have received cash then only you can see Income, and if you have paid cash then only you can expenses.

Well, the cash-basis report will not include the income if you have not get the invoice for payment.
More article to read: Enhanced Inventory Reports – What's new in QuickBooks Desktop 2018
Earlier we had to either use a reporting preference or we need to open the customize the report option to select either cash or Accrual just to select the accounting basis of the QuickBooks Financial reports.
With the Quickbooks 2018, it is very easy to switch between accrual basis and cash basis reports. You can switch between them with just a single click, and Button is located at the top left of your reports
QuickBooks 2018 Desktop New Cash-Accrual Report Toggle feature
In the QuickBooks, the detailed reports are set to default and are computed and displayed on an accrual basis, but if you want to get a summarised reports you need to configure settings according to your requirement. You find the setting in the reports and Graphs of company preferences.
Before the QuickBooks 2018 either we had to manually customize the reports from the customize report tab or had to change the report preference.
Related Article: Stay logged in preference features in QuickBooks Desktop 2019
QuickBooks 2018 will make changing your accounting basis easier than ever. Earlier if you want to change the basis you need open the Customize report option. Then select the accounting basis from the display tab.
QuickBooks 2018 Desktop gives you the accounting information you want in the reporting basis you need at the click of a button.
Hope this article provides you all the required information. Still, if you required any kind of support then visit QuickBooks Support Helpline page or Dial 1-855-441-4417
Learn in detail about major features in QuickBooks Desktop 2019