Do you want to know how much does it cost to get QuickBooks certified? Read this article, we have discussed everything about the QuickBooks ProAdvisor certification test cost, types of courses, how to access the course, and what are the benefits of doing the certification. Here the article is to give you an idea of types of certification, how to access them, and navigate them, benefits as well as the cost of certification. Go through the detailed article to access all the related information about QuickBooks certification costs. For More Info. or any assistance contact our QuickBooks ProAdvisor toll-free:+1-818-295-3510
Lets' start with who is a ProAdvisor? Generally, ProAdvisor is a person who has deep knowledge in the field of QuickBooks. For which they prepare for the ProAdvisor program and qualify for the exam. Now let us know about the cost to become a QuickBooks ProAdvisor.
QuickBooks certification cost
You will be glad to know that QB Online Certification and training are free of cost. So, you can explore more features to increase skills to better assist your clients while earning credentials that keep your practice growing. Basically, you can say One stone, meet two birds.
In the QBO Certification, all the exams and study materials are completely free. But you must have to clear the exam to become QBO ProAdvisor. After passing this test you will get good QuickBooks user certification.
Types of Certification & Courses
There are four main certifications:
QuickBooks Online Certification has also Two Types:
QuickBooks Online Certification
Learn commonly used services to serve clients better.
Learn sales, purchase as well as payment management.
Understand reporting and troubleshooting.
QuickBooks Online Advanced Certification
Take Ultimate knowledge to provide the best service available
Manage typical as well as more complex dialogues.
Also, understand more advanced features of QB online.
Advance reporting and problem resolving.
Here are some points you can perform in the online training like Access your certification and also know about the ProAdvisor certificate courses.
Know How to Access ProAdvisor Certification Courses
As you are interested to become a certified ProAdvisor. Then there are two things first if you are using QuickBooks Desktop and already signed up for the ProAdvisor Deluxe membership. Then you will easily find out the 2020 certification on your account. For the QuickBooks certification 2021, wait for April. In the month of April to August, you can get the 2021 new update of QuickBooks certification.
On the other hand, if you are using QuickBooks Online, then you can access free online program using these given below steps:
To go through the Training tab, you must have to log in to QBO Accountant with the help of ProAdvisor User ID and password. After completing follow the given below steps:
Note: If you are able to see only completed courses, not other courses like; a new course on the tab. Contact our accountant support.
The ProAdvisor Training will show you a list of available training modules. You can also download the certificates by following steps:
Select ProAdvisor under the Your Practice option from the left menu.
Choose the Training tab.
Choose a Resume to proceed with any previously-started course.
Read the specifications of the available courses listed to recognize a course to take.
Choose one of the available Training options to see training cards for a particular module in the course.
Go for a Get started to begin a course and follow the prompts to complete the task. After being ready to complete the certification exam, choose to Take the Exam option.
You can download and print the badges and certificates after completing the course. They have great use of marketing materials or on your website.
Access Certification History
Steps how to access certification:
Select ProAdvisor from the left menu. There you will see all the certifications that are available to you.
Choose the Training tab.
If you are searching for current certification, badge, or exam, then select Certified, and go for Download Badge or Download Certificate.
And searching for the previous certification, choose Training & certification history.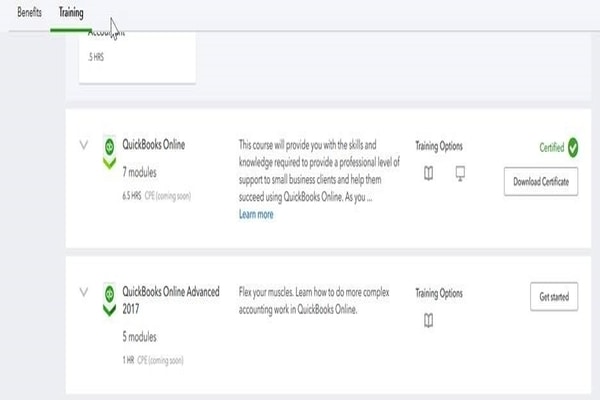 How to Navigate the Training & Certification Screen
This map will better help you to understand the Traning & Certification History screen.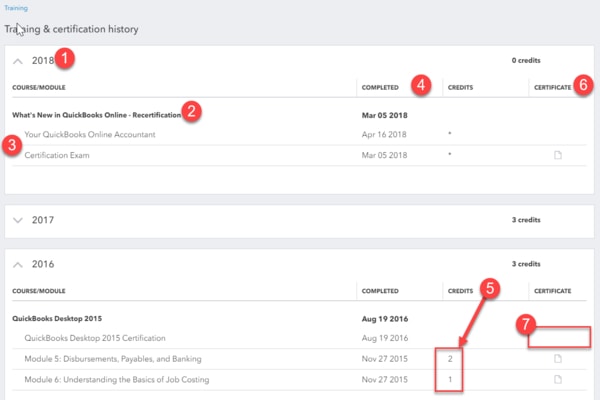 Certification history filled with certification completion year.
Courses appear in bold.
All the course modules appear following certifications.
The certification and their related modules both will be bucketed based on the completed date of it.
Qualified course modules for CPE credits will show the CPE credits amount earned within the Credits column.
Completed certifications and modules will have to differ certificates. The module will show the amount of confirmed CPE credits, the Field of study, and the Delivery method.
Certificates only appear for active ProAdvisor certifications. The certification icon will be removed if no it is no longer active. But the completion date will remain to print out your course module.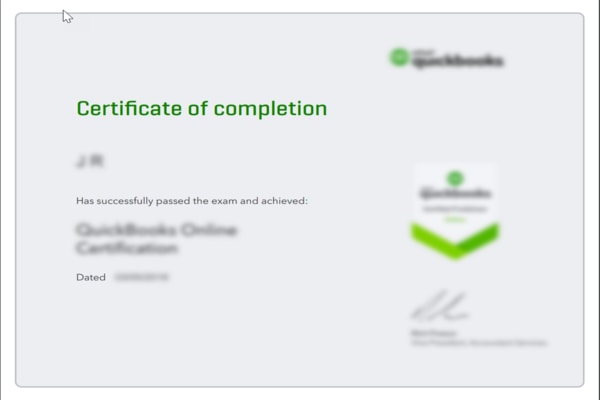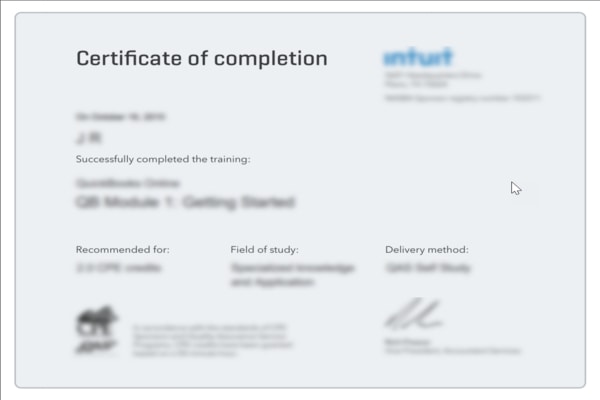 Web Browsers you can Use with ProAdvisor Courses
Learn which web browsers QuickBooks ProAdvisor Certification support. You can apply for the courses and exams using the given below web browsers.
Supported Browsers through QB ProAdvisor Certification:
Chrome
Safari version 11 and later (Mac only)
Firefox
Microsoft Edge
Unsupported Browsers are:
Opera
Netscape
RockMelt
Internet Explorer 11
Here are some of the benefits and summarization of certification. Review them and get registered yourself as Intuit's certified expert.
Some Benefits of QuickBooks Online Certificate
This is not only an exam. This is the new level of training and expertise that takes your business to another level year after year.
Well, there is a number of benefits of being QBO ProAdvisor. Some of them are given below:
1. QB Online Accountant
When you sign up for any of the versions of the ProAdvisor program, you receive a free QBOA firm company. The Accountant is basically an all-in-one ProAdvisor for your Desktop or Online version of QuickBooks with each other in one place.
Accountants provide you with the advantages:
Client List: This helps you to co-operate with your all QBO clients.
Your Books: You will be able to operate your own finance firms free.
Practice Management: Keep yourself at the top in your day-to-day work.
Wholesale billing: You can get a discount on QBO companies for your clients.
The PromAdvisor tab: Easy access to your certifications, discounts, and software.
After sign up for the ProAdvisor program, then review the Accountant by logging into qbo.intuit.com.
2. Certification Courses
These courses come with all memberships in which by using your knowledge you can earn CPE credits. QuickBooks Online certifications also provide free membership. Deluxe and Premium are two types of membership access by Desktop users.
After Certifications Unlock new Benefits:
A better Proadvisor tier-from Silver to Gold
Get help from US-based experts.
The listing on the Find-a-Proadvisor site, so it is easy for your client to find you.
After becoming certified as a ProAdvisor your tier incremented from Gold to Diamond, providing you with better quality support and top rank in the Find-a-ProAdvisor list.
You can visit the certification page in QuickBooks Online by selecting "ProAdvisor" on the left-hand navigation menu, and choose Certification.
3. Other Important Benefits:
Other than the customer support, training, and software discounts, this program offers some other benefits which are as follows:
By showing their skills they win gold, silver, and elite membership.
There are some special guides, templates, and marketing resources of the new Intuit market, which is only used by ProAdvisor.
You can also provide some workshops to increase your practice and masterclasses to improve your business.
How Much Does it Cost to get QuickBooks Certified
The cost to QuickBooks Online certified to take the exam is 149$ US dollars and exclusive the invigilation fee at the exam center. But QuickBooks Online Accountant comes with a free ProAdvisor Program membership for the accountants.
Note: The online exam is for 2 hours. A person gets only 4 chances or attempts to clear each and every section. 80% is the minimum score to pass this exam.
What you can Learn in the Certification Program:
Work on the data transformation process.
How to create a file using the opening balance.
It also provides Payroll advanced features.
Learn what is the way of unusual transactions process.
How to operate the adjusting transaction in your client's file.
Manage users and company settings.
Manage table of accounts.
Advanced feature on bank rules and online banking.
Budget setups feature.
Learn different Tips and Tricks to growing your business.
How to Earn Points from Clients for Services
As a QuickBooks ProAdvisor, it is necessary to learn how to earn points for the exact service. So that, you can ask to the client for the right payment. here you go for the information.
If you are activating QuickBooks Self-Employed client subscription then you can earn 25 points for each.
You can get 50 points for the activating of QuickBooks Online Payroll client subscription (Core Premium), and QuickBooks Online client subscription individually.
For the activation of QuickBooks Payroll Elite client subscription, and QuickBooks Online Advanced client subscription, you will get 75 points for each subscription.
100 points is applicable, if you are purchasing ProAdvisor Premier or Enterprise for Desktop (once per year) for your client, and for the current certification of QuickBooks Online, QuickBooks Desktop, and QuickBooks Desktop Enterprise.
You can get 200 points, if you are providing the current advanced certification of QuickBooks Online to your client.
Final Words
We hope your doubt has been clear about QuickBooks' certification cost. The training can easily enhance your skills no matter at what level you are in your career. These certification courses make it easy to get comfortable reach with QuickBooks accounting products and develop skills at your speed. Choose from videos, webinars, virtual conferences, and in-person events to gain more confidence and earn your clients' trust.
If you need any further QuickBooks support dial our toll-free number +1-818-295-3510.