Want to know the details of QuickBooks Desktop for mac 2021? Here in this article we are to provide you all the details such as features, pricing & system requirement. It has new and improved features that help you all the way, read the complete article to get all your solutions. Go through the article to know about pricing, software and new features as well as. If you need any help contact us toll-free: +1-844-405-0904
QuickBooks Desktop for Mac 2021 comes back with new features, with more ease and productivity on the platform. It was released on September 16th, 2019.
New features include: Modernize Reporting, Dark Mode, Improved Company Snapshot, Invoice e-Payments, Bounced Check Processing, and iPhone Scanner which we will discuss further.
What is QuickBooks Desktop for Mac?
QuickBooks Mac is a Mac-compatible version of the QuickBooks Desktop software. This is the best option for Mac users who prefers an on-premise accounting solution to on hosted on the cloud.
What's New in QuickBooks Desktop for Mac 2021
QuickBooks for Mac 2021 performs receiving payments easier, so that you can increase your cash flow very easily.
Automatic payment reminders: You can get paid quickly with this feature of automatically reminding customers when payments are overdue.
You can easily track products, cost of goods, and automatically receive notifications when your inventory is low
You can regularly adjust your inventory to account for loss, fraud, and reduction
Generate purchase orders to keep track of what's on order
Simply track bills and purchase orders in one spot
Manage cash flow and immediate takes action on unpaid bills
Automatically record early pay discounts
See unpaid bills from a vendor to efficiently manage payments
You can connect your bank and credit card to automatically download transactions.
Simply import previous financial data from Excel and other programs.
Manage your business with Customer, Vendor, and Employee Centers
Pricing Of Mac 2021
You can get QuickBooks Desktop for mac 2021 in $ 399.99 with one-time payment
System and Browser Requirements For QuickBooks 2021
A minimum of macOS X v10.15 (Catalina) is needed.
Internet connection for downloaded installation and product updates.
Product registration required.
Integration with other software
Export report data needs at least Apple Numbers v3.5, and/or Microsoft Excel 2016 or later, with Microsoft 365.
The E-mail needs Apple Mail, Microsoft Outlook 2016, or later, with Microsoft 365.
QuickBooks Desktop for Mac 2021 compatible with one-way conversion to QuickBooks Online.
QuickBooks Desktop for Mac 2021 compatible with the one-way conversion from QuickBooks Desktop for Windows 2018 – 2020.
QuickBooks Desktop for Mac 2021 supports conversion to and from QuickBooks for Windows 2021.
New features added in QuickBooks Desktop for Mac 2020
Here are some new features added in QuickBooks For Mac 2020, these features help the user to work more easily and comfortably. This helps you in saving more time and provide you with more flexibility in work.
✅ Modernize Reporting
Modernize reporting that helps to customize, usability, presentation, and navigation. It
Allows to easily create customized reports and enables real-time report updates that show changes automatically.
To see these new features in QuickBooks Desktop For Mac 2020. You just need to follow, in the "What's New" window when you first launch QuickBooks for Mac or from the Help > What's New in QuickBooks? Menu.
In the reporting sidebar, there are three tabs Options, Filters, and Format. That gives your reporting more advanced features, streamline the process of creating a report design that fits for your specific requirements.
You will get Show sidebar option at the top of the toolbar of the report window to open or close the report sidebar.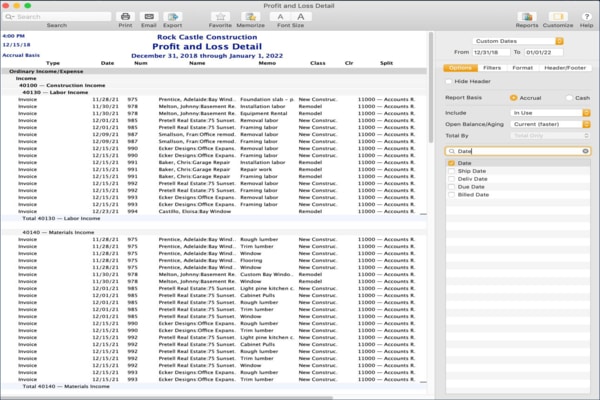 Another facility to make printing and emailing of reports by using buttons "Print" and "Email" located at the toolbar of the report. You can also customize your report by selecting "Columns" you wish displayed, and the Calendar Type in the Option tab
This tab also provides the Reporting Basis which allows you to easily change reports from Cash to Accrual or Accrual to Cash. The Filter tab helps you to quickly search your desired report.
All the formatting features are available in the Format tab for Mac users to access Mac's wide selection of fonts and colors, numbering formats and page layouts like header and footer styles. There are so many other features that are also available in the Format tab.
The graph reports are another feature in QuickBooks Mac 2020 which gives you more control over the graph formatting.
✅ Improved Company Snapshot
With the help of a centralized dashboard that offers customizable date ranges, layouts and widgets to get more visibility into your business and help to see your most critical business data.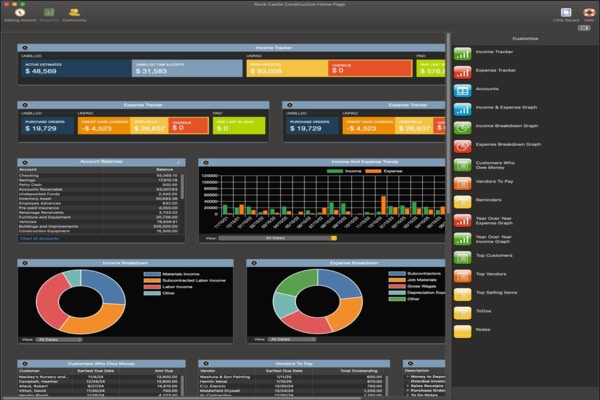 By improved company snapshot, you can get great detectable quality regarding your business with a customized dashboard that offers adjustable information extents, format, and gadgets.
Additionally, have the option to arrange what data in the proper format so you have precisely what you need without running various reports.
✅ Invoice e-Payments
Facility to send customers online invoices using a credit card, e-Payment options.
Accepting ACH, credit cards, e-Payments for payment you can save your time and get paid faster because you don't need to make manually record and process payments.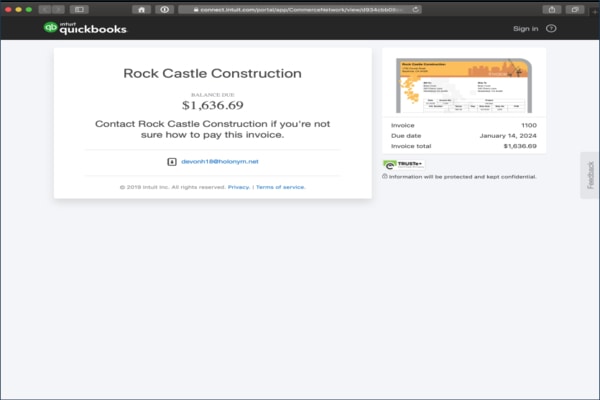 Set up e-payments by following some Preferences, then Payments. First, you have to sign up for a QuickBooks Payments account or sign in if you've already set one up.
After signing up QuickBooks Payments will be enabled for your company file, then create an invoice with e-payments.
Some points you need to know about enabling e-payments:
At the bottom of the invoice window, you'll see a button for "Accept Credit Cards" and another for "Accept Bank Transfer." You can choose anyone, or both, of these options according to your preference.
After email the invoice to the customer, QuickBooks automatically include a Pay Online link in the email body. Take customers securely to the QuickBooks payment portal after clicking on this link. Then customer mentions their information in the payment portal and selects the payment method that they want to use credit and debit card or wants to do bank transaction.
Here are some points to note about recording e-payments:
Once the payment is completed, you can record the payment information in the Record Merchant Service Deposits window. You can also create deposit transactions here. Also, view individual transaction information by clicking on the links in the Source column. This option opens the QuickBooks Payments portal for a particular invoice.
You can also record a single day's transaction by selecting a day and clicking the report option.
If everything is going perfectly, you can also record all the transactions in the left panel by clicking Record All.
If you are choosing first time Record or Record All, QuickBooks will ask you to set the deposit and fee account information.
After the deposit recorded successfully, the status button will turn green, then the items in the Amount column will update the link that you can click to view the particular customer payment form.
Click on the link in the left panel to view the deposit form for a transition. The payments for that particular day will be added to the single deposit transaction.
While the fee recorded successfully, the status button will turn green automatically, and to open the corresponding check click on the link.
✅ Bounced Check Processing
With new features, you can easily and reliably process to bounced checks.
It also saves your money also as because you don't need to pay accountants to correct improperly recorded bounced checks.
If there is an issue in the check you received from the customer and already deposited the check into your account, this feature helps you easily record it and charge your customer a fee if you want.
How can you do this:
You can process a bounced check by directing to Customers, then you Receive Payments. If customers do payment and you see there is a non-sufficient fund, then click the Bounced Check icon at the top of the window.
Here, you make a record of the fee you are charged by your bank for the bounced check. You can also choose which expense account you would like to record fee and with the associated class using class tracking. And, also a record of the amount for charge customers have to pay for their bounced check.
When you click Next, you'll go to a window in which you will get to know about the actions QuickBooks will take once you record the faulty check. In this case, the two invoices need to pay with this faulty check will mar as unpaid. Also, the amount for bank fees and for the bounced check will be detected from your account. Then finally, an invoice will be created for your customer for the fee you're charging them for giving bounced check.
To see the modification in customer payment record go to Record option. In the Record option, you can do a few things. First, double-click to view the customer invoice for the fee. Second thing, double click on the journal entry option to view the record that shows the payment is detected or credited from your bank. Third, check the journal entry that was created for the bounced check fee that was charged to you.
✅ iPhone Scanner
Using your iPhone camera you can upload text searchable images to QuickBooks.
Use your iPhone camera to scan key documents that save your time and money both. You can also easily search for text in receipts, photographed bills, invoices, contracts, purchase orders, ad tax forms.
You can attach photos and scanned documents using your iPhone or iPad in QuickBooks Desktop Mac.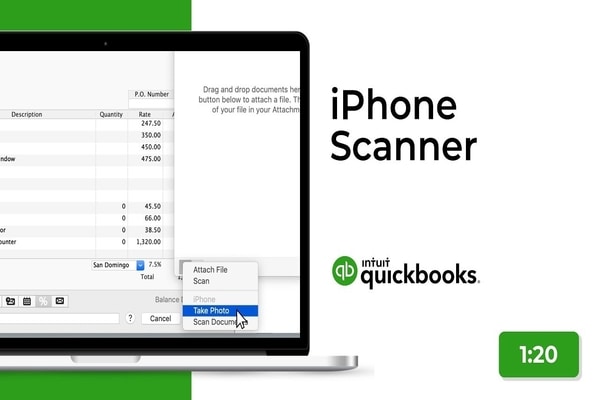 Attachments allow from any window, select attachments icon, then click on the plus icon. You will see your iPhone or iPad name on the menu. To attach a photo, click Take Photo option. And then the camera will open on your device. Choose an image, then click Use Photo. Your photo will then show on the transaction's attachment window.
To attach a scan with your device, select the Scan Documents option. Select your image, then click on the Keep Scan. Then you will see your attachments on the attachments window as a PDF. And all your photos and scanned documents will be saved in your company's attachments library for future use.
If you want to take the benefits of iPhone Scanner feature of QuickBooks Desktop For Mac 2020, you'll need to ensure the following things:
Your Mac and device both are on the same Wi-Fi network.
Make sure Bluetooth is enabled on both your Mac and your device
You're signed in to iCloud with the same Apple ID and two-factor authentication is enabled on both your Mac and device for security.
You should have at least macOS Mojave and at least iOS 12 on your device
✅ Mojave Operating System Dark Mode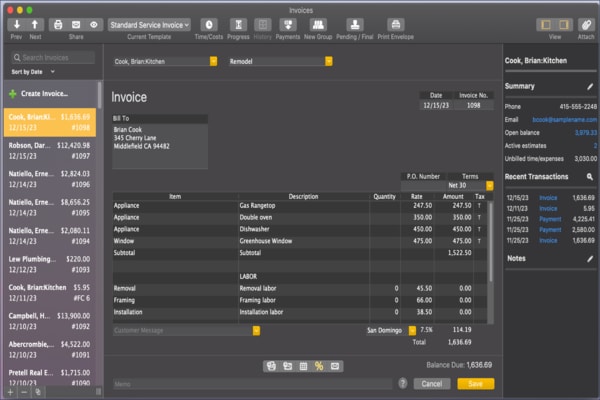 Compatibility to use the Dark Mode user interface.
Mac version has been redesigned to support Dark Mode on your Mac when running on Mojave OS or later. Our new look is easy on your eyes and helps you stay more focused on your work. The daily content should be proper, while the controls and windows further away from a previous position into the background.
Switch to Dark Mode by selecting the Apple menu, after that System Preferences, then General. Under Appearance, choose the Dark option.
QuickBooks will use the color you have selected in the General System Preferences menu for its buttons and icons.
Registers, forms, reports, and lists all are displayed in Dark Mode. In registers, you can choose a color from a curated list of colors that will be better in both Dark Mode and Light Mode or select one from the palette. After selecting the color, the register content and alternating rows will update to appear or displaying in that color.
Whatever color you choose will appear on that register until you change it. In reports, you have the choice to see your content in a dark background or light background. The dark background displayed by default due to dark mode. But you can change this by doing some changes to Preferences, Reporting, and under the General tab by unchecking the box labeled "Use dark background for report content."
Some other features:
QuickBooks for Mac comes with lots of features including tracking income and expenses of your business, tracking accounts payable, accounts receivable, inventory, payroll, accepting online payments, and can run reports. Here is a list of some additional features:
1. Batch Invoicing
Having the same invoice and need to send multiple customers then you can use Batch Invoicing. It will save you lots of time. This feature is perfect if are going to sell the same product or have a number of customers at the same time.
2. Customized charts of Accounts
On the base of industry selection, Quickbooks will create your chart of accounts. To track your income and expenses and you can also remove accounts that are not in use.
3. Custom Products & Services List
For tracking your income from product sell and services, you need to mention all these products in your product and service list.
4. Track multiple locations & departments
If you require to track multiple locations and departments income and expenses. Class tracking is a feature that helps you to do this. First setup your all locations and departments, then tag all the incomes and expenses, inappropriate Class.
5. Budgeting and Forecasting
QuickBooks Mac provides the feature of powerful budgeting and forecasting tool that helps you to create your annual budgets for all income and expenses. Also, create a budget for a particular customer and job. And check your progress by running your budget and or actual reports periodically.
6. 1099 Tracking
You can track payment for particular contractors in QuickBooks for Mac at the end of the year. Generate the information which you need to provide the form 1099 and reports must be provided to the contractors and local tax authority.
7. Multi-User Access
QuickBooks for Mac allows at least three access at a time. As you are an admin user, you have the power to purchase two more licenses to give access to another one. Like: Bookkeeper, Tax professionals and so on. Need to remember to you can only access the data from the system or network server where you installed it.
8. iCloud document sharing
iCloud document sharing is the new feature added in the 2019 version. This feature helps you to share your data from one Mac to another. You can also share data in multiple systems using iCloud.
9. Reconciliation Discrepancy Report
This is also a new feature added in QuickBooks Mac 2019 version. Before that Reconciliation Discrepancy Report feature is only available in QuickBooks Desktop for PC and QuickBooks Online Accountant. It helps you to solve any issue that you face in reconciling your bank and credit card account every month.
10. Email tracking feature for customers and vendors
You can send emails to the customer with attached estimates, invoices, and other documents. This feature is added to QuickBooks for Mac 2019. It is also allowed to send purchase orders and other documents to vendor suppliers through email.
Here is the list of six day-to-day tasks you can complete in QuickBooks for Mac
Track sales and income
You can record and track sales from services and from QuickBooks products by creating invoices. If your customer do the payments regarding products or services. You can create a sales receipt or invoice. If the customer agrees to the bill, create instead invoice. Sales form and invoices can be directly emailed to the customer so you don't need to get print them.
Track bills and Expenses
Like in Quickbooks Online, there are many ways to track bills and expenses in QuickBooks Mac. There is the feature to download your transactions, enter bills manually, or also import data from the spreadsheet.
There are three ways to stay on top of your expenses:
First, connect your bank and credit card accounts in QuickBooks Desktop for Mac so you can download transactions automatically.
Manually entered bills and print checks directly from QuickBooks for Mac.
Also, import all the data from the spreadsheet to QuickBooks for Mac.
Track Inventory
QuickBooks for Mac has the feature to track all purchases and sales. You can create a purchase order and send to your supplier. As when the goods are supplied, you can mark them as received against the original purchase order.
QuickBooks automatically reduces your quantity in hands if you sell items in inventory. One more thing when you reach the least quantity order, automatically receive an alert to purchase an order.
Run Payroll
You can turn on Intuit payroll services within QuickBooks for Mac. Payroll processing starts at $29 per month for QuickBooks for Mac with included feature:
Payroll check calculation
Pay by check or direct deposit
W-2s for employees
Payroll tax forms and filling
Accept online payments
Facility to accept online payments from the customer in QuickBooks Desktop for Mac. To use online payment feature need to enable Intuit Payments, you see the "Pay now " button on all the invoices which are emailed to customers. They can pay invoices by using a debit card or credit card or by entering their bank account details.
There are two plans you see while you sign up for online payments. First is the Pay-As-You-Go Plan and the second one is Pay Monthly Plan.
Run Key Reports to Gain Insights into Your Business
As same as the QuickBooks Online, QuickBooks Desktop for Mac 2020 has lots of reports that you can run to gain key insight into your business how is it doing. The report includes profit and loss, balance sheet and statement of cash flow and so on.
How QuickBooks for Mac is right for you?
QuickBooks Desktop for Mac only supports the iOS Operating system. If you are using a PC, then QuickBooks Mac is not for you.
Mac users should use QuickBooks for Mac if they:
If they don't need to access the data while away from the office
If they don't have more than three users to access simultaneously.
They don't need to connect their bank accounts with QuickBooks for Mac.
Unlike QuickBooks Online, QuickBooks for Mac is only accessible in the system in which you installed it. So, you can't able to access the out of your location, rather you access it through hosting service like Right network.
As you only connect three users at the same time. And you can't connect your debit card or credit card to QuickBooks for Mac. It means you have to enter this data manually or need to import from a spreadsheet.
Cost of the QuickBooks for Mac
One time payment of Quickbooks Desktop for Mac 2020 is $299.95. To add additional features you need to pay additional fees like payroll processing, payment services. You can also get free technical support for the first 30 days. But to take service continued you need to purchase it.
The difference in QuickBooks Windows and QuickBooks Desktop For Mac:
If you want to switch from QuickBooks Window to Mac or vice versa, then you will see some changes in both the versions. As QuickBooks Mac is designed for Mac applications so if you are using Mac products it is familiar to you. But if you are using keyboard shortcuts in Windows they differ from Mac. We are going to discuss in details:
Converting your company file:
QuickBooks Desktop for Mac has to all the features of its Windows equivalent. It also not convert your all data when you move your company file from Windows to Mac.
The difference according to features:
There are some features that make a big difference between Mac and Windows.
Accountant's copy: You can share your Mac file to the accountant but you will not permit to work continued on that file
Online payroll: Mac exchange data with online QuickBooks payroll for Mac services. But payroll is not part of the QuickBooks Desktop for Mac as it is on Windows.
Third-party app integration: Any application that depends on the QuickBooks SDK, Web connector, or App center to access QuickBooks data will not integrate with QuickBooks Desktop for Mac.
Inventory: Mac version doesn't have units of measure or assembly items.
Multicurrency: Mac version of QuickBooks Desktop doesn't support multi-currency.
System Requirements of QuickBooks Desktop For Mac 2020:
Before downloading and installing QuickBooks For Mac 2020 you should know the system requirements. So, you will not face any issue while downloading.
System Requirements
Need for macOS X v10.14 (Mojave).
Require Internet connection for downloaded installation and product updates.
Required Product registration.
Integration with other software
Requires at least Apple Numbers v3.5, and/or Microsoft Excel 2016 or later, including Mac Office 365 to Export report data
Apple Mail, Microsoft Outlook 2016 or later, including Mac Office 365 all these requirements of Email.
QuickBooks Desktop for Mac 2020 supports one-way conversion with QuickBooks Online.
2020 version of QuickBooks Desktop for Mac supports one-way conversion from QuickBooks Desktop Windows 2017 to 2019.
It also provides supports conversion to and from QuickBooks for Windows 2020.
Wrapping Up Summary
Now, you know about the QuickBooks Desktop Mac 2020 & 2021, its price and features, and how it is different from QuickBooks Windows. I hope this information will help you to make an easy decision that why you should choose QuickBooks Mac. But still, you are confused about the version then I will suggest you take 30 days QuickBooks Desktop trial. And that will help you to make the right decision.