Each year Intuit releases various updates to QuickBooks products that can easily be downloaded from their official website.
Want to upgrade QuickBooks Enterprise or any other Desktop product to 2021? Don't worry as here in this article, we will explain how to update QuickBooks to the latest version on both, Desktop and Mac. Even if you are using an older version like 2018, 2019, or 2020, just follow the steps mentioned here. Go through the article to understand the steps to update QuickBooks Desktop to the latest release 2021, and there are many more features and methods mentioned. For any suggestion or help contact our QuickBooks ProAdvisor toll-free: +1-818-295-3510
These updates are also called maintenance releases or patches that include all the changes from earlier updates. These updates improve QuickBook's performance and also fix the known issues automatically. All updates are free for product releases.
Do not be confused with upgrades, as the upgrade adds significant new features or functions to the program and should only be purchased as a CD-ROM.
There are two ways to update QuickBooks Desktop to 2021 – either automatically or manually. In this article, we will explain both as well as how to check to see if you have the latest release. But first, let us learn why should you always update and upgrade your software to the latest releases and versions.
Why to update to latest Released Version of QuickBooks
Let us see what benefits you get by updating your QB to the latest released version.
Advanced User Management Feature: Manage the user's roles, and permissions according to your need, and can restrict the users to do a particular activity. QuickBooks also allows you for the operation payroll section for the selected employees, those who are from a group.
RFA Enhancement: Now you are allowed to send requests to QuickBooks for the second admin.
Bug Fixes: Fixed the data level permission issue in 3 situations:
When a QB user not able to create transactions for unpermitted customers from Batch Enter transactions because of the customer name typing.
When report filter for (>=1) or (=) shows incorrect.
When a vendor groups with a credit balance greater than 0, and showed incorrect results.
Tax 1099 NEC and MISC: Now QuickBooks support with the 1099 MISC, and 1099 NEC and to print, and E-Filing. Not only that, but also allows the third-party applications to use the software developer kit for the e-filing.
Improvements in Online Banking: Save the customization of columns, and create rules for both running money out transactions, and money in transactions. Assign a customer in QuickBooks, job to their expenses, in their banking transaction table.
Inventory Aging Report: The inventory aging report informs you of the value, quality, age, and acquisition of the stocks. By which you can make sure about the details of the stock product.
Steps to see if you have the latest release version
Open QuickBooks Desktop.
Press F2 (or Ctrl+1) to open the Product Information window.
Check your current version and release.
Steps to Update your QuickBooks Desktop Enterprise, Pro & Premier
There are four methods to download the update from the internet and every method needs a good speed internet connection. All three methods are given below:
Automatic Update Method (default setting)
On-Demand (Immediate) Update Method
Release Download
Manual Update
Once the latest update is downloaded, QuickBooks automatically install all the important files to the desired location on your computer.
After downloading all the updates, QuickBooks automatically prompt notifications to install the update, the next time whenever you will restart your QuickBooks.
Sometimes you have to close your Quickbooks and then restart it again before the update will take effect. Remember this, you must install the update on each computer, If you use QuickBooks Pro or Premier in multi-user mode.
Automatic Update Method
With this process, QuickBooks Automatically checks the Intuit server for new updates. And it will download the updates when you are not using(working) your internet.
There is a default setting on QuickBooks, whether the software is running or not on your system, it will automatically download updates from the Intuit server. You can disable the automatic update option if you don't want to update your software, otherwise, it continues to download updates automatically.
How to enable or disable the Automatic Update option: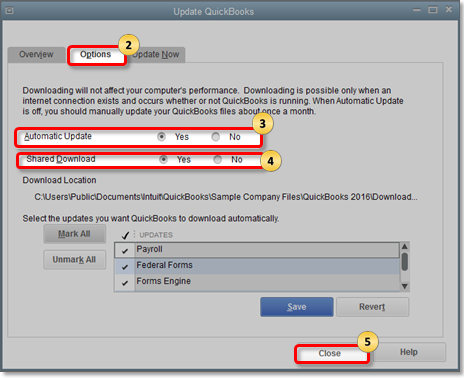 From the Help menu, click on Update QuickBooks.

Now Click on the options tab In the Update QuickBooks window.

Select the option you want to choose. Yes to enable or No to disable the Automatic Update option.

Choose the update you want to receive and remove the updates from the update section that you don't want to update If you want to enable the Automatic Update option.

But If you disabled the option then you will not receive any notification even if there is any update are available on the Intuit server. But from time to time, you will receive a message asking if you would like to use the Update Service. Note that This is only a reminder to inform you to check for updates, it and does not mean that an update is available.

Now Click on Save and then Close.
If the above method is not working and you still facing the problem with the automatic update. Apply the next process given below: "Immediate Update Method". If you are still unable to download an update, then please contact our QuickBooks Support team to get immediate help.
Immediate Update Method
The best part of this method is, you can download the update from the Intuit server immediately on your computer. It doesn't matter that your QuickBooks is running in your system or close. You can use this option at any time and immediately download the updates even if Automatic Update is enabled in your software. Remember that It is important to check for updates approximately once a month.
How to check for and install updates to QuickBooks
From the Help menu, click on Update QuickBooks.
Then click on the Update Now tab.
Now choose the updates you need to download and click on Get Updates. You can also check what is included in the update from the Updates column. Click on the Maintenance Releases link. Now you can see a page is displayed that have listed the changes/improvements in the update
Now close your QuickBooks. The next time when you will restart your software it will prompt you to install the update now or later. It depends on the version you have. When you see the message (prompt), click Install Now or Yes to install the update. After complete installation, restart your computer
Important: If you want to install Maintenance releases then close and reopen your QuickBooks. A prompt will comes on the screen then you have to click on install now. Remember that, Maintenance releases cannot be installed automatically.
Note: It is important to reinstall all the applicable updates in the order they are released. If you ever need to reinstall your QuickBooks. If you did not do this then QuickBooks will not able to open company files.
Release Download
If you are facing a problem with the update feature or If you do not want to install updates using the update feature, you can download and install available updates.
It is strongly recommended that you must use the update feature to install QuickBooks Updates. Make sure to update all copies if you are using multiple copies of QuickBooks. If you did not do this you may have faced some problem opening your company file or may be completely unable to open your company file.
Download Updates for Multi-User Mode in QuickBooks Pro and QuickBooks Premier
If you are using QuickBooks Pro or Premier in multi-user mode, you have to install the update on each computer you are using. You can connect all your systems to the Internet and download the updates and install or you can download the update on one computer on your network and share it.
To sharing the updates the users need must complete the given process:
Open the shared company file.

From the Help menu, click on Update QuickBooks.

Now go to the Options tab and click on it.

Set the Share Download option to Yes.

Click on the Save button.
After applying all these given steps, downloaded updates will be distributed to all computers.
Note: QuickBooks Download updates to the location where your company files are located. After you turn on the Share option. Otherwise, it downloads updates to the directory or folder where the copy of QuickBooks is installed. Now Install new releases updates for your QuickBooks company file.
Never forget that once the company file has been updated, it may not be accessible using earlier releases of QuickBooks
How to upgrade new QuickBooks Desktop
Click on your new version of QuickBooks Desktop.

Go to the File menu, then select open or restore the company.

Click on Company file then Next.

Highlight your data file then select Open.
Note: if you Move Company File window appears, follow the instructions shown.
Read the data in the

Update Company file for New version.

Check the box to signify you understand, then

Update Now.

Follow the instructions on how to make a backup of the files
Note: where you save your file.
Once you update your company file to open the newer version of QuickBooks … Do you want to continue? Appears, select

Yes.
Steps For Manual Update
Follow the below if you want to do a manual update.
First, you need to download the latest version, and later quit all the company files and QuickBooks.
Now, go to the Windows Start menu and look for the QuickBooks Desktop, on QB Desktop give a right-click and choose the Run as administrator.
Now, on the No Company Open screen, click on the Help menu and click on the Update QuickBooks Desktop.
On the Options tab. Click on Mark All and later choose Save.
Next, click on the Update Now tab and click on the Reset Update checkbox.
Click on the Get Updates, when you are ready for the update.
Update QuickBooks Desktop for Mac
In-product update
Hover over the dropdown menu ▼ & click on select Check for QuickBooks Updates.
If you find a newer version, click install & update.
You might get an alert for Selecting install & relaunch.
After the update is finished, QuickBooks for Mac automatically launches.
Manual update
First of all you need to uninstall the older version & reinstall the newer verion.
To reintsall the latest version, Go to QuickBooks Product Updates.
Select the desktop version & download the installer file to your pc.
Double-click the downloaded .dmg file & drag the QuickBooks Desktop icon to the Applications folder to install.
That's all in this article, hope you find it useful. For any technical help & support, dial our toll-free number +1-818-295-3510.