The ideas behind QuickBooks Online demo is by using the sample company demo you can understand how it works and whether or not it will beneficial for you. It also helps you explore all the QBO features and practice it.
One of the best ideas for you to take the Quickbooks Online demo is by using QuickBooks online sample company demo. This is a great way to do the experiment with features and any of the options you might not feel comfortable trying in your own QuickBooks Online account.
So if you are interested in taking a test drive of QuickBooks Online by using the sample company demo, than this article is for you.
The important thing is, the system doesn't save any changes you make while trying a demo. So you can experiment you like. Also if you want to get more information read, QuickBooks Online latest 2020 hacks & tricks that will help you in your business.
Note: For countries, it's a QuickBooks Online Plus account that offers multiple versions of QuickBooks online. Any work done in the test-drive will not be saved and the original data will be refreshed every time. Banking features are disabled in the test drive for security reasons.
What is QuickBooks Online Test Drive process?
If you are operating a company and need a demo of QuickBooks Online. Or we can say if you want to know more about QuickBooks functions and attributes then, you can use QuickBooks Online test drive. You also go for a sample company demo. Because, if you use the test drive by sample company demo you can explore more features and options that you can't try in your own QuickBooks Online account. Just use this test drive and get more information if you want to know some more information.
What is the availability of QuickBooks test Drives in the Latest Version?
Recent QuickBooks online test drives do not have a smart reporting allowance. So, for this, you should first authorize cookies to proceed.
What security Protection you should take while QuickBooks Test Drive?
If you want to try this test drive on QuickBooks Online, you will not have to provide your bank information at all. This will not affect your regular accounts. So, if you are thinking of trying online banking facilities, you can choose an active or trail QuickBooks Online account. And, if you try to add your bank account, an error notification will be indicated. If you feel that you need assistance, you can contact our support team at any time without any hesitation.
QuickBooks Online Demo & Test Drive by using Sample Company File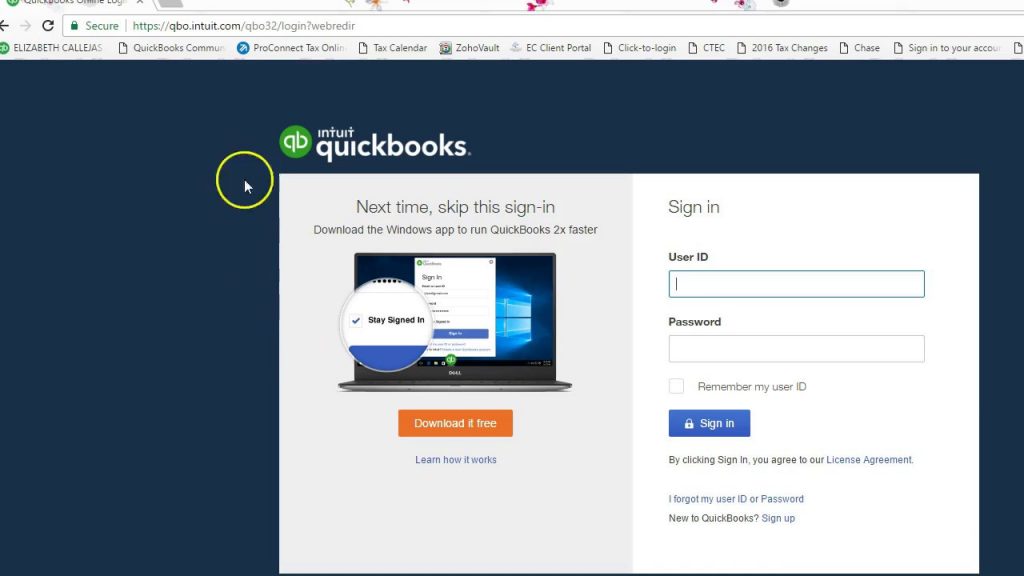 Note: Current QuickBooks Online Advanced Test drive does not have Smart Reporting enabled the option. You must have to enable cookies to continue.
Download trial versions of QBO test drive
Here you can choose the other link according to your regional wise to test drive Quickbooks Online demo:
Note: QuickBooks Desktop Trials are trial versions only. They cannot be registered. They are meant for you to test the features and capabilities of the software. If you decide to buy the full version, your existing work in the trial version will not transfer over to the copy you purchase. If you try to activate your account within the trial version, you will be locked out of the program.
Security protections during your test drive QuickBooks Online
For security purposes, Intuit doesn't allow bank connections in Quickbooks Online demo. No need to worry about this security protection doesn't affect your regular accounts so if you want to try test online banking functionality, then you can also use either an active or trial QuickBooks Online demo account.
Note: If you trying to connect a bank account, it will show a message, "Something isn't working. An error occurred while validating the credentials. Please try again.
Verify test transactions
You can verify your test transaction made to your bank account.
There is two option to verify your transaction amount by checking your bank statement online or by calling to your bank. The charge will appear on the bank statement as either " QuickBooks: Verify Bank" or "Intuit: Verify Bank".
Intuit Online Payroll
Confirm the test transaction
First, click on To Do and then Confirm your test deposit.
Insert the test transaction amount in both boxes (which is less than $ 1.00). Only pennies need to enter, without mentioning dollar sign or any decimal point. Let's take an example: if the transaction amount is $ 0.58, so you need to enter 58 in the boxes.
Then click on the OK option.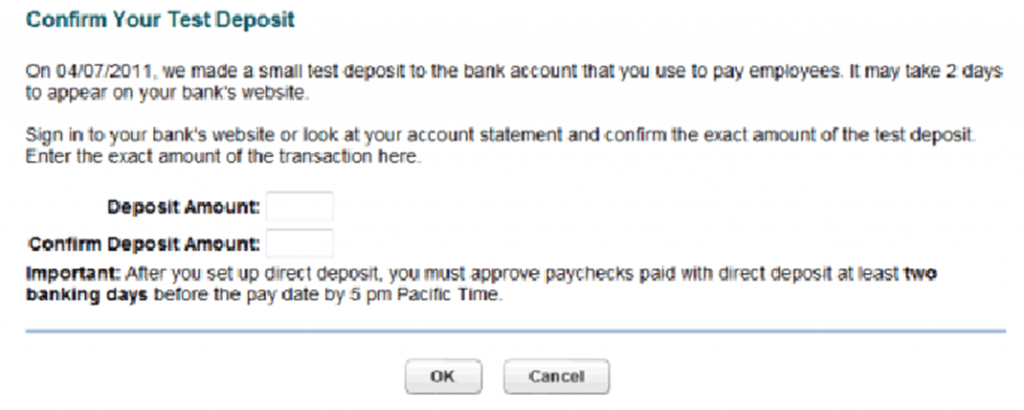 QuickBooks Online Payroll Enhanced
Confirm the test transaction
Select Workers from the left menu, and then click on Employees.
Go for Finish payroll tasks on the main Employee page.
Select Verify the test deposit now option.
Select Ok.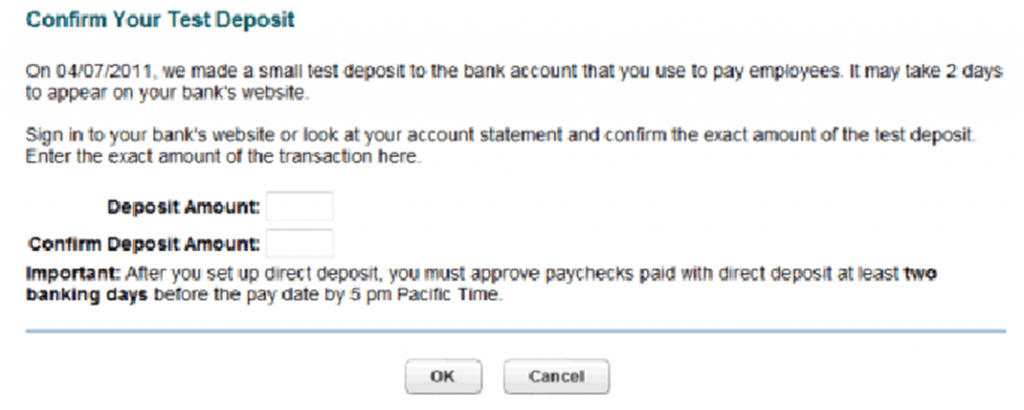 If New payroll tasks button is missing, then here is another option to verify test transaction:
Choose Settings icon at the top of the screen, then select Payroll settings.
Select Company under Bank Accounts.
Choose the Verify Account, then click on Enter and confirm the amount.
Remember that you will only get one attempt to verify the test transaction if you may not be successful then you need to contact payroll support for the help.
Intuit Full Service Payroll
Confirm the test transaction
Click Complete tasks now in the Home tab.
And select Confirm bank deposit.
Mention the test transaction amount and go for Save option.

QuickBooks Online Payroll (all other versions)
Confirm test transactions in the QuickBooks Online Payroll Core, QuickBooks Online Payroll Elite, QuickBooks Online Payroll Full Service, or QuickBooks Online Payroll Premium.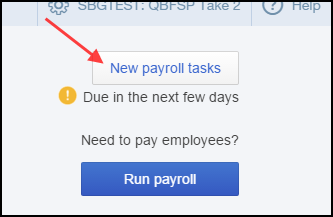 Choose Workers from the left menu and then Employees.
Choose New Payroll Tasks.
And click on Confirm your payroll bank account.
Insert the test transaction amount and then Save it.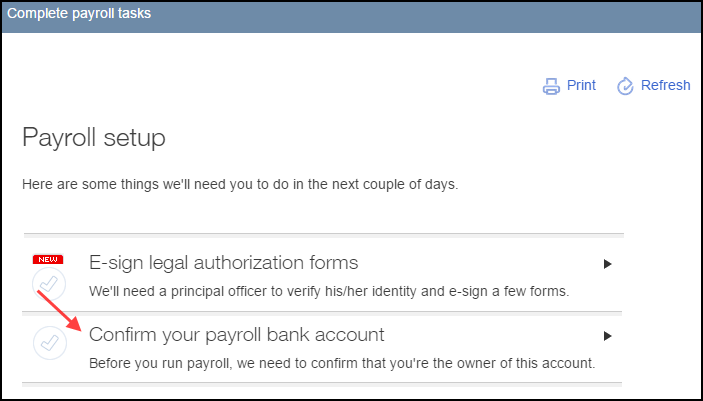 If there is no New payroll tasks button, here you will see one another option to verify test transactions.
Choose the Settings and then click on Payroll Settings.
Select Company under Bank Accounts.
Choose Verify Account click on the enter button and confirm the amount.
Test environment and sandbox in QBO
There is a sandbox available for QuickBooks Online. You will see that in the Intuit Developer Community. Just take your mouse cursor to the API Docs & tools at the right corner of the screen, there you will see QuickBooks Online sandbox and click on that.

I hope this blog is helpful to you. If you still need any other help, find a QuickBooks ProAdvisor by dialling our toll-free number +1-855-441-4417.