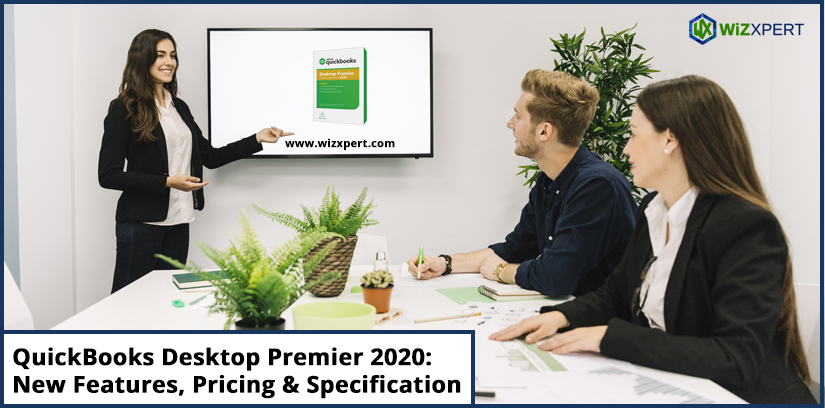 QuickBooks Desktop Premier is the advanced version of QuickBooks Pro. This version helps you to organize your business finance in one place so you can be more productive. Either you wish to quickly locate items and complete inventory-related tasks, all can be done in one place using the inventory center in this.
What are the reasons that make QuickBooks Premier "Premier"?
QuickBooks Premier has all features of QuickBooks Pro but there are some additional features that make it different. There are multiple versions – QuickBooks Accountant, Contractor, manufacturer & Wholesale, Nonprofit and they all are different in features.
After installing QuickBooks you reach to next level and need to choose one of the six industries:
General Business
General Contracting
Non-Profit
Professional services
Retail
Wholesale and Manufacturing
What's New in QuickBooks Desktop Premier 2021
Check out the below points to know the latest edition of QuickBooks Desktop Premier 2021
Improved bank feeds: With the 2021 edition you can save your more time by automatically classifying bank transactions with better matching for payments, accounts, and classes. Use enhanced rules and batch editing to restrict data entry, and immediately review and resolve inconsistencies.
Receipt management: In 2021 edition, you can use receipt management tools and save time by utilizing a mobile device to record receipt data, just photograph, import, and review. Apart from this, you can automatically classify receipt expenses and record multiple transactions simultaneously.
Automatically send statements: Now you don't need to regularly send your statements to remind your customers of the open balance. Now, just schedule the email to send automatically each time they are sent out, without the need to customize them.
Customize payment receipts: To get a professional and consistent look at your customer communications, customize the payment receipt formatting including the logo.
Create customer groups: Now, you can create rule-based customer groups based on areas such as customer type, position, location, and balance, so that you can easily handle and communicate with them.
System and Browser Requirements For 2021 Edition
Windows 8.1 Update 1, or Windows 10 update/version supported by Microsoft Windows Server 2012 (or R2), 2016, or 2019.
2.4 GHz processor
4 GB of RAM (But recommended is 8 GB)
2.5 GB disk space recommended (additional space needed for data files)
4x DVD-ROM drive (unless the user is downloading from Intuit server)
Payroll and online features need Internet access (1 Mbps speed recommended )
Product registration needed
Optimized for 1280×1024 screen resolution or higher. Supports one Workstation Monitor, plus up to 2 extended monitors. Optimized for Default DPI settings
Internet Explorer 11 (32-bit)
Integration with other software
Microsoft Word and Excel integration needs Office 2013-2019, or Microsoft 365 (for both 32 and 64 bit)
E-mail Estimations, Invoices and other forms with Microsoft Outlook 2013-2019, Microsoft 365, Gmail, and Outlook.com, other SMTP-supporting e-mail clients. Integration with QuickBooks POS 12.0, 18.0, or 19.0
Transfer data from Quicken 2016-2020, QuickBooks Mac 2016-2021, Microsoft Excel 2013-2019, or Microsoft 365 (32 or 64 bit)
Pricing of QuickBooks Desktop Premier 2021
You can get Premier 2021 edition in $649.99 (one-time payment) with enhanced payroll and unlimited technical support
QuickBooks Premier 2020 key features
The version of QuickBooks Desktop Premier provides many features, some of them are:
Allow five users to work at the same time
To manage inventory reports there is an upgraded inventory center
The ability to set up multiple units of measurement for inventory items.
You can track the inventory, non-inventory material that is used to make the product in Inventory Assembly.
Job Costing Center to review time spent, income, and expenses for each job. 
Track your balance sheet by class such as location, department, or profit center.
You can import Excel files into QuickBooks, Quicken, and prior QuickBooks version
You can also customize QuickBooks reports.
Bill clients progressively by the job phase.
There are several other factors of QuickBooks Premier that make it more beneficial than the Pro version. This is perfect for small to midsize businesses. 5 users can work together so it saves time. Creating a custom report is a very important thing and this product will not let you down and you can create reports and export to Excel. You have to pay a little bit extra as you will get extra features.
QuickBooks Pro and Premier price comparison 2020
The price of QuickBooks Pro for a one-time purchase is $299.95 and $499.95 is the QuickBooks Desktop Premier price. The premier version is more costly simply due to its additional features and flexibility it provides to us. It depends on your budget or business needs that which product you are comfortable to purchase.
Why business owners prefer QuickBooks Desktop Premier rather than QuickBooks Desktop Pro
QuickBooks Desktop Premier and Pro both are excellent in their own way. But there are some reasons that make them differ from each other. The main difference is versatility, Premier offers you 
1. Backorders: If you want to know which order is invoiced to customers and which is left. So, QuickBooks premier is allowed you to do so, but QuickBooks Pro has not much visibility.
2. Sales Orders: QuickBooks Desktop Premier has the sales order fulfillment worksheet and has easier sales order workflow management than Pro.
3. Reverse Journal Entries: Many business owners prefer Premier rather than Pro because there is the facility in Premier Reverse Journal Entries means you can cancel or reverse the entries which are already done.
You can choose the QuickBooks Desktop Premier for getting benefits like General Business, Contractors, manufacturing and wholesale, nonprofit, professional services or retail. It also offers features to track sales, customer payments, manage payroll and payroll taxes and create invoices and forms. 
4. Current Availability Tracking: This feature is not provided by QuickBooks Pro, in Current Availability Tracking you can track or record all the things that you deal with one customer and you will not commit the same thing with another customer.
5. Previous Reconciliation Reporting:  This one of the best features of QuickBooks Premier and most of the clients prefer to use this feature. In Previous Reconciliation Reporting, you can get a snapshot of previous reconciliation.  
Comparison between QuickBooks Premier and Premier Plus
As QuickBooks Premier and Plus both have the same features but Plus provides you with some additional features. Hence it all depends on your business budgets & need, which plan you should consider.
If you choose QuickBooks Premier as on the license based for three years you don't need to pay extra for phone support. It does not help you to save a big chunk of money. If you need annual upgrades and wants lots of customer support than QuickBooks Premier Plus is best for you. You can read this article to compare QuickBooks Versions and find the best fit for your business.
QuickBooks Premier Pricing
There are two options available when you are going to purchase QuickBooks Premier.
You can purchase QuickBooks Premier on license based
Or you can purchase an annual QuickBooks Premier Subscription.
The cost of the QuickBooks Premier license is $499.95 on Intuit's website. The license you purchased will be for three years. After three years you will be able to use the software but Intuit will not be given any support to you if you are getting any issues related to the software. This license supports only one user.
QuickBooks Premier Plus Pricing
The cost of the QuickBooks Premier Plus Pricing is $499.95 each year but you will get 40% off for the first year so just need to pay $299.95 for the first year of subscription. The payment process in Premier Plus is on an annual basis. The annual subscription is the same as QuickBooks Premier but along with some other features:
Annual upgrades
Free Phone support
Free automatic data backups
QuickBooks Premier
QuickBooks Premier Plus
Pricing
$499.95
$499.95/yr
Annual Upgrades
$499.95
Included
Phone Support
$89.95/3 month
Included
Data Backups
$9.95/mo
Included
What are the changes in QuickBooks Premier as year by year?
| | | | | |
| --- | --- | --- | --- | --- |
| Features | 2017 | 2018 | 2019 | 2020 |
| You can set reminders for the customers when their invoices and dues are pending with Automatic Payment Reminders. | | | | Available |
| You can add the customer PO number in the subject of the email. | | | | Available |
| Combine multiple invoices in one mail | | | | Available |
| Easily find Company File with the new searching tool. | | | | Available |
| Hide columns to see simple, easy to read customer totals in reports with the help of jobs & classes. | | | | Available |
| Use Smart Help option to take the content and search experience, or access to live experts through messaging and call back options. | | | | Available |
| Now it has become more reliable and secure to transfer between Accountants and QuickBooks. | | | | Available |
| Get real-time visibility of invoice statuses to expedite collections and stay on top of your cash flow. | | | Available | Available |
| You can transfer customers credit to quickly reduce the size of the file without deleting or removing. | | | Available | Available |
| You can easily upgrade or transfer your QuickBooks file to the new computer. | | | Available | Available |
| You can make your work more easy by adding new customized inventory reports | | Available | Available | Available |
| You can work fast as your window opens on multiple monitors. | | Available | Available | Available |
| Chart of Accounts makes your work easy searchable and time-consuming. | | Available | Available | Available |
| You can pay your payroll taxes by adding payroll liability reminder on the home screen. | | Available | Available | Available |
| Automated reports are helpful to inform you that your reports are on time and accurate automatically generated or email to you when you schedule. | Available | Available | Available | Available |
| If there is an important thing about the customer, vendor you can view or pin that important note. | Available | Available | Available | Available |
| Track bounced checks and see key reports in just one click. | Available | Available | Available | Available |
| See your invoices, billing, and other important tasks in a Calendar View. | Available | Available | Available | Available |
| Make professional format invoices and forms | Available | Available | Available | Available |
| You can easily track sales and customer payments | Available | Available | Available | Available |
| 5 users can work at the same time | Available | Available | Available | Available |
| You can create a copy of the company file for your accountant | Available | Available | Available | Available |
Specification of QuickBooks Premier
System Requirement:
You need to have the following recommended system specs & requirements to use QuickBooks Premier 2020.
Windows 7 SP1,8.1 update 1 or windows 10 (32 or 64 bit)
Windows Server 2008 R2 SP1, 2012 R2, or 2016
2.4 GHz Processor
4 GB of RAM (8 GB recommended)
2.5 GB Disk recommended. Additional space required for data files
4x DVD-ROM Drive, if user download it from Intuit server
Payroll and online features required an internet connection. 1 Mbps recommended space
Product registration required
Optimized for 1280×1024 screen resolution or higher. Supports one workstation monitor, plus up to 2 extended monitors
Optimized for Default DPI setting
Integration with other software
Microsoft word or excel integration requires office 2010, 2013, 2016, or office 365 (32 or 64 bit)
E-mail estimates, invoices and other forms with Microsoft Outlook 2010-2016, Microsoft Outlook with office 365, Gmail, Yahoo, Mail, and Outlook.com, and other SMTP-supporting email clients.
Transfer data from Quicken 2015-2018, QuickBooks 2004-2018, QuickBooks Mac 2016, and Microsoft Excel 2010, 2013, 2016 or Office 365 (32 and 64 bit)
Browser Requirement
Internet Explorer 11 (32-bit)
How to install QuickBooks Premier
After downloading QuickBooks Premier. Following are the steps to install them:
Click here to download QuickBooks Premier
1. Some specific requirements to install QuickBooks Premier
First, make sure that your system meets the specific requirements.
If you haven't already then, download your version of QuickBooks Desktop after downloading then save your file.
You should have your product or license number.
2. Install QuickBooks Desktop Premier
First, Open the file you downloaded
Then follow the onscreen instructions. Accept the Software license agreement and after that select Next
Enter your product or license number. Then select Next.
3. Select which install type is right for you
There are two options to install QuickBooks: Express or Custom and Through Network.
A. Express Install
Use this option to install if you are:
A first time user
Reinstalling QuickBooks
Going to use QuickBooks on just only one system
To express install:
Select Express and then Next
Select Install
When it is finished, select Open QuickBooks to get started
B. Custom and Network Install
Use this option to install if you are:
Installing QuickBooks anywhere but try to avoid default location such as server
Hosting your company files on a server
Setting up a multi-user network
To Custom or Network install:
Select custom and network options and select Next
Select the option that describes how you'll use QuickBooks
On the next screen, select the Change the install location
Select Browser to decide where to put your folder.
Then select Next to start the installation
When it is finished the installation, then select Open QuickBooks to start.
4. Activate QuickBooks Desktop
After installing QuickBooks Premier, then it will ask you to activate and update.
There are the following steps to activate and update it:
To activate it:
Open QuickBooks
From the Help menu, select Activate QuickBooks Desktop
Follow the steps shown on the screen to verify information
After you are finished, you will be ready to work on QuickBooks.

Quickbooks Premier Manufacturing and Wholesale 2020
The Intuit offers QuickBooks accounting software for Manufacturers and Wholesalers to easily maintain inventory, sales order accomplishment, manufacturing and accounting under the one place. Now let's discuss what's the unique feature in manufacturing and wholesale feature.
Handle sales orders within one dashboard
Manage end-to-end sales orders with an enhanced pick, pack, and ship. Also streamline your order fulfillment process by mixing pick and pack roles with express pick-packs.
Easily Track Inventory
In this you can use mobile inventory bar code scanning to automatically sync and receive with QuickBooks. Track the list between locations and moving objects from one location to another. Also, it allows the options to track by serial, lot number, or bin location.
Help you to make more reliable business decisions
It gives you the idea to make special reports composed for manufacturers and wholesalers give you the insights that you require to obtain the best choices for your business.
Efficiently estimate the true cost of your products
Accounting landed cost helps you recognize the true cost of your products by factoring these things like goods, duties, and insurance so that you can maintain margins to maintain profits.
Real-time inventory update
Cycle calculations help to overcome stocking errors and give you a picture of inventory levels in real-time from a central dashboard. In addition, you can take inventory without closing your warehouse.
Pay employees quickly and easily
With QuickBooks Enhanced Payroll, you can create unlimited checks, use free direct deposits, file payroll taxes, and create W-2s without monthly fees. Or you can use full-service QuickBooks Assisted Payroll and intuit will take care of your payroll tax payments and filings for you – accurate and timely guarantee.
In summary
The new features of QuickBooks Desktop Premier help you to run your business more successfully and make you more productive. And if you are already using the Premier version of QuickBooks then hurry to upgrade your Premier version to make your work easier.
I hope this article helps you to choose the best option for you. But still, you are not able to decide then I recommend you take 30 days QuickBooks Desktop trial or QuickBooks Online Demo and only then decide which version you want to purchase.
Suggested Read:
QuickBooks Desktop Premier 2020
Multi-user access
Free Phone Technical Support
Pricing
Summary
QuickBooks Desktop Premier is the advanced version of QuickBooks Pro. This version helps you to organize your business finance in one place so you can be more productive.