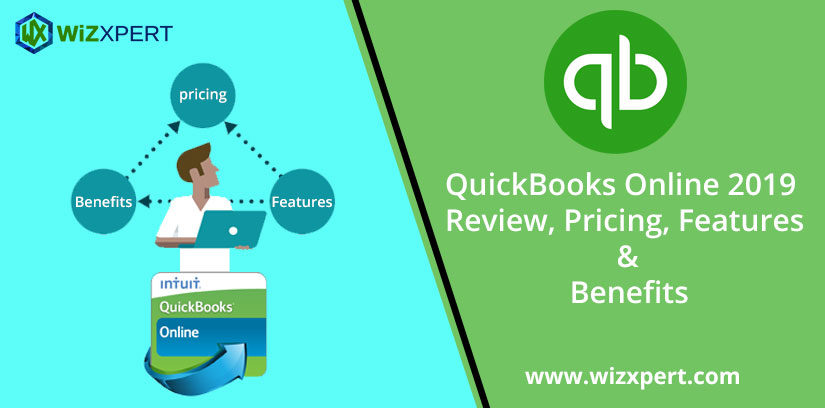 Are you searching for the best accounting software that runs your business successfully? And provide you free online support, then QuickBooks Online is best for you.
QBO is accounting software that can easily fit into your business and make your accounting easy. It is designed for small, medium and growing businesses so that they can easily manage their business finances without spending more time.
QuickBooks Online is a platform that creates trades, billing, strong chart of accounts as well as customizable invoices.
You just need to pay for software as a service (SAAS), rather than paying for upgrading software applications on the system. QuickBooks Online is built for compatibility with Desktop or mobile devices. It helps you to access or manage your data from anywhere.
Basically SAAS is the hosting of software for the business on the web rather than on your server. If you do not afford to IT team to upgrade your servers, manage software licenses, or can't able to focus on your team have the availability of all the software to serve the clients. For this reason, the company provides SAAS who handles all these terms.
Why Choose QuickBooks Online
QuickBooks Online provides you remote access option. You just need a user ID and password to access it. Your all accounting data organized in the cloud and you can see any time how your business is running. This QuickBooks Online service is best for service-based businesses.
Some benefits provided by the QuickBooks Online are:
Better shared access to data with employees and accountant
No software and local data to manage ( No upgrades and release updates)
Easier app sync with nightly automatic downloads
Your business reports are sent automatically
Track inventory as First-in-first-out
No installation required
New features and fixes every week or fortnight
Inexpensive to buy
You can try QuickBooks Online Demo
Option to receive payments by credit cards and ACH electronic payments
Why QuickBooks Online is better than QuickBooks Desktop
The biggest difference is QuickBooks Online does not require installation on the system. Approximately 80% of new users choose QuickBooks Online rather than QuickBooks Desktop.
There are some points regarding why QuickBooks Online is better than QuickBooks Desktop. Read to know the 2020 hacks and tips of QuickBooks Online
Invoice/ Sales Receipt Automation: There is the facility in the QuickBooks Desktop to stored or memorized data rather than have to send data to the customer manually. On the other hand in the QuickBooks Online, transactions done by mail automatically. Data transfer on a monthly basis to the customer automatically.
No Need to Transfer Data or Share Computer Time: As you can access your client's account, being invited as an accountant user and sign up in the QuickBooks Online Accountant there is no need to transfer any data or Account copy files. You and your client can access the account at the same time without worrying about what others are doing and makes any changes in it.
Your Client Always has the Latest Version: If you are using QuickBooks Online then you don't need to worry about up-gradation in the version. Because in QuickBooks Online the version is upgraded automatically. You don't need to reinstall it again and don't need to talk to your clients related to it.
Delayed Customer Billing/ Charges: In the QuickBooks Desktop you have unbilled time and expenses but still users have to do all these things manually and have to do bill to the customer for this. In QuickBooks Online you can turn on preference and then the program will do this automatically. Any time activity is done on a daily, weekly or monthly basis. This thing is reminded by the QuickBooks Online and automatically creates an invoice for the unbilled time or expenses. Depending on your choice you can tell the customer through or not it's your choice.
Activity Log: One of the best things is Audit Trail, which tells us when the transaction has been created, modified or deleted. Audit Trail is best done by the QuickBooks Online. Activity Log shows when the user login, logout, do any modification, vendor, item or account. It shows when the user login to access the data, or when bank transactions are completed when they are matched, added or registered. This can also help in finding any fraud users who do not access the account. Because it keeps all track of who is logged in or who modified the data. 
Automatic email reporting: One another great thing about QuickBooks Online is that it has the most customizable report templates. The users can be added to the report on a daily basis and send mail to clients and the user themselves automatically. Users can add to that group and set that group and mailed to themselves or their clients on a daily basis. If a user wants to send that mail to the client without logging into their account. The best thing about this online version that users will just set them to send and at midnight QuickBooks Online sent them automatically in their addresses.
Bank Transactions automatically downloaded nightly: In the QuickBooks Online the process of downloading bank transactions is done manually and if we have to do this for our client then we need clients' passwords. In QuickBooks Online the client set up the connection and the transactions are done automatically at midnight. We don't need the user password or name for longer.
QuickBooks Online has Class and Location Tracking: QuickBooks Desktop has the feature of Class tracking and other profit centers, but QuickBooks Online added a new feature to it as Location tracking. Both features are used when the user has business at different locations. And he wants to know about that location which provided him the biggest income. On the other hand, we can say that if a user wants to track his business on the location base or customer type base. Then he can use the Class and Location tracking option.
The major advantage of using QuickBooks online service is you don't need to worry about your data files, it stored securely and can get the backup any time from anywhere we only need an internet connection.
Various QuickBooks Online Plans
There are five versions of online services
Online Simple Start
Online Essentials
Online Plus
Online Advanced
#1 Online Simple Start
Online Simple Start is best for Solopreneurs. In this version, there is only a single-user and one accountant who pays their bills and sell the services (not products). The features
Online Simple Start provides you that you manage your expenses and incomes. It allows you to invoice the customer, connect your account. You can also create an income or balance sheet in minutes with the help of Online Simple Start.
Online Simple Start has some features:
Track income and expenses and see how much money you are making
Send and track invoices
Bank transactions are done automatically
Print checks and record transactions
Strong security measures so only you access your information
Access your data from anywhere by using the QuickBooks Mobile app
Snap photos of receipts so you are ready for tax time
You can give access to two accountants using QuickBooks Online Multiple users features.
Integrate with available applications
Manage 1099 contractors
1 person can access QuickBooks Online
20+ built-in business reports
#2 Online Essentials
Online Essential is a standard version of accounting services. Any small business who wants to access their accounts from anywhere by internet connection and does not need to track inventory. This version is for those who want to give remote access to multiple users (up to 3 users). There is free support like live chat with customers, unlimited emails, phone through Online Essentials.
Some additional features of Online Essentials:
Set up invoices automatically on a daily schedule
Manage and pay bills to vendors
You can also schedule your payments and enter your bills for later
Compare your profit and loss on the basis of industry trends
You can also take control of users access
Track billable hours by customers
3 numbers of people can access QuickBooks Online
40+ built-in business reports
#3 Online Plus
Online Plus is used when your company is product-based. The facilities provided by Online Plus are you can get a bill by the customer, purchase orders, inventory tracking, track multiple locations, class tracking, and budgeting and planning. It is double expensive than Online Essentials, and the third time more expensive than the online simple start.
This version is best for small businesses that want to track inventory and wants remote, online access to their books. This is also helpful for those who want to give access to multiple users up to 5 on their remote access. The users who want to keep copies of their files will be backup automatically.
It has been provided all the features of the other two versions of QuickBooks Online but has some additional features like budget versus actual reporting and more than 100 reports you run in a few minutes. QuickBooks online is the robust online version, it includes up to 65 reporting features. This version is very easy to use. You can access from anywhere to your software it just needs an internet connection.
It also allows you to import all your credit card transactions into QuickBooks. Actually it saves your time while bank transactions because you don't need to store all your transaction information it will automatically store them.
Some additional features of Online Plus:
You can create and send purchase orders
Track inventory
Give limited access to the employees and subcontractors to enter time worked
For making estimates for future profits and expenses you can create the budgets
Using Class tracking you can be categorized your profits and expenses
Use Location tracking to ensure which location gives you profit or where you have to expense
Track project profitability
5 people can access QuickBooks Online
65+ built-in business report
#4. QuickBooks Online Advanced
There is a new option for those customers who are outgrowing QuickBooks Online Plus and looking for the software that takes their productivity at a high level. This is another step in the journey of QuickBooks Online for making it a more robust online solution. It has all the features of the other three QuickBooks Online and has some additions features also.
Some additional features of QuickBooks Online Advanced:
You can make the dynamic presentation at the instant (Ready Report)
Import or export 100s of invoices at one time
There is a security feature that you control on who can see or access your sensitive data
You can also take help from customer success manager
There is the facility of 5 online class credits that train your team
25 people can access QuickBooks online
65+ built-in business reports
All priority circle benefits:
Dedicated Customer Success Manager: Before trying any software everyone wants a Trainer for making QuickBooks product recommendations.
Priority Care: There is an online help number is provided. And agents are taking users' problems at the top priority and resolve that issue.
Free Online Training: There is a facility of up to 5 free online training annually.
Hardware & Software Requirements
As you know QBO is cloud-based software, so it operates with nearly all internet browsers as long as you have internet access. Some of the supported browsers include:
Google Chrome
Firefox
Internet Explorer(11+)
Safari(6.1+)
It also has desktop apps for Windows and Macs, that run faster. Unfortunately, Linux is not supported by QBO at this time.
Adobe Reader 7.0+ or the Firefox PDF plugin is required to read forms and to use the print checks feature in QBO. It also has mobile apps for Apple(iOS 9.3+) and Android(4.1+).
Is it right for your size of business?
It is ideal for nearly any type of small business. It also possesses advanced accounting features, payroll, and user permissions to support medium-sized businesses but other web-based software program does not. Although, large businesses may find that QBO's feature set and amount of employees are too limited for their needs.
If you need more than 5 users, you should purchase QuickBooks Online Advanced. All plan includes receipt capture, expert support & integration with apps you already use ( like Paypal, Shopify, etc ).
Ease Of Use
Most often it is seen that QB is intuitive and easy to use. Its UI is beautifully designed, but the organization needs some improvement.
Some of its features are hidden in settings and difficult to find at first, but the built-in help search and faster phone response times help make it easier to find what you are looking for.
What Integrations are available for QuickBooks Online?
Moving forward to integration, QuickBooks syncs with over 400 popular business apps. It offers an impressive number of integrations and partners with many reputable add-ons.
Syncing your apps with QuickBooks is easy.
Click on "Apps" within QuickBooks.
Choose which app you want to sync your QuickBooks account with.
Click "Get App Now" and authorize QuickBooks to securely sync your app data with QuickBooks.
Other QB applications offer easy integration such as QB Payments and QB Payroll. In addition, QBO also offers add-ons such as Mavenlink, Shoeboxed, Jobber, Bill.com and Method CRM.
Many App developers can use the QB API to integrate their products with QBO and showcase them to small business owners. However, QB API client gives developers access to their customers' data via a REST-based API that works with QBO.
Read this article: To Fix QuickBooks Online Sign-in issues
Frequently Asked Questions
Is QuickBooks available online or need to download it?
Firstly sign up to the QuickBooks through your browser. You can also download the Mac or Window app to run Simple Start, Essentials, and Plus. Chrome browser is best for QuickBooks live work.
Is there any contract before or after the subscription of the plan?
No, there is no contract. You can subscribe or cancel the plan anytime
Why Mileage Tracking is not available for small businesses?
Now, Mileage Tracking is not available for small businesses. But Intuit working on it and you will get this feature in almost every version of QuickBooks.
Do I have to pay extra for Intuit mobile apps?
No, you don't need to do any payment for Intuit mobile apps, QuickBooks comes free with mobile apps. And you can access your account from anywhere or anytime with mobile apps.
How much time it will take to start?
Not to worry, after completing your payment it just starts in a few minutes.
Can I upgrade between plans?
Absolutely, you can upgrade between QuickBooks Simple Start, Essentials, Plus or Advanced. But if you want to upgrade in QuickBooks Self-Employed, you need to create a new account to upgrade.
What will happen to your data after the cancelation of the plan?
For the paid subscriptions, Intuit put your data safely for one year. If you decide to come back you can start your plan from where you left off it.
QuickBooks Online
Cloud Access
Automatic Email reporting
Track Inventory
Pricing
Summary
QuickBooks Online provides you remote access option. You just need a user ID and password to access it. Your all accounting data organized in the cloud and you can see any time how your business is running. This QuickBooks Online service is best for service-based businesses.