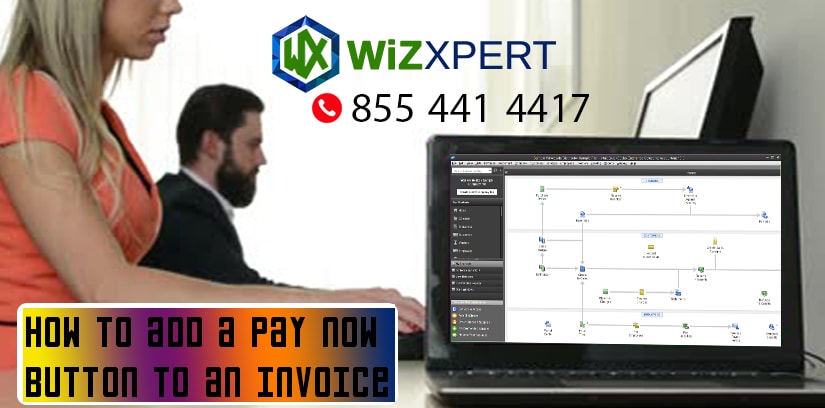 On average, QuickBooks Online helps you to get paid two times faster than others also it is quite easy. If you are here to find out the solution to missing the pay now button in your invoice or want to create an email invoice and add a Pay Now button or payment link to an invoice then this blog is surely helpful to help you out. Meanwhile, you can also dial our toll-free number +1-855-441-4417 to get help from our experts.
If you want your customers to pay online, then You need to activate your merchant service. Without the activation of Intuit merchant service, you can not able to do any online transaction or payment. You can allow QuickBooks payment by clicking on "Online Payment Get set up" which is available at the top of the invoice. After activation of your merchant service, your customer can see the option to pay online.  Follow the below steps and add the Pay Now button. If you any instant need help, then direct contact the QuickBooks Customer service team.
Important: Visit Intuit Merchant to sign in or more information.
Read also: How to Set Up Invoices, Sales Receipts & Estimates in QuickBooks Online
Steps to add a Pay Now button or payment link to an invoice
Invoicing with QuickBooks Online helps users to get their paychecks two times faster. It is very easy to do just follow the below steps for creating and emailing invoices from the QuickBooks dashboard.
First, go to the Quick create and next click on Invoice.
You can select an already added customer or also add a new customer.
Next, insert all the information associated with the product or services that you are selling, and don't forget to mention the price.
Keep in mind, while performing these steps, your Online Payment option should be On, and next, click on Save and Send.
Next, after the Save and Send option, QuickBooks will display you a preview of the invoice. In the preview, you need to choose a payment method (like a credit card or bank transfer).
After performing all the steps, you need to click on Send and Close to email your invoice.
Now, your client or customer will receive an email with a link and the invoice.
Next, customers have to open the same email and select the View Invoice now.
On the invoice, you will notice a Pay Now button, give a click on it.
Later, enter all the credit cards or bank account detail. When the payment is done, you and your customer will get a confirmation email for the transaction.
Related article: QuickBooks 2018 Desktop: Invoice Past Due Stamp
Your e-books will update and display Payment status Paid after the update.
When the funds have settled( It'll take approx 2 days), Your money will be marked as deposited in your linked bank.
What if QuickBooks Pay Now button is Missing?
Normally, you can add 'Pay now' button or payment link when you preview your invoices by clicking on the Review and Pay button.
But, due to the recent updates made by QuickBooks in the layout of the online invoice. In this security update, you have to download the invoice first in order to see the preview of the invoice.
Sometimes, if the payment link is unavailable that may be due to the Email Preferences is set to Plain Text. For this, you can try your Accounts and Settings, and then you can check if there are any changes to Sales Preferences. Follow the steps below carefully.
Go to the QuickBooks and then On the top click on the Gear icon at the top.
Next, click on the Account and Settings and look for the Sales menu and click on it.
Later, open the Online Delivery option.
Now, choose the Additional email options for invoices drop-down menu, and next click on the Online Invoice option.
At last, click on Save and then Done.
Frequently Asked Questions
Does QuickBooks charges for invoices?
QuickBooks doesn't charge a monthly subscription fee. But the transaction fee for online payments is applicable, only if your customers want to pay by online invoices. It costs for bank transfers $1.50 per transaction and credit cards 2.9% + 25 cents per transaction
Can we automatically generate invoices in QuickBooks?
Yes, you can automatically generate invoices, you just need to recurring schedule invoices.
How can I enable online payments in QuickBooks?
Select preferences, under Edit options.
Click on payments and company preferences.
under the online payment option, select how you want your customers to pay you online. After, select OK.
Select Apply to existing customers
Is an invoice the same as a receipt?
No, the main difference between the two is that the invoice is declared before the payment while the receipt is allotted after the payment.
The Bottom Line
For further issues and queries please reach out to our QuickBooks Payroll Support team dialing +1-855-441-4417. Whatever your biggest difficulty is in QuickBooks accounting software, our team of QuickBooks ProAdvisors will help you to overcome your problems or issues on a priority base.