Read this article to know the minimum QuickBooks 2021 System Requirements for all versions and edition. It's a well-drafted guide that focuses on explaining which version needs what's configuration to work efficiently on your computer. Reading the article provides you all the stuff and knowledge about the requirement. So, without delaying go through the article and get all your query resolved. for More info contact us toll-free; +1-844-405-0904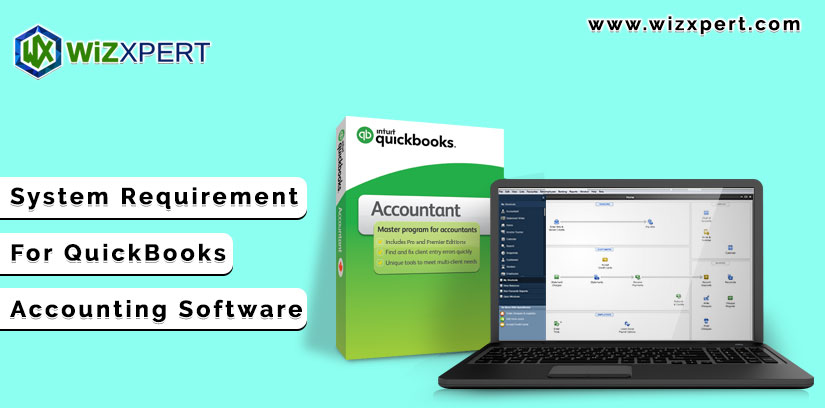 System requirements are the primary thing that you should need to know before purchasing any product for your computer. It explains to you what's the system configuration(OS, RAM, Processor, Model, etc) is required in order to run the particular hardware or software application smoothly and efficiently. In simple terms:- It defines the compatibility of the product with your Hardware/Software.
You can also talk to our Intuit Certified QuickBooks ProAdvisor in order to get more information on this topic.
Make sure before purchasing any QB's product of any version, first check the system requirements for better results.
QuickBooks 2021 Minimum System Requirements (2020, 2019 & Older Version)
Minimum system requirements in QuickBooks should be occupied in any situation. No matter which QuickBooks version you are using, and how you are using it. It should be kept in mind that, each and every version has their own requirements to run perfectly. So, we should check the needed requirements of the used version. Let's know, which QuickBook version needs, what type of system requirements.
1. QuickBooks 2021 and Enterprise Solutions 2020 & 2019 Version
System requirements for QB's Pro, Premier 2019, and Enterprise 21.0 are given below:
The Minimum System Requirements for QuickBooks Desktop, & Enterprise
QuickBooks Desktop and its' other versions need to cover some of the minimum requirements to run better, like the required OS, database server, hardware, space, and etc. Read the below-given information, and get an idea of the system requirements of QuickBooks Desktop, and Enterprise.
Operating Systems
Windows 10 (Included all editions with 64-bit and Natively Installed (designed for a particular system or environment))
Windows 8.1(update 1) (All editions are included in 64-bit, & Natively Installed)
Microsoft Windows 7 SP1 (All 64-bit edition and Natively Installed)
Windows Server 2016
Windows Server 2012 R2
Microsoft Windows Server 2011
Windows Server 2008 R2 SP1
The Standard and Essential versions are included in the Windows server operating system version of 2016, 2012 R2, 2011, and 2008 R2 SP1.
Database Server & Browser Requirements
For Windows: It supports Windows Server 2016, Windows Server 2012 R2 and Windows Server 2011, Windows 8.1 (update 1) or Windows 7 SP1 (Enterprise and Professional editions only), also Windows Server 2008 R2 SP1, and Windows 10, natively installed.
For Linux: It supports OpenSuse 42.3, Fedora 27, Red Hat Enterprise 7 when you using QBES Database Server. (Linux database server is used only in QuickBooks Enterprise Solutions.)
Browser Requirement: Internet Explorer 11 (32 bit)
Hardware Requirements (Client and Server)
2.4 GHz Minimum (Processor)
4GB minimum and 8 GB Recommended (RAM)
Server RAM Requirements (The requirement of RAM depend on the number of users, so here is the list of needed RAM for users)

8GB RAM for 1-5 Users
12GB RAM for 10 Users
16GB RAM for 15 Users
20+GB RAM for 20 Users
Disk Space:
2.5GB disk space
Additional Software provided on the QB CD 60MB for Microsoft .NET 4.6 Runtime.
Intuit Data Protect in QB Connected Services offerings(Additional requirements and Applies to the US only)
4.0 GB RAM (minimum Require)
Require Twice the size of the largest file for backup or restore.
Note: On SSD storing a large.QBW data file will greatly improve the performance.
Windows:
US version of Windows (If you are using US QB Software)
The Canadian version of Windows (if using Canadian QB software)
When set to English (the United States/Canada) with keyboard setting to US/CA only, so the regional setting is supported
When hosting Multi-user access Administrator rights are required for the server computer.
Natively Installed (Designed for the particular system or Environment )
Optical Drive:
4X DVD-ROM drive required for CD installations
Screen Resolution:
Higher with up to 2 Extended monitors or 1280 x 1024 screen resolution, so you will be comfortable handling your work easily.
Default DPI settings.
Browser Requirement & Optional Security
Browser:- Internet Explorer needs as the browser for QuickBooks, especially for the QuickBooks Desktop, and the QuickBooks Desktop Enterprise.
Optional Security:- You may need PCI PA-DSS certified for security purpose. And you can access it by accessing it annually with a payment application.
Software Compatibility with QuickBooks Desktop & Enterprise:
QuickBooks software is very compatible with any hardware and also easy to interact with hundreds of third-party applications. Therefore the following integrations are provided with QuickBooks:
Microsoft Office:
Office 2016 including Outlook 2016 on 32 and 64 bit.
Office 2010 and Office 2013 and 365 both on 32 and also 64 bit (including Outlook 2010 and Outlook 2013)
Gmail Estimates, Invoices and other forms with Microsoft outlook 2010-2016, Microsoft Outlook with office 365 and other support to Gmail, Yahoo! Mail and Outlook.com.
Requires Microsoft word 2016, 2013, or 2010 or Office 365 (includes 64-bit) for preparing letters because all version has different features.
Requires Microsoft Excel 2016, 2013, or 2010 or Office 365 (Includes 64-bit) for exporting reports because reports are different to others so it requires different Microsoft versions.
It requires Outlook 2010 (32-bit) for contact Synchronization with Microsoft Outlook.
Requires QB contact Sync for Outlook synchronization Outlook.
TurboTax 2018 (Personal and Business)
Lacerte 2018 and 2017 (applies to the US)
Pro-Series tax years 2017 and 2016 (the US only)
Quicken 2018, 2017, 2016
QB for Mac 2016 (the US only)
Adobe Acrobat Reader: It requires for Viewing forms, Adobe Acrobat Reader 9.0 or later because some form is difficult to open, so a suitable version is required for forms.
It requires internet access with at least a 56 Kbps connection speed for payroll and other online features. (1Mbps recommended). The slow speed of the internet arises many problems and provides bad connectivity to other system results.
Yahoo Email, Gmail, Windows Mail, Hotmail, and AOL.
Internet Explorer 11.
Firewall, Antivirus, & Antimalware Software Compatibility:
Here are the lists of all firewall, antivirus, and antimalware software, that compatible compatibility with QuickBooks Desktop versions. And all of the below-listed software is tested in the QuickBooks Desktop, Pro, Premier, and Enterprise 21.0.
Firewalls that are Compatible with QuickBooks Desktop Versions
Windows Server Firewall
Microsoft Windows 8.1 Firewall
Windows 7 Firewall
Microsoft Security Essentials
Antivirus/ Antimalware Software that Compatible with QuickBooks Desktop versions
| Software Name | Supported as Antivirus/ Antimalware Software |
| --- | --- |
| Avast | Both |
| AVG | Antimalware |
| Symantec | Antivirus |
| ESET | Antivirus |
| Avira | Antimalware |
| Kaspersky | Both |
| McAfee | Both |
| Bitdefender | Both |
| Malwarebytes | Anti-Malware Only |
| Norton | Anti-Virus |
| Trend Micro Security | Anti-Virus |
| Webroot | Both |
| Panda Dome | Anti-Virus |
| Sophos | Anti-Virus |
| F-Secure | Both |
| Spybot | Anti-Malware Only |
| Emsisoft | Anti-Malware Only |
Note: You may need to adjust firewall settings in some of the products.
Other Needed Hardware Devices (Optional)
These are the optional hardware devices, you can also use these devices to use the QuickBooks. It is just only some choices for you. Have a look;
Here we have mentioned the supported devices for the QuickBooks Desktop mobile if it is used for the warehouse manager.
Zebra TC20/TC25/TC51 Mobile device is recommended
Zebra MC40 Mobile Computer
Make sure that, the Android version must be in the 4.4 version, or above that.
The QuickBooks Desktop Enterprise 21.0 is supported by the below system requirements.
Socket Mobile CHK 7CI
Symbol CS3070
Honeywell Voyager 1602g Pocket Barcode Scanner
2. QuickBooks Point of Sale 2021, 2020, & 2019 Version
Check the below information to know the needed system requirements for the QuickBooks Point of Sale for 2021, 2020, 2019, and 2018 versions.
What are the Minimum Requirements of QuickBooks Point of Sale
Required Operating Systems:
The listed OS requirements are needed for both systems, and tablet users.
For Windows:
Windows 10 (all editions with 64-bit, and natively included)
Windows 8.1 (all editions with 64-bit, natively included), available for Update 1
Windows Server 2016, and 2012 R2
For Tablet:
Windows 10
Acer Switch, Microsoft Surface Pro, Microsoft Surface Go, Samsung Galaxy Tab Pro (for compatibility)
System Requirements:
The QuickBooks Point of Sale is used in 3 different ways. All use types need different requirements. So, check the requirements according to the user type from the below information.
For General Use:
Arrange all the listed requirements for general use in POS:
Disk Space: 1GB disk space is required, and some additional space is needed for the data file. (This space is not for company files, if you have a large storage of company files then you need more disk space.)
Multi-Users: It needs a 2.8 GHz processor for multi-users, but it is recommended to use the 3.5 GHz processor.
Display: Screen resolution is optimized for 1280*768 or higher.
Drive Requirement: 4X DVD ROM drive required for the DVD installation.
For Single User:
To run the QuickBooks POS for a single user, you need to arrange the following requirements.
RAM: The minimum requirement for a single workstation installation is 4GB. But it is always recommended to use 6-8 GB RAM.
Processor: 2.0 GHz processor is the minimum requirement. A 3.5 GHz processor is recommended for better performance.
For Multi-User:
The following requirements are for multi-user in QuickBooks Point of sale;
RAM: It is recommended to use 8 GB RAM for better performance on the workstation.
Processor: It is always been recommended to use the 3.5 GHz processor, but the users can also run the QuickBooks Point of Sales in 2.8 GHz also.
License: Now in QuickBooks Point of sale, each workstation needs a separately purchased user license with the same version and same level.
Needed Requirements for Payment in QuickBooks POS:
You need to ensure that, you have completed all the requirements if you want to make the payment process easier in QuickBooks POS.
High-speed internet speed is required for the fastest payment process.
Optional fee-based services are available, additional terms, and conditions apply.
A QuickBooks payment account is needed for this.
The requirement of a PIN pad is also needed for the credit card, and debit card transactions.
Software that Supported with QuickBooks Point of Sales
QuickBooks Point of Sales supported with the other QuickBooks plans, Microsoft office version, and with some other security software.
Other QuickBooks Plans & Microsoft Compatibility:
The other QuickBooks versions or plans, and Microsoft versions are available to make the use of POS easy. Here are some of the versions of QuickBooks, and Microsft, that are listed below, you can check them;
QuickBooks Plans, that compatibility with QuickBooks POS:
Intuit QuickBooks Pro (2021, 2020, 2019 & 2018)
Intuit QuickBooks Premier (2021, 2020, 2019 & 2018)
QuickBooks Enterprise Solutions versions (2021, 2020, 2019, 18.0)
Microsoft Office, that Integrates with POS:
Microsoft Office 2016
Microsoft Office 2013, and 2010
Microsoft Office 365
Security Software that Compatibility with QuickBooks POS:
All of the below-listed security software is compatible with Point of Sale. You can use any one of them for security purposes with QuickBooks POS. Some of the software may need changes in the firewall settings, so use according to that.
Avira
AVG
Avast
Microsoft
McAfee Internet Security Suite
Symantec Norton
3. QuickBooks for Mac 2021, 2019 & the Older Versions
System requirements QuickBooks for Mac 2021, 2019, and the older versions are as following:
The Minimum System Requirements for QuickBooks for Mac
These are the minimum system requirements for the QuickBooks Desktop for Mac. A user should complete all the needed requirements to run the QuickBooks Desktop for Mac.
A good and high-speed internet connection is required for the download, install, and update process.
It is mandatory to complete the product registration.
MacOSXv10.15 (Catalina), macOS 10..12 (Sierra), macOS 10.13 (High Sierra), macOS 10.14 (Mojave) are needed for QuickBooks for Mac 2021, 2019, and the older versions.
Core 2 Duo or higher Intel processor is needed for this.
You need 4GB RAM and 250MB of disk space for the storage.
A 100% macintosh compatible printer is needed for any printing purpose. (optional)
QuickBooks for Mac, Software Compatibility:
Export Report Data: To exporting report data, it should have the Apple Numbers v3.5; Microsoft Excel 2016 or later, including Mac Office 365.
Email: QuickBooks for Mac is compatible with the Apple Mail, Microsoft Outlook 2016 or later, including Mac office 365, almost all support Email.
File Conversion: QuickBooks for Mac supports one-way conversion to QuickBooks Online and one-way conversion from QuickBooks Desktop for Windows 2018 to 2020.
Mac Apps: Apple's Calendar, Contacts, and Messages can sync with the QuickBooks for Mac.
Accepting Credit and Debit Cards: Requires Intuit Merchant Services for QB for Mac.
Integrating Processing Payroll: Requires a paid subscription, EIN, and Internet access for QuickBooks for Mac. Set up a payroll Integration is important because it sending information when I work to your payroll processor.
4. QuickBooks Online System Requirements 2021 for Accountant, & Self-Employed
Most of the QuickBooks Online users, don't want to try to know about the system requirements for QuickBooks Online. Because they know that, QuickBooks Online can be used in different systems and in different locations at any time. But, here you must know that QuickBooks Online also needs some particular requirements to run perfectly. Read the following information to know, what requirements need to run QuickBooks Online. Accountant, & Self-Employed successfully.
What are the System Requirements for QuickBooks Online?
The following requirements are the recommended needed to run the QuickBooks online in a better way. Try to arrange the recommended versions, if not possible then arrange the minimum requirements.
Windows PC: QuickBooks Online requires Windows 10 to run in a Windows version with the intel processor i3, and i5 or comparable processor for 2015, and 2013 newer version is best for the use of QuickBooks Online.
RAM: 2 GB RAM is the minimum requirement, but it is recommended to use the 4GB RAM.
MAC: OS X "El Capitan" 10.11 or newer is needed at least, and the OS X "Panther" 10.13 or newer is recommended for better performance.
Internet Connection: It will be good to have a 3Mbps internet connection, but you can also use the 1.5 Mbps internet connection for QuickBooks Online.
Supported Browsers
As we all know that QuickBooks Online can be used in all system types, so the needed browsers should be vary according to that. Have a look to know, which browser is compatible with which system;
Supported Browser Requirements for System
Google Chrome, Mozilla Firefox, and Microsft Edge are the supported browser for QuickBooks in windows.
Safari 11, and the newer versions are the supported browser in Mac.
Normally, QuickBooks only supports the 2 previous versions of browsers, and do not support the older versions.
Supported Browser Requirements for Mobile:
QuickBooks support the Safari browser, OS 11.1, or the newer version in iPhone/ iPad. The other browsers like Google Chrome, Dolphin, and etc may work, but these browsers are not declared as officially supported.
For Android and tablets the Chrome, Nougat 7.1.1, or the newer versions are available to support. You may run the QuickBooks Online on opera, Firefox, and other Browsers. But these browsers are not yet declared for official support in android, and tablets.
5. QuickBooks app
You can check the configuration required in a system for the QuickBooks app. Therefore, here read the given requirements for the QB App.
The Minimum System Requirements for QuickBooks App:
Processor
2.4 GHz
4 GB of RAM
SIMD Extensions 2 (SSE2) Support for Streaming
Hard Disk
1 GB
Solid State Drive (SSD): SSD
Network Speed
As suggested by QuickBooks Online
Minimum Internet speed 512 Kps
Recommended Internet Speed 1MBPS
Machine types supported
Desktops
Laptops
Ultrabook/tablets
Operating System Supported
Windows 10, Windows 8.1, and Windows 7 are supported as the operating system in QuickBooks for all Windows users.
Mac OS X 10.11 (El Capitan), Mac OS X 10.10 (Yosemite), and Mac OS X 10.9 (Mavericks) are supported as the operating system in QuickBooks for all Mac users.
Screen Resolution
Best optimized for 1280X800 screen resolution or higher
Between 1200*800 and 1600*900
And between 1600*1200 and 1920*1200
Between 1920*1440 and 2560*1440
Up to 200% DPI
Extended monitor support
After the long discussion on the system requirements for QuickBooks for all versions, hope you got the solution to your query. Still, if you need more detail for this system requirements then, you can get our QuickBooks support for the expert solution. They will explain to you everything in detail, that you want to know regarding this topic.