Troubleshooting QuickBooks Desktop Update Errors
Last Updated on: September 28th, 2018
Posted by:

admin

Category:

Quickbooks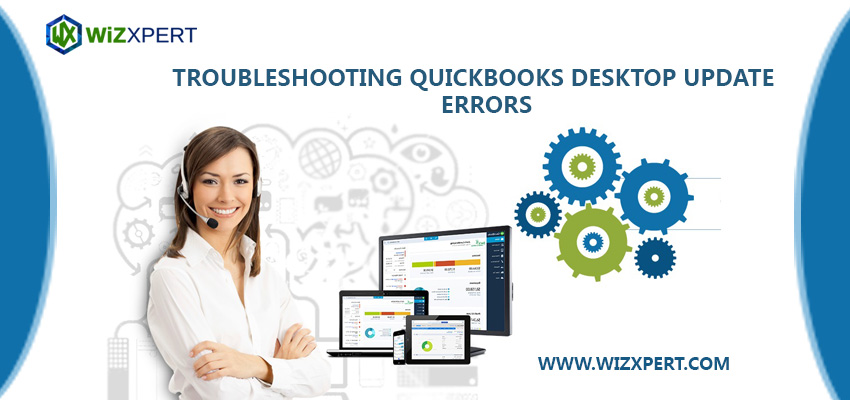 Update errors in QuickBooks Desktop can appear at any time while downloading the updates or upgrading newly released by Intuit. Sometimes, these updates errors stop your software from being upgraded. Hence the new features do not get installed.
QuickBooks releasing new updates throughout the year. It makes sure that the bugs faced by the user are fixed. In this case, the user might face trouble in downloading the updates which necessarily might not be a fault of the software.
Reasons for QuickBooks desktop update errors
Poor Internet Connection.
Restrictive Settings Of Personal Firewall or Internet security.
Multiple instances of QuickBooks on the same computer.
How to troubleshoot QuickBooks Desktop update errors
Here we have tried to explain multiple solutions for QuickBooks update related problems. This solution will help you to solve your problems related to QuickBooks software. So, here I am explaining three different categories of errors solution in step by step way.
General Internet connective issue
Unstable internet connection causes some kind of update problems. To solve this kind of issues before updating your QuickBooks, You must check your internet connections signal. And If the signal is weak, do not go for the update process. Because it may cause to updating errors in your QuickBooks Desktop applications.
Solution 1:  First check the system date and time on the computer.
Right-click the clock in the bottom right corner on the system and also select Adjust Date/Time.
Click on Change date and time…
Select today's date and time.
Double click on OK button.
Close QuickBooks Desktop and reopen it.
Related article: QuickBooks Error 15271: Update Error
Solution 2:  Check your Internet Connection Settings.
Test your secure Internet connection by opening a Web browser and also going to Chase banking.

You cannot open the Chase banking page, that means you won't able to get updates from QuickBooks. But In this situation Contact your Internet Service Provider (ISP) for support.
If Website is visible for you, start QuickBooks and continue with the following steps.

Select Help > Internet Connection Setup.
Choose to Use my computer's Internet connection settings to establish a connection when this application accesses the Internet, and click Next.
Click Advanced Connection Settings, and then click the Advanced tab.
Then Click the Restore Advanced Settings button.
Click OK, then click Done.
Update QuickBooks Desktop.
Related article: QuickBooks Update Error 1328
Those who use a dial-up connection, verify that the minimum connection speed is 28.8 kilobits per second (Kb/s).The people who use America Online (AOL), log on to AOL with the master login name, if possible, and be sure that the Parental Controls settings are not enabled. More information, see AOL's online support.
Those who use download accelerator, please disable this kind of software during the time of your QuickBooks updates downloading.  Otherwise, it will interfere with your new updates.
Internet security or personal firewall application settings
At time default setting and restrictions set by the user for internet security software and personal firewall might clash and stop the software from downloading the updates as they might consider them a danger to the computer system. So, recheck your setting and verify that is not the case.
Verify the configuration of your Internet security and personal firewall software settings. Ports 80 and 443 must be enabled, and access must be provided to the following files:
Set the specific firewall ports for your version of QuickBooks Desktop:
AutoBackupExe.exe
Dbmlsync.exe
DBManagerExe.exe
FileManagement.exe
FileMovementExe.exe
IntuitSyncManager.exe
QBCFMonitorService.exe
QBDBMgr.exe
QBDBMgrN.exe
QBGDSPlugin.exe
QBLaunch.exe
QBServerUtilityMgr.exe
QBW32.exe
QuickBooksMessaging.exe
Note: If all these ports are used by some other processes, then a fallback port, 56719, would be used for the QuickBooks Database server.
Because of the difficulty and a large number of available firewall programs, Intuit cannot provide support for specific firewall issues. If you need further assistance configuring your firewall, check with your system or network administrator, the vendor from whom you purchased the firewall software or hardware, the manufacturer's or software developer's Web site, or a local computer consultant.
Related article: QuickBooks Update Error 12007
Multiple instances of QuickBooks on the same computer
Multiple items of QuickBooks desktop for the similar version and year both of which are installed together on one computer system. For example QBDPremier Edition 2016 and QBD Enterprise solution 2016. It causes confusion and might create the issue of installing the updates. for this problem, you might manually update the QuickBooks software.
Download and install a manual update
If you have been overwhelmed by the steps mentioned below, try calling our QuickBooks 24/7 support phone number get expert advice instantly:  1-855-441-4417 (Toll-free).
The above instruction gives you general troubleshooting information. To fix specific updates error click the link below: