Eager to know QuickBooks Desktop Enterprise 2021 and all its related details? Then nothing to worry about, you are at right page for your query related answer. Here we will be providing you all the details of plan, pricing & features of QuickBooks Desktop Enterprise, and the article consists of features, importance, types and usability as well as. go through the complete article for a comprehensive user guide, if you have any Query or suggestions contact our QuickBooks ProAdvisor toll-free; +1-818-295-3510
Whether you are a newbie searching for a best accounting software or looking for detailed information on QuickBooks Enterprise Solutions, this article is for you. In this article, we have shared all the in-depth details about QB enterprise 2021, what's new in it and why to choose it. Apart from this, we have also discussed about the system requirements, pricing, features, and plans available for QuickBooks Desktop Enterprise.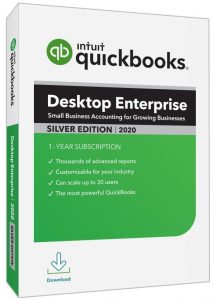 If you have mid or large size business and searching for an accounting software then QuickBooks Desktop Enterprise is for you.
This is the most advanced version of QuickBooks Desktop which helps you to take your business to a new height. It provides a range of functionality, that helps you run your business end to end. You can also compare various QuickBooks versions and find the best for your business.
Why choose QuickBooks Desktop Enterprise
QuickBooks Pro, Premier, and Enterprise all three are the effective and useful accounting software system. They all are quite different in price. Pro and Premier are based on one-time payment whereas QuickBooks Desktop Enterprise is based on an annual subscription.
QuickBooks Pro and Premier one time price is $299.95 and $499.95 respectively.
The Enterprise has three editions and each has different prices, for QuickBooks Desktop Enterprise Silver edition's annual fee is $1155 and Enterprise product in Gold and Platinum has $1,502 and $1,848 respectively for a single user. The prices increase as the number of users increase.
Pro and Premier are for that business that earns under $1 million per year. In Pro, up to 3 users can access and up to 5 users in Premier on the other hand in Enterprise permission to up to 30 users to access and revenue of more than $1 million per year.
As because of limited users can access in Pro and Premier so these can't hold as much as data as Enterprise.
In Pro and Premier, you get technical support free of cost for 30 days only then you have to purchase the Customer Support online plan but in QuickBooks Enterprise you get 24/7 days tech support.
Another feature of Enterprise is you can purchase Enterprise plan with the hosting so all your data is stored in the cloud, not at your local system and you can access that from anywhere, anytime. But QuickBooks Enterprise with hosting and QuickBooks Desktop Enterprise both comes with different price.
QuickBooks Enterprise with hosting comes with an annual subscription but need to billed monthly.
The three options, Silver, Gold, and Platinum, therefore, are priced as such: $140 per month, $169 per month, and $198 respectively per month for one user.
Business owners should choose Enterprise rather than Pro and Premier because they get advanced capability and features to expand their business.
New and improved features in QuickBooks Desktop Enterprise 2021
New Features in QuickBooks Enterprise 2021
QuickBooks Desktop Enterprise 2021 introduces new and improved features that serve small businesses with extra complex needs. Check out below the following features:
✅ Data level permissions
This feature is involved with QuickBooks Desktop Enterprise 21.0 Platinum and Diamond subscription. This helps you to customize a user's access to view, edit, or delete a particular set of customers, vendors, and data, and they are responsible for the data. Also improves security and privacy by restricting the user access to only particular data, transactions, and reports for which they are liable.
✅ Improved Batch delete sales orders
This Feature is involved with QuickBooks Desktop Accountant 2020 and Enterprise Desktop Accountant 20.0 (Maintenance R7) or newer. You can maintain client files more efficiently that are not linked to an invoice, capable of deleting sales orders. QuickBooks Desktop gives the choice to remove or void accountants in batches from prior year releases of the desktop: invoices, checks, bills, and now sales orders.
✅ NEW! Barcode label prices
This feature is involved with QuickBooks Desktop Enterprise 21.0 Platinum and Diamond subscription. QuickBooks now automatically involves the sale prices on printed barcode labels to complement item names and descriptions. It gives the greater pricing transparency to customers and employees by incorporating the selling price on the barcode. Furthermore, by giving them critical pricing information on each inventory item, the shopping experience for your customers improves.
✅ IMPROVED! Alternate vendor reports
This feature is involved with QuickBooks Desktop Enterprise 20.0 (Maintenance R7) Platinum and Diamond subscription and latest versions. The Alternate vendor feature was delivered with QuickBooks Desktop Enterprise 20.0. With this innovation, users allow accessing the information center that contains the seller's contact and pricing data, which helps produce more informed purchasing decisions. Users are able to generate a purchase order with the vendor information included automatically. QuickBooks Desktop Enterprise 21.0 enhances the functionality by including optional vendor columns in specific reports.
✅ IMPROVED! Serial/lot numbers required on transactions
This feature will deliver with the QuickBooks Desktop Enterprise 21.0 Platinum subscription after R1. The new advanced inventory serial/lot number global preference setting, or individual inventory item setting, requires the entry of a serial/lot number when saving any transaction.
QuickBooks Desktop Enterprise 2021 Pricing
QuickBooks Desktop Enterprise 2021 comes up with three pricing models, Gold, Platinum, & Diamond.
✅ Gold (Local Only & Hosting)
Get the functionality and business information all that you have to need to get started. In addition, pay and file taxes, pay employees, and streamline your payroll. You can get this functionality in $1419.30 per year. and Gold with Hosting, you can get in $161.90 per month.
✅ Platinum (Local Only & Hosting)
Platinum sets strong functionality with valuable equipment for manufacturers, wholesalers, contractors, and retailers. You can get this functionality in $ 1746 per year. and Platinum With Hosting you can get in $189.80 per month.
✅ Diamond(Local Only & Hosting)
Diamond provides the maximum functionality with the most exceptional features to manage your business. You can get this functionality in $ $3442.88 per year and Diamond with Hosting you can get in $331.91 per month.
New Features for QuickBooks Desktop 2020
You can add customer PO in email subject.
You can send batch invoices to a customer.
You can automatically send reminder to customer for payment.
It is very simple to search company files easily.
You can see the payroll status for direct deposit
QuickBooks Desktop Enterprise Plan & Pricing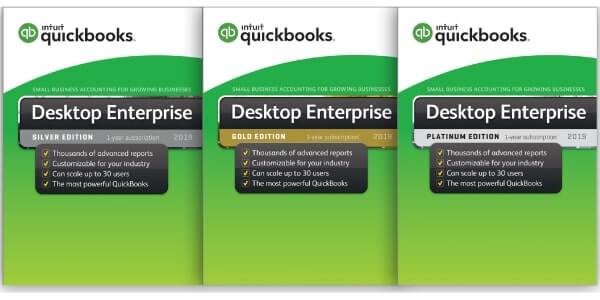 There are three versions of it. And all three are different in their own way.
QuickBooks Enterprise Silver
QuickBooks Enterprise Gold
QuickBooks Enterprise Platinum
QuickBooks Enterprise Silver
It is the lowest edition of Enterprise. It comes with all the necessary supporting features but limited functionality and choice. It does not include Enhanced payroll, advanced inventory and Pricing features that are available in the Gold and Platinum editions.
It has the following features:
Handling customer support
Online storage facility
Special benefits under the Priority Circle customer loyalty program
Feature of automatic product up-gradation
Generate advance report
QuickBooks Enterprise Gold
The gold edition provides you one additional feature Advance Payroll services this feature makes it advance from Silver.
Features of Gold:
Hand payroll process for any number of users
Creating and printing unlimited of paychecks
Directly payment to the worker without any charge
Calculate tax as per the taxation rules
Automatically generate W-2 forms
Pay payroll taxes in time without no penalties
QuickBooks Enterprise Platinum
Platinum is the advanced edition of Enterprise. It provides two most features advanced Inventory handling and advanced Price control.
Advanced Pricing feature
This feature provides total control on the pricing and transactions for generating sales revenue of the company. What your business can get from this feature:
Create, modify and enforce several pricing criteria based on a number of factors other than just the product and the end consumer
Apply discounts based on quantity and also specific manufacturer's markdowns
Create time-driven product promotions based on special pricing criteria
Advanced Inventory feature
This feature is beneficial in other conditions:
Maintaining inventory levels and cutting down overheads
Facilitating the prioritization of sale order execution
Easy tracking by bin, lot or serial numbers
Transferring goods across warehouses
Create customized reports to get details
To improve the accuracy and speed of orders of the shipping using mobile barcode scanning
Compare QuickBooks Desktop Enterprise versions on the basis of Price
No. of Users
Silver QuickBooks Desktop Enterprise
GoldQuickBooks
Desktop Enterprise
Platinum QuickBooks Desktop Enterprise
1 User
$1155/yearAnnual subscription*
$1502/yearAnnual subscription*
$1848/yearAnnual subscription*

2 Users
$1848/yearAnnual subscription*
$2195/yearAnnual subscription*
$2541/yearAnnual subscription*
3 Users
$2310/yearAnnual subscription*
$2657/yearAnnual subscription*
$3003/yearAnnual subscription*
4 Users
$2772/yearAnnual subscription*
$3119/yearAnnual subscription*
$3465/yearAnnual subscription*
5 Users
$3234/yearAnnual subscription*
$3581/yearAnnual subscription*
$3927/yearAnnual subscription*
6 Users
$3581/yearAnnual subscription*
$3927/yearAnnual subscription*
$4274/yearAnnual subscription*
7 Users
$3927/yearAnnual subscription*
$4274/yearAnnual subscription*
$1848/yearAnnual subscription*
8 Users
$4274/yearAnnual subscription*
$4620/yearAnnual subscription*
$4967/yearAnnual subscription*
9 Users
$4620/yearAnnual subscription*
$4967/yearAnnual subscription*
$5313/yearAnnual subscription*
10 Users
$4967/yearAnnual subscription*
$5313/yearAnnual subscription*
$5660/yearAnnual subscription*
Up to 30 Users
$7277/yearAnnual subscription*
$7623/yearAnnual subscription*
$7970/yearAnnual subscription*
QuickBooks Enterprise has the following industry-specific versions
While purchasing QB Enterprise the biggest question is which edition you want to buy there are total of seven editions of it. And six are industry-specific versions. These are given below:
1. Nonprofit Organisation
The nonprofit edition is best for Nonprofit Organisation which needs to manage complex accounting, strong reporting, and many users. It provides many features Managing pledges, manages and records donations made by checks, cash, through the card. By Nonprofit edition you can create and send donor letters too and so many other features provided by it.
2. Manufacturing and Wholesale
The Manufacturing and Wholesale Edition of QuickBooks Enterprise is perfect for manufacturers and wholesalers in need of many users and strong sales reports. Features like Sales Order Fulfillment worksheet is one of the best features of it, shows the sales order date, ship date, number, job, open amount, amount to fulfill, and invoiced the sales order. You can send item receipts and make a bill for a particular item. Easily track customers and vendors backorders.
3. Accountant
Accountant edition is the best option for accountancy firms and offices which manage and track multiple accounts of multiple businesses. Accountant center is one of the features of an Accountant in which you can view specialized tools and memorized reports, the batch transaction has the ability to batch enter and batch delete or void transactions. Set closing date is one of the other features of it.
4. Contractor
For contracting, construction, and any business in need of advanced job costing and project management Contractor Edition is best for that. It has the feature of Job Costing center which shows your three most profitable job and three least profitable jobs. Item percentage complete is another feature that allows showing the percentage complete on each item within your current jobs and projects.
5. Retail
Retail edition is best for large businesses. It provides strong sales reporting and inventory management. The features are Sales Order Fulfillment, manage vendor returns and bill credits. You can also see and enter your daily sales in the software.
It also includes Customized chart of Accounts, Customized Products, Service list, and custom reports for each industry.
What is new in QuickBooks Desktop Enterprise 20.0?
QuickBooks Desktop Enterprise 2020 release with some new and amazing features that helps the user to work efficiently and get paid faster. The most flexible version of QuickBooks includes additional features that business owners need in accounting software. And one more interesting thing, you also see the changes and improvements in Fulfillment processes.
✅ Automated Payment Reminders:
This feature helps to remind the customer automatically for their payments and due. You don't need to waste your lots of time identifying due payments and compose emails.
To access this feature:
From the menu bar, select Customers > Payment Reminders.
✅ Add Purchase Order number to email:
You can make the customer work easy by adding the PO number in the subject of the email. This feature helps the customer to find out one particular email from the bunches. In this way, it makes their work easy and time-consuming.
To access this feature:
Go to the Menu bar, then select Edit >click on Preferences > then Send Forms > after that Company Preferences. Select the required template and click Edit, from the Insert Field button, select Customer-PO (subject).
✅ Combine multiple emails:
You can make your customer service better by sending multiple invoices in one email which relates to a single customer. It will not make work massy and time saving too.
To access this feature:
From the menu bar, select File > Send Forms and select the box "Combine forms to a recipient in one email".
✅ Company files search:
You can easily search your company by using the company file search in No company open screen.
To access this feature:
From the No Company Open window.
✅ Collapse columns in reports:
You can collapse multiple columns together. It makes the report clean and understandable. You can hide the internal process and show the only customer required information. It makes easy to understand.
To access this feature:
From a displayed report containing multiple columns, select the Collapse Columns button on the top right of a displayed multi-column report. Optionally, click the ( — ) or ( + ) symbol next to a specific column to collapse or expand that specific set of columns.
✅ Payroll status for direct deposit enabled customers:
You can directly check your direct deposit payroll. Without doing any email or without contact support.
To access this feature:
From the menu bar, select Employees > View Payroll Run Status.
✅ Easy payroll setup with employee self-setup:
There is a new feature that helps you to set up payroll by their self. Now business owners invite their employees to fill their personal information securely. So next time when QuickBooks updated then employees can also able to pay their personal transactions or taxes.
To access this feature:
Go to the Menu bar, then select Employees > and click on the Payroll Setup.
✅ Smart Help:
The Help option in the QuickBooks comes with new features and experience features. Now customer gets more relevant content to their task they attempted.
To access this feature:
With a QuickBooks file open, select the F1 key on a Windows keyboard, or from the menu bar, select Help > QuickBooks Desktop Help.
✅ Express Pick-Pack:
To save time in Sales Order Worksheet Fulfillment process. It makes work easier and one same person can do the pick-pack process. So, the complete process of Express Pick-Pack comes in a single task.
To access this feature:
From the file menu, select Edit > Preferences > Items & Inventory > Company Preferences > Advanced Inventory Settings > Site Operations and select Enable Sales Order Fulfillment Worksheet
✅ Landed Cost:
The landed cost feature shows the clarity in the actual cost of the product by factoring in freight, duties, insurance, and other miscellaneous costs. All the additional costs are added to the cost of the inventory, so when you margin them the result will be correct. There are many other additional charges are also comes with the actual cost of goods/inventory by landed cost feature, you can locate these additional expenses and cost of your bills and keep track of all expenses.
To access this feature:
To setup Landed Costs: From the file menu, select Edit > Preferences > Items & Inventory > Company Preferences > Advanced Inventory Settings > Landed Cost tab.
✅ Alternate Vendor:
This the best way to manage your vendors. A centralized information center contains vendors' contact and pricing data that helps you to make purchasing decisions. But you make sure to choose the right vendor while buying inventory from the QuickBooks Enterprise Solution.
To access this feature:
Click on the Menu bar, then select the Vendor Center and click the Items tab.
Some other features are:
It also includes some other features. Unlike other accounting software, QuickBooks provides industry-specific features. There are many reasons why QuickBooks Desktop Enterprise deserves the best one for them who are searching for accounting software. There is a list of some features:
✅ Track your all financial transactions
Track sales, Taxes and customer payments
Accept credit card payment in QuickBooks
You can get time to time technical support, and Product expert
Online backup and data protection
Access from anywhere, anytime and any device with Hosting subscription
Track inventory status to improve cash flow
Invoice multiple customers at one time with Batch invoicing
Up to 115 users can get permission to access sensitive information
Create a customized financial report with the help of Intuit Statment Writer
Track fixed assets with Fixed asset manager
Work in two company file at the same time
You can track up to 1 million customers, vendors, inventory items and employees
Work in multi-user mode
✅ Go deeply to make better decisions
Financial, sales and tax reports in one click(150+ industry-specific)
Import or export data from Excel, Quicken, Microsoft Office Accounting & prior QuickBooks versions
Download and import your bank and credit card transaction in QuickBooks
Get information using Company snapshot
Easily create business plans, expenses, and sales
Quick transfer of customer credits
✅ Manage inventory and pricing
Easily track sales order fulfillment
Control, customize, and automate your pricing
Using customized inventory reports get right info of your business
Manage inventory using bar code scanning, bin location tracking, serial number or lot tracking
Customer success manager
What is missing in Enterprise 20.0
One time payment is missing in this product. Because it is based on the annual subscription then needs to do payment every year. And it must be renewed annually if you are using the software continuously. On the base of features, it is a perfect and complete package for mid-to-large size business.
System Requirements for QuickBooks Desktop Enterprise 20.0
Before downloading or installing, make sure you have the correct system requirements, otherwise, you may face issues while downloading and installing it.
Here some information about the Operating system, hardware, software, and other requirements to run it.
Operating System
Windows 10 all editions including 64-bit, natively installed.
Windows 8.1 (Update 1), all editions including 64-bit
Windows 7 SP1, all editions including 64-bit, natively installed (only supported until January 2020)
Windows Server 2019
Windows Server 2016
Windows Server 2012 R2
Windows Server 2012
Windows Server 2008 R2 SP1
Browser Requirement
Internet Explorer 11 (32-bit)
Hardware and Operating System Requirements:
Processor
RAM
4GB minimum, 8GB Recommended Server RAM Requirements
1-5 Users: 8 GB RAM
10 Users: 12 GB RAM
15 Users: 16 GB RAM
20 Users: 20+ GB RAM
Disk Space
2.5GB of disk space (additional required for data files)
Additional software: QuickBooks CD provides 60MB for Microsoft .NET 4.6 Runtime
Additional requirements for Intuit Data Protect in QuickBooks Connected Services offerings (applies to the US only).
Required 4 GB RAM minimum
Twice the size to restore or twice the size of the largest file set to back up + 100MB or.
For better experience stored QuickBooks data in a solid-state drive.
Windows
US version of Windows.
Regional settings are supported when setting to English.
While hosting multi-User access administrator rights required for the server computer
Optical Drive
4X DVD-ROM drive required for CD installations
Screen Resolution
Screen resolution 1280 x 1024 or higher with up to 2 extended monitors.
Best optimized for Default DPI setting.
Software compatibility
You can integrate QuickBooks with hundreds of other apps. There is a list of most common apps you can use. For more information visit Intuit App Store. But you need additional Ram for accessing these apps
Microsoft Office:
Office 2016 and Outlook 2016 both on 32 and 64-bit.
Office 2010 SP2, Office 2013 and 365 (including Outlook 2010 and Outlook 2013) both on 32 and 64 bit. Office 365 is only supported when it is installed in the local system, not the web version.
Microsoft Outlook 2010-2016, Microsoft Outlook with Office 365, Gmail, Yahoo! Mail and Outlook.com, other SMTP-supporting e-mail clients all these support Email Estimates, Invoices and other forms
Exporting reports requires Microsoft Excel 2016, 2013, or 2010 SP2 or Office 365 (includes 64-bit).
Outlook 2010 (32-bit) requires Contact Synchronization with Microsoft Outlook.
Outlook Synchronization requires QuickBooks Contact Sync for Outlook (the download is available at no charge). Contact Synchronization does not work with the Microsoft Business Contact Manager Outlook plug-in. it causes duplicate records.
QuickBooks Point of Sale V18.0 and V12.0
TurboTax 2019, 2018 (Personal and Business)
Lacerte 2019, 2018
Pro-Series tax years 2018-2020 (For US only)
Quicken 2019, 2018, 2017, 2016
QuickBooks for Mac 2020, 2019, 2016
Adobe Acrobat Reader: Business Planner, Payroll and viewing forms require Adobe Acrobat Reader 9.0 or later.
Payroll and other online features and services require Internet access with at least a 56 Kbps connection speed (1 Mbps recommended). DSL or cable modem is recommended.
Internet Explorer 11
Firewall and antivirus software compatibility
There is a list of firewall and Antivirus to which Enterprise20.0 is compatible
Windows Server Firewall (all editions)
Windows 8.1 Firewall (all editions)
Windows 7 Firewall (all editions)
Microsoft Security Essentials
Avast
AVG
Symantec
ESET
Avira
Kaspersky
McAfee
Bitdefender
Malwarebyte
To work smoothly QuickBooks Desktop 2020 required internet security protocol requires TLS 1.
Suggested reading: QuickBooks Enterprise Installation – Getting Started Guide
QuickBooks Enterprises Common Errors and troubleshoot
Final Thoughts
Now I hope you know everything you could possibly need to know about QuickBooks Enterprise. You learn about its features, pricing, and how it is better than Pro and Premier. And I will be glad if this article is helpful for you. And if you want to know about other versions of the QuickBooks Desktop then read QuickBooks Desktop Pro 2020 and QuickBooks Desktop Premier 2020.
Source of Information/Reference: https://quickbooks.intuit.com/enterprise/