Whether you have a new business, or you are an entrepreneur, having an accounting system that you can trust is essential. Your accounting software should be user-friendly and have the ability to handle all the transaction-related business. QuickBooks provides a solution for all business types. Compare QuickBooks Versions and pick the best version according to your requirements. Here in this article, all the related stuff to compare the versions of QuickBook is available; so, get your best-suited version after comparing the features of all. For More Details Contact our QuickBooks ProAdvisor toll-free:+1-844-405-0904
In starting days, Intuit offered a single version of its very popular accounting software QuickBooks. But now there are so many versions of it, QuickBooks simple start, QuickBooks Online, QuickBooks Mac, QuickBooks Pro, QuickBooks Premier, QuickBooks Enterprises.
Every business has different needs. So, it is very important to choose the version that fits your business. QuickBooks providing a full 60-day return policy for products purchased through the intuit website. So, before investing your money, it is very important to know the functionality, working of different versions.
Let's proceed further, and compare all the versions of QuickBooks.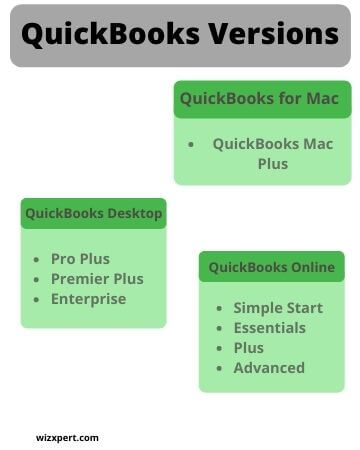 Compare QuickBooks Version
1. QuickBooks For Mac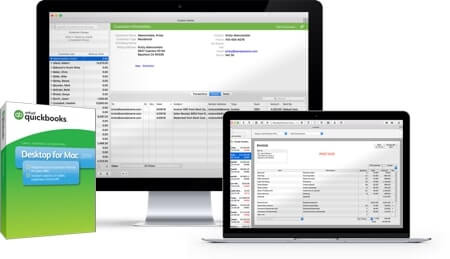 If your all systems are running on the Mac, then no doubt QuickBooks Mac is best. This is totally different software from all the other versions of QuickBooks. All the other versions of QuickBooks run on Windows, except the Online version. It is built to use a user interface framework of Mac.
An earlier version of this software was not very user-friendly, but the latest QuickBooks Mac is much better. It provides integration of Mac apps and services such as MobileMe for backups and iCal for a calendar reminder.
There is another service provided by the QB Mac that, you can share your data with windows users or to your accountant. It doesn't offer you to create an accountant copy features of the windows version, it allows you to create a version of your file and forward it to your accountant after doing the changes in the file.
Intuit doesn't provide a premier version on the Mac, so if you require functionality like that or you want to use premier version then you need to use a Windows PC and Windows emulator for accessing the Windows version of the software.
Features:
Allow more than one user at a time with QuickBooks Mac Multi-users
Create Professional Invoices
Track Sales and Expenses
Manage Account payables
Automatically downloads your bank transactions
Organize all your data in one place with customer, vendors and transaction centers
Get financial sales and tax report in one click to get ready at tax time
Track mileage by jobs and generate reports
Log hours and bill clients for your time
Get a single view of your business with company snapshot
Internet connection
Get reliable reports for tax time and import your data from a spreadsheet
---
2. QuickBooks Online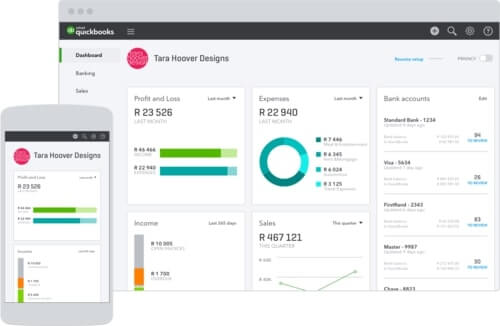 Intuit provides an online version of QuickBooks for those who need services on the go access. You just need to pay for Software as a service (SAAS), rather than paying for upgrading software applications on the system.
Basically SAAS is the hosting of software for the business on the web rather than on your server. If you do not afford the IT team to upgrade your servers, manage software licenses. For this reason, the company provides SAAS who handles all these terms. And you don't need to purchase expensive software also.
In some cases, SAAS is better for small businesses rather than traditional software.
No installation required
New features and fixes every week or fortnight
Inexpensive to buy
You can try it before buying
The major advantage of using QuickBooks Online service is you don't need to worry about your data files that it can be lost or if your server is not working, but QuickBooks online stored your data securely and can get the backup any time from anywhere it just only needs an internet connection.
Various QuickBooks Online Plans
There are four versions of online services
Online Essentials With Payroll
#1 Online Simple Start
Online Simple Start is best for Solopreneurs. In this version, there is only a single-user and one accountant who pay their bills and sell the services (not products).
The features provided through Online Simple Start, that you manage your expenses and incomes. It allows you to invoice the customer, connect your account. You can also create an income or balance sheet in minutes with the help of Online Simple Start.
Online Simple Start has some features:
Track sales, expenses, and profits
Create and send unlimited invoices
Track and manage your sales tax
QuickBooks Online compatible with Windows, Mac, and Smartphone.
For one user, plus your accountant
#2 Online Essentials
Online Essential is a standard version of accounting services. It is a better option to choose QuickBooks Online Essentials if you are running a small business and have minor accounting requirements. And if you have a large business and complex accounting requirements then prefer a desktop software package solution.
Some features of Online Essentials:
Track sales, expenses, and profits
Create and send unlimited invoices
Track and manage your sales tax
Work on PC, Mac, Mobile
Manage and pay bills
Generate sales quotes
For three users, plus your accountant
#3 Online Plus
Online Plus is used when your company is product-based. The facilities provided by Online Plus are you can get a bill by the customer, purchase orders, inventory tracking, track multiple locations, class tracking, and budgeting and planning. It is double expensive than Online Essentials, and the third time more expensive than the online simple start.
This is also helpful for those who want to give access to multiple users up to 5 on their remote access. The users who want to keep the copies of their file will be backup automatically.
Some are the additional features provided by the Online Plus is budget versus actual reporting and more than 100 reports you run in a few minutes. QuickBooks online is a robust online version. You can access from anywhere to your software it just needs an internet connection.
It also allows you to import all your bank and credit card transactions into QuickBooks. Actually it saves your time while bank transactions because you don't need to store all your transaction information, it is automatically stored them.
Some features of Online Plus:
Track sales, expenses, and profits
Create and send unlimited invoices
Track and manage your sales tax
Works on PC, Mac, and Mobile
Manage and pay bills
Generate sales quotes
Track projects and jobs profitability
For up to 25 users, plus your accountant
3. QuickBooks Desktop

QuickBooks Desktop is a one-time purchasing accounting software. With QuickBooks Desktop your software and files are stored in your system at your location. Another user isn't able to access your data remotely. QuickBooks Desktop includes new features that make user work easier.
The cost in QuickBooks Desktop has to pay to entail a large, one -off-cost not as the QuickBooks Online will come as a monthly cost. QuickBooks Desktop 2019 version for Pro, Premier, Accountant 2019, Enterprise 19.0 has added a new feature Invoice history tracker. The benefit of this facility is that you can set a proper communication channel to your client for better clarification through Invoice History Information.
Additional QuickBooks Desktop Services
Checks: Keep checks secure in one place and let QuickBooks automatically filled them in detail.
Point To Sale: Sales and Inventory integrated with QuickBooks makes running your business simpler than ever.
Payments: Emails invoices and accept online and mobile payments with GoPayment. For this additional fees will be applied.
TSheets: Track time anywhere, from any device with QuickBooks time tracking software TSheets.
Customer invoice history tracker
Data file optimization
Easy version upgrades
There are some other features that supported by QuickBooks Desktop.
Reporting Capabilities
Industry-specific reporting
Forecasting and Balance, Business planning sheet by class options
Enhanced Header and Footer Customization
Scheduled reporting
Scheduled reporting is a new feature, recently added in QuickBooks Desktop in 2017. This feature helps to user to set schedule to reports. Reports are generated and scheduled a time and send via mail.
Accounting Benefits
Ability to print form 1099-MISC
Produce period copy
Backup and restore feature for Accountants
Client data review tools
Clean-up Files
Visual Reminder to Deposit any Undeposited Funds
Correcting Unapplied credits and payments
Fixing sales tax errors
Data Entry
Customized Billing Rate Levels
Ability to Create Invoice Batches
Payroll can accept Batched Timesheets
Inventory Features
Unit of Measurement Inventory
Sales Order Tracking
Purchase order process Receiving Capabilities
Valuation Method for Average Cost of Inventory
Custom Inventory Reorder Scheduling
Various QuickBooks Desktop Plans
There are three QuickBooks Desktop Plans
QuickBooks Pro
QuickBooks Premier
QuickBooks Enterprise
#1 QuickBooks Pro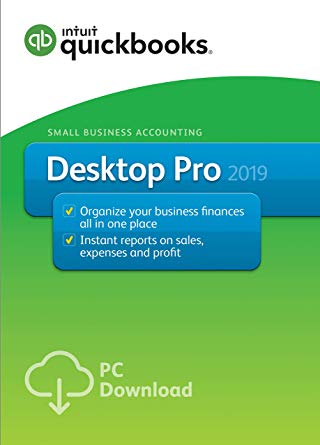 QuickBooks Pro is the most popular simple version. It contains the most commonly used accounting features at a very great price. It is very beneficial for window-based small businesses.
Some of the features of QuickBooks Pro:
Track bills, expenses, and print checks.
Track sales and customer accounts
Manage Payroll
Accept credit cards
Batch Invoicing
Track time and expenses for specific clients
Organize your business finance
Create estimates, invoices, and reports
Send past due Invoices in QuickBooks Desktop to get paid faster by customers when payments are pending.
Make getting paid easier by sending customers multiple invoices in one mail.
8. Keep track of your business
To stay on top manage your cash flows and get real-time visibility of invoice status
Make a financial, sales or tax report in one click
Schedule automatic reporting including profit & loss, expenses, and balance sheet
Get reliable reports for tax time
9. Allow access for up to 3 users
Allow more than one user at a time
Protect sensitive data with user access levels.
10. No accounting knowledge necessary
It only takes a few minutes to get up and running
Watch step-by-step tutorials to learn essential tasks and all the tips and tricks.
11. Easy to set up and use
Manage multiple businesses
#2 QuickBooks Premier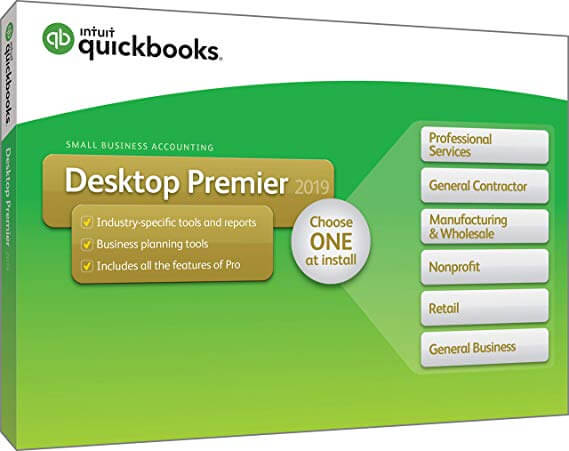 QuickBooks Premier has all the features of QuickBooks Pro but it has some extra features too.
Create a business plan
Track Balance Sheet By Class
Forecast Sales and Expenses
Industry-specific reporting
Transfer customer credits across jobs quickly and easily
Keep track of what you owe vendors, from check to bill pay
Reduce the size of the file without deleting data
Easily upgrade and transfer your QuickBooks data to another system
Save time with new searchable charts of accounts.
Five simultaneous users in data files
There are some simple reasons why business owners prefer QuickBooks Premier rather than QuickBooks Pro:
1. Backorders: If you want to know which order is invoiced to customers and which is left. So, QuickBooks premier is allowed you to do so, but related this QuickBooks Pro has not much visibility.
2. Sales Orders: QuickBooks Premier has the sales order fulfillment worksheet and has easier sales order workflow management than Pro.
3. Reverse Journal Entries: Many business owners prefer Premier rather than Pro because there is the facility in Premier Reverse Journal Entries means you can cancel or reverse the entries which are already done.
You can choose the QuickBooks Premier for getting benefits like General Business, Contractors, manufacturing and wholesale, nonprofit, professional services or retail. It also offers features to track sales, customer payments, manage payroll and payroll taxes and create invoices and forms.
#3 QuickBooks Enterprise
If you have a rapidly growing and larger business and you need a powerful accounting system that manages your business operations. QuickBooks Enterprise is the most advanced version of QuickBooks, it provides a range of functionality, that deals with your business problems.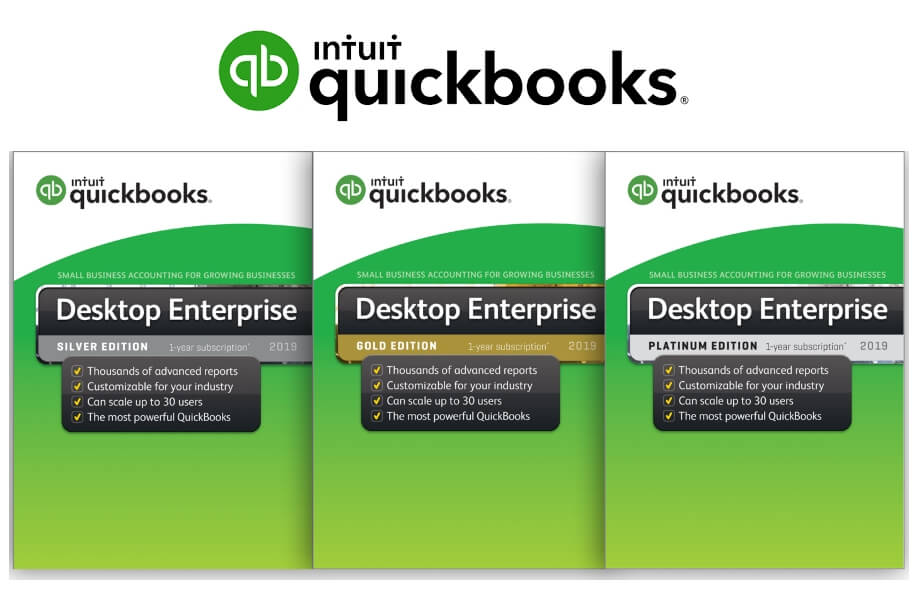 QuickBooks Enterprise is the most powerful version of QuickBooks. This version provides robustness, easy-to-use, advanced functionality that matches your business requirements. This version provides you with the functionality to manage multiple users, inventory workflows, locations or a large amount of transaction data.
Advanced reporting features of Enterprise allows you to make more strong report from the multiple company files. Enterprise also offers online hosting feature but you have to do online payments to access this feature.
Over 6x the capacity of other QuickBooks products. Track hundreds of thousands of customers, vendors or more.
Manage and set up user permissions for 1 to 30 users.
Maximum numbers of simultaneous users
Track sales, sales taxes, customer payments
Accept Credit card payments in QuickBooks
Access to product experts, unlimited technical support
Online back-up and protection of your QuickBooks data
Invoice multiple customers at once with batch invoicing
Customized inventory reports
Customer success manager
There are so many changes that are helpful for customers. There is an improvement in the reliability and experience of the software.
QuickBooks Enterprise has its own three versions:
1. QuickBooks Enterprise Silver
The most basic but robust version is QuickBooks Enterprise Silver. If you go to compare QuickBooks Premier and QuickBooks Enterprise Silver, so there will not be much difference in Premier or Enterprise Silver.
#1. Pricing of Enterprise Silver
The payment is less than Gold and Platinum. And this payment is applicable for locals only:
$1,155 for one user
$1,848 for two users
$2,310 for three users and so on
In this way, there is the accessibility of up to 30 users.
#2. Pricing for Online Hosting
If you want QuickBooks Enterprise Silver with online hosting. You will do the monthly payment :
$ 140 for one user
$ 241.99 for two users
$ 324.99 for three users
In this way, there is the accessibility of up to 30 users.
#3. Capabilities
In the QuickBooks Enterprise Silver, you will access all the features of Pro and Premier, but there are some more features. Some of them are as:
Online data backup storage
Automatic QuickBooks product upgrade
Advanced reporting
Customer resource centre
2. QuickBooks Enterprise Gold
Another plan is QuickBooks Enterprise Gold. This the upgraded plan of QuickBooks Enterprise Gold but this is the most popular plan.
#1. Pricing for Local Only
You will pay the annual subscription fee based on the number of users you required.
$1,502 for one user
$2,95 for two users
$2,657 for three users
$ 3,119 for four users
And this will go up to 30 users.
#2. Pricing for online hosting
If you want to take the service of online hosting with QuickBooks Enterprise Gold. You have to do the monthly payment for it.
$169 for one user
$ 270.99 for two users
$ 352.99 for three users
$ 435.99 for four users
And up to 30 users
#3. Capabilities
This plan provides you with all the features of the silver plan. But there are some more features of it
Advanced Reporting
Customer Resource Center
More than 6x the capacity of other QuickBooks
QuickBooks Payments
3. QuickBooks Enterprise Platinum
QuickBooks Enterprise Platinum is the most powerful version of QuickBooks. It provides you access to some of those tools which are not provided by other versions.
#1. Pricing for local only
$1,848 for one user
$2,541 for two users
$3,003 for three users
$3,465 for four users
$7,970 for up to 30 users
#2. Pricing for online hosting
If you want Enterprise Platinum with online hosting, you just need to do monthly payments for that
$198 for one user
$299.99 for two users
381.99 for three users
464.99 for four users
Custom pricing for up to 30 users
#3. Capabilities
QuickBooks Enterprise Platinum provides you with all the features of silver and gold including:
QuickBooks priority circle with dedicated customer manager
Online data backup storage
Advanced reporting
QuickBooks Desktop Enhanced Payroll
QuickBooks payments
Customer resource centre
More than 6x the capacity of other QuickBooks software
Further all these facilities QuickBooks Enterprise Platinum also provide two more features
Advanced Inventory
Advanced Pricing
Key Points While Choosing QuickBooks Version
Here, we will discuss the summary of all products in tabular form, so you can easily find out what version will be best according to your business needs.
QuickBooks Version
Best For
QuickBooks Online
Best for small to medium-sized businesses, easy to use, cloud-based accounting software, and strong mobile apps.
QuickBooks Self-Employed
Best for freelancers, contractors, and other self-employed individuals in need of fundamental bookkeeping and tax support.
QuickBooks Pro
Best for small to medium-sized businesses with three users or fewer looking for great accounting or locally installed software.
QuickBooks Premier
Best for small to medium-sized businesses with five users or fewer in need of strong accounting, locally installed software, and industry-specific features.
QuickBooks Enterprise
Best for large businesses with 30 users or fewer looking for industry-specific features, locally installed software, and advanced accounting and inventory.
QuickBooks For Mac
Best for small to medium-sized businesses looking for locally installed software compatible with Macs.
As you can see there are so many differences in every version of QuickBooks. Now its time to choose which version of QuickBooks best fits your business.
If you are not sure about which version should be purchased, you can try any version of it for 60 days like the QuickBook Desktop trial version or QuickBooks Online Demo. On the basis of your experience, you can choose the best one.
There are five points you should keep in your mind while purchasing any of the version:
Customization
Cost
Automated Functions
Accessibility
Are you a Mac user?
You have many choices if you are a Windows user. You can implement QuickBooks Pro and Premier in your window. But if you are a Mac user then there are only two options either use QuickBooks Mac or QuickBooks Online.
Do you require remote access?
For fast-moving organizations, QuickBooks Online is the best. You can access it anytime or anywhere. Now Intuit is offering monthly services for QuickBooks Pro to remote access and mobile data access. But you have to pay for it. If your business is on the go access or it is anywhere, any place so you choose QuickBooks Online for your business.
Do you require an industry-specific version of QuickBooks?
QuickBooks Pro is no ability to handle inventory well and another thing is if you want to take raw materials and built products and need to track inventory for both then QuickBooks Premier is the best for it.
Do you need to handle the general accounting features for your small business?
QuickBooks Pro is basically used for small businesses. So, if you are searching for a small business accounting software QuickBooks Pro is perfect for that. It handles all the needs of small businesses.
How Much Accounting Experience Do You Have?
If you do not have much knowledge about accounting, you probably want to move away from QuickBooks Pro, Premier, or Enterprise, unless you're ready to make time to learn. QuickBooks Online and QuickBooks Self-Employed are very easy options to understand if you don't have a lot of experience or you just want to keep the books balanced.
On the other hand, if you're an accountant or someone with a great deal of accounting experience, you may like the complexity of the QuickBooks desktop options as they stick to more traditional accounting practices. If you need a happy medium, QuickBooks for Mac might be a good balance between the two camps, since its UI is easier to use without sacrificing advanced and customizable features.
What Kind Of Business Do You Run?
The business you are running has a major impact on which QuickBooks product is right for you. If you are a freelancer then QuickBooks Self-Employed is a clear choice. If you are running a small business, we advised you to once compare QuickBooks Online or QuickBooks Pro.
The Bottom Line: Comparing QuickBooks Versions
While many options already seem intimidating, each version of QuickBooks is designed to fulfill a certain business size and type and requirement. QuickBooks Online and QuickBooks self-employed are the best choices for those businesses requiring cloud-based software with mobile apps. QuickBooks self-employed is specially designed for freelancers, on the other hand, QuickBooks Online is a great fit for almost any size business.
QuickBooks Pro, Premier, Enterprise, and Mac are best for those users who already have accounting experience or who want a locally established choice. The main difference between versions is the operating system of your computer and the size of your business.
Note:- If a specific version of QuickBooks stands for you, we advised you to take test drive to make sure you like using it.
Hope, you love to read this article and know a lot more about QuickBooks versions or well understand which version is good for your business. But, if you still need any further assistance then you can directly reach us by dialing our toll-free+1-844-405-0904 and get in touch with one of our certified QuickBooks ProAdvisor and get the instant solution.