One of the most common questions new users ask is why they are unable to log into their QuickBooks Online account? Few of them are even unaware of the official website of QBO (www.qbo.intuit.com/login). So if you want to know how to fix QuickBooks Online login problems then read this article till the end. We have explained various QBO sign-in issues i.e. what this issue is and the reasons behind its occurrence. In this tutorial, you will also get all the solutions to solve the Intuit QBO login issues. Apart from this, we'll also discuss how to fix the "504 gateway timeout error" and "QB spinning circle". In case you need further help, contact us for support on Toll-Free No. +1-818-295-3510
So let us start this tutorial.
The first thing you have to confirm is whether the QBO login problem is with Intuit's official website itself or is occurring on your end. To confirm this you need to visit this link. It shows whether QuickBooks is down or not. You can check for different countries like United States, Canada, Australia & United Kingdom. If it is showing everything fine, similar to one screenshot attached below then the problem is with your system.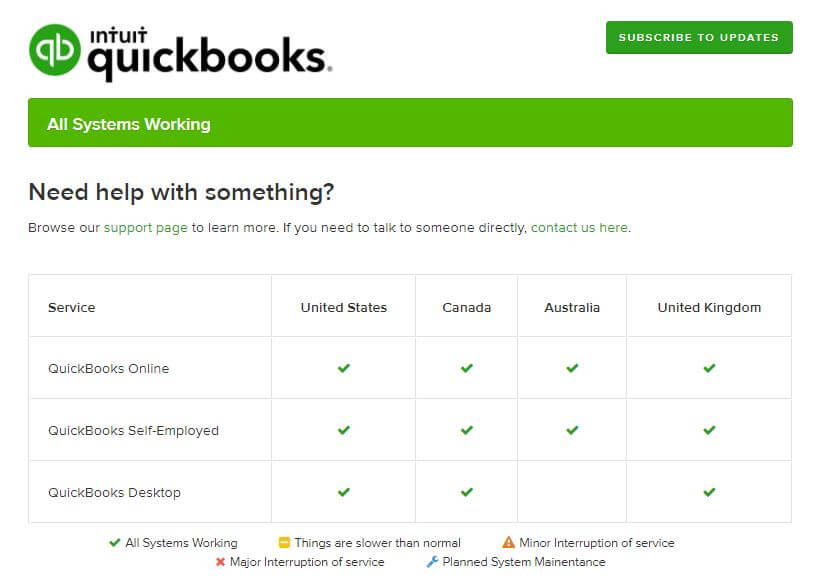 There can be many reasons why you are unable to log in or sign in to your account. Sometimes the website is down, apps not working, incorrect credentials, facing difficulties while sign in, etc. Sometimes you may get slow speed due to different issues that may be with your web browser (Google Chrome, Mozilla, Safari, etc.) or QBO itself.
Whatever the case is, in this blog, we will discuss major cases of QBO sign in issues & their best possible solutions.
But first, understand the major reason behind such login problems.
Various reasons behind QBO sign in problems:
These are the possible factors that may cause errors in Intuit QBO login.
Someone else is login on to another location with your account credentials.
You didn't sign out properly from the previous QBO session.
Sometimes antivirus & other firewall applications may also be the main reason behind this issue. They sometimes block you from accessing the QBO.
There might be an issue with Intuit itself, check for the status of the website by visiting https://status.quickbooks.intuit.com/.
The login issue may also be caused by old history or cache as they may slow down the performance of Google Chrome & any other browser you are using.
Now you have understood the major reason due to which such a problem occurs, let us now read the possible solutions of major problems.
Quickbooks Online Login Problem With Chrome
Sometimes Quickbooks Online creates a login problem with chrome and this is a very common problem. By following these steps you can easily solve this sign-in problem by yourself.
But let us first understand why this problem is occurring.
There can be several causes for the appearance of online login errors.
When you face login problems you can see the following screen message on your desktop screen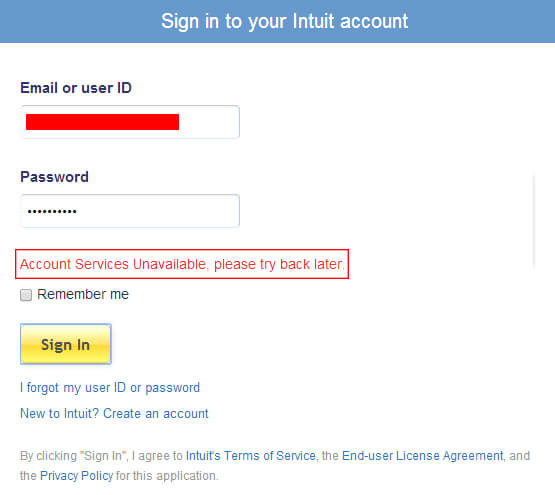 Sometimes you can see a variety of problems with Chromebook when you log in to QuickBooks Online. There may be several reasons behind the error & login issues.
Your computer screen shows a "loading" message or a small circle continuously spins on your web browser but does not load anything.
The services are not available- an error message displays on your screen.
The sign-in screen and screen can appear in a loop to select my company.
Another blank or black screen may appear after logging into QuickBooks Online
QuickBooks is not responding online after you log into your account.
Another case could be that Chrome is unable to load the QuickBooks online login page
The unexpected failure of Google Chrome when opening QuickBooks online may be one such case
The main reason behind the QBO login issue on Chrome
This type of problem can be seen when the user does not properly sign out of the previous QuickBooks online session.
If a person logs into QuickBooks Online with the same credit and any other system.
Eventually, this error can be seen when a firewall or antivirus blocks access.
How to Fix the QBO login issues on Chrome
Solution 1: Try to sign-in with any other web browser
For the first step, you should try using another web browser. Sometimes it happens that your Chrome browser is not well configured and causes problems. Because of this, you cannot log in using Chrome. To access your QuickBooks online you can try Internet Explorer, Safari, or Mozilla Firefox browser.
Solution 2: Add an additional user to Chrome
If the earlier discussed solutions do not work, we advise you to add a new user to Chrome and then try to login to QBO. the steps to create a new user are as follows:
Open the Google Chrome browser and go to the vertical three dots on the right side of your screen and look for the Settings tab.
In settings, look for the user's option.
Now select Add New User option.
Choose an icon, enter the user name, skip the create a desktop shortcut, and press the "Create" option.
After creating you will see the new user chrome icon will show on the top left corner of your chrome home page. You can easily switch your user by clicking on it.
Solution 3: Use Chrome Browser in Private/Incognito window
While encountering a login problem with Chrome, you can also try logging into QuickBooks in Chrome in incognito mode. When you use Chrome in incognito mode, you can browse the Internet without recording it and your online activities do not appear in history. Also, using QuickBooks Online on Chrome in incognito mode is as easy as using in normal mode.
Steps to open Private/incognito mode in Chrome
Simply open google chrome and press ctrl+shift+N simultaneously to open a private window.
Another method: Open Google Chrome, and navigate three vertical dots on the right top corner and click on it. Later select the "new incognito window" option.
Solution 4: Clear all history and cache data
This is a very easy method and various concerns can be fixed by clearing the history/cache. Clearing old history or cache can be helpful, as they may be the reason behind the slow performance of online QuickBooks.
First, go to the Customize and Control Google Chrome symbol on the top right corner of your screen and choose Settings.
Choose the History tab and look for the Clear browsing data option and click on it.
Now after clicking on clear browsing data, you got various options on your screen.
Tick the relevant box and clear cookies, cached images and files, and other sites and also plug-in data.
Solution 5: Verify the Google SSO (Single Sign On)
In an update of QuickBooks, and Google in the year 2020, it was declared that now the QuickBooks users, who are using the iPhone or iPad will not be able to login to the QuickBooks Online app through the google account. But the iOS mobile users can use the google account for the login process. So if you are an iPhone user, and still trying to sign in to the QBO with the google account then, stop doing this.
You can use your Intuit account credential for the login process, just put the user ID, and password, and login to QuickBooks Online by using the Intuit account.
And if you are iOS user then , go for the 'Sign In with Google' option for the QBO login.
Advanced Steps to Fix QuickBooks Login issues with Chrome
Step1: Verify the SSL settings of the Internet Explorer or Mozilla Firefox
For Internet Explorer:
First, open the run window by pressing Windows + R key simultaneously, and then type "inetcpl.cpl", and click on OK.
Now, the Internet properties window will open up on your screen and look for the "Advanced tab"
Navigate, the"SSL 2.0 and SSL 3.0" under the settings drop-down list and give a checkmark on both options & turned on later press the "OK" option.
At last, open your browser and try to sign in to QBO.
For Mozilla Firefox
First, launch the "Mozilla Firefox" browser.
Enter config in the address bar and press Enter.
Once done with it, the user should write TLS in the search bar.
The names shown followed by double-clicking "tls.version.min".
The next step of the process is to type the integer value according to the TLS / SSL version to be enabled.
Now click on the "OK" option.
At last, "close the browser" and reopen and sign in to QBO.
Step 2: Verify and change the additional privacy settings
Here, the user requires to assure that the privacy settings should be set to Medium or Low.
And after, need to allow access manually to the qbo.intuit.com.
later, allow cookies.
At last, quit all the browsers and re-login.
To check security settings for Internet Explorer
First, open the Run Window by pressing Windows + R key simultaneously, and then type "inetcpl.cpl", and click on OK.
The next step of the process is to open the Advanced tab, succeeded by scrolling to the Security option.
At last un-mark the Do Not Save encrypted pages.
We hope the above method helps. However, if none of the solutions helps you login successfully, it is advised to switch to another supported browser, you can also examine the settings of your web browser. You can also directly contact QuickBooks technical support by dialing +1-818-295-3510 and get instant support from our Intuit certified ProAdvisor.
Now let us move forward to another common QBO login error and its possible fixes.
QuickBooks Online Login Error 504 'Gateway time-out'
The 504 Gateway timeout error happens due to the server is taking too long to load the website hence the 'time-out' message appears. There could be nothing wrong with the computer since the problem is between the server and the internet.
Still here are the few things you can try yourself to solve the 504 error.
There could be a possibility that the error is temporary so you can try to refresh the webpage a few times by pressing F5 or from the URL.
Try to restart all network devices like modem, router connected to the computer.
Check if anyone doesn't tamper with the proxy setting of the browser. You need to set these settings to default.
Check if the DNS server you are using is correct or not. Although your Internet Service Provider must have configured it right.
Contact your ISP(Internet Service Provider)and discuss the 504 gateway timeout error you are facing.
If any of the above troubleshooting doesn't work then this error is definitely occurring due to some issue in the website server and most probably they must be aware of the situation and trying to fix it.
Fix "Oops, Something Went Wrong" Error appears while QuickBooks Online Sign In
Sometimes during QuickBooks Online login, you received a message that says "Oops, Something Went Wrong" even though you provided the correct username and password.
This situation can arise due to a third-party extension known as "IBM Security Trusteer Rapport". The objective of this extension is to secure the financial data from the malware. But sometimes it obstructs the QuickBook Online login procedure.
If you want to login to QBO then you have to disable this extension. For this, you need to follow the below steps.
Firstly, click on the three dots at the top right corner.
Then select More Tools and after that click on the Extensions.
Here in the search bar type 'Security Trusteer Rapport' and disable it.
You can also use Google Chrome in the Incognito Mode to login to QuickBooks Online if you don't want to disable the extension.
NOTE: Before performing the above method make sure to update both the browser and the extension and check whether you can sign in or not.
QuickBooks can't log in, Get Spinning Circle on Screen
Sometimes we face some strange issues like QBO can't log in, Get Spinning Circle on Screen that is really very irritating while working.
Solutions
Solution 1: Follow these steps to fix this issue:
First, try to use a separate browser or incognito window to log in to your account to isolate the problem. Later, remove the browser cache that you are currently using.
How to open an incognito window:
Press ctrl+shift+N simultaneously for Google Chrome.
Press Ctrl+Shift+P for Internet Explorer or Firefox.
Press Command+Shift+N at the same time for the safari
Now remove all the cache data and temporary files of your browser. Hope this will fix the spinning issue.
If above solution is not working then try with this solution.
Solution 2: Follow these steps:
Reboot your system for a while. This helps to refresh the system background processes that are causing the sign-in issues.
Review your privacy settings on your browser. Fix it to medium or lower, and give them access to https://qbo.intuit.com. Close and reopen the browser after adjusting your settings and try to access your QuickBooks.
If it is also not working, then you need to re-install your QuickBooks Desktop. And try to login again.
In case, after trying all the above solutions you are facing the same spinning login issue then we will advise you to contact customer care.
Steps to contact QuickBooks Online customer care:
First look for the Help menu and choose Contact Us.
Mention your issue there, and select Let's talk.
Here also you need to choose one option between Chat or Get a callback.
---
When you load any one of the websites on your computer with the Chrome web browser and you're incapable to sign into any websites, it can be a problematic circumstance.
For this type of problem, you could check the web browser's settings, and make certain that there is not any type of problems linked to Chrome.
Additionally, you should also make sure that the cookies and JavaScript are enabled, and also no one has access to your accounts.
These given details are the best solution for all QuickBooks Online login Intuit US issues. If you are still troubling with QBO sign-in problems then you can try dialing our toll-free number +1-818-295-3510. Our QuickBooks ProAdvisors are always there to assist you.