How to Access QuickBooks Remotely
Last Updated on: March 30th, 2019
Posted by:

admin

Category:

Quickbooks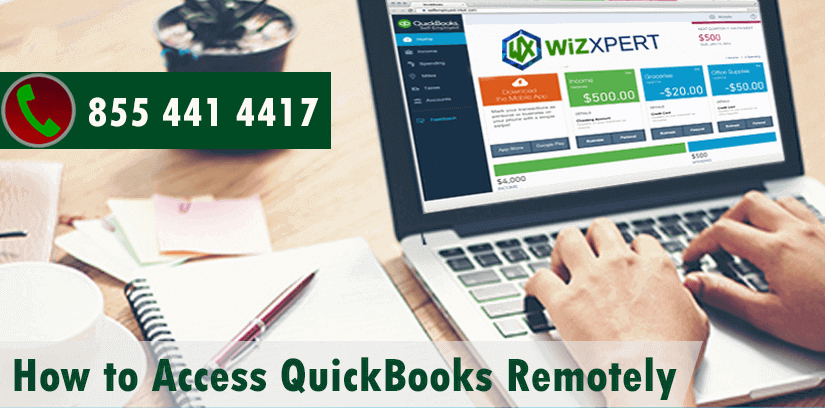 These days, QuickBooks is one of the best accounting and finance management software for business. It has a number of features that fulfill the unique accounting needs of different users. It adds more to its value with simplistic UI to make accounting easier for users. In this article, we will discuss how to Access QuickBooks Remotely.
For these amazing reasons, It commands almost 85-90% of the accounting market for small and mid-sized businesses in the USA. A common question arises most of the time is how to access QuickBooks remotely. We are discussing it here in detail. Or you can get QuickBooks help from our Experts at toll-free Enterprise tech support number 1-855-441-4417 to save your valuable time and effort.
What is QuickBooks Remote Access?

QuickBooks Remote Access is a secure server via which users can access–and work on–everything on PC from any other computer with an Internet connection. With the help of Remote Access you can quickly and easily access your QuickBooks, email, and other programs and documents from anywhere, anytime. You can transfer a file or folder between computers. You can easily print documents from your remote PC to a local printer.
Related Blog: QuickBooks Unable To Create Accountant's Copy
Benefits of QuickBooks Remote Access
WebEx tool that supports online meetings and communication services. With the help of this, you can easily and quickly access your QuickBooks anywhere, anytime.
Between computers, you can transfer a file or a whole folder.
It saves the time of travel and cost of office infrastructure for accountants.
Copy and Paste between remote and local PCs.
From your remote PC to a local printer, you can easily print documents.
Client or managers can track the activities of the accountants.
Different users can collaborate on the same QuickBooks file
The tool is able to connect to the remote machine on which QB desktop is installed.
Cost for Accessing QuickBooks Remote Access
QuickBooks Remote Access is not a free software. You have to pay for it. It is available in two versions.
Full Desktop Access ($7.75/month)
QuickBooks Access ($3.95/month)
You can also use a third party QuickBooks remote access software from the market that works similarly like QB Remote Access tool.
Supported Remote Access Options for QuickBooks
To support QuickBooks remote access functionality, Intuit offers the following options:
Hosting QuickBooks Desktop on cloud

Switching to QuickBooks online

Using QuickBooks remote access tool
Let's explore more on these options to select the one that suits your requirements.
Hosting QuickBooks Desktop on cloud
Intuit allows authorized hosting of QuickBooks Desktop software on the outside servers.
QuickBooks, installed on the server of hosting providers can be accessed by the authenticated user from anywhere over the internet. All features of the desktop software are available for the user, and it even supports cross-device(desktop, smartphone, laptop, and others) operations.
This service gives an edge for the accounting experts as they don't need to make any effort with the installation or maintenance of QuickBooks as the hosting service provider deals with those tasks. 
QuickBooks Online
it's a solution from Intuit that works entr\irely on the cloud. You can access it from any internet connecting device anytime and start working on your accounting tasks. The number of clients who work together over it at a time will depend on the plan that you choose.
In any case, a serious concern with the service is that it doesn't offer every all the features of QuickBooks Desktop. In fact, QuickBooks Online is completely different from QuickBooks Desktop and QuickBooks Hosting. Also, there are a few changes to the user, which can affect the client experience.
 Remote Access to QuickBooks
In the Intuit website, Sign up for QuickBooks Remote Access.

Log into your account on the QuickBooks Remote Access website. Before login, launch a Web browser on the computer from which you need to access QuickBooks remotely.

For downloading the remote access tool installation file.  Click on "Setup computer".
In the "Nickname" field enter a computer nickname, and then click "Next".
Place a checkmark next to the options to initiate each time you log into a remote session. The options include: "Automatically reduce screen resolution to match", "Use full-screen view by default", "Disable this computer's keyboard and mouse" and "Make this computer's screen blank."
Place a check-mark next to the applications to access remotely on this computer. For a minimal monthly fee, access only your QuickBooks accounts. Click the "Next" button.
Check the box for the authentication option to use. Either enter a passcode or use a phone number. When you access QuickBooks remotely, The passcode option allows you to enter the passcode on the login page. The phone number option needs that the tool calls you, and then prompt you for the access code each time. Click the "Finish" button.
Remote Accessing QuickBooks
Launch a Web browser on your remote computer and log in to your account on the QuickBooks Remote Access website.
Where you defined computer nickname check that box, and then click on "Connect".
Authorize your desktop, using either password or phone authentication. When the remote tool calls you and prompts you for passcode  enter the passcode on the phone
First, Click on Remote Access drop-down menu and then click the "End QuickBooks Remote Access Session" when you finish your session.
These steps easily access QuickBooks remotely. If you are facing any problem or difficulties, feel free to talk to a QuickBooks ProAdvisor +1 855 441 4417". They will provide you instant help to solve your issue. Thank you