Having a feature as online payment can help both customers as well as business owners to grow their businesses and also helps in easing the whole process of payment. Therefore, in this article, we'll teach you how to turn on Online Payments in QuickBooks Desktop.
By using the QuickBooks Payment account in QBD can easily accept payments for your products and services from anywhere and anytime through credits and debits cards or ACH Bank transfers.
Connect QuickBooks Payment Account with QBD
You first need to sign up with the QuickBooks Payment and then link the account with the QuickBooks Desktop. After doing this you'll be eligible to get paid online by the customers.
Open QuickBooks Desktop and then, select the Preferences option.
Next, select the Payments option and then click on Sign-up. Follow the on-screen instructions to link QB Payment.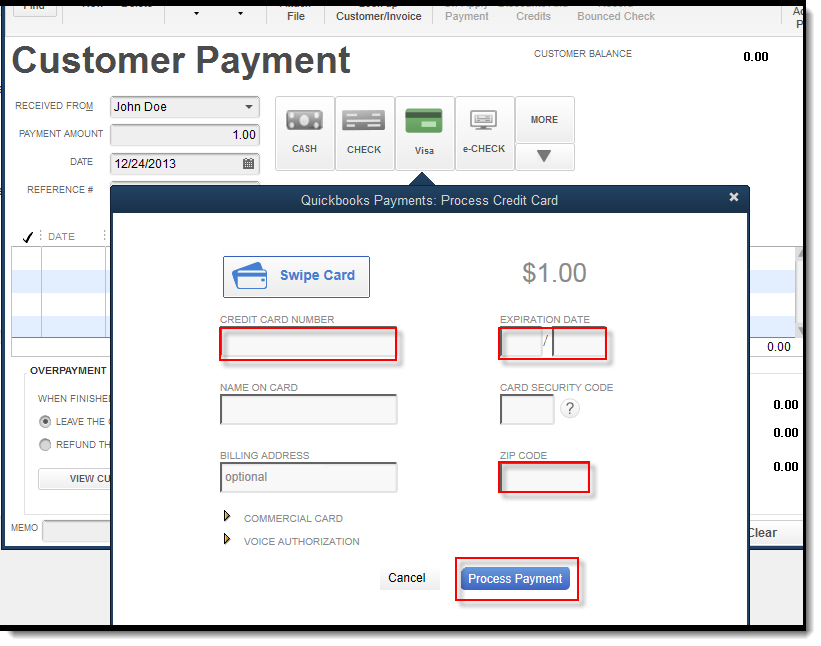 Turn On Online Payment and Send Invoice to Customer
Once your QuickBooks Payment is connected with the QBD then, you need to create and send the invoices to the customers with the online payment link. Follow the below steps on how to turn on online payments in QuickBooks Desktop.
First, Create an Invoice in QuickBooks.
After that, choose anyone between Accept Credit Cards or Accept Bank Transfer.
Then, click on the Save button and select Share to send invoices to the customers through emails. Before doing that you may need to connect your email service provider with the QuickBooks.
Email received by the customers will consist of a Pay Online link.
After clicking the Pay Online link, customers can choose to pay using any one of credit or debit cards and ACH Bank transfer through a secure portal.
Enter the Payment in the Merchant Service Centre
After you received the online payment of the invoice from the customers you'll need to enter the payment received in QuickBooks or you can also create a deposit.
Open QuickBooks Desktop and then select the Customer option.
Then, click on the Record the Merchant Service Deposit.
You can also see the detailed information of the invoice by clicking on the Source and then Invoice.
Now, select the day on which you want to record the transactions and then select Record. You can also record all transactions by selecting the Record All.
After you finish successfully recording the deposit or transaction fees, the status will turn into green.
If you want to view the deposited payment or fee later you'll simply need to click on the Amount link.
NOTE: When you record the transaction for the first time, QuickBooks will ask you to choose between deposit or fees account.
Frequently Used Questions
How to add QuickBooks Payment account with QuickBooks Online?
If you were previously using the QuickBooks Payment with QB Desktop then you can also link the same account with the QuickBooks Online by going to the Company Settings< Payments and then click on the 'Connect'. After that, follow the on-screen instructions to link the account with QBO. Remind that, you can use the QuickBooks Payment either with the QuickBooks Desktop or QuickBooks Online at one time, but you cannot use this on both simultaneously.
How to set up recurring payments using the QuickBooks Payment?
If a customer pays you the same amount after a regular interval consistently then you can set up a recurring payment in QuickBooks Payment by going to the Sales Receipt and then by clicking on the Make Recurring you can set up recurring credit card payment or Bank Payment.
What are the different ways in which you can get paid with QuickBooks Payment?
QuickBooks Payment provides various methods through which you can get paid like using the ACH Bank Transfers, Mobile Card Reader allows you to accept credit and debit cards anywhere, Keyed payments via customer's credit or debit card number, or you can also use Email Invoices with Pay Now button that allows customers to pay their invoices directly from the email.
Conclusion
We hope you've learned now how to turn on online payments in Quickbooks Desktop. As we tried to explain in this article that how QuickBooks Payment feature can help the users to get paid as soon as possible and easily.
Whether it's a credit/debit card or ACH Bank transfer, you can use QuickBooks Payment for online payment service.
But if you still have some queries about QuickBooks Online Payment or any other issue related to QuickBooks or accounting you can have assistance from our team of QuickBooks ProAdvisor. You'll only need to call us at our 24*7 toll-free number +1-855-441-4417 to know more about our services.