Want to discover a greater view of your business? Then go for QuickBooks Online Plus. It is one of the most popular QuickBooks Online business management plans of QuickBooks Online. You can find all of the Essentials, and Simple Starts features in this plan. In this article, we will give you overall information regarding this Online Plus plan like the pricing, plans, and features. Read the article till the end, if you want to get updated information on this plan.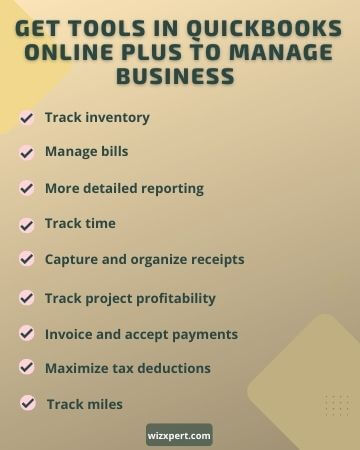 Plans and Pricing of QuickBooks Online Plus
QuickBooks Online Plus has no sub-plans. Normally the Online Plus version is available for $85 / month for up to three users with a free trial. But, if you are a new user, and want to purchase QuickBooks Online Plus for the first time then, you will get a flat 50% off at $42.50/month for three months with a free trial version of 30 days.  
Available Key Features in QuickBooks Online Plus
QuickBooks Online Plus is the most popular QuickBooks Online plan because of its features. So here we have discussed all of the popular features of Online Plus. have a look;
Track Project Profitability
With QuickBooks Online Plus, you can get a clear vision of your project profitability for all projects in your dashboard. All of the detailed reports can be visible in the user-friendly dashboard.
Capture and Organize Receipts
Capture the receipt by using your smartphone. QuickBooks will categorize automatically and will match it to expenses.
It sorts all of your business expenses into the right tax categories automatically. This updates you, on what you earn.
Track Income and Expenses
All of your income, and expenses transactions can be tracked easily. QuickBooks will sort all of the income, and expense transactions from the connected accounts to the tax categories.
Prepare, and manage your 1099s, and tax time with QuickBooks, and submit it at the right time.
The updated version of QuickBooks online gives the option to categorize your transaction according to income and expenses which helps to sort the transaction by their class.
Better Planning for Business
Due to some additional features of QuickBooks where you can create a budget and fetch detailed reports that help to make your report with exact information.
Get the facility of creating a custom professional estimate, and convert the estimate to an invoice easily.
Invoice and Accept Payments
QuickBooks allows you to customize your invoices, and accept all credit card, and bank transfers fast.
Managing a bill in QuickBooks is very simple. Because, here you can track your bill status, can create recurring payments, and can pay multiple vendors at once.
It allows you to keep the detail of your inventory by monitoring the product levels, and cost of goods. And it notifies you when the inventory is low.
It provides the facility of detailed reports so that you can track all of your work, and exclude the plan to manage the business in a better way. It has the ability to run specific budgeting, inventory, and class reports.
Track the employee's hours to enter their own time by integrating QuickBooks Online into QuickBooks Time. And track miles in advance. It is a new feature in QuickBooks Online. You can use the GPS from your smartphone to track the miles you drive. The business trips can be easy to sort in this way.
Track Sales and Sales Tax
You need not calculate your taxes manually, because QuickBooks accept payments, and credit cards and calculate the sales tax automatically.
It gives safety and security to your data by giving flexibility to accessing and sharing the report with up to 5 users. It helps in protecting your sensitive data.
QuickBooks Online Plus Review:
Generally, any small commercial enterprise that needs to track inventory and wants online access to their books and needs to do basic terms like bookkeeping tasks including financial institutions and different economic files. It allows up to 5 users. It will generate the backup automatically when a customer needs copies of their books. It includes more advanced features and plans and pricing and it will vary depending upon the products.
Advantages of Using the Online Plus Version of QuickBooks:
Here are some of the points of QuickBooks Online Plus advantages. Have a look;
Customer Services:
In case the user needs any assistance or guidance they provide more options as we can contact through phone or by filling out the form available on the website and provide your mobile number for further conversation and finally submit the form. Usually, it takes time to respond to or answer your questions. Wait until their response. It also provides a more efficient support team to solve your queries. you can also as an option to send your query through the Emails available.
Use Artificial intelligence chat boxes for chatting purposes it is totally free of cost. It also provides answers to user requirements through its website under the FAQ sections available. It provides more information regarding the products and services.
Mobile Apps:
It will be available for Android, Apple, and Blackberry devices. By using mobile apps we are able to manage your account balance, payments, and receivables and also view the contact information of the customers. QuickBooks Online Plus provides product upgrades that are totally free of cost.
Ease of Use:
QuickBooks Online Plus is easy to use and to outsource your bookkeeping activities this feature will be a great option. It will take only less time to record your expenses and deposits and it will allow you to import your financial, and credit card transactions. To use this there is no need to download or install it, we are able to access this if we have stable internet connectivity.
A complete set-up guide will be provided by the advanced tools. It is easy to navigate and you can set up the layout features by adding or removing links for recent transitions and banking. By using Excel, and Gmail you can able to import your customer details and contact information about the customers. It also includes FAQ sections that provide general information about the terms and services for these products. Rating is Excellent for this service.
Reporting:
It provides more than 65 plus reports. Under the Report menu, it provides report templates. With help of this software, you are able to add or edit templates. It includes an organization snapshot that will include profit or loss, balance sheets, and cash flows, and also it provides suggestions or requirements for the business development.
Disadvantages of Using the Online Plus in QuickBooks :
QuickBooks Online Plus also has some disadvantages. You can check the below-listed points to know, what are the cons of the plan.
No copy will be available.
If you lose your internet connectivity the server will go down then you will be left without accessing the details.
It will back up your information on a daily basis.
FAQ (Frequently Asked Questions)
Can I get QuickBooks Online Plus for Free?
Most of the time, QuickBooks offers discounts for first-time purchasing, and also provides a free trial of 30 days. This plan is available on the official site of QuickBooks Online Plus. Create an Intuit account, and take the advantage of QuickBooks Online Plus's free trial.    
Is QuickBooks Online Easy to Learn?
QuickBooks arranged it's all its plans, and programs in a user-friendly manner. Also provided all of the information (setting up, plans, pricing, features) in tutorial videos. In the alternative, if you are finding QuickBooks Online hard to use then you can find QuickBooks ProAdvisors for guidance.
What is the Difference Between QuickBooks Online Essentials, Plus, and Simple Start? 
QuickBooks arranged it's all its plans, and programs in a user-friendly manner. Also provided all of the information (setting up, plans, pricing, features) in tutorial videos. In the alternative, if you are finding QuickBooks Online hard to use then you can find QuickBooks ProAdvisors for guidance.   
What is the difference between QuickBooks Online Plus, Essentials, and Simple Start? 
All of the QuickBooks Online plans are developed for different needs. So to know the answer to the question, you have to get answers to these 3 questions; who can use this, how many users can use this, and what are the features included in the plan?
QuickBooks Online Plus is developed for projects, inventory, and Contractors, and is essential for service-based businesses, and Simple Start is for small businesses.   
5 users can access the Plus plan, 3 users can access the Essentials, and Simple Start is the solo plan for small businesses.  
QuickBooks Online Plus covers all the features of Simple Start and Essentials with the addition of tracking inventory and tracking profitability by the project. QuickBooks Essentials cover all of the features of Simple Start with the addition of managing bills and tracking time.  
What is QuickBooks Online Plus?
QuickBooks Online Plus is an ideal QuickBooks Online plan for businesses that helps to manage projects, inventory, and contractors. It allows you to refine your reports by class, track inventory, and create budgets to make an informed decision.      
How do I know if I have QuickBooks online plus?
You have to open your company QuickBooks and then follow the given procedure:
1. Go to the 'Gear Icon' which is on the right side of the top of the menu.
2. Then go to your company tab where you have to choose 'Account & Settings'.
3. Now you are on the next page where you have to choose 'Billing & Subscription'.
After clicking on the Billing & Subscription you can see your which online version you are using.
Which QuickBooks Online is most popular?
If you have a small business and want to use QuickBooks online then go for QuickBooks Online Plus because it is the most popular with its additional features that are not included in QuickBook's simple start and essentials. It has more functionality as well as more with more complex needs for small businesses.
What versions are available for QuickBooks Online?
If you are going to use QuickBooks Online then keep in mind that it has many version that is available for the users' needs because it comes with various features in different versions. QuickBooks Onlne versions are:
QuickBooks Online Self-Employed
QuickBooks Online Simple Start
QuickBooks Online Essentials
QuickBooks Online Plus
QuickBooks Online Advanced
We hope this article will help you to make the right decision. We have given our honest review in this article to help the reader to consider the QuickBooks Online plan. Still, if you have any kind of doubts in your mind regarding this article then you can consult with our certified QuickBooks experts for QuickBooks Online support. Dial the toll-free number +1-844-405-0904 to connect with the experts.