Even though QuickBooks is one of the best accounting software for almost every kind of business but sometimes many users need to cancel QuickBooks Online subscription due to various reasons like poor customer service, they're not finding it helpful in business, etc.
In this article, we'll tell you how to cancel or unsubscribe QuickBooks subscription whether you're using a paid subscription or a QuickBooks trial version. Also, we'll show how you can cancel the QBO subscription if you signed in software through an app.
Instead of canceling the subscription you can downgrade or upgrade QuickBooks from the current version if you are not finding the current version too much of use. You can also hire a QuickBooks accountant who can help you in understanding the software and how it works?
How to Cancel QuickBooks Online?
To cancel your QuickBooks Online subscription you need to log in to QuickBooks as administrator. It is also important for you to sign in from a web browser otherwise the process will not execute perfectly.
Cancel QuickBooks Online 1-year Subscription
Follow the below steps to cancel your QBO one-year subscription.
The first step is to click on the 'Gear' icon at the top right corner.
Then from the first column select the 'Account and Settings' option.
In the next window, click on 'Billing and Subscription' from the left navigational panel.
After that in the 'Subscription Status' click on the 'Cancel'.
Then in the next step, you'll be asked 'If you want to change your plan' or 'Call customer support'. Here you need to click on 'Continue to cancel' button.
You can also cancel other services like QuickBooks Online Payroll and then select 'Continue to cancel'.
After filing some other information finally 'Submit and cancel subscription'.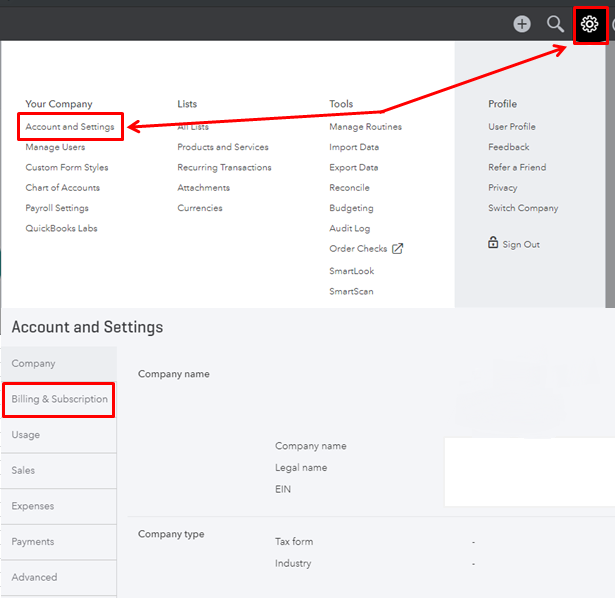 After successfully completing the process, you'll receive a confirmation mail on the administrator's Email ID from the Intuit's QuickBooks.
In case your account is suspended then to cancel it you first need to resubscribe your account otherwise QuickBooks will automatically cancel your subscription after three attempts to retrieve payment.
Unsubscribe QuickBooks Online Trial-version
The process of canceling the QuickBooks Online demo version is below.
Go to the 'Settings' icon at the top right corner.
Then select the 'Account and Settings' option.
In the 'Billing and Subscription' click on the 'cancel trial-version'.
Follow the on-screen steps and then click on 'Submit and Canel subscription'.
For the users who were using a paid subscription can access their data for one year after canceling the QuickBooks account. But remember it is read-only data you can't make any changes to it unless you resubscribe your account within one year of the cancellation period.
How to Cancel QuickBooks Online Purchased through App Store(Apple Store & Play Store)
If you've purchased and signed up QuickBooks through an Apple iTunes store or Google Play store then you need to learn how to cancel QuickBooks Online through the app store.
Cancel QuickBooks Online Account through an iPhone or iPad
Follow these simple steps to cancel the subscription through an iPad or iPhone.
In your iPhone/iPad go to 'Settings' and select 'iTunes/App store'.
Here select your Apple ID and then select View Apple ID option and then enter the password.
Next, select 'Subscription' then choose 'QuickBooks Online' and finally 'Cancel'.
Cancel QuickBooks Online subscription from iTunes through your computer
First, you need to open iTunes on your computer.
Then, select the Account and Sign-in.
Next, select the Store option.
After that, select Account and then click on the View my Account option. Here, you need to enter your Apple ID and password.
Then, select the View Account option.
Next, go to the Settings, and then click on the Manage next to subscriptions, and then select the QuickBooks Online.
Finally, click on Cancel Subscription.
Cancel QuickBooks Online from an Android Device
For canceling the QuickBooks account from the Android device follow these steps.
Open Google Play Store and from the left panel select Menu.
Next, open the 'Subscription' and look for QuickBooks in apps.
Then, In the manage subscriptions window select 'Cancel subscription'.
Cancel QuickBooks Online from Google Play Store on your computer
First, sign in to your Google Play account on your computer.
After that, select My Subscription.
And then, click on the Manage option next to QuickBooks Online.
Next, click on Cancel Subscription.
Frequently Asked Questions
Can I cancel the QuickBooks subscription anytime?
Yes, you can cancel QuickBooks account at any time. But it is best to unsubscribe QuickBooks before 5 days of next billing day.
What happens when I cancel QuickBooks Online?
You can still manage and make changes to your data for 14 days even after unsubscribing QBO account and after that your data will available in read-only mode for one year.
How to cancel QuickBooks Online Accountant(QBOA)?
You don't require a subscription because QuickBooks Online Accountant is a free program and therefore you don't need to cancel the account.
---
The Bottom Line
We're hoping that you find this article useful and learned everything about how to cancel the QuickBooks Online account. We've discussed how you can delete the QBO account full subscription, trial version, and also QuickBooks Online App. But before unsubscribe QuickBooks keep in mind that you also have other options if you still want to use the software.
You can find a QuickBooks ProAdvisor certified by the Intuit. They are experienced professionals and know everything about the QuickBooks software. If you want to have more information about the services we provide then give us a call at our 24/7 toll-free customer support number +1-855-441-4417. We assure you won't be disappointed with our services.