How to resolve network issues with QuickBooks File Doctor test results
Last Updated on: October 16th, 2018
Posted by:

admin

Category:

Quickbooks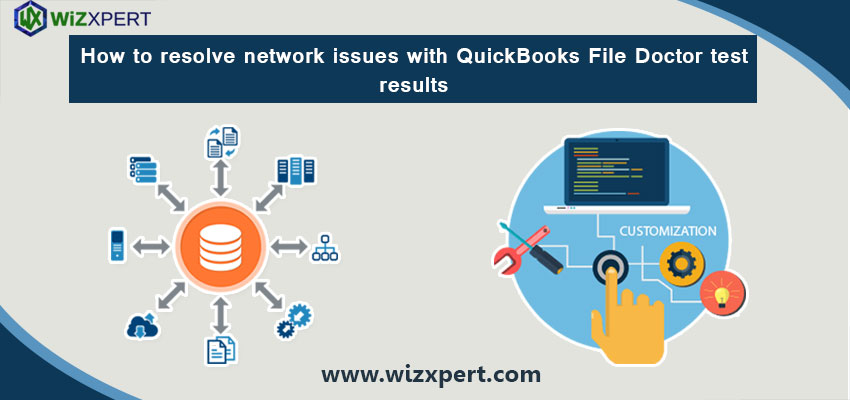 QuickBooks file doctor is known as the connection diagnostic tool which is used to fix insignificant glitches and faults. This tool has lots of features, saving time and ease of use are the best features of its.
Sometimes are user confused with benefits of QuickBooks connection diagnostic tool and they do not take the proper advantage of QuickBooks file doctor. QBFD is a very valuable and trustworthy tool to possess if you are experiencing difficulties with this accounting software.
The QuickBooks File Doctor is used to test your network and resolve your network problems which affect on QuickBooks. Here are the test result sections which describe it in detail, including resources to solve your problems in each specific area. See on the result you get from using the file doctor to solve the issue.
When Hosting Mode is Off
You can easily access the company file from the host system or server system by QuickBooks. If QuickBooks hosting modes are off then things will not only become difficult but they will create another problem. So its compulsory to turn on the hosting modes and if you did not face this situation, you would need to follow these requirements.
Firstly, you will have have to map server.
Kindly check your system is set in the multi-user mode or not. If a system is not set in multi-user mode then set your system.
Save your QB company file in a shared folder.
Accessing your Quickbooks files when the network requires Quickbooks Hosting Turnes on.
Important: If you are on the workstation computer then you should ignore this warning.
We will discuss the Turn on the procedure below you can follow them.
Turn on Hosting
Hosting QuickBooks company data files in multi-user mode
The hosting is used to describe the situation where the computer that is storing a company file which allows the other computer to access that file.
QuickBooks Desktop is used to manage the company file,
QuickBooksDB28 used by QuickBooks Desktop 2018.
QuickBooksDB27 used by QuickBooks Desktop 2017.
QBDB26 used by QuickBooks Desktop 2016.
You can find this service in User Account and under Users for this computer.Keep in mind the service corresponds to your version of QuickBooks Desktop.
How do you access your company files?
QuickBooks Desktop have 3 conditions to access the company files
Windows File permissions: User who is logged in must have permissions to Full control, which get the permissions to look at, modify, and open the file.
Database Server mode: It can be used for open the company file.
QuickBooks User login: Each user has QuickBooks user login ID and password.
Finally, after meeting these 3 conditions, you can access your company file.
Hosting Modes
Each version of QuickBooks Desktop and for each mode is set on hosting mode.When you use multiple versions of QuickBooks 2015 or later are used concurrently, the setting of each version are independent in the hosting mode.
There we use 3 types of hosting modes: Not hosting (it also called Hosting Off), Hosting Local Files only, and Hosting Local & Remote files.
Not Hosting mode:
QuickBooks Database Manager runs in the normal process when the windows User running QuickBooks.
It does not support multi-user mode. It can not use shared memory to communicate with QuickBooks. In this mode, only the QuickBooks user can use the database server to access a file on the local computer.
Hosting Local Files only mode:
QuickBooks Database Server Manager can run only as a Windows services named as QuickBooks DBXX. (where XX  determine  the number from 17 to 28 by the version of QuickBooks and describe under the "Hosting defined" above)and it is also for Windows user QBDataServiceUserXX (the XX being the same 2-digit number from 17 to 28 that the Windows service uses).
The service of QuickBooksDBXX is always running while the computer is on.
It supports multi-user mode while using TCP?IP to communicate with QuickBooks. QuickBooks users can access company files while using a database server running in Hosting Local Files only mode.
Local Files only mode can host those files that are located on that computer where a computer is hosting.
Hosting Local & remove files mode:
When the currently logged on windows user than QuickBooks Database Manager runs as a normal process. When the user logs in than this process get starts and when the user logs out than this process is stopped.
It supports multi-user mode while using TCP/IP to communicate with QuickBooks. The QuickBooks users on remote computers can access company files on this computer using a database server.
Host files are stored in local computer mode and that file is found in remote computers and opened on the local computer.
How QuickBooks Desktop determines which database server to communicate with:
QuickBooks Desktop looks only for the .nd file. This file is a small text file with the same name as the company file and with a .nd file extension. This file is in the same directory as the company file, where there is a use of .qbw extension. It also contains the information needed to contact the server, such as the IP address and port.
Where there is a use of .qbw file it determines in QuickBooks Desktop.
When the QuickBooks Desktop finds the .nd file and it detects the company file is in use than the QuickBooks tries to communicate with the server:
If the result comes successfully than QuickBooks open the company file.
If the result comes not successful than the error message that describes the steps needed to resolve the issue appears.
When Folder containing the file is not writable
It contains only in the company file and shared to other users.
Important: If you are on a workstation then you should ignore this warning.
When there is No network connectivity
There is a use of at least one working TCP/Ip adapter and the hostname of the local machine is resolvable. Get troubleshooting solution for various QuickBooks issues. Dial now 1-855-441-44117.
RunIPConfig
To verifying the TCP/Ip configuration of your computer then you may find the IPConfig tool. This helps to solve troubleshoot problems using QuickBooks on a network.
To run ipconfig: Follow the steps below,
Tap the Windows Start button.
Enter Cmd in the search field.
Click Command Prompt in the list of results.
Enter ipconfig and press Enter at the command prompt.
Finally, get more information on IPConfig, enter ipconfig /? at the command prompt or visit, support.microsoft.com.Microsoft.com is not an Intuit Website.
Network problem: IP reverse lookup has failed.
Click if windows can produce an IP address from a hostname and reverse the process.
QBCF Monitor Services/QBDMgrN not running or firewall is Blocking Quickbooks
In which you show the may encounter errors if your firewall blocks internet access needed for specific QuickBooks programs or files. Uploading Your firewall to the latest release resolve many issues or you need to manually configure exceptions and ports needed for your firewall software.
QBCF Monitor service not running:
Set up your firewall to open 8019 port for the tool and Quickbooks applications on the client and server.
Sure that the server has hosting turned on.
Sound the server. A sound should succeed from the client and the server.
QBDBMgrN not running:
Firstly, you will configure your firewall to open Dynamic database, for the QBFD and all the QuickBooks applications. And configure your firewall on all clients computers and your server.
Be sure that you have turned on hosting on the server.
Now, be sure that you are able to ping the server both with IP and hostname on the server and all client computers.
Fix all your payroll related issues. Dial QuickBooks Payroll support number 1-855-441-4417
Reference: https://community.intuit.com/articles/1579060-resolve-network-issues-with-quickbooks-file-doctor-test-results