No matter which version of QuickBooks software you are using, whether it is QuickBooks Online or QuickBooks Desktop. You should frequently back up your data and company files to external hard drives, cloud service or create a local backup to protect against primary data loss or corruption.
In this post, we will explain you how to backup QuickBooks files in local drive or external hard drive. How to create a scheduled automatic backup or set a reminder for backup company files manually or automatically.
Backup QuickBooks Files Automatically
QuickBooks provides two options to backup company files automatically. One is whenever you save file and the other is the unattended scheduled backup. So you can use any of them according to your comfort.
Backup QuickBooks Files Manually
If you are not up to using the automatic backup method then you can also backup data manually. The good thing about the manual backup is you can create one anytime you want.
These are the simple steps to create a backup manually.
In the File-Menu, go to the 'Backup company'.
Then open the 'Create Local Backup' option.
In the next window select 'Local Backup' and then 'Next'.
Browse the location where you want to save your backup files.
After that select the number of backup copies you want to make.
You can check whether your backup files are safe or not. For this, run the Complete Verification process in the Online and Local Backup section.
If the test is OK, click on 'Save it Now'.
Backup QuickBooks Automatically (Whenever you save files)
In the first method, whenever you make changes in the QuickBooks company files they'll be automatically backup to your local drive.
Follow these simple steps to backup QuickBooks data easily.
Open QuickBooks, then select the 'File-Menu' option.
After that click on the 'Backup Company' option and then continue.
By clicking on the 'options' button select the location where you want to save your local back up files and then next.
Here, you can change the location if you want to or use the current location. Click on next.
Here you have three options '1. Save it now', '2. Save it now and schedule future backups' and '3. Only schedule future backups'. Select option 2nd and continue.
Now check on the box saying 'Save backup automatically when I close my company files (n) times'.
In place of 'n' enter the number of saves after which you want to backup your files and then click on 'Finish'.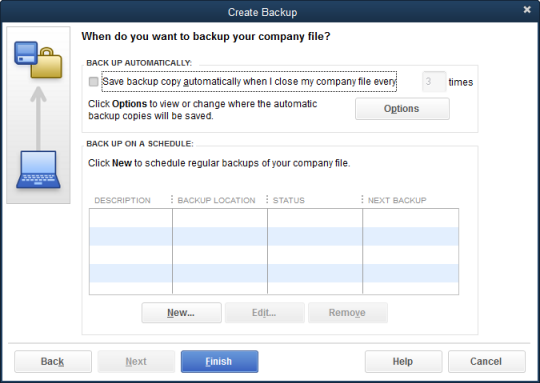 Scheduled Backup QuickBooks files
In the second method, you don't need to open your system every time you want to backup QuickBooks data. You can set a frequent time period after which your all company files and data will back up automatically even you are not using your computer.
For backup QuickBooks files after a pre-determined time interval follow these instructions carefully.
In QuickBooks, firstly open the File menu.
Click on 'Backup company' and then next.
After clicking on the 'Option' Choose the location where you want to save your backup files and then continue.
Select the option saying 'Only Schedule future backups'.
Select the 'Schedule backup' section.
In this section, the first field is the description you can add a backup description if you want to.
Next, browse through the local drive and select the location where you want to save the backup files.
Check and enter the number of copies you want of your backup.
Choose the time, day, and numbers of backups per week and then select OK.
Store the Window Sign-in details so the QuickBooks has access to scheduled backup and then click on 'Finish'.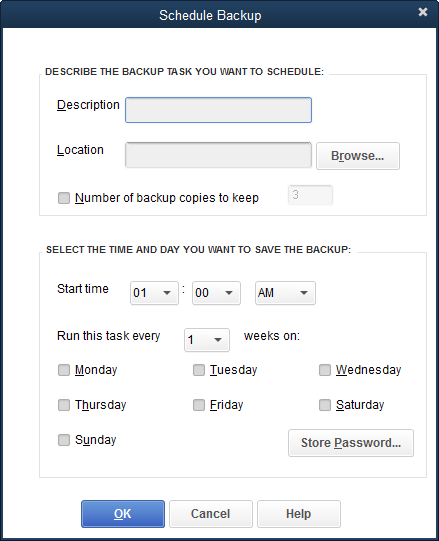 How to setup a reminder for backup QuickBooks Data
Due to such heavy workload, it is not uncommon that you forget to make a Backup of QuickBooks company files. But you can avoid this error in the future if you set a reminder for performing the backup of QuickBooks data.
First, go to file-menu in the navigation bar.
Then select the 'Backup company' option.
Next in Options, you'll see a field saying 'Tell us where to save your backup copies(required)' browse through your local drive select a location.
Check on the 'Remind me to Backup when I close my company files (n) times' in place of 'n' enter the number you want your reminder.
Tick the option 'Add date and time of the backup files name' and then OK.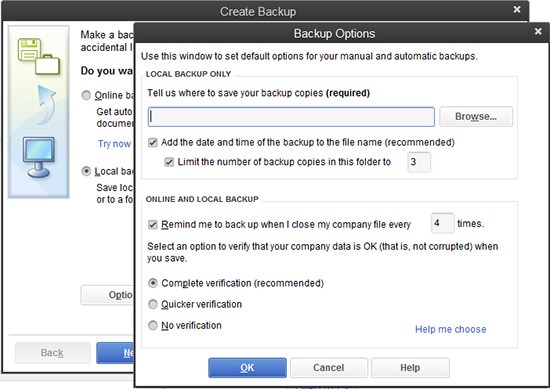 Backup Quickbooks Online
Intuit automatically backup the data of QuickBooks Online users every time they make a change in the company files. Intuit backup the files in their server so if you accidentally lost your data then you can restore company files later.
But if you still want a backup of your company files and QB online data for your own peace of mind then you can use a third-party backup service to backup data. There are plenty of backup services are available in the market.
Frequently Asked Questions
Where are QuickBooks Backup files save on the computer?
By default, your backup files are saved in the Local disk C<Users<Public<Documents<Intuit<QuickBooks<Company Files. Although at the time you start backup, QuickBooks asks you to prefer a location to save files.
How to Backup QuickBooks to a flash drive?
For this, you simply need to connect the flash drive to the computer and when QuickBooks asks you to select the preferred location for backup company files select the flash drive you connected earlier.
Can I Backup QuickBooks to Google Drive?
No, you cannot back up your files to Google Drive or to other services like this OneDrive, DropBox, etc. If you try to perform such things then your company files may end up corrupted state. And the reason is that the QB Database is regularly updating records.
---
Hope, you understand how to backup QuickBooks company files and data. If you are still facing any issue or have queries about the QuickBooks accounting software or your scheduled backup is not working as per the following steps then we also provide a customer service known as QuickBooks ProAdvisor. They can easily solve any problem in a matter of time. For 24/7 assistance, you can get in touch with us by calling at our toll-free contact number +1-855-441-4417.