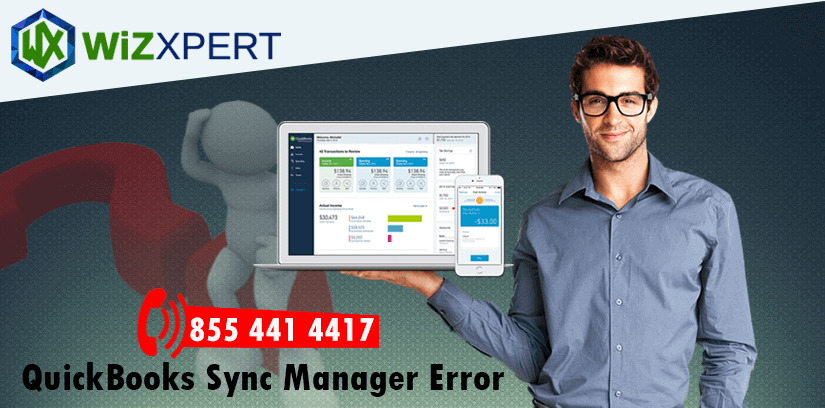 In this blog, we will talk about QuickBooks Sync Manager Error and how to fix if it has stopped working. How does it work and why it is not working while accessing your company file? And will talk about the instructions, so you can resolve it by yourself without getting any complications.
What is Intuit QuickBooks Sync Manager and what it does?
As we all know that Intuit had officially announced regarding discontinuation of Intuit Sync Manager. It said they are moving on to new changes and technology improvements. Let's talk about what it is and what it does for you.
In a simple way, we can define QuickBooks sync manager is a secure way of syncing your desktop application with other third party apps as well as your internal add-ons.
It is a program that runs along with your desktop application and helps in exchanging data between your desktop database with that of the version which is stored in the Intuit cloud server. This means whatever you make a change either in your desktop database or onto the server will automatically sync(with your permission) with your desktop version.
Causes of QuickBooks Sync Manager Error
These are the main causes due to which QuickBooks Sync Manager Error occurs:
Lost program files
Corrupted program files.
This error occurs due to networking issues during data transfer.
Maybe caused by Firewall settings, do not allow access to the main server.
QuickBooks Sync Manager Errors and their Solutions
When QuickBooks Sync Manager issue occurs, the user is not able to open QB. This Error occurs when it has missing or damaged program files. It is one of the most critical issues in QB. Let's have a look at some of the major sync error issues.
We have tried to provide the relevant information regarding each error. If you have questions in mind, you are free to dial our QuickBooks helpline number +1-855-441-4417.
QuickBooks Sync Error 5_13944
This issue occurs while uploading data.
This error occurs caused by the networking problem while transfer data as the firewall setting do not allow entrance to the main server.

To fix this issue you have to access the server URL https://services.intuit.com and https://datasync.intuit.com.

The Intuit Sync Manager Trusted_Certificate file is no longer valid.

To fix this problem go to C:\ProgramData\Intuit\SyncManager in your PC and remove the file SBConnect.crt.

Now, run the Sync Manager Setup again.

If this is already done then you have to Reset Sync Settings. To do this follow the path Help > Manage Data Sync then Reset Intuit Sync Manager

An internal issue occurred while performing to upload data.

To fix this issue wait for some time and retry again.
QuickBooks Sync Error 17_7118
This problem may continue for a few weeks. Trying later will also not work.

To fix the problem ensure that your QuickBooks application upgraded. It means you have to use the latest version and download the update as and when they are available.

Intuit Sync Manager also needs to be upgraded to the recent release version to avoid this error.
QuickBooks Sync Error 17_7300
This error will appear when downloaded data be written to your QuickBooks Company file.

To fix this error you must first make sure that the Sync Manager is up to date.

First, open the QuickBooks software and then open a company file.
Then, from the top menu bar select the Edit option.
After that, from the left side navigational panel select the Integrated Application option.
Next, from the right-side panel click on the My Preferences option.
In the Company Preferences, checkmark the box stating Intuit Sync Manager.
Now, check whether the error fixed or not by trying to sync the information.
Fix QuickBooks Sync Manager Error in Windows 10
Recently it has been found that if you are upgraded from any previous version of Windows to Windows 10 then your system is vulnerable to Intuit Sync Manager Error. The cause of the QB Sync Manager error in Windows 10 could be due to compatibility issues, damaged or corrupted Sync Manager component. You can easily fix this error on your own by carefully following the steps mentioned below.
First, you need to close the QuickBooks software and QB company files also. You can use Task Manager for this purpose.
Then, make sure that QuickBooks is updated to the latest release and then open QuickBooks.
During this, you also need to close the Sync Manager also and to do this, go to the System Tray and then right-click on the Sync Manager and select the Exit option.
After that find the Sync Manger folder on your system's Local Disk C\Users\Username\AppData\Local\Intuit. Here, you'll be able to find the folder.
And then add Old in the name of SyncManager folder name.
Next, restart your system and start QuickBooks software again. (NOTE: By doing this a new SyncManager folder will be created automatically.)
At last, again try to sync the information and check whether the issue is fixed or not.
Reset and Configure Intuit Sync Manager
You can also try to reset the entire Intuit Sync Manager and restart from scratch again. You can do this by overriding the previous logs and data.
Open the QuickBooks Desktop software.
Now, open the Help menu and then select the Manage Data Sync option.
Then, Reset the Intuit Sync Manager and then click on the Reset Data Sync option when ask in the prompted window.
And finally to complete the process you need to sign into the Sync Manager with correct credentials.
Download and Reinstall QuickBooks Sync Manager
Uninstall the QuickBooks application.

Rename the Intuit folders.

You can find the folders at:

C:\ProgramData\Intuit\QuickBooks (year)

C:\Users\(current user)\AppData\Local\Intuit\QuickBooks (year)

Files\Intuit\QuickBooks(year)

64-bit version C:\Program Files (x86)\Intuit\QuickBooks (year)

If you are not allowed to rename the folders and get the error 'Access Denied when renaming folders' then follow the below steps.

Right-click on the Windows Taskbar and then select the Task Manager.

After that choose the Processes tab.

You have to choose the column heading with Image Name and select the alphabetical order in which the process will take place.

Under the image name column, you will findQBDBMgrN.exe, QBDBMgr.exe, QBCFMonitorService.exe, Qbw32.exe. Select these files.

Then choose End Process.

You have to then select yes when you get the message "WARNING: Terminating a process can cause undesired results including loss of data and system instability"

Now you can again install QuickBooks application.
QuickBooks 2014 Sync Manager error (Rename Intuit Sync Manager Folder)
The error occurs because of missing or damaged program files in Intuit Sync Manager

Intuit Sync Manager folder needs to be renamed to resolve the issue.

Close all QuickBooks using your company file.

Close Intuit Sync Manager

Now find the Sync Manager folder and name it SyncManager.old

Again open QuickBooks and open Intuit Sync Manager. Sync Manager folder created automatically.

After that select Sync Now to sync your QuickBooks company data.
Have queries or problems? Contact our QuickBooks Support Phone Number +1-855-441-4417 and resolve this issue easily. Our experts are always ready to help QuickBooks users so feel free and call us to get instant and quality service.
Suggest Read: How to fix QuickBooks not working or responding errors