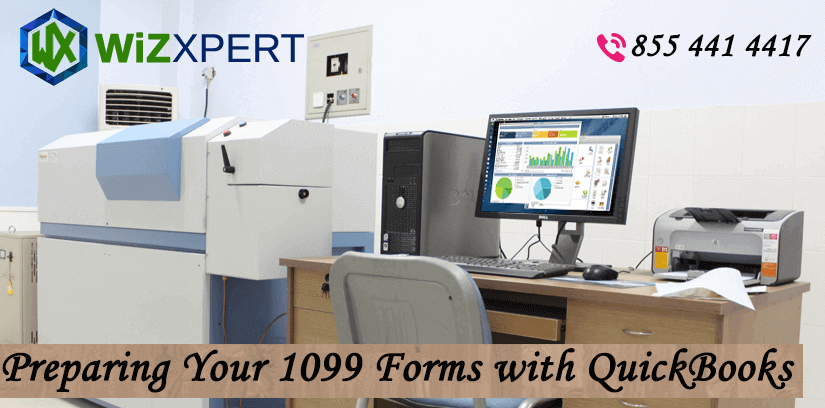 QuickBooks 1099 Form is a tax information form by IRS (Internal Revenue Service), which is required to file the information of the incomes paid, other than earnings from the employer. The 1099 reports what you paid to independent contractors in a given year. You can download the 1099 form by website of IRS. If you have any error in downloading the form you can contact our QuickBooks Online Support Number for help. We will try our best to resolve your issue.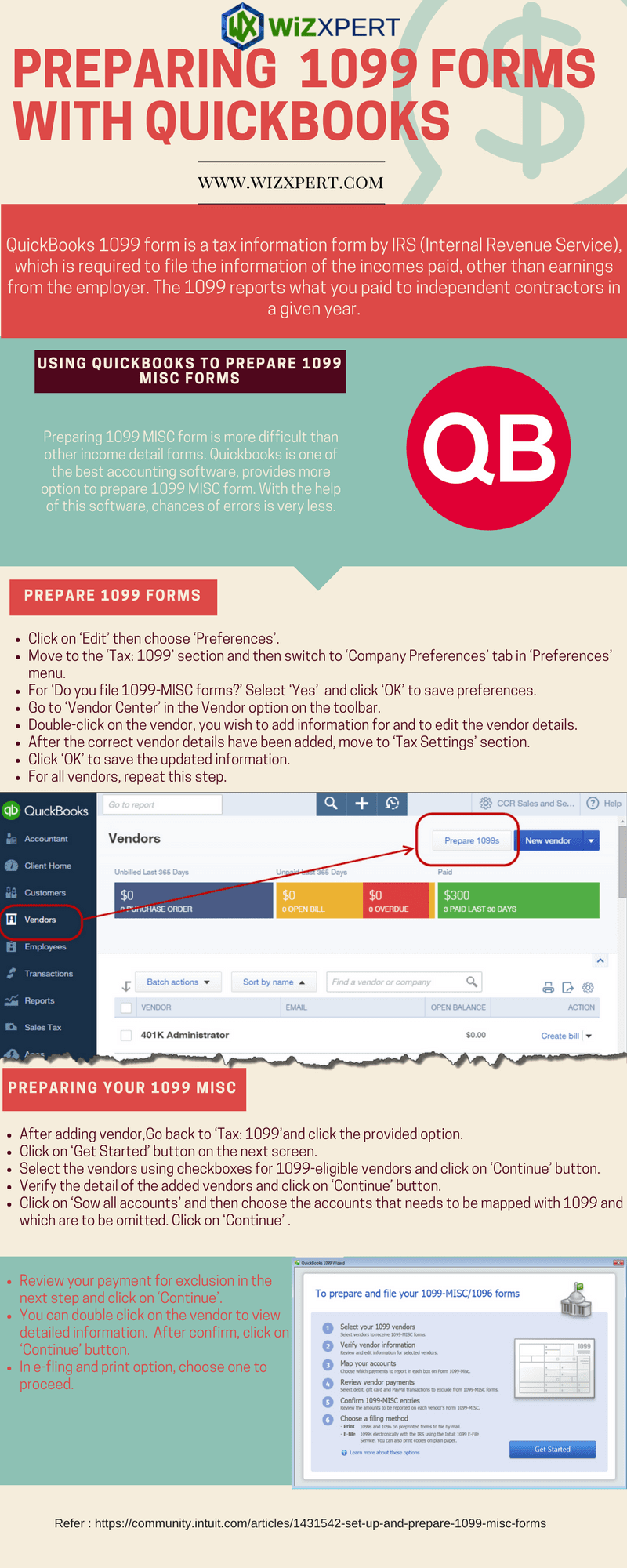 Using QuickBooks to Prepare 1099 MISC Forms
Preparing 1099 MISC form is more difficult than other income detail forms. Quickbooks is one of the best accounting software, provides more option to prepare 1099 MISC form. With the help of this software, chances of errors is very less. QuickBooks automates a number of associated tasks for better features of adding 1099 eligible vendors.
Related Blog: How to Set Up Advanced Settings in QuickBooks Online
When someone does work for you as an independent contractor. You'll need to send those 1099 at the end of the year so they can report their income to the I.R.S. as a general guideline. If the contractor does the work of an employee but they aren't an employee or a corporation. Then you need to create 1099 for them at the end of the year.
Prepare 1099 forms
First, review your company details and make any changes. Now you need to assign the expense account you used to pay the contractor. To prepare 1099 MISC form for your business, you can follow the following steps.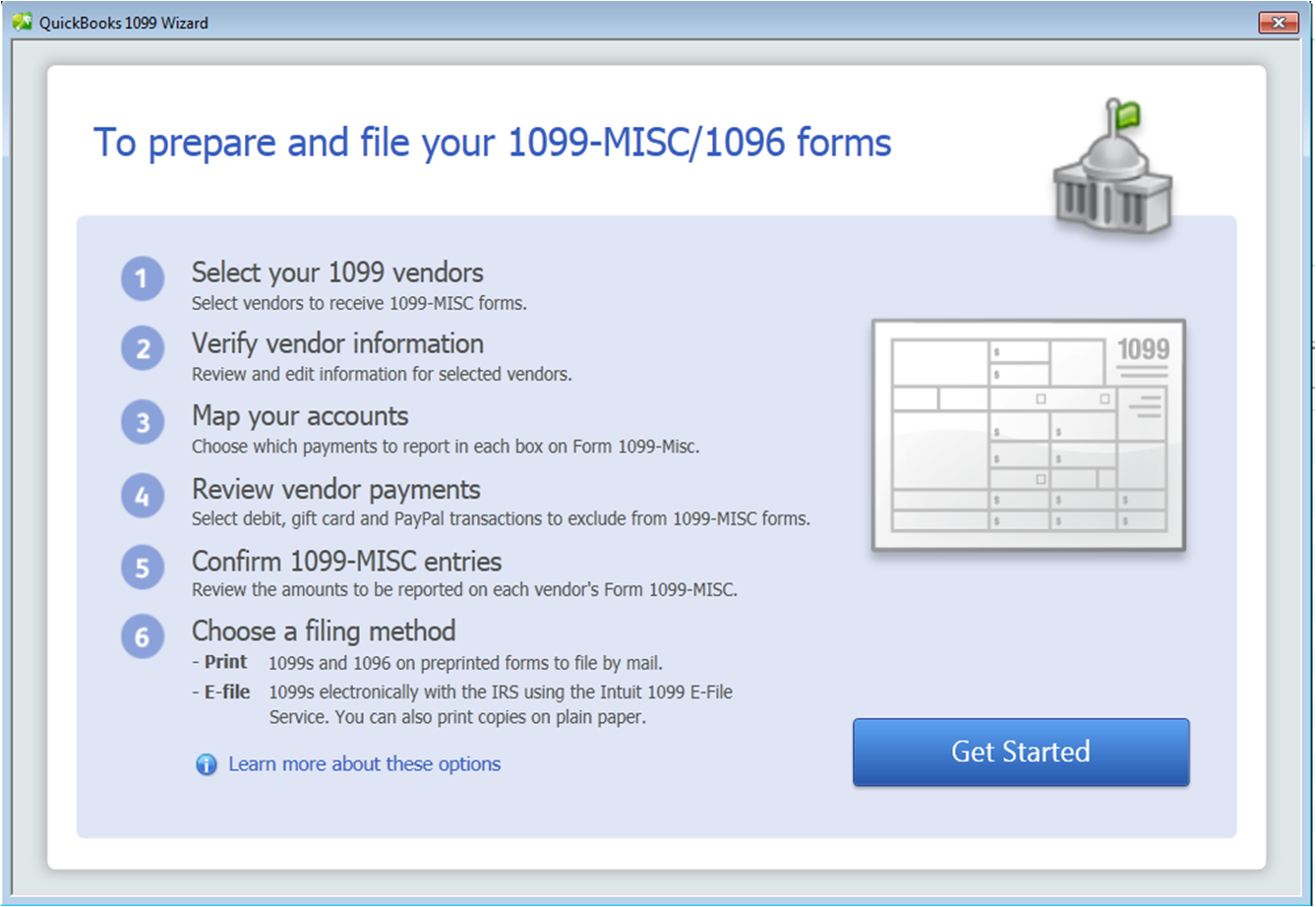 Click on 'Edit' then choose 'Preferences'.
Move to the 'Tax: 1099' section and then switch to 'Company Preferences' tab in 'Preferences' menu.
For 'Do you file 1099-MISC forms?' Select 'Yes' and click 'OK' to save preferences.
Go to 'Vendor Center' in the Vendor option on the toolbar.
Double-click on the vendor, you wish to add information for and to edit the vendor details.
After the correct vendor details have been added, move to 'Tax Settings' section.
Click 'OK' to save the updated information.
For all vendors, repeat this step.
Related Article: 1099 E-File: Common issues and their troubleshooting
Preparing Your 1099 MISC
After adding vendor,Go back to 'Tax: 1099'and click the provided option.
Click on 'Get Started' button on the next screen.
Select the vendors using check-boxes for 1099-eligible vendors and click on 'Continue' button.
Verify the detail of the added vendors and click on 'Continue' button.
Click on 'Sow all accounts' and then choose the accounts that needs to be mapped with 1099 and which are to be omitted. Click on 'Continue' .
Review your payment for exclusion in the next step and click on 'Continue'.
You can double click on the vendor to view detailed information. After confirm, click on 'Continue' button.
In e-fling and print option, choose one to proceed.
Set up and file 1099 forms
1099 is a series of forms used to report non-salary income or the money earned from self-employment, independent contractors, etc there are several types of 1099 forms, whenever, the most common and the ones that you usually need are following:
1099-MISC: The year-end rundown of all non-worker remuneration that meets the IRS edges. Revealed in this structure are money and check installments (unpaid bills are excluded) from the lease, eminences, independent work, self-employed entities, crop protection continues and others. QuickBooks can follow reports for and e-record/print the 1099-MISC shapes on pre-printed frames.
1096: the compilation of all filed 1099-MISC form. Quickbooks allows printing of 1096 forms on a pre-printed for
1099-K: reports every electronic installment made between organizations. This is documented NOT by QuickBooks clients yet by electronic installments organizations like PayPal, Mastercard, Visa, and American Express. Announced in 1099-K are credit/check card and electronic installments for all non-representative pay that meets IRS edges.
Have a question about this? You can always get the correct advice and solution to your entire problem by our expert. If you have any error related to 1099 form or you can't prepare it, just call our QuickBooks Technical Support Helpline Number +1 855 441 4417.