In this article, we tried to discuss all the major changes that we should know about QuickBooks Desktop Premier. Along with that, we will be comparing the features list by the version year 2018, 2017, 2016 & 2015. Also, we will let you know what is the system requirements to install and set up. Go through the article and collect all the data related to QB Premiere 2018, here we have mentioned its detailed feature, requirements, and integration with other software. For more info contact our QuickBooks ProAdvisor toll-free; +1-844-405-0904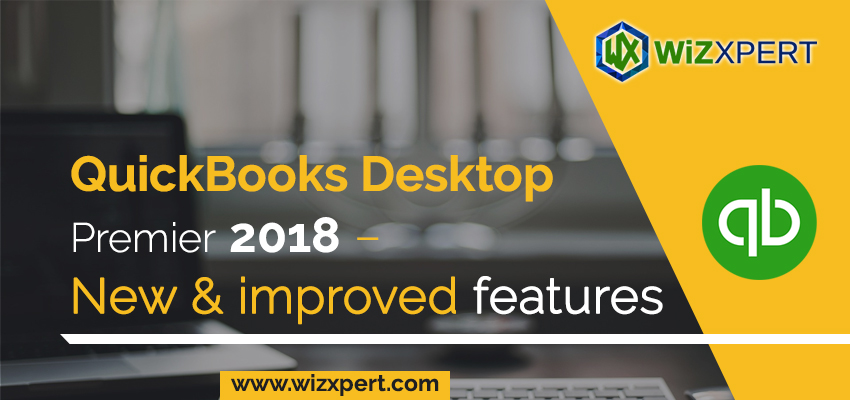 QuickBooks Desktop Premier 2018 has been released which focuses on several features new as well as improvements to existing ones that help accountants and their clients complete tasks with less effort.
What's New in QuickBooks Desktop Premier 2018?
Now you can also get your work done significantly & faster with windows open across multiple Computers. With the help of the QuickBooks Multi-Monitor support feature, you can use QuickBooks Desktop up to three systems. This feature can be proven useful in many ways, for example, you can open the list of computers on one computer screen and create an invoice on any one of the other second or third computers. You can customize the monitor setup as per your requirements and increase the productivity of your work and also have more insights by viewing more reports at one time.
Inventory Reports
You can add flexibility and insight to your business with newly customizable inventory reports. With the help of new additional fields, you can improve your tracking experience as well.
There are three types of customizable reports available.
Inventory Valuation Summary
Inventory Stock Status by item
Assembly Storage
Chart of Accounts
It's easy to find an account or sub-account with an added search bar in the Chart of Accounts. Search by account name or number if you have a huge Chart of Accounts then it will be a lot easier to manage.
Now, you can get valuable insights in a single click and compare your performance on either a cash or accrual basis.
Do tasks unique to your industry quickly.
It is used to locate items and complete inventory-related tasks all in one place using the Inventory Center in QuickBooks.
Track your balance sheet by class
Use this built-in, easy-to-access report to track your financial data separately by location, department, etc.
Bill clients progressively by job phase
It is used to Track and bill clients by time and material, job phase, whatever works best for your unique business.
General Contractor
Create 'Jobs by Vendor' report
It organizes your job costs by vendor, and see which vendors still need to be paid.
Create job estimates and track change orders
As job changes simply enter change orders into the estimate to keep track of the changes & their impact on your bottom line.
Analyze job profitability
Customized job cost reports allow you to see a job's profitability on a detailed and task-by-task level.
Manufacturing & Wholesale:
Track inventory reorder point by vendor
It is used to track inventory and set optimal inventory levels. Also, it Runs a report showing items that need reordering.
Track profitability by product
Always Keep track of your biggest moneymakers so you will know which products to promote and keep in stock, and which to drop from your line.
Easily prioritize which orders to fulfill
You can see all open sales orders and prioritize them how you want. Instantly see which orders can be shipped and which can not.
Nonprofit:
First Create end-of-year donation statements
You can see who your biggest donors are and also you can track their contributions.
Create Form 990 (Statement of Functional Expenses)
Now, Identify your expenses for presentation to your board, major donors, and the IRS.
Run donor contribution summary reports
You can track each donor's contribution total as needed.
Professional Services:
Track unbilled time and expenses
You can see all clients with unbilled time and expenses by employee, project, client or service on a single screen. Also, you can easily send an invoice in just a few clicks.
Set different billing rates by employee, client, and service
Now, Pay and also get paid the right amount by quickly and easily set different billing rates.
Analyze profitability by project and client
Reports like Billed vs. Proposal by Project, Cost-to-Complete by Job, and Job Costs by Job & Vendor help you stay on top of which projects are most profitable.
Retail:
Easily track sales results
Track sales accurately & flexibly with the Sales Summary Form. Enter total payments and taxable/non-taxable sales for the day, week, or any time period you choose.
Stay on top of inventory and costs
Now you can easily track inventory and also set reorder points.
Run a profit and loss report
You can easily compare one month's profit and the loss against another.
Past Due Stamp
With the Past Due Stamp feature, you can have receive payments for your invoices faster. You don't even need to do anything, QuickBooks can automatically add a past due stamp on the overdue unpaid invoice for emailing or printing. You can remove this past due stamp from the invoice in just one click of you don't want it to be on any specific notice.
Copy and Paste line Keyboard shortcuts
Now you can copy an entire line of an invoice using a keyboard shortcut. It will make your work efficient than ever. For copying a line, use Ctrl + Alt + Y from keyboard and then press Ctrl + Alt + V to paste the line.
Webmail Enhancements
QuickBooks has upgrade the security feature of its webmail services. Now, there is a multi-factor authentication required for sending the from Gmail, Hotmail, Outlook, and Windows Line through QuickBooks Desktop.
Merge Duplicate Vendors
Now in QuickBooks Desktop Premier 2018 and later versions you can easily merge vendors using Merge Duplicate Vendors feature. With the help of this feature you are allowed to merge up to 4 vendors. Transactions of all the duplicate vendor will move to a Master Vendor and you can update any other information as your requirement.
Comparison b/w the features list by version year of QuickBooks Desktop Premier:
Feature List by Version Year
2018
2017
2016
2015
Add flexibility and also an insight into your business with newly customization inventory reports.
✔
Get your work done significantly faster with windows open across multiple monitors.
✔
Save time with a new searchable Chart of Accounts.
✔
Help deliver your payroll taxes on time with a payroll liability reminder on the home screen.
✔
Compare business performance on a cash or accrual basis with one click.
✔
Automated reports also let you know that your reports are on time and accurate based on the data provided, automatically generated and emailed to you when you schedule them.
Smart search is a personalized autocomplete feature, therefore, helps you search for names, account numbers, and transaction amounts quickly.
Reports filters are now easily viewable and can be applied to multiple reports and viewed on one screen.
Bill Tracker lets you see the status of your bills, print or close purchase orders, and more, making it easier than ever to manage payables.
Manage forms in a single step—unclutter your "send forms" queue in a single click.
Advanced reporting features include a "this year to last month" filter.
Get the full picture of your business performance — see your profit and loss, income and expenses, and top customers instantly on the new Homepage Insights.
Find all reminders and notifications in one single window – overdue items, to-do tasks, system notifications, and notes from accountants.
View and pin important notes about customers, vendors, and employees.
View shipping rates, print labels, and track packages through UPS, FedEx or USPS.
Add multiple attachments, customize email templates to include customer or job info, and see prior email conversations with powerful email capabilities.
See all your income-producing transactions in one spot, including overdue invoices so you can remind customers to pay up with new Income Tracker.
Pull in all your banking transactions from multiple banks and accounts so you can view and categorize them for tax time
✔
✔
✔
✔
Track bounced checks and see key reports with just one click.
Invoice multiple customers for time and expenses in one batch.
See your invoices, billing, and other important tasks in a Calendar View.
Access your inventory items all in one place with the Inventory Center.
Attach and store documents in the Document Center
✔
✔
✔
✔
Access industry-specific report templates created by other QuickBooks Premier users.
See all your key customer information at a glance with the Customer Snapshot.
Set up Memorized Transactions for recurring billing, invoices, and estimates.
Create professional-looking invoices and forms.
Track sales, sales taxes, and customer payments.
Send invoices and estimates right from your business Yahoo!, Gmail, or Hotmail account.
Create and print deposit slips.
Easily print checks, pay bills, and track expenses
✔
✔
✔
✔
Import your contacts from Excel or other email address books.
Allow up to 5 users to work in QuickBooks at the same time.
Set individual user permissions to control access to sensitive information.
Create a copy of your company files for your accountant.
Track your balance sheet by class such as a location, department, or profit center.
Import data from Excel, Quicken, and prior QuickBooks versions.
Download bank and credit card transactions directly into QuickBooks.
View customized sales and profitability reports.
Run 'Cost to Complete Job' report.
Track time and expenses by employee, project, client, or service.
Bill clients progressively by the job phase.
Document and track change orders.
System Requirements for QuickBooks Desktop 2018:
OPERATING SYSTEMS:
If you are using the Windows 7 or Windows Server 2008 then you must be aware that Microsoft no more provides security updates or any support for the users who still uses this operating system. For security concerns, it is recommended to upgrade your operating system from Windows 7 or Windows Server 2008 to any other supported operating system.
QuickBooks Supported Operating Systems:
Windows 10, all editions including 64-bit edition. It should be locally installed on the computer, not through any virtual environment.
Windows 8.1 (Update 1), all editions including 64-bit edition, natively installed.
Windows Server 2016
Windows Server 2012 R2
Windows Small Business Server 2011, Standard and Essentials.
NOTE: QuickBooks will only work when the Windows operating system is natively installed on the computer. It will not run if the OS is running via an emulator or virtual environment.
DATABASE SERVER:
Windows (natively installed)
1. Windows Server 2016
2. Windows Server 2012 R2
3. Windows Server 2011 SP1
4. Windows 10
5. Windows 8.1 (Update 1)
Linux (when using QuickBooks Enterprise solution Database Server Only installation)
1. OpenSuse 42.2
2. Fedora 25
3. Red Hat 7 (Update 3)
QuickBooks allows you to manage all of the server issues with the QuickBooks database server manager.
HARDWARE & OPERATING SYSTEM REQUIREMENTS (CLIENT & SERVER):
Processor
2.4 GHz Minimum
RAM
Minimum 4GB and 8GB Recommended
Server RAM requirements
For 1-5 Users: 8GB RAM
For 10 Users: 12GB RAM
For 15 Users: 16GB RAM
For 20 Users: 20+ GB RAM
Disk Space
1. Minimum of 2.5 GB of Disk space for installation. (additional space will be required for the data files)
2. Additional Softwares: 60MB for Microsoft .NET Framework 4.6 Runtime, this will be included in the QuickBooks installation CD. There will be no need to download it separately.
3. Additional requirements for Intuit Data Protect in QuickBooks Connected Services offerings
3.1 RAM requirement: Minimum 4GB
3.2 A disk space will be required of twice the size of the largest file set to back up i.e. 100+ MB or twice the size of restore. This disk space is only required from the work folder LocalApplicationData + "Intuit/Intuit Data Protect"
NOTE: If you want to experience the best performance then we recommend you use SSD (Solid State Drive) to store the data.
Windows
1. Windows should be of the US version.
2. Regional settings will be supported only if the language is set to English.
3. When you will be hosting the multi-user access, you will be required to have admin rights of the server computer.
4. Installed natively: It means that Windows should be installed on a particular computer or in a particular environment for which Windows is designed. Also, it means that Windows should not be installed via virtual environment or an emulator.
Optical Drive
If you have a QuickBooks installation CD then you'll be required a 4X4 DVD ROM Drive for the installation purposes. Or you can download the software directly from the official Intuit website.
Screen Resolution
1. Your display should be optimized for the 1280 X 1024 or higher screen resolution. You should also have two extended monitors.
2. Keep your DPI Settings on default for a given computer. In that way, it will be best optimized.
Checkout system requirements of some other QuickBooks products:
⇒ System requirements for QuickBooks
INTEGRATION WITH OTHER SOFTWARE:
QuickBooks can be easily integrated with hundreds of other software. Below is the list of famous and most common apps that can be used with QuickBooks Desktop.
Microsoft Office:

Office 2016 (with Outlook 2016) both on 32-bit as well as the 64-bit version.
Office 2010 and Office 2013 and 365 (with Outlook 2013 and Outlook 2010) both on 32-bit as well as the 64-bit version. (NOTE: Office 365 will not be supported if the web version is installed, it should be installed locally.)
Microsoft Word and Excel integration requires Office 2010, 2013, 2016, or Office 365 (32 & 64 bit)
E-mail Estimates, Invoices and other forms with Microsoft Outlook 2010-2016, Microsoft Outlook with Office 365, Gmail, Yahoo! Mail, and Outlook, other SMTP-supporting e-mail clients.
For preparing letters, you will be required Microsoft Word 2016, 2013, and 2010 or Office 365 (including 64-bit version).
For exporting reports, you will be required Microsoft Excel 2016, 2013, or 2010 or Office 365 (including 64-bit version).
If you want to use contact synchronization with Microsoft Outlook, you will be required MS Outlook 2010 (32-bit version).
NOTE: QuickBooks Contact Sync do not work with the Microsoft Business Contact Manager Outlook plug-in. Syncing with this can cause duplicate records.

QuickBooks Point of Sale V12.0, V11.0, and V10.0
TurboTax 2016 and 2015 (Personal and Business)
Lacerte 2016 and 2015
Pro-series tax year 2016 and 2015
Adobe Acrobat Reader: Payroll, Business Planner, and for viewing forms, you'll be required Adobe Acrobat Reader 9.0 version or later.
In addition to this Transfer data from Quicken 2015-2017, QuickBooks 2004-2017, QuickBooks Mac 2016, and Microsoft Excel 2010, 2013, 2016, Office 365 (32 & 64 bit).
Online features and services like Payroll services will be required an internet connection with a minimum connection speed of 56 Kbps but it is recommended to have a 1 Mbps speed for an uninterrupted experience. You can either use DSL or a cable modem.
Windows Mail, Gmail, Hotmail, Yahoo EMail, and AOL (Mozilla Thunderbird Email Client that supports plain text version.)
BROWSER REQUIREMENT:
In conclusion, we require Internet Explorer 11 (32-bit)
FIREWALL AND ANTIVIRUS SOFTWARE COMPATIBILITY
Although QuickBooks is tried and tested with many antivirus software and firewall programs but you may still need to make some changes in some of the firewall ports for the flawless experience.
Read this article on the QuickBooks Firewall configuration for the detailed info on the QuickBooks and Firewall compatibility.
The Bottom Line
Above, we have discussed every new feature that in introduced in the QuickBooks Desktop Premier 2018 version. Also we have compared ths QB Premier 18.0 with the other QuickBooks software so you can have idea which software is a best fit for your business.
That's all we have on this blog. Mention your thoughts via your comments. If you need instant support, dial our help desk +1-844-405-0904 and get instant solutions from our team of Intuit certified QuickBooks ProAdvisor.