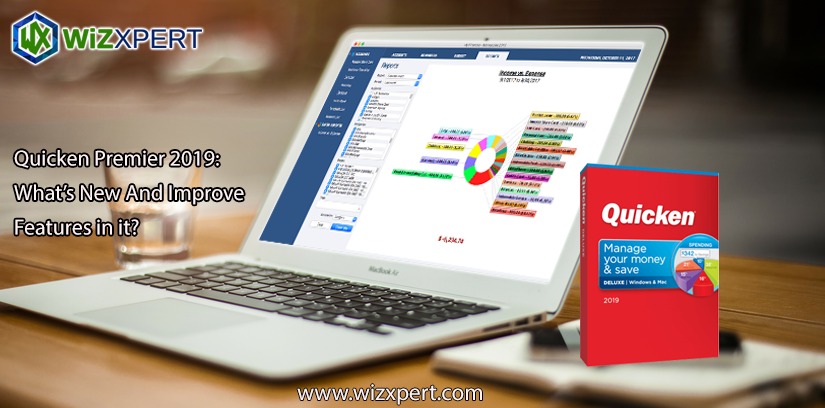 Quicken Premier is known for the best personal finance software for its easy-to-use platform as well as powerful investment tools.  Also known for its simple budgeting features. Both Quicken and QuickBooks offers amazing features that can help in the growth of a business. It sets the bar for personal finance software. Using Quicken Premier you can easily sync your bank, investment accounts, and credit card directly to Quicken. Here we'll discuss Quicken Premier and its reviews in detail.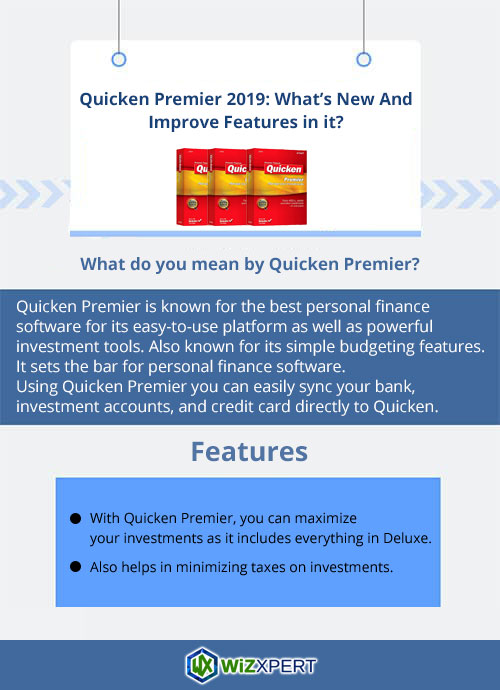 In this way, you can never miss a transaction. Users can create a budget quickly using Quicken Premier with spending limits and alerts in order to ensure that avoid overspending on bills, entertainment or groceries.
Now, let's note down some important points;
With Quicken Premier, you can maximize your investments as it includes everything in Deluxe, plus:
Just check how your investments are performing with informed buy or sell decisions.
Check out for realized and unrealized gains and continuously updated quotes.
Also helps in minimizing taxes on investments.
Reviews:
Pros
The pros in Quicken is that it allows you to sync with your brokerage accounts. Also helps in track investments and monitor the performance of your investment portfolio.
Cons
You cannot access your account on another computer, because this is a desktop application.
New and Improved Version in 2019
It can easily manage your money on the go process across desktop, web, and also on mobile. (NEW)
Export register transactions to Excel(NEW).
Email reports directly from Quicken(NEW).
Easily add bill pay "favorites" into new Bills dashboard.
You can see all your reminders in a single bills dashboard(IMPROVED).
Provides updated 2018 tax rates and mileage rates(IMPROVED).
It also includes many of customer-requested improvements plus significantly improved reliability.
What's New in Quicken Premier
The best thing about Quicken Premier is that you can manage your money anywhere. Well, this is for the first time you can manage your money on the go with Quicken on the Web.
Access key features of Quicken Premier:
With Quicken, you can view balances, accounts, budgets, and transactions.
You can see spending trends and more.
You can easily check investment performance.
Also, you can search transaction history.
It keeps your finances continually up to date.
Using Quicken Premier, your data sync across desktop, web, and mobile.
Be confident your information is secure
As your information is imported from your bank that's why it is unreadable.
Your financial information is protected using 256-bit encryption.
Maximize your investments
Analyze first, how your investments are performing for more informed buy/sell decisions.
You need to check for realized and unrealized gains and continually updated quotes.
Try to make tax time easier by tracking your deductions and creating reports.
Minimize taxes on your investments
Ensure that you get the maximum tax benefits with prepared reports at tax time.
Easily track cost basis and estimate capital gains.
Moreover, what you can do more is that you can easily run reports and keep track of your spending trends and totals across weeks, months or years.
Also, if you want then you can save those files and use them in other programs as well. Same as Excel or TurboTax, as Quicken Premier is one of the best programs on the market known for its cross-program integration.
Quicken Premier is considered to be a better choice than Buxfer or Moneydance. Because it gives you permission to manage your portfolio and plan for your future by setting retirement goals.
Connectivity
In order to avoid the hassle and potential human error, Quicken Premier syncs directly to your brokerage accounts and financial institution. And Quicken Premier is designed to be used only on PCs. However, Quicken offers a separate program for Macs.
Budgeting
Quicken Premier make this process quick and easy to complete.
Quicken Premier has planning tools and saving goals that can help you earmark money for such special purposes.
Reporting
Quicken Premier offers several helpful reports that can save for your records or use in other programs. Report categories include comparison, spending, investing and tax reports.
Personal Investing
In case, if you want to own securities and trade stocks and other investment vehicles then Quicken Premier is the best choice for personal finance software. Also, you can sync Quicken directly to your brokerage account because that helps in transferring your balances and trade history.
Conclusion
In this Article, we have discussed above the Quicken Premier and its reviews. Additionally, Quicken Premier offers more money management features as compared to any other personal finance software application we used or reviewed. All we can say is that it's an overall ease of use, intuitive platform, and powerful features set it apart from its competition.
Therefore, syncing to your bank saves your time and also ensures that you never miss a transaction. However, simple budgeting only allows you to set limits on your spending, and alerts help you stay within those limits.
For more information, you can contact Quicken Support team. Or you can also dial our toll-free number +1-844-541-8444 in order to get help from our experts.
Quicken Premier
Updated Tax & Mileage rate
Bill Pay
Summary
Quicken Premier is known for the best personal finance software for its easy-to-use platform as well as powerful investment tools.