QuickBooks has lots of features, inventory tracking is one of the best features of it's when any mid-sized company sells its products in the market so it's important to keep track of your inventory for them. Inventory tracking with QuickBooks makes it simple and painless to keep track of your products. Being organized with your inventory is the first step in proper management. Here we will discuss how we can manage QuickBooks advanced inventory.
These are some features of QuickBooks Inventory
Features of QuickBooks Inventory are given below,
With custom images, it's easy to see your inventory at a glance.
It creates organized product lists. So you can find exactly what you're looking for and finish your reporting faster.
When you buy and sell products, your inventory quantities are automatically updated making it easy to see what's selling what.
What you need to reorder and it provides real-time inventory valuation to keep all your financial statements up to date.
It also helps you stay on top of your purchase orders.
You can keep track of everything you've ordered from each of your vendors and see contact information for your vendors in one place.
QuickBooks seamlessly integrates with the tools you're already using to track sales and expenses so managing your business is even easier.
So when you're focusing on a million things. There's only one place you need to go QuickBooks sign up today.
Related article: Tips To Search Transactions: QuickBooks Transactions
Benefits of manage QuickBooks Advanced Inventory
You can easily see how many items are on hand, on sales order, on a purchase order, and at your reorder point.
With a QuickBooks barcode scanner, you can enter inventory data efficiently and reliably
Now easy to track items among multiple locations, down to the bin level and serial or lot number.
You can manage all of your inventory tasks, including picking, packing, and shipping, from one place so you don't face any problem related to work.
How to Manage Your QuickBooks Advanced Inventory?
If you sell products. You know that tracking your inventory is important to your business. Our QuickBooks Enterprise Support team have come to this post to let you know, how you can manage your Inventory.
First, be sure you're using QuickBooks Plus which includes inventory tracking. Then be sure your settings are ready for inventory tracking. If you have a lot of different products, you want to group together. You can use categories to find your products more easily. You can also filter your reports by category. Add categories that make sense for your business.
For adding categories.
Click on settings -> Product & services -> Manage Categories -> New Categories -> Then Add name or sub category according to your need.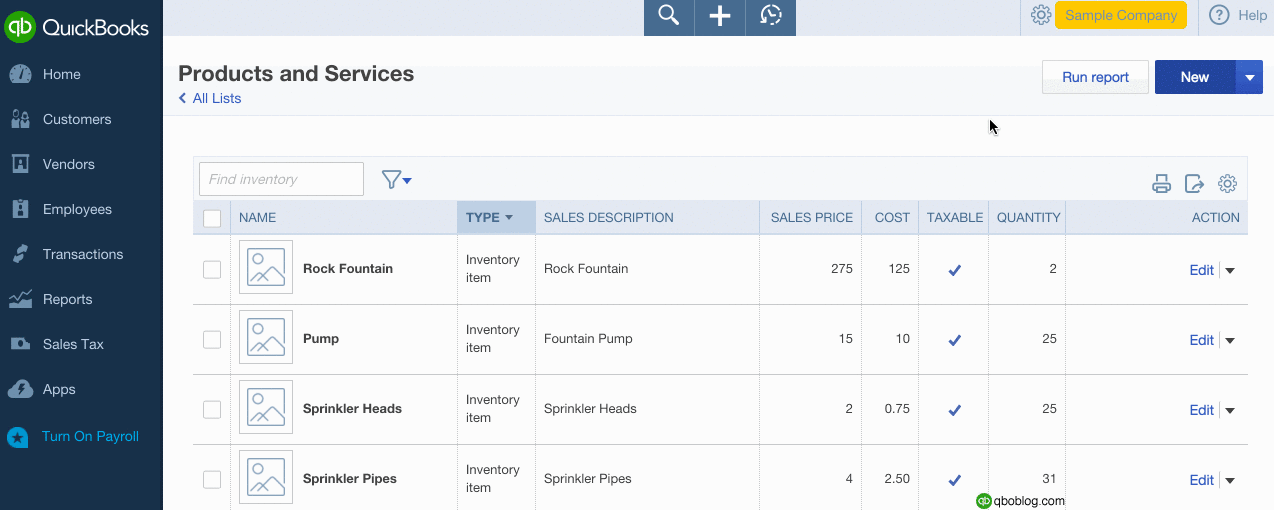 You can nest categories to four levels by creating subcategories. When you're ready to add your products to QuickBooks you can enter each product manually.
You can even add a picture of your product. If you've already got a long list of products in a spreadsheet, you can import them and save a lot of time. Be sure to check out the sample file before you import it.
Related article: Error Code 6073: QuickBooks Is Unable To Open Company File
It works best if you use the same column headers you see in the sample file. After you've got your products all set up you are ready to start buying and selling products.
To purchase products or to sell create a purchase order to send to your vendor. when you receive the products you ordered, copy the information in the purchase order to create a bill.
Creating a bill from the purchase order. Let's QuickBooks know you've received the items you've ordered. Then increases the quantity on hand by the number of items you've ordered when you sell products. You can create an invoice to receive payments later or a sales receipt.
Related article: Bookkeeping Services Vs. Bookkeeping Employees: Which One Is Best For Business
If you've already received payment. After you've saved the invoice or sales receipt, decreases the quantity on hand of the product you sold by the amount on the sales form you can always adjust the quantity on hand of any product in your list.
Reports give you a picture of your sales by product service summary. It shows you your best selling products. Inventory valuation summary shows you the value of your inventory. Take some time to explore all the inventory reports to find the one that's most valuable to you now it's your turn to track your inventory in QuickBooks. If you need help. We're always here for you.
Related article: How To Fix QuickBooks Error Code -6147, 0
Get experts advice and help – QuickBooks Enterprise Support
We provide tips and tools, training and expert customer support when you need it. If you are facing any issues related to QB, nothing to worry because our QuickBooks Customer Service Phone Number is open 24*7 for you, just dial our toll-free number @+1-855-441-4417 and we will provide you quick service.
You may also like: Things You Should Consider Before Choosing Online Accounting Software