Merge duplicate vendors in QuickBooks Desktop 2018
Last Updated on: November 24th, 2018
Posted by:

admin

Category:

Quickbooks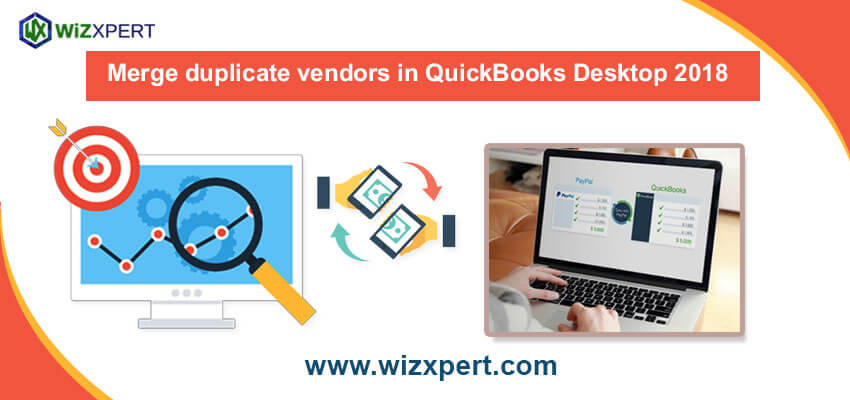 QuickBooks Desktop Enterprise and Accountant 2018 now allows you to easily merge duplicate vendor names through the new Merge Duplicate Vendors feature which allows you to easily combine up to four vendors, consolidate all transactions to a master vendor and update information as needed. With this new feature, you can save plenty of time cleaning up your vendor list.
Here in this article, we are discussing this process in detail. You can also contact our Intuit certified ProAdvisor via dialing our toll-free QuickBooks support number +1-855-441-4417 to save your time and effort.
Before merging vendors, you need to make sure that:
Your company file is in single user mode.
You are NOT using an Accountant's Copy File (.QBA).
Multi-Currency is not turned on.
The vendors you are merging are NOT:

Tax Authorities
Tax-exempt
Paid through Online Banking
Direct Deposit Vendors
Related article: QuickBooks 2018 Desktop: Invoice Past Due Stamp
To Merge duplicate vendors in QuickBooks Desktop 2018:
Access the Merge Vendors window.

If you are using the Accountant Edition: Go to the Accountant menu, select Client Data Review and then click Merge Vendors.
If you are using QuickBooks Desktop Enterprise: Go to the Company menu, select Accounting tools and then click Merge Vendors.

Select vendors On the Merge Vendors window then click Next.
Select a Master Vendor then click Merge.
Note: If you have not created a backup yet and you want to have one before merging vendors, click Backup & Merge instead.
Click Yes on the Confirmation prompt and OK on the Merge Complete window.
Related article: Secure E-mail Support features in QuickBooks Desktop 2018
How to Merge Multiple Vendors in QuickBooks Desktop 2018?
Those using QuickBooks Accountant version and QuickBooks Enterprise v18 (all versions) will find an entirely new way to Merge Multiple Vendors. Despite the fact that we have had the ability to merge one vendor into another vendor, this new tool represents a better way to search, sort and compare vendors that need to be merged together.
You can merge up to four vendors at a time using this new tool. While this feature will work in most cases, not all vendors are eligible for the merger. For example, you cannot merge vendors with transactions posted through bank feeds or with direct deposits. You also cannot merge vendors that are Sales Tax (or in non-US versions VAT tax) agencies. Another limitation is associated with QuickBooks files making use of Multi-currency. To use this feature:
Select the Master Vendor you want to retain in QuickBooks, and then select up to three other vendors you want to merge into your Master Vendor.
Choose the relevant information from the other vendors you want to retain and migrate into your Master Vendor
QuickBooks forces you to make a backup of your Company file prior to the actual merger taking place.
QuickBooks proceeds with migrating any of the identification details you selected from the other vendors into the Master Vendor.
Next, it merges all of the transactions from the other vendors into the Master Vendor.
At the conclusion of the process, QuickBooks displays a message confirming "Merge Complete," which reminds you of the location of the backup file made prior to merging the vendors.
This new feature is designed to provide accountants and ProAdvisors with more options and better control over the merge process for duplicate vendors, We can also see additional uses for this functionality.
Get QuickBooks customer support: Dial 1-855-441-4417

Learn in detail about major features in QuickBooks 2018