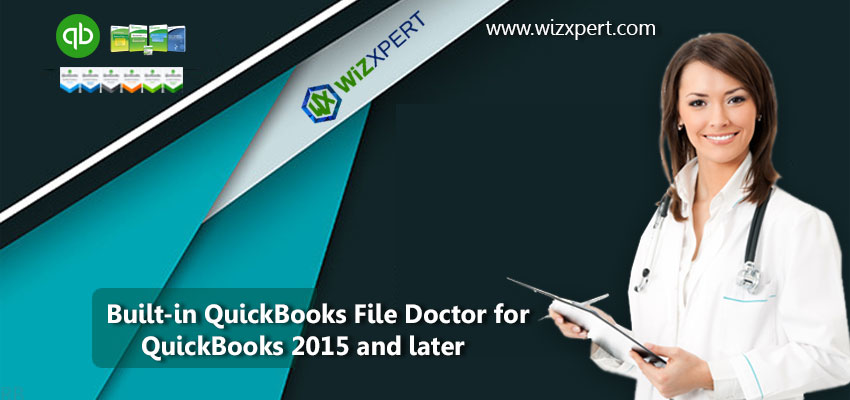 using Built-in or internal QuickBooks file doctor is one of the best application to resolve several types of errors, file, and data related issue like corruption, windows setup problems and network related issues. It can check your network and help to resolve network related issues that influence QuickBooks application.
Now, the QuickBooks File Doctor has been internally integrated with the desktop version. This is called the internal QuickBooks File Doctor (built into QuickBooks 2015 and latest version). This means, if any error appears, it will automatically trigger the inbuilt file doctor. We have discussed it in details in the later part of our blog.
Important!
Basic information about the Built-in QuickBooks File Doctor(QBFD)
It works for US, CA and UK versions of QuickBooks.
It uses for file and data repair. QuickBooks doesn't need to be installed on your computer.
It uses for network and diagnosis repair. QuickBooks must be installed on the Desktop running the Internal File Doctor.
The Internal QBFD Tool supports Windows 10, Windows 8, Windows 7, Server 2003-2012.
If .NET framework 2.0 is not presented on your desktop, QBFD will install it through with the diagnostic tool.
Related Article: Fix -6000,-78 error while opening QuickBooks Company Files.
Limitation of using File Doctor in QuickBooks
You should be connected to the internet to upload the QuickBooks file for manual repair.
For data damage problems only, run the File Doctor if you are unable to open the file only. If you can open the file and work on it, don't run it.
Your company file should be lesser than 2GB to upload through the QuickBooks file doctor.
You can restart the download while the tool is still open. But, if the tool is not open, the upload will start again.
You must be signed in as Administrator to run network diagnosis.
If your desktop windows user account control is turned ON, the tool will be re-launched with elevated admin privileges.
Network Diagnose and Repair functionality may not work properly if multiple QuickBooks versions are already installed on your desktop. Presently, network resolution only works on the latest update of QuickBooks you have installed that is the actual program, not the Database Manager only update.
The QuickBooks File Doctor deals on .qbw or .qba files only.
QuickBooks file repair and network diagnosis are on by default.
Use the advanced settings button to run file only or network only diagnostics.
Use the built-in QuickBooks File Doctor
Some types of errors in QuickBooks will automatically trigger the internal QBFD. In this case, you will get a blue start button. Simply choose the start button and it will automatically invoke the internal Built-in QuickBooks File Doctor.
Note: You need to sign in as an admin user with Admin rights in order to run the built-in File Doctor.
First of all, open the QuickBooks to the No company open window. Don't log in to the file.
After that, select the File and then click Utilities and then click Repair file and then Network Problems.
A message dialogue opens, click OK. QBFD will re-launch with Admin rights.
After that, choose Yes to the Windows UAC prompt.
Choose the green wrench icon to open the built-in file doctor.
Click Continue.
When prompted to sign in to your company file, type the QuickBooks Administrator username and password, and then choose Next.
Note: File Doctor will begin repairing your file. Please wait until prompted with next steps.
Select your Advanced settings. select the Diagnosis File.
Click Next.
After the diagnosis finishes, Open your company file again and view if the problem is fix.
If this issue is not resolved or you are prompted to run the internal QB file doctor again, please dial our QuickBooks Helpline Number +1-855-441-4417.
You may also like: