Are you having trouble deciding the difference between QuickBooks and Sage software? Let's make a comparison 'QuickBooks Vs Sage' to figure out which one is best for you. Here we are with an article that may be of assistance in resolving your questions and bringing you to a conclusion. Let us look at the differences between QuickBooks and Sage to see which one is better. If you want instant assistance, dial our toll-free number +1-844-405-0904 and talk to our QuickBooks Proadvisor.
The two most popular accounting software for fast-growing businesses are QuickBooks and Sage. Their services differ slightly in that QuickBooks focuses on accounting and bookkeeping, whereas Sage is a feature-rich project management tool. So we have compared both products to help you choose the best accounting software and determine which application is best for your specific needs.
How do QuickBooks and Sage Help in Business
QuickBooks is accounting software that even someone with no accounting experience can use. It's best for bookkeepers in small to mid-sized businesses. QuickBooks organizes all of your financial records, business data, and reports for you, making it easier to manage your company. It also aids in the administration of payroll as well as other financial aspects of the business such as purchases, sales, and expenses.
Sage accounting software makes a variety of accounting tasks easier to manage, organize, and complete. Sage assists in the creation of financial reports, the maintenance of records, and the overall management of a business. Sage can be used to manage everything from simple tasks to more complex financial systems and practices.
Sage vs.QuickBooks- Similarities, Differences, Pros, Cons, Business type & Features
QuickBooks is best for mid-sized businesses with bookkeepers, while Sage is best for larger businesses with a controller or CFO, as you may already know. Here are the similarities and differences between the two products to help you understand them better.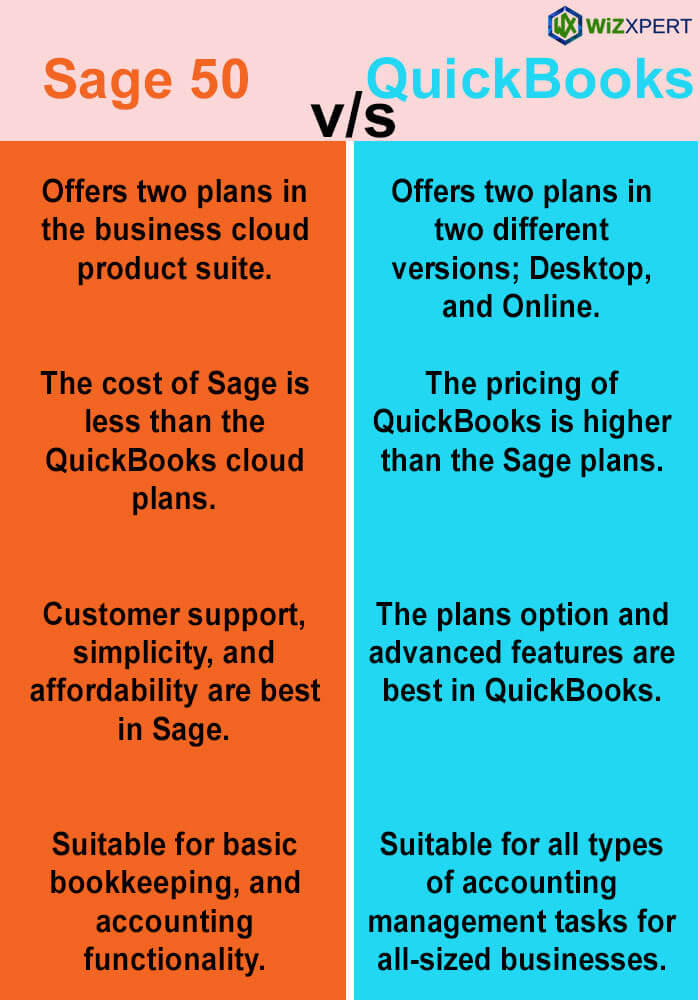 Similarities:
Both are entry-level solutions for small businesses that are both affordable and simple to use. Sage 50cloud is the most comparable solution to QuickBooks in the Sage portfolio. Many Sage ERP products, like most QuickBooks editions, are not cloud-based but can be run on a hosted cloud through third-party hosting. Both companies have large third-party integrated solutions like AP automation, expense management, and so on.
Differences:
Unlike QuickBooks, Sage provides more industry-specific business management options, such as Manufacturing, Construction, and Real Estate, Wholesale Distribution, and so on. While Sage products have a dedicated Controller or CFO, QuickBooks employs bookkeepers.
Cons and Pros of QuickBooks and Sage:
| | | |
| --- | --- | --- |
| Software | Pros | Cons |
| QuickBooks | Efficient | System occasionally crashes |
| | Easy-to-use | Lacks certain key reports for outside accounting |
| | Flexible with third-party applications | Lacks barcode scanning, eCommerce, and lot tracking |
| | Good accounting options | File-size issues |
| | Affordable price | A limited number of users allowed |
| | Money management and financial reporting features | Limited personalization options |
| | Automatic synchronization with bank accounts | |
| | Full suite of bookkeeping tools | |
| | Cloud support options | |
| Sage | Expense tracking | Not as user friendly as other accounting programs |
| | Cloud-based project management | Difficult to set up and not as easy to incorporate |
| | Personalized invoices and quotes | |
| | Collaboration between multiple users on a single project | |
| | variety of plans | |
Types of Businesses and Industries That Use QuickBooks and Sage:
QuickBooks is a good choice for new and small businesses because it provides basic inventory management and accounting solutions. Sage, on the other hand, is the best choice if you have a large company or a lot of ivory to manage. Let's look at which industries would benefit the most from Sage and QuickBooks.
| | |
| --- | --- |
| QuickBooks | Sage |
| Legal services | Wholesale distribution |
| Medical services | Construction |
| Accounting | Non-profits |
| Retail | Manufacturing |
| Self-employed freelancers | Mid- to large-sized businesses (MLBs) with a large inventory |
| Small to mid-sized businesses (SMBs) | |
Features Comparison:
QuickBooks vs Sage- Benefits, Supported Service & Other Points of Comparison
Here we have given the information of supported services, benefits, and some other facts of both accounting software. Check all of the following, and get the difference;
Benefits in Account Managment:
| Software | Benefits | Explained |
| --- | --- | --- |
| QuickBooks | Bookkeeping Tools | Manage your business with bookkeeping tools like income and expense tracking, payroll management, and financial management tools. |
| | Sync with Bank Accounts | Because QuickBooks synchronizes directly with bank and credit card accounts, transactions made in your accounts will appear in QuickBooks automatically. |
| | Income and Expense Tracking | keep track of how much money your company makes and how much it spends over time. |
| | Scalable Plans | Plans scale to meet your business needs. |
| Sage | Invoices and quotes | You can send your customers an unlimited number of invoices and quotes. |
| | Cloud-based project management | Get your business more productive on the cloud with cloud-based project management. |
| | Add unlimited collaborators | There is no limit to the number of collaborators you can have working on a single project. |
| | Plans that scale | keeping track of income and expenses, as well as sending invoices to businesses. |
| | | |
Supported Services of QuickBooks and Sage
| | | |
| --- | --- | --- |
| Supported Services | QuickBooks | Sage |
| Mobile apps | iPhone, iPad, Android devices | iPhone, iPad, Android devices |
| Online access | Access from any internet-connected device and all data will sync across devices online | Access from any internet-connected device and all data will sync across devices online |
| Cloud support | use cloud servers to sync information | cloud-based project management services |
| Online payments | Users can add bank accounts and credit card accounts to QuickBooks and account information will automatically sync across the software | add bank accounts to the platform, although transaction information won't automatically sync. |
| Free trial | you need to enter credit card data and cancel your account before that 30 day period is over | Users can test the software for free without submitting credit card data |
| Unlimited use | QuickBooks also lets users create unlimited invoices and estimates. | lets users add unlimited numbers of collaborators to a single project. |
QuickBooks and Sage Products Names and Features
Depending on the needs of fast-growing businesses, Intuit has released multiple versions of products with updated specialized tools and reporting. At any stage of your business, Sage has a solution for you. The names of both products, as well as their specifications, are listed below.
List of Sage products:
Sage 50cloud Pro: For invoicing, receipts, expenses, and payments
Sage 50cloud Premium: Job costing, audit trail, advanced budgeting, serialized inventory, and more.
Sage 50 Quantum: More advanced security, and industry-specific functionality
Sage 100cloud: Includes deeper industry-specific functionality for manufacturing, distribution, and service industries.
Sage 300cloud: Functionality for multiple languages and currencies.
Sage 100 Contractor: Solution for construction companies
Sage 300 Construction & Real Estate: Powerful functionality for medium to large construction businesses.
Sage 500: Large business management software
Sage X3: Enterprise-level financial management, supply chain management, and production management.
Sage Intacct: Cloud-based product
List of QuickBooks Products:
You should now have a good understanding of Sage and how it differs from QuickBooks. Sage is used by some businesses for invoicing and project management, while QuickBooks is primarily used for bookkeeping. Both provide entry-level solutions for small businesses that are both affordable and simple to use, and both offer multiple plans that are priced on a monthly or annual subscription basis. To give you a clearer picture, we compared all of the features of both. If you need further assistance, you can contact us on +1-844-405-0904.