QuickBooks has a pre-determined fund account that stores funds from payments to the company until you deposit them into your bank account.
These are called QuickBooks undeposited funds that are used to hold invoice payments before you deposit those payments into the bank. This workflow is particularly relevant for those QuickBooks users who are not processing transactions by QuickBooks Payments and also not import payment data from external processing services.
This is a temporary account so you cannot deposit money directly into it. You can easily consolidate these payments into a single transaction, once you have a deposit slip from your bank.
Here in this article, we will discuss the steps to deposit undeposited funds in QuickBooks. Meanwhile, read this article to know how to use the undeposited funds account to receive payments in QuickBooks Online.
Steps To Deposit Undeposited Funds in QuickBooks
Enter Transactions With Undeposited Funds:
Go to the "Lists" menu, and choose "Items".
Now, choose the nature of payment from the "Type" drop-down, and add additional data for the transaction, if any.
From the drop-down menu select the "Account" and then click on "Undeposited Funds," and after that click on "OK".
Deposit Undeposited Funds
First, go to the "Banking" menu, and select "Make Deposits."
From Undeposited Funds select the payments that you require to deposit. In case, If your "Payments to Deposit" window doesn't initiate automatically, then click "Payments" on the "Make Deposits" window. and select "OK."
Again in the drop-down menu select the "Deposit To" and choose the bank account that you want to use for the deposit.
Now, insert the date in the Date field, and next, if appropriate, enter to deposit any additional payment that did not come from the undefined fund account.
To print a deposit slip, select the option "Print"
Click "OK" to save the transaction. Take a deposit slip to the bank and deposit the funds in your account
Review your Undeposited Funds Account
It is advisable to review your undefined fund account to clear the funds that have been emptied to transfer any payments.
First look for the Lists menu and choose Chart of Accounts.
After that right-click on Undeposited Funds and choose QuickReport: Undeposited Funds.
In the Dates drop-down menu and choose All and then click on the Customize Report.
Choose the Filters tab and go to the Filter list and select the Cleared option > select NO > then select OK.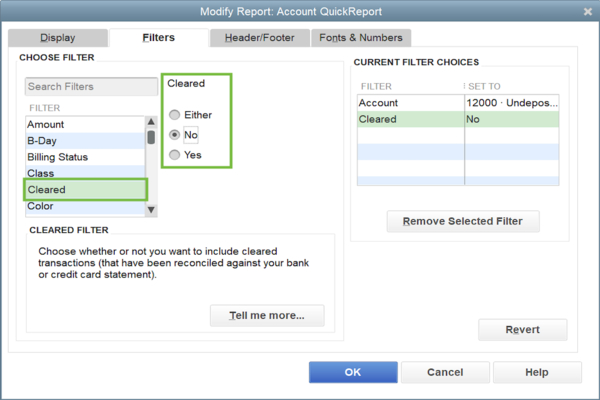 In the report, you can see if an account is left in the undeposited account. If any, then you can add these payments to the deposit
What can I do with Undeposited Funds in QuickBooks?
Undefined funds are an internal other current asset accounts that are prepared by QuickBooks Desktop to deposit funds until you are ready to deposit them. This acts as a default deposit when you receive a payment, use the payment item on the invoice, or enter a sales receipt.
Does Undeposited funds a cash account?
Yes, undeposited funds is a cash account.
Hope, you love to read this article and got all the solution of your query, i.e. how to deposit undeposited funds in QuickBooks.
In case if you still face any issue related to the same or any QuickBooks related query. Please feel free to call us on our toll-free +1-855-441-4417 and directly connect to our Intuit certified ProAdvisor to get quick assistance and support.