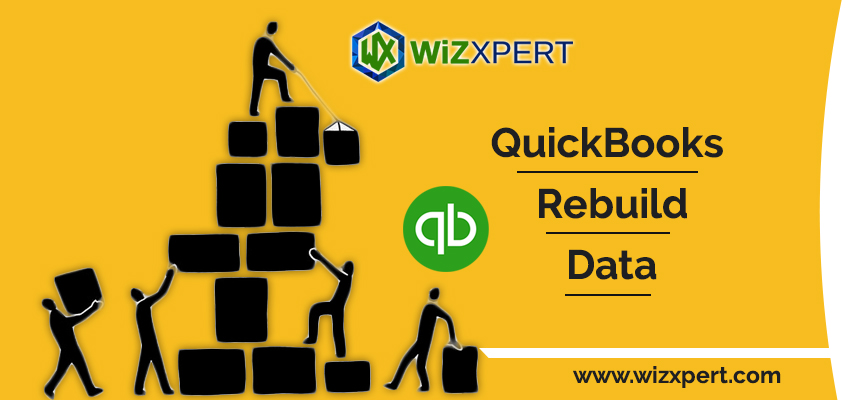 Last Updated on by Editor Team
QuickBooks accounting software provides many features for mid-sized businesses. Two most popular built-in features which Intuit offer is to verify and rebuild data. They both are important and used for a different purpose.
Verify data is used to identify common problems in a company file whereas rebuild data is used to resolve data corruption issues found via the Verify data tool. There are different data issue within a company file. One of them is to verify data self-identifies. In this article, we will discuss how to verify & rebuild the QuickBooks data file.
Verify Data in QuickBooks
What is the real meaning of verifying data? In simple term, the main purpose of the verification process is to find the health status of your QuickBooks company file. After verification, you need not be afraid of any data loss.
The verification tool is an early warning indicator. When you use this tool, it verifies each and every transaction file in your company data and records a message in the qbwin.log file for any damaged transactions. It's also meant for detecting damaged file items. If you detect any damage files you can contact our QuickBooks customer support team to resolve it.
QuickBooks Rebuild Data
We all know that QuickBooks rebuild data is designed by QB to repair damage in the transaction file in your QuickBooks company file. It analyzes a company file and tries to repair or upgrade data found to be in an incorrect form.
Reasons behind using Verify and Rebuild in QuickBooks:
Transactions data are not available.
The business file doesn't open.
Names are missing from company lists.
Balance sheet reports are not displaying all accounts.
You receive an error pop-up when working in QuickBooks.
Impossible to save transactions.
QuickBooks automatically crash when you click to save a transaction.
How to Run QuickBooks Verify Data Utility?
The steps are given below:
First of all, close the QuickBooks company file and then reopen your QB company data file to create a new Qbwin.log file.
Sign in to your data file as the admin user.
Choose the file and then move into the single-user mode in the menu bar.
Select the Window and then close all in the menu bar.
Choose file and then click utility option and after that click verify data. If the QuickBooks don't get the problem with your data then you don't need to take further action.
If yes, then you use rebuild data utility and also use the verify data utility again to check for any remaining damage.
How to Rebuild Data in QuickBooks:
Here might be the one question come in your mind how to Rebuild QuickBooks data file to fix the corruption? You can follow the below steps and run rebuild in QuickBooks.
Go to the Window option then close all.
Choose the file option and then click utilities and after that click rebuild data option.
After that, if the application shows a warning message for backing up your company file then, select OK.
It is not recommended to replace your current backup. Instead, you should use an external device for this backup. Please enter the new name in filename field to avoid your current file to overwrite.
Rebuilding data process will start when you complete the backup process.
After that, the application will show rebuild has done, then click OK
After that, close your rebuilt company, and then reopen the lists in the file.
Now, select the file menu and then close company.
Select the file and then open company. Select the company file you want to open, and then click open option.
Analysis your check register and your Balance sheet and profit and loss reports.
In addition, you can further analyze the information about the Rebuilt data utility by reviewing the Qbwin.log file. It contains all the information from beginning to end about the whole process of data rebuilt.
If an error occurred while rebuild process is going on, or rebuild process failed completely, then you should immediately QuickBooks Technical support team.
Note: File size is responsible to increase corruption risk, but it's not always necessary that only large files are responsible for corruption. For this solution, you will need to control the file sizes. But it can be said that a large file size may be the greater reason for corruption. So when you will rebuild your data file this factor will be check carefully.
Why QuickBooks Rebuild is Not Responding?
In rebuild data process you receive this message QuickBooks not responding, you just wait until the process is not complete.
In the verification process, you would need to verify the full process, if verify process to accomplish successfully attempt to repeat the process until the application verifies the file for persistent messages.
How to monitor and reduce database fragments:
Check the database fragments, if the database has 10 or more database fragments, so it must reduce the fragments, for this, you can follow the given steps below,
Arrange List: You can use resort list option in the list menu. Once you resort the list through list headers will not put the same re-organization effect on the file. Maybe some list not show in resort list selection.
Rebuild File: After resorting the file you can follow the above discuss rebuild procedure because of QuickBooks rebuild data utility can also be used to repair the risks of Corruption.
Create portable Company File: It is the simple and most preferred way to reduce database fragments is creating a portable company file and after that restore the Portable Company file to re-index the database.
Run Windows Defragmentation Utility: Defragmentation reduces the corruption so you can now run Windows defragmentation utility on the hard drive where the application file is stored.
Network issues & Maintenance:
Every software has a multi-user environment. The performance will affect by QuickBooks multi-users and incorrectly configured routers and these factors increase the risk of corruption. These factors are responsible for the corrupt Quickbooks files.
If the following combination or any one issue is present within the network so corruption occurs
Connection problems exist with routers
Operating system related issues
Hardware or network driver issues
Corruption Due to Transactions(s):
If the data file is corrupted by transactions so firstly deleting and then re-entering them. When you find the particular issues of corruption in transactions so it is recommended to search the document number in the report and then delete and re-enter the transaction. The balance sheet is also affected by this corruption.
Some points to consider:
You switch another recovery solution when QBW rebuild utility fails to recover the database from errors and damage because the damaged file is compulsory to recover.
When you fail to find the error persisting in the QuickBooks file, the best way to resolve the issue is to restore it from backup.
Because of backup resolve this issue.
Be sure that the existing Company file is not overwritten.
Manual QuickBooks Rebuild Fails:
If you face the problem of manual QuickBooks rebuild fails, we help to recover all types of corruption in the application. You can avoid this problem by check the unique features of QBW file repair software.
Benefits of QuickBooks File Repairs Applications
Below we would describe the several benefits of QuickBooks file repairs applications.
By the use of this application to recover all the components of the QuickBooks database file including paychecks and payroll transactions.
A very useful benefit of QuickBooks file repairs software is that it acts as a comprehensive.QBW recovery solution and supports the recovery of multiple currencies. Because of this reason, it also called Quickbooks repairs tool.
You can see the preview of recoverable components with the help of this software, how will actually done the procedure of recovery.
QuickBooks file repairs software also do the complete recovery, including Items and Services, job information of customers, job information of vendors, charts of accounts, transaction information of customers.
For performing the recovery operation, the selection of the QuickBooks file can be done from any user-defined location. And if the location of the QB data file is unknown, so the Quickbooks repairs tool allows searching and locating it right from the tool panel.
The tool saves the log report for future reference. The log report contains all information of each and every task being executed for repairing a particular file.
It supports the QuickBooks 2020 and all previous versions of QB.
QuickBooks file repairs service tool is compatible with Windows 10, 8, 7, Vista, XP, Server 2003 & 2000.
As further discussed information is sufficient to resolve data damage on your company file. I hope we try to cover all issues which are crucial for accounting software in QuickBooks. If you need additional support, you can talk to our intuit certified accountant at toll-free +1-855-441-4417.
Read this hand-picked article for you to read after this: