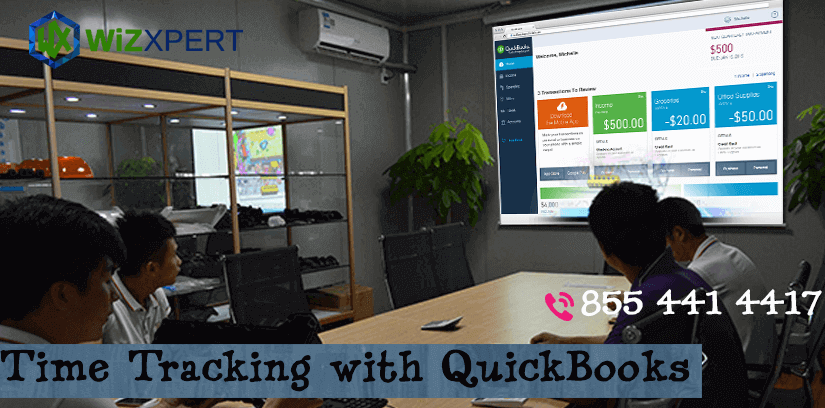 QuickBooks plays a very good role in accounting to overcome all your problems. And it can solve all your business-related documents and problems very shortly to consume your time and money. QuickBooks Online is loaded with useful features, each one having many problems we are having advanced tracking systems to solve your all problems. In this blog, we will learn in detail about time tracking with QuickBooks.
How to turn on and setup time tracking with QuickBooks
With QuickBooks Online Essentials, QuickBooks online plus, and QuickBooks online advanced, you easily track and bill customers for your time. Use the time tracking feature to assign a particular activity to a project or customer and choose whether to bill your customers for all activity.
Turn on time tracking
Here's how to turn on time tracking:
Click on the Gear Icon on the Toolbar.

Select the Account setting

Go to the time tracking section.

Set your time tracking preferences:  Put a checkmark on the Add Service field to timesheets or Make Single-Time Activity Billable to Customer box. When one of these cases is checked, workers and temporary workers who round out timesheets can determine if exercises ought to be charged to a client. You can likewise put a checkmark on Show charging rate to clients entering the time box. Additionally, select the drop-down and pick the main day of the workweek

. This influences how representatives and temporary workers see week after week timesheets

.

Select Save, then Done.
Add a time tracking user
Click on

Gear Icon

on the

Toolbar

.

Under Your Company, select

Manage Users

.

Select

Add user.

Select

Time tracking only

.

Select

Next

.

Select which employee or seller you wish to add as a Time Tracking the Only user and enter their contact information.

Select

Save

.
Related Article: PayPal Integration with QuickBooks Online
What are the benefits of QuickBooks time tracking with QuickBooks?
Review Employee Timesheets and Approve.
Capture every billable moment from Browser or Smartphone on any track.
Recover Lost Revenue, save time and get paid faster to consume money.
One-click integration with QuickBooks Time Tracking.
Time tracking invoice in QuickBooks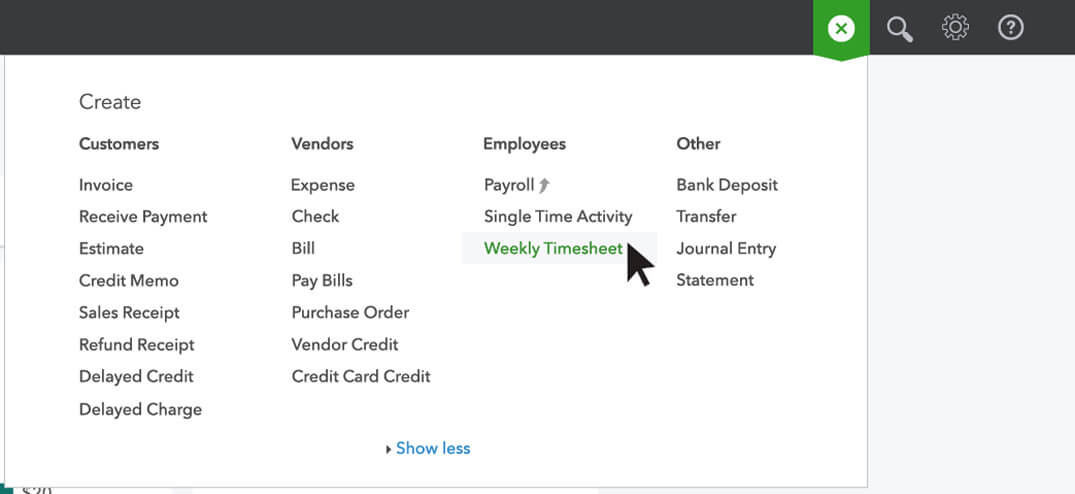 Lots of businesses charge for work by the hour. If that's you use QuickBooks time tracking which is simplifying invoice in customers for the available time.
Related Blog: QuickBooks Integration With Salesforce
First, you've got to track the time you're working for customers
Open up a timesheet and choose whose times you're tracking enter the first customer you did work for if this isn't a customer you've entered into QuickBooks yet.
Click Save only the customer's name gets saved you can go to the customer's page later to enter this customer's contact info.
Next, enter the hours you worked on the days you worked them out a new line for each customer you worked for this week.
When you're done, save your timesheet.
Here comes the cool part. So now it's the end of the month and time to invoice your customers when you start the customer's invoice. There's your billable time.
Click Add and put each chunk of billable time into the invoice and that's it.
The finish of the invoice send it to your customer and get paid for your work. Now it's your turn start tracking your billable time so QuickBooks can work for you.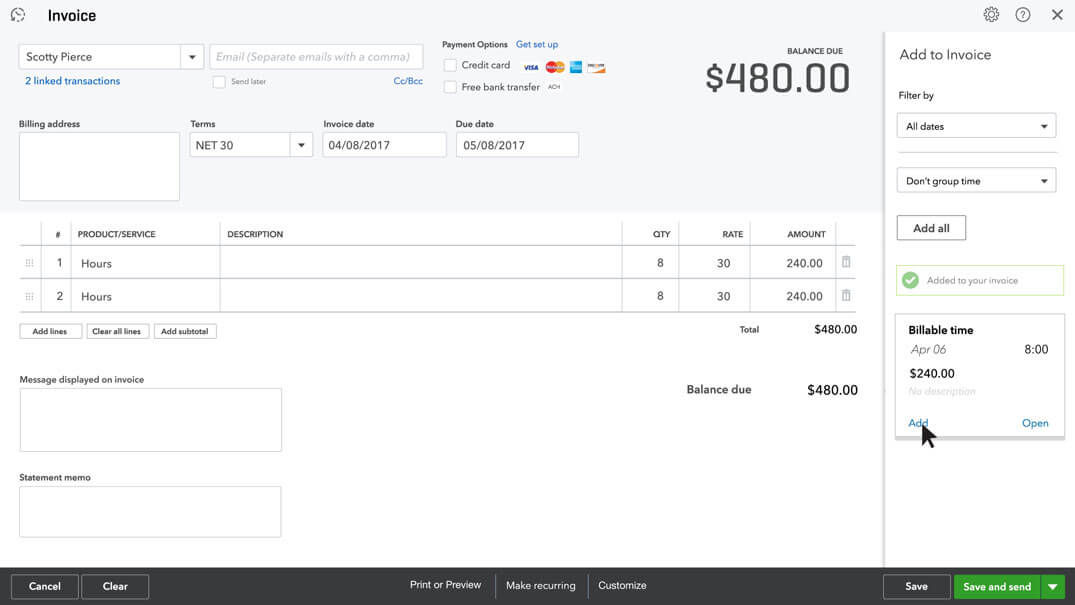 Reports of Time Tracking With QuickBooks.
There are 4 Time tracking reports available:
Recent/Edited Time Activities
Time Activities by Customer Detail
Time Activities by Employee Detail
Unbilled Time
Points to remember.
This feature of time tracking is currently not available in QuickBooks online Easy start or Simple start. QuickBooks online plus as well as QB online Essential only have this feature.
Currently, Time tracking is also not available on mobile devices.
This is one of the most common questions user face while using Intuit payroll service. In todays article, we have tried to sort out this problem. Follow the steps carefully. If you have any things to discuss with our expert team, QuickBooks Payroll Service you are most welcome. Our helpline number is +1-855-441-4417