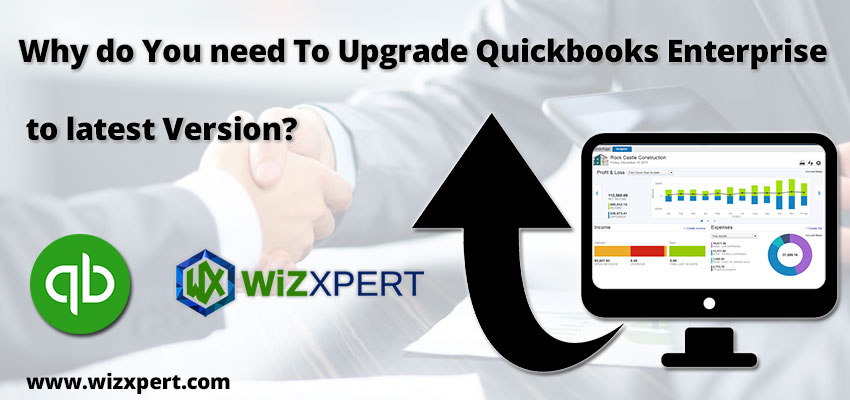 This article will be an introduction and overview of why we need to upgrade to Quickbooks enterprise to the latest version. If you are using Quickbooks Pro or Premier, then you must give a try to the Intuit most recommended accounting software – Enterprise 18.0.
If a new version more reliable to the older version so it's compulsory to Upgrade. QuickBooks Enterprise has a supportive feature of users and the new version also has updated features of users the main feature of a new version is that its database is designed for larger data files than what Pro and Premier can handle. Intuit most recommended accounting software – Enterprise 19.0. also, released.
You need to upgrade to Quickbooks Enterprise because It offers complete accounting flexibility. It can be scaled to meet the company requirements. Also, It manages multiple users, locations, inventory and a large amount of transaction data.
Related article:
Why Upgrade to QuickBooks Enterprise
Some features of the latest version of QB Enterprise 2018 are the main reason to upgrade to QuickBooks Enterprise from the Existing version
Main Principle:
In which we discuss the main principle reason why you need to upgrade the QuickBooks enterprise is that the database is designed for larger data files that what pro and premier can handle. You can surpass the recommended limit of 250 MB for a company file and still work securely. In addition, the desktop has a limit of 14,500 records in lists, such as items and customers.
For Multiple User
QuickBooks enterprise designed especially for the business to handle and manage complex business operations. The Quickbooks enterprise was built with windows terminal services or remote desktop services built-in windows servers operating the system which means that it works optimally with multiple users connected to the same window server, whether locally or remotely.
Related: How to upgrade from QB 2014 pro to 2018 for 3 users?
For Advanced Inventory and Advanced Pricing Modules
Advanced inventory gives you the ability to track your inventory in multiple locations. If you have two warehouses each in different states. you can assign your transaction to a warehouse and know how much you have on hand at each location at any given time and sales history.
For Simultaneous User
QB Enterprise is reform to work in the local area network. Therefore, it is stable and faster then QuickBooks Desktop, when working with multiple users. QuickBooks Enterprise can have up to 30 users while an accountant is limited to 5 users and pro is limited to 3.
Work In Multiple Files Company
Quickbooks enterprise gives you the ability to have multiple company files open and being worked on at the same time on the same computer. You can have a primary company file open along with a secondary company file. Your primary file will have a few transactions on what you are able to do while working. Your secondary file will have the same restrictions as your primary file along with several others. The features are only found in QuickBooks Accountant and QuickBooks enterprise.
Save On Payroll Processing Fees
QuickBooks enterprise upgrade for the saves on payroll processing fees. It is depending on which subscription version of QuickBooks Enterprise you select, you may be eligible to have your payroll direct deposit fees waived. This is offered in QuickBooks enterprise Gold and Platinum subscription.
Your business is made up of more than one legal entity
It is very common these days to split business operations among multiple corporations or LLCs, even for relatively small businesses with a single owner. This means multiple sets of books and probably a fair number of the intercompany transaction. Only Quickbooks enterprise allows you to have two company files open simultaneously, which is a tremendous time-saver in such a situation.
Related: Upgrade or Convert your Company File to a Newer Version of QuickBooks Desktop
Scalable and dedicated database
A growing organization may face restrictions with pro and premier because of the restricted databases it provides in terms of the space. However, the QuickBooks enterprise version increases the limit by providing 250mb for a company file. And even if you cross this limit, you still can keep running your operations securely. With more available space you don't have to worry about space crunch when you decide to expand your business.
Custom Fields
You can create up to 30 custom fields or drop-down based on users requirements. The option to create custom fields in pro and premier was a maximum of seven. With the custom field in the QuickBooks enterprise, you can capture your data better.
Search Feature For Transactions
Quickbooks enterprise allows a new search option that can even search for data within any transaction you have made for credit note customer quotation or sale order. Searching in the larger database can be very daunting is such an option is not available.
Defined user roles and permission
You can now create multiple roles and define access permission to create a multilevel of security for your data. In which the predefined roles can be assigned to users with one-click to provide or restricted rights for them access the data.
So However with the same option available in pro and premier, it had a limit to the number of roles you could define.
Your fixed assets have become so extensive that they difficult to manage
The fixed assets have become so extensive that they are difficult to manage. In which different asset classes have different useful lives such as defined by the tax code. Depreciation must be backed out when an asset is sold or otherwise disposed of.
You need to know the basis for every fixed asset your business owns. Quickbooks enterprise solves these problems with the fixed asset manager, which simplifies the tracking of your fixed asset without having to resorts with fix assets.
You can no longer afford to have users locked out of the accounting system for long periods:
QuickBooks enterprise expands the number of activities that can be performed in multi-user mode. It is a less capable version tend to bog down badly when one user is performing a data-intensive user is performing a data-intensive operation like reporting but the database management components of enterprise eliminate this problem.
Your reporting and analysis needs have become increasingly and complex:
In which we discuss the reporting. The QuickBooks enterprise already more than 150 built, industry-specific reports, but the ODBC complaint reporting module allows the creation of a tremendous range of custom reports. In which adding the optional advanced reporting module to QuickBooks enterprise 2015 enables users to easily create highly customized reports without the need for technical knowledge of the database.
You accept credit cards through your QuickBooks enterprise accounting software:
Through QuickBooks, you can accept credit cards through your QuickBooks enterprise accounting software. The QuickBooks team offers rates for enterprise users who accept credit cards through QuickBooks.
Other Features
Here are some advanced features of QuickBooks enterprise, because you need the upgrade of the QuickBooks enterprise. The latest version also enables you to the club and consolidate from other QuickBooks modules and add it to a single financial statement and export it in an excel format.
Now when you verify the company file, the system will help you with a report covering what was fixed and what could not be.
In this, with just one click you can send all transactions that are kept as "sent later".
It used for companies converting their sales order to purchase order, the new feature "Auto copy ship to address"works wonders.
Advanced reporting is available now with built-in templates.
It's other features such as column sorting.
it used for e-invoicing, assembly shortage report etc.are also additions for the new versions.
More room to grow for users and data:  It offers 6x more capacity than pro or premier. QuickBooks enterprise tracks hundreds of thousands of customers, vendors, inventory items and more.
It also scales from 1 to 30 individual users. In which fourteen predefined user roles will help you set up new users quickly.
QB more powerful reporting than pro or premier. It comes with a powerful reporting tool and advanced reporting.
Plus find the reporting answer you need them with our robust help portal.
In which if you are using the financial software you can import information QuickBooks as long as that software allows you to export to a spreadsheet file. With the help of QuickBooks enterprise, you can import lists that correspond to the QuickBooks list.
QuickBooks enterprise follows in multiple companies or industries like construction, manufacturing and field services.
QuickBooks used for professional services and accounting professionals.
QB enterprise runs anywhere at any time on any device
Related Article: QuickBooks Enterprise Common Errors and Troubleshoot
Some Advantages Of Quickbooks Enterprise
Ease Of Use: The QuickBooks enterprise easy to use and understand. It is a really good solution to forget things done that you need but be prepared for frustration and customer service that is less than helpful.
Functionality: The QuickBooks software is great functionality. The QuickBooks enterprise is a great solution for keeping all financial organized.
Have Queries? Contact our U.S based certified ProAdvisor for expert opinion. Thanks for visiting.
Quickbooks Enterprise
Multi-user access
Pricing
Summary
QuickBooks Enterprise version offers complete accounting flexibility. It can be scaled to meet the company requirements. Also, It manages multiple users, locations, inventory and a large amount of transaction data.