Want to know the difference between Quicken and QuickBooks, then we are here with an article to Equip you with awareness about their differences. Here the details of differences are organized in such a way that is easy to understand on the basis of different parameters. Read this article to know the features, versions, launch year, and price, etc. stay with us for better learning. If you have any queries or need help contact our QuickBooks ProAdvisor toll-free: +1-844-405-0904
Need to compare Quicken vs QuickBooks? Which is better Quicken or QuickBooks?
As a merchant, you can use accounting software to manage your finances, create your business plans and make financial estimates. QuickBooks and Quicken are industry-leading accounting programs created by software company Intuit. Both are unique feature sets designed for different uses.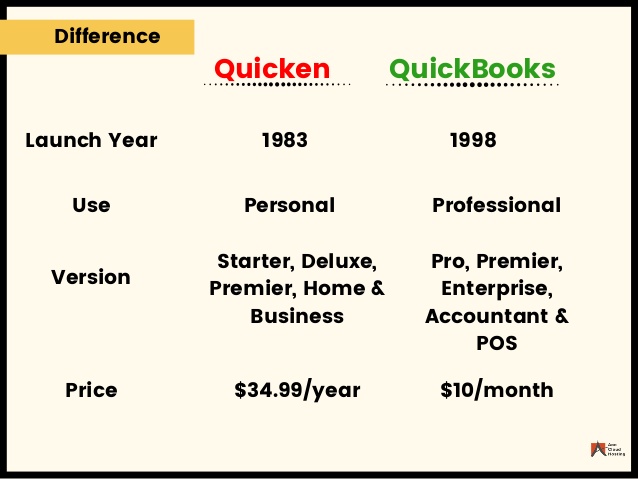 Difference between QuickBooks and Quicken?
QuickBooks & its features
QuickBooks is a full-featured financial and business management suite with tools for:
Accounting,
Invoicing,
Tax filing,
Bank account tracking
Reconciliation, Management,
Payment processing,
Expenditure
Accounts receivable and account payable management.
This feature is not a complete list of what QuickBooks can do. It can also plug in several additional software tools for additional features. Essentially, the QuickBooks Business is a Swiss Army knife of financial instruments. Talk to a QuickBooks ProAdvisor to know about it in detail.
QB can do just what is needed for your business, but there are some features on which many businesses will never be needed, and the high price tag for the QB Professional may be the reason for looking elsewhere. Do you know QuickBooks and Quicken both have unique features?
QuickBooks will not be disappointed if you run a small medium-sized business and want to make sure that you can track all financial information and prepare reports in brief for any aspect of your business. Just be aware that there is a learning curve when you start, and when you first get the program and you go, all the features are not intuitive.
QB also offers a desktop version for a fixed fee and an online version via your web browser, smartphone or tablet for a monthly fee. Some features, such as payment processing and payroll management, charge additional fees despite the version you choose.
Quicken & its features
Provides Quickbooks for small businesses, Quicken provides for individuals and families. Quicken tracks your:
Account balance,
Transaction,
Investment,
Personal budget,
Loan,
And any other part of your personal financial life.
Although, The highest-end version includes the ability to track rental properties and small businesses in addition to your personal information.
These features allow you to convert your computer into your Financial Command Center, in which each bank, investment, and credit account is downloaded into Quicken. You can also track investment based on cost, to best understand the tax impacts of shopping, sales, and how you are building your portfolio.
Business tools are more limited than QuickBooks, but some families with rental properties work well for some or few, or someone who owns their own side hustle business or sole proprietorship. Ask an expert to know more about Quicken at Quicken support number+1-844-405-0904 toll-free.
Comparison Chart of Quicken Home & Business vs QuickBooks Online
| | | |
| --- | --- | --- |
| | QuickBooks Online | Quicken |
| Software Format | Desktop software; Ability to sync with online Quicken accounts | Available as QuickBooks Online and QuickBooks Hosting |
| Best For | For Small Business | Personal Finance Management |
| Payroll Feature | Yes | No |
| File Format | *.QBM, *.QBA, *.QBW, | *.QDF |
| Online Support Options | Help Website &Knowledge | Online Community for FAQ's |
| Free Trial | 30- days free trial | N/A |
| Multi-user capabilities | Up to 25 users, depending on subscription tier | N/A |
| Subscription | Monthly Subscription | Annual Subscription |
| Accounting Capability | Double Entry | Single Entry |
| Invoice and Tax Feature | Yes | No |
| Current Versions | QuickBooks Pro, QuickBooks Premier, QuickBooks Enterprise, QuickBooks Accountant | Quicken Starter, Quicken Deluxe, Quicken Rental Property Manager, Quicken Premier, and Quicken Home & Business |
| Current Owner | Intuit Inc. | H.I.G. Capital |
| No. of Users that it can host | 1(Depending on price & Plan) | 5(Depending on price & Plan) |
| Integration with Other Systems | Payroll- Intuit Online, Credit Card processing: Intuit, Ecommerce: Shopify, Square, Merchant Services | Payroll: N/A Credit Card, processing: Paypal Ecommerce: N/A, Home Valuation Tool: Zillow Zestimate Document, Storage: DropBox |
| Pricing Policies | Self-Employed: $15/month, Simple Start: $25/month, Essentials: $40/month, Plus: $70/month, Advanced: $150/month | Starter: $34.99/year, Deluxe: $49.99/year, Premier: $74.99/year, Home & Business: $99.99/year |
| 1099 Reporting | Yes | N/A |
| Inventory Tracking | Yes | N/A |
| Mobile App | Android & iOS | Android & iOS |
Why you should consider QuickBooks Over Quicken
There are several reasons to choose QuickBooks over Quicken, let's discuss the important key points: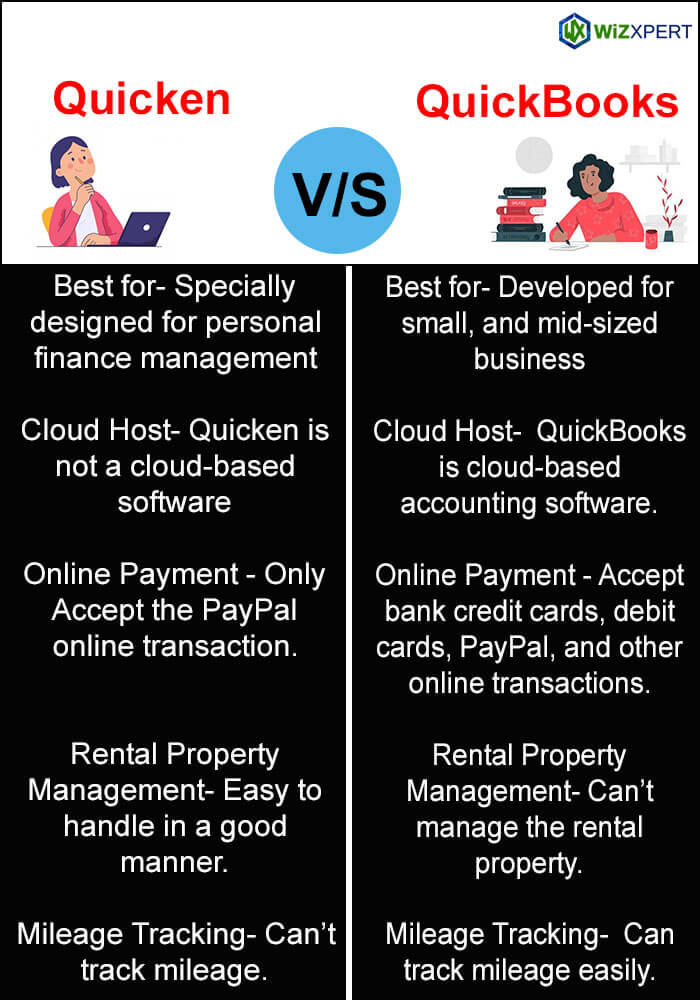 Multi-User Access
As we know very well, QuickBooks is the cloud accounting software where anyone with your user ID and password can access your data from anywhere. In the same way, this functionality allows your bookkeeper and accountant to access your data very easily and allot to work with any interruption.
Quicken is a desktop application but will synchronize your data file to the cloud and allow remote access via smartphone or web app. However, applications have limited functionality and cannot be used for any business activity such as sending invoices and recording records.
Automatic Mileage Tracking
QuickBooks Online has a smartphone application that automatically tracks your business miles by using the GPS function.
But, in Quicken you need to add manually your business miles and then input them and there is no mileage tracker application available for smartphones.
Grows With your Business
If you are using QuickBooks Online then you don't need to switch your accounting software as much as you grow with your business. You just need to activate payroll (with additional fees) whenever you hire your first employee. You can also begin tracking contractors to issue 1099s when the need occurs and even track inventory if you thinking to start selling products.
Deep comparison based on various features of QuickBooks and Quicken
Pricing
Quicken and QuickBooks Online both are purchased on a subscription. QuickBooks Online offers you a monthly subscription that will continue till you cancel it. Quicken offers you a yearly subscription and you have to auto-renew each year until you cancel.
| | |
| --- | --- |
| Quicken | QuickBooks |
| Starter: $34.99, Deluxe: $49.99, Premier: $74.99, HomeBusiness: $99.99 | Self-Employed: $15 per month, Simple Start: $25 per month, Essentials: $40 per month, Plus: $70 per month, Advanced: $150 per month |
Accounting Features
| | |
| --- | --- |
| Quicken | QuickBooks |
| Quicken is basically a personal finance tool and not good enough for small businesses. Although it can be good than QuickBooks if you have a rental business and you need software to manage tracks of tenants, lease terms, and rental rates. | QuickBooks offers you advanced features of accounting. It allows us to balance and reconcile your account, create invoices and bills, enter bills and track sale tax. QB also offers bank feed rules that permit you to tailor your bank transactions automatically if they meet certain standards. |
Mobile Apps
Quicken and QuickBooks Online both enable you to access your data on the mobile app. The app is available for both iOS and Android devices for both products. But in Quicken mobile apps, you cannot create customer invoices or enter unpaid bills in the mobile app.
Several tasks that are performed by the mobile apps.
Customer-friendly: Easy to use
| | |
| --- | --- |
| Quicken | QuickBooks |
| Quicken is a little difficult to use than QB while conducting business activities because the program is designed to do a lot more than business accounting. And the dashboard is also difficult to understand. | QuickBooks is a very handy accounting software because tasks are arranged by workflow, which makes it much easier to get the aspired task. The QuickBooks Online dashboard is very friendly allows you to easily operate the program. |
Integration with other products
When we are talking about integration then there is no match between QuickBooks and Quicken because Quicken only integrates with three other products while Qb is integrated with more than 600 products.
| | |
| --- | --- |
| Quicken | QuickBooks |
| Credit Card Processing: Paypal, Home Valuation Tool: Zillow Zestimate Document, Storage: DropBox | Payroll- Intuit Online, Credit Card processing: Intuit, Ecommerce: Shopify, Square, Merchant Services and many more |
| | |
| --- | --- |
| Quicken | QuickBooks |
| You can view account balances and transactions & input account transactions and attach receipts. Inspect your budget created with the desktop program | You can add new customers, vendors and create customer invoices. Qb apps allow you to take pictures and attach receipts to transactions, Easily enter vendor bills |
Customer Technical Support
| | |
| --- | --- |
| Quicken | QuickBooks |
| Quicken offers Online Community for FAQ's to the assistance of their Customers. For this, you must login into your account to access this information. The customer help team is also available Monday to Friday from 5 a.m. to 5 p.m PST | QB provides live customer support. You can also directly chat with a customer help rep. To start chat, login to your account > click Help menu. Customer help reps are available Monday to Friday from 6 a.m. to 6 p.m. PST and on Saturday from 6 a.m. to 3 p.m PST. |
Ending Words
If you want to track your personal financial information, Quicken has all of the features you could want. You can track everything related to your family's finance in one place without any extra hassle.
If you have a small business, then you have a difficult decision. If you are an independent online freelancer, the features of Quicken may be sufficient for your business. But if you need something more strong, then there is a clear winner in terms of QuickBooks Features.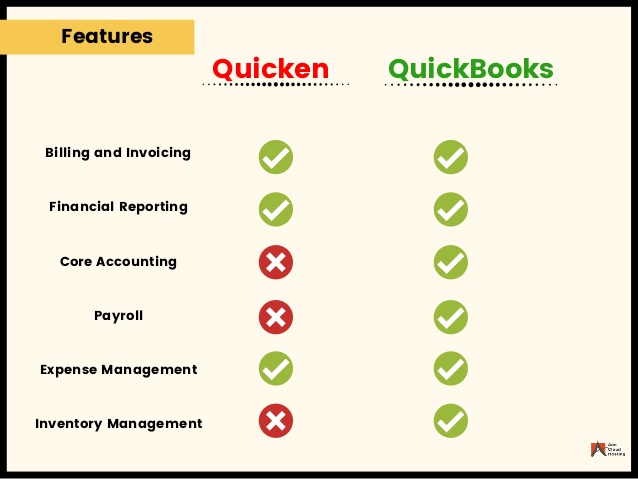 The hardest part is finding the right balance between costs and features because QuickBooks offers more for the business, but there is even more costly. QuickBooks can offer more than required but in most cases, QuickBooks is better for business financial management than Quicken.
When starting, it is important to make a decision that you can stay together, because you can not easily convert data into QuickBooks, or vice versa. Each has its own download and data storage specification and both are not compatible.
If you are searching for your business entirely QuickBooks is clearly the best choice of both but there are also many other online accounting options to choose from. Read this article to find top accounting software for small businesses.