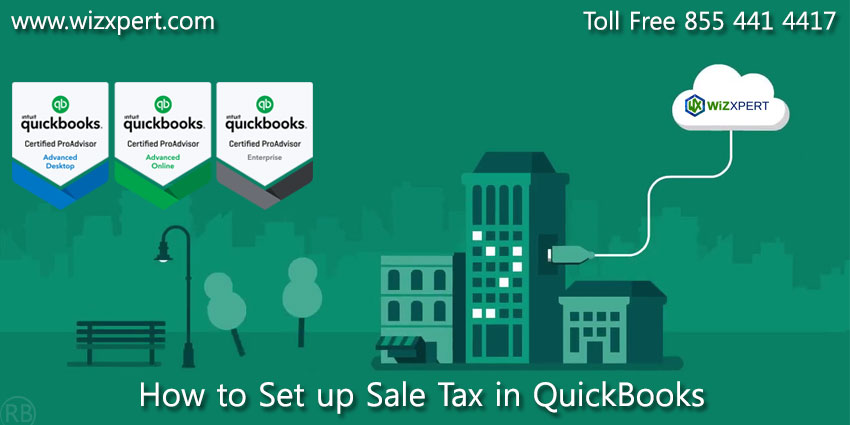 In the QuickBooks, you can collect and remit sales tax on behalf of governmental authorities. You need to establish sales tax items and code. You need to create sales tax groups.
Don't forget to enroll with the department of tax collection for the state( you will be selling it. Each state has specific standards and rules, just as providing you with a unique recording ID number for your business. Not all states require sale tax to charge to your clients on specific product sold. To check if the taxing authority has a special rule to follow, call their business their sales tax department; my experience is they are quite useful and can guide you to the required documentation.
So here we will discuss the simple steps to Set up sales tax in QuickBooks.
Advantages of setting up sales tax with the accurate rates and requirements
It makes it simpler to create reports needed (that you will use later on) to fill out tax forms while paying the sales tax liability.
Covers the way for accurate invoicing.
Point to remember before setting up your sales tax
In acquiescence with the law, examine the sales tax requirements for the location that sells your products and services.
Recognize the tax agency to pay the taxes collected.
The CRA website is an outstanding sales tax source.
Steps to Set up Sale Tax in QuickBooks Desktop
To start recording sales tax in QuickBooks Desktop, you have to turn on this feature and set up a sales tax or tax group, to start recording sales tax in QuickBooks Desktop.
First, open QuickBooks and look for the Edit menu and then choose Preferences.
Select Sales Tax on the Preferences window, then move to the Company Preferences tab and click on it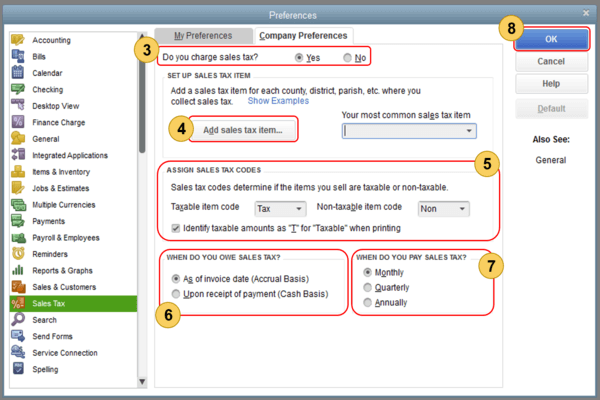 To turn on sales tax choose Yes
Set up all sales tax items or sales tax groups for all specific county, district, city, etc. where you assemble sales tax. Choose Add sales tax item.
Specify the Sales Tax Code. Sales tax codes assist you to track taxable and non-taxable sales customers. Establishing and assigning the correct sales tax code enables you to execute a report that breaks total taxable and non-taxable sales. Two tax codes are automatically generated while turning on the sales tax in QuickBooks. i.e. TAX (taxable) and NON (non-taxable). TAX is used for items and customers that require you to collect taxes. NON is used for items and customers that are free from tax such as non-profit organizations, state sales, or items that your customers will resell.

Steps to setup the non-taxable status of Item

First look for the Lists menu and choose Item List.
Choose an item on the Item List window then go to the New (or Edit Item).
Select Non-Taxable Sales (or Non-Taxable Labor) from the tax code drop-down

Steps to setup the non-taxable status of Customer

First, select the customer menu and choose Customer Center.
Give a right-click on the name of the customer name which you want to set up as non-exempt and choose Edit Customer: job
In case if you are still not setup your customer, then choose New Customer & Job and later click on New Customer.
Continue to the Sales Tax Settings tab, under the Edit customer screen
Select Non-Taxable Sales (or Service) from the Tax Code drop-down. On the Resale No. field, enter the customer's resale certification no, in the Resale No. field.
Choose OK.

Arrange the Sales tax basis like Accrual or Cash. Get into account your company's accounting a choice.
Also, set up your choice to pay the sales tax. You can choose it Monthly, Quarterly, Annually.
Choose OK
How do I Enable Sales Tax in QuickBooks Online
Open QuickBooks Online and go to the Taxes option.
Select Edit sales tax settings in the right under the Related Tasks list.
if you charge sales tax, Choose Yes.

Choose the Default sales tax from the drop-down indicator to select the sales tax rate to use as the company's default in the event the customer is taxable and you have not selected the second rate.
Choose, If you want all new products and services to be taxable. (This means that the item you add to the form has a pre-selected tax column. If you do not need to charge sales tax, you can clear the individual item in the form.)
Choose that you want to make all new customers taxable. You can still change the taxable status of the customer in the Customer Center.

If you do not charge sales tax, make a selection 'No'. If you have already charged sales tax on the transaction, you will not be able to disable the sales tax without first removing the sales tax from those transactions.
To more help about any Query about sales tax, you can talk to our QuickBooks Support team by dialing our number +1-855-441-4417.
You may also like: