In this post learn how to process credit card payments in QuickBooks Online. There are few ways to process credit card payments depends on whether you want to use an invoice or not. It is important to process a credit card payment every time when customers pay because if you don't it can create complications in the future.
If you don't use QuickBooks Payment then you need to first record the credit card payments.
Here we'll be discussing the most common methods used to process credit card payments in QuickBooks Online.
Best Methods to Process Credit Card Payments in QuickBooks Online
Process Credit Card Payments With an Invoice
In this method, we'll be using the 'Receive Payment' option to process credit card payments in QuickBooks Online. This will be effective if you send an invoice to the customers.

Select Receive Payment from the +New button.
Choose a customer.
Enter the payment amount at the top right corner.
Enter the payment date and select the credit card in the Payment Method field.
In the 'Deposit To' field. Select the account where you want to place the payment.
In the Outstanding Transactions section, Tick in front of the invoice to which customer's payment is applied.
At the bottom right, click on the 'Save and New' if you want to process another payment otherwise choose 'Save and Close'.
Process Credit Card Payments Without Invoice
Here, you'll learn how to process credit card payments in QuickBooks Online using the 'Sales Receipt' option. You can choose this option if you don't use Invoices.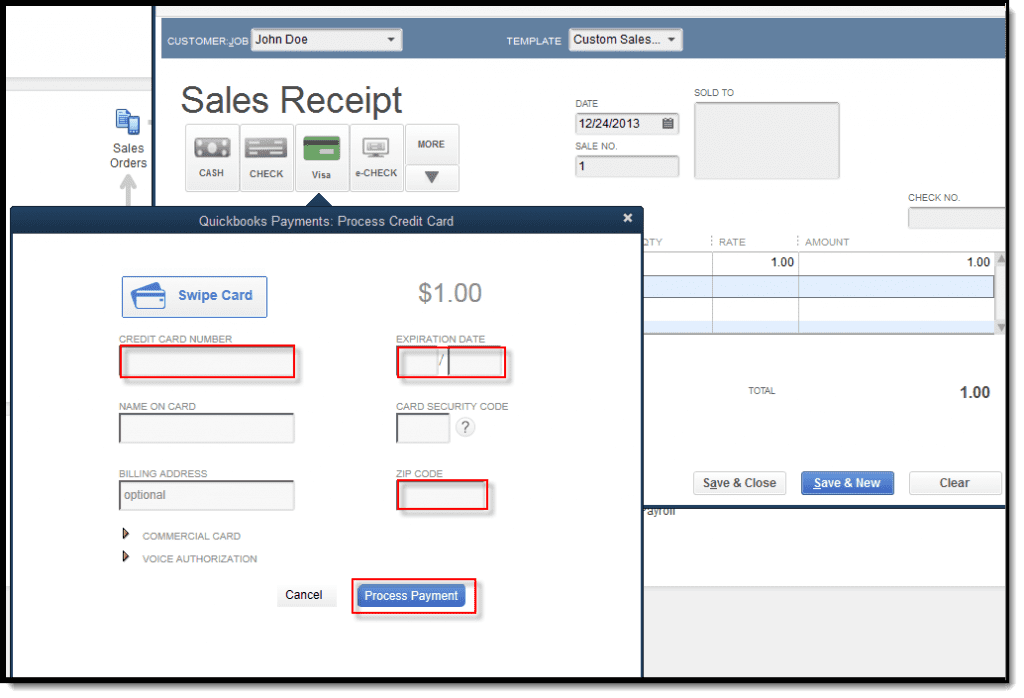 Select Sales Receipt from the +New button.
Enter customer information.
Enter the details like Products/Services, Quantity, and price.
Next in the Payment Method select credit card after that a new window will pop-up.
In this window enter the credit card details.
Select 'swipe card'.
You can also save the customer's credit card by checking the 'Use this credit card in the future for this customer' option.
Click on 'Process Payment' and then select 'Save and close'.
Intuit Payment Network
You can also use the Intuit Payment Network (IPN) if you don't have time for the process payments. The only thing you need to do is send the invoice via Email with pay now link attached to it. And if payment is made through that link then QuickBooks will automatically record this transaction with the appropriate invoice.
For example, if payment of $10 is made using the pay now link then a receive payment of $10 will be automatically recorded in the QuickBooks and $9.50 will be debited to the account. $0.50 is the fees for using the Intuit Payment method.
Frequently Asked Questions
What are the credit card processing charges in QuickBooks?
Credit Card processing charges are 1% per ACH transaction ($10 max.), 2.4% per credit card swiped transaction and 3.4% per invoiced transaction.
How long does it take to receive a payment if you are using QuickBooks Payments Account?
Generally, If the payment is made using a credit card then it takes 2 to 3 days for receiving an invoice payment.
What else can I use to process payment in QuickBooks Online?
You can either process credit card payment using Receive Payment and Sales Receipt or you can send Email Invoice which allows users to pay online through QuickBooks Payment Account.
Conclusion
We hope that now you learn how to process credit card payments in QuickBooks Online. Although, This is a straight forward procedure it's common that you may face some technical errors or glitches. You don't need to panic if you face some errors or got stuck in any complications related to QuickBooks.
The best thing you should do in these situations is to contact QuickBooks ProAdvisor. Our certified software technicians can fix any issue instantly and our professional accountants can provide you the best advice. For using our service call us at our toll-free number +1-855-441-4417 at your convenient time.