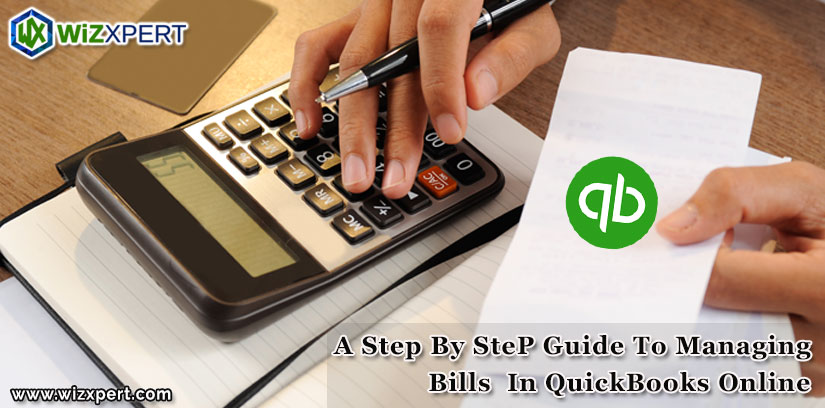 In the present scenario, it is very important to manage bills in order to run a successful small business. And, if you are a business person or looking for guidance on how to manage bills in QuickBooks Online then you are at the right place. In this article, you'll get a complete step-by-step guide to manage bills in QuickBooks Online. So without wasting more time let's discuss;
Basically, this simplified guide will show you how to easily manage bills in QuickBooks Online
Enter & receive a bill.

Next, enter a partial or full payment.

How to set payment reminders for future bills.

And how to review financial statements after your new transactions.
Therefore, it is very important for you to create various accounts where the cash amounts will be recorded in order to use QB and result from the above transactions effectively.
If you want to set up an expense account then click on Lists and also on the Chart of Accounts section given on the same menu. After that, click New under the Account option on the next window.
Now, on the new account window menu, click on an expense type of account and click continue.
You need to mention the name and description of the account and save it. For example, you can create an electricity bill expense account easily with a concise description like; " electricity bill expenses are listed here".
The best thing is that you can set up as many expense accounts, depending on your specific requirements. This is basically a simplified guide on how you can enter bills into the QBO system. Also, there are some more additional information is mentioned at the end of this blog to help those who are just getting started.
Entering and Receiving Bills in QuickBooks Online system:
In order to enter accounts payable in QB, you just need to do:

Just click Suppliers & select Enter Bills.

Next, you need to click Enter Bills given below the Supplier title.

Now, select suppliers from the drop-down menu.

Select Terms as well as Bill Date, and Due Date.

Again from the drop-down menu, select the expense account.

It also provides a brief description of the bill.

After that, you need to enter the specific amount along with the accompanying tax rate.

Finally, just click on the Save option and Close.
Paying Bills in QuickBooks
So, once you entered your bills successfully, you can efficiently manage how and when to make payments for them. Well, you have options either make payments using the expense form available or by using the ability to print checks from given in the QB application. Also, if you want then you can make the payment using vendors or suppliers page.
QuickBooks Online Bill Pay is another important feature to pay bills of products online.
Sometimes, it is possible that you might run out of money by making immediate payments for the bills. And for that reason, you can make partial payments if possible in order to keep our business without any financial crisis.
There are many options available from which you can make a payment for your bill.
The very first and foremost option is that you can make payments directly from the suppliers or vendors page.
At first click on Suppliers.

Click Pay Bills: You'll find two options at the top of the supplier's page, which allows you to filter the bills for making payments.

And you can click on the supplier's bill for which you want to make payment.

QB will automatically show the information such as supplier's names, the invoice number and the due amount of the particular bill.

Next, Enter the amount to pay.

After that select the account from which you want to make payment.

Then click on Pay Selected Bills, Save, and Close.
These are the areas where QB completes the Bill Payment form immediately
Payee(The Supplier name)

Account

: By default, it helps to set up your primary account in QB. Suppose you have multiple accounts, in that case, you can choose the particular accounts from the drop-down menu in order to make the payment.

Ref. no.:

Here the application for the next check number is assigned.

Amounts

: By default, it is seen that the application assumes that the payment being made is full. And, if you are thinking to make a partial payment, then you can enter a different amount.

Outstanding Transactions

: QB also lists the outstanding pending bills for some suppliers. In case, if you want to make payments only for some particular bills then you can check or uncheck them by using the box available in the left of the bill description.
Set Reminders for Unpaid or Overdue Bill Payments:
Initially, you need to click on the Edit menu.

Next, click on the Preferences that are given below in the edit menu and a new window will open.

Now, under the Preferences option, click on the Reminders.

Go to Under my preferences menu and then check the box " show reminder list when opening a company file."

After that tap on the company preferences menu and set the Bills to Pay. Now, just verify the button which is appropriate for you and also enter the number of days in order to get the reminder from QB.

Tap OK. Here you'll be reminded about your unpaid and overdue bills as soon as this set up gets completed.

Finally, you can also click on Reminders and Alerts to view the current reminders at QB's home page.
Moving further let's discuss the possible related questions that might come to your mind;
Why should I enter bills in QuickBooks Online?
Well, the answer is in case if you receive bills from vendors who allow you to pay them sometime in the future so for that you should enter these bills into QuickBooks Online. Let's have a look in order to keep track of the following information:
What bills are outstanding

What bills you have paid

And, where you are spending your money
There are many reasons why business owners purchase QB is just to gain better control over their expenses. However, just by entering bills in QB and paying them as close to the due date as possible, you can also get better control over your cash flow. Though it is very important for a business owner to hold onto cash as long as possible. Because you never know when an emergency might occur and you face trouble. And, if you are short on cash or don't have an available line of credit in your bank account then that emergency could ruin our business.
What Impact Does entering Bills Have on my financial statements?
When you enter a bill in QuickBooks to pay for something that is not going into inventory the accounts and financial statements are affected in the following manner;
| | | |
| --- | --- | --- |
| Account Affected | Impact on Account | Financial Statement |
| Accounts Payable account | Increase | Balance Sheet |
| Expense account | Increase | Profit & Loss |
And, when you enter a bill in QB to pay for an asset like equipment or any product then that will be added to inventory, the accounts, and financial statements are affected in the following manner;
| | | |
| --- | --- | --- |
| Account Affected | Impact on Account | Financial Statement |
| Accounts Payable account | Increase | Balance Sheet |
| Inventory asset/fixed asset | Increase | Balance Sheet |
Conclusion
As we have discussed above how to manage bills in QuickBooks Online with a simplified guide. Hope this information will help to solve all your queries. And, if you have any other questions related to QuickBooks Desktop, hosting QuickBooks Online and QuickBooks Online then feel free to contact our QuickBooks customer support team. You can also dial our toll-free number in order to take advice from our Proadvisors.