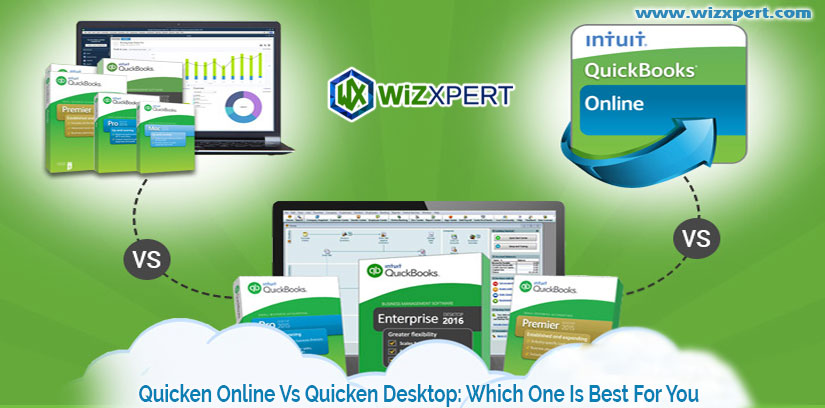 In this article, we are going to discuss, Quicken Online Vs Quicken Desktop. As we all know Quicken is known for its financial management features for small businesses. It is used by many users as it is easy to use and provides the data which users want.
So, here we'll basically point out some important features of both Quicken Online and Quicken Desktop. Therefore, it will be easy for you to make the right choice. So, without wasting more time let's start with their introductions.
Introduction
Quicken Online is a free web-based version of Quicken. And it was designed by Intuit Inc. in order to meet a variety of wide personal finance needs. It also provides help to people in different stages of their money lives. On the other hand, the Quicken desktop is basically a desktop version of Quicken. Let's understand them by taking an example.
Quicken Desktop is just like a large nationwide home repair store, that basically offers customers every possible tool which they require for every possible job.
Whereas Quicken Online is just like a specialty shop with employees. And they are ready to help you to complete your specific task, such as building a shed.
Moving further, let's discuss the features of Quicken Online vs Quicken Desktop
Quicken Online is known for its all Web-based basic personal finance solution. And gives 100% free service.

With Quicken Online a first start with managing money at a basic level is quite easy.

You can easily access your balances across accounts plus get bill reminders, large expense transaction alerts, text, and more via email.

Quicken Online is much like an Online Banking. But including only those accounts from all of their financial institutions.

Provides automatic refresh of account balances each night. It also allows them to keep tabs on finances without tracking each expense manually.
Features of Quicken Desktop
A desktop is nothing but a personal finance solution to meet a variety of specific money needs. It includes bill pay, drill-down on investments, home and business financial management, and also rental property management. Let's have a look on few of them;
In-depth investment tools.

Advanced reporting.

Detailed tax preparation and deduction maximizing tools.

Savings tracking against goals and optimized savings tools.

It provides an environment where you can really track finances on a daily basis.
So, as you can see, Quicken Online is more suitable and easy to use as compared to Quicken Desktop. Also, Quicken Desktop occupies a lot of storage but this problem doesn't occur in Quicken Online. In this, way we can finally conclude that Quicken Online is the best for the users as compared to Quicken Desktop.
Related Article: Best Alternatives of Quicken Online Finance Software
Conclusion
As we have discussed above the Quicken Online vs Quicken Desktop. Just read the whole article and you'll get an idea which one suits better for your business or managing finances.
For further assistance, don't hesitate to contact our Quicken Support Team. Also, you can dial our toll-free number in order to get help from our experts. Our experts are available 24/7 to provide help to the customers.