If you are a beginner or just starting up your new business then this accounting software may help you to reach your destination. Here we are discussing the top 20 best accounting software for the small business of 2023 to help you with your business accounting. Let's take a look:
Accounting software is basically a type of software that accounting professionals or business owners use to process accounting transactions and manage accounts. Small business accounting software is the software that helps you manage your finances, keeps a track of the money you receive, owe, and are owed.
When you are new to the business you must be looking for affordable, easy-to-use accounting programs designed, these are accounting software for small businesses. You can also use cloud-based and mobile apps so you can access your data anytime, anyplace.
Top 20 small business bookkeeping software
1. QuickBooks
QuickBooks can be defined as an accounting software package that is mainly used for small and medium-sized businesses. QB offers accounting applications and is also used for cloud versions. QuickBooks is developed and marketed by Intuit.
Features and uniqueness of QuickBooks
Purpose– QuickBooks is an accounting solution specifically designed for small businesses and freelancers as it simplifies the most complex accounting processes.
Multi-user access– QuickBooks is a cloud accounting software, which means that anyone with a user ID and password can access your data from anywhere at any time.
Track accounts receivable and payable– QuickBooks will automatically update your accounts receivable balances for you as you enter customer invoices and payments, as well as your accounts payable, QuickBooks checks as you enter your bills and pay them.
Mobile friendly– Users can log in to the system wherever there are internet access and your QuickBooks mobile app. Accessing your data is simple.
Security– when you are dealing with money matters you need to make sure that your data and money are in a safe place or not. In QuickBooks, all accounting information is securely stored in the cloud. These can be accessed and exported to Excel spreadsheets.
General Ledger– Data entry is easier and time-saving with the general ledger.
Inventory track-If you sell products, you will need to keep track of your cost, quantities, and the total value of each item. With QuickBooks Online Plus, you can easily set up all of your products and track this information.
Installation process
You can easily download QuickBooks from the official site and can install QuickBooks on your pc or mobile in just 3 simple steps first download from the given website then install and then enjoy it. This is the latest version of QuickBooks. If you need any further information, please contact QuickBooks support.
2. Freshbooks
FreshBooks is an accounting software package developed and marketed by 2ndsite, Inc. Its products are geared mainly toward small to medium-sized businesses and offer cloud-based accounting applications that send invoices to clients to bill for time and expertise. Freshbook is a software that makes financial accounting much easier to help users address recurring invoices and subscriptions easily.
Features and uniqueness of Freshbooks
Due dates– FreshBooks helps you to quickly set a Due Date for your invoices so your clients are always crystal clear on when you expect payment.
Received invoices– It helps you to keep all your paperwork in one place with both the invoices you send to clients and invoices you receive from vendors all under the same roof.
Automatic Tax calculations– Freshbooks collects the right amount of sales tax. and apply it to your invoice and do the rest of the tax calculations.
Mobile optimized– Run your business right from your iPhone by sending invoices and logging expenses through the FreshBooks app. Freshbooks are mobile optimized which means the user can access their data anytime anywhere on android or ios.
Accounts and reports– It keeps a complete record of all financial accounts and transactions, so you and/or your accountant can analyze every dollar coming in and going out.
Security– The latest version of Freshbooks is easier to use and has advanced functionalities that improve the financial management capabilities of users. Freshbooks industry-leading security protocols ensure you and your client's data are always protected.
Payments– Transaction fees are automatically recorded in your account so you'll always have an accurate view of your expenses and payments. Payments are quickly deposited into your bank account to make sure your cash keeps flowing.
Installation process
Freshbooks can be installed on your android or ios from the Google play store
3. Xero
Xero is an Australian stock exchange-listed public software company that offers a cloud-based accounting software platform for small and medium-sized businesses. Its products are based on the software as a service( (SaaS) which is a lot platform) model and sold by subscription, based on the type and number of company entities managed by the subscriber.
This system is designed to meet the requirements of small businesses.
Features and uniqueness of Xero
Dashboard– As soon as the user login their account in Xero they can have an overview of each and every detailed transaction, invoice, bank balance, all expenses, and income. It allows you to add any new activity to your account. It also offers you the facility to have a look at any specific account of any of your customers or vendor.
Automatic bank feeds- In Xero, you do not have to worry about categorizing your data manually because Xero pulls the data from your online banking system and categorizes it accordingly.
Bill payments in bulk- It is very difficult to take bills in bulk and process them but in Xero, Suppliers can send their invoices directly to your accounts payable, and the interactive graph of your accounts payable shows you what bills need to be paid and when.
Inventory- Inventory management software tools in Xero let you keep track of stock levels and values on a daily basis. Using the average cost method Xero calculates the value of the goods that the user has.
Installation process
The installation process of Xero is very simple. since it is mobile-optimized software it can be downloaded on android and ios.
Xero can be downloaded from https://play.google.com/store/apps/details?id=com.xero.touch&hl=en on android and ios.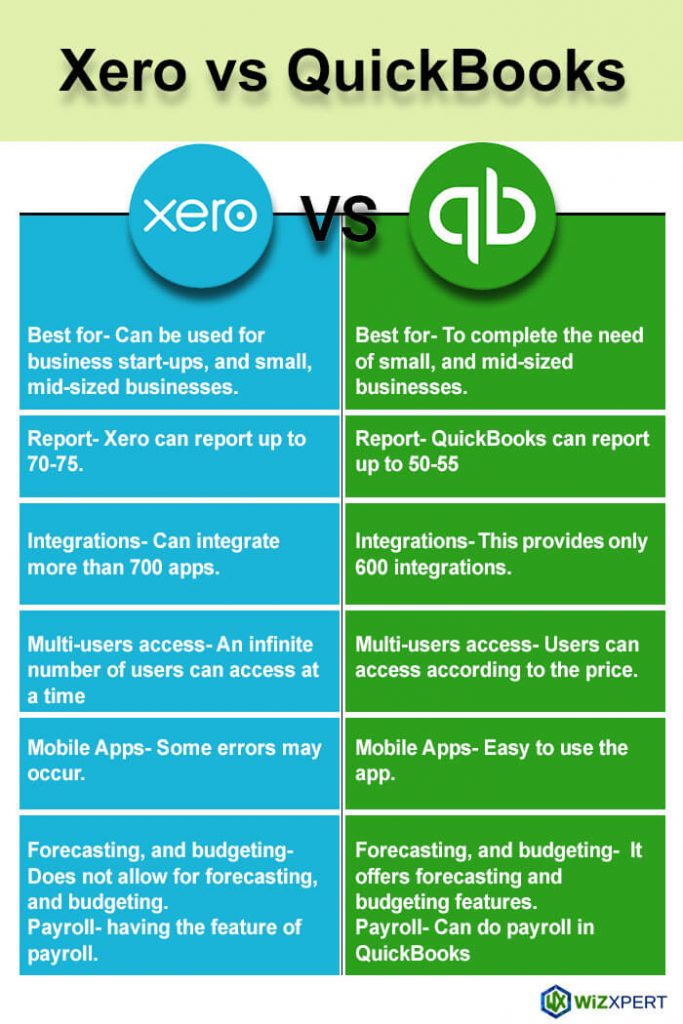 4. Netsuite ERP
Netsuite ERP is an online service that enables companies to manage all small business processes in a single system. It is approximately similar to the QuickBooks service in a better way.
Features and uniqueness of NetSuite ERP
Finance and accounting– Netsuite ERP combined packs general ledger and other financial tools with e-commerce, sales, and marketing to grow your business.NetSuite integrates core finance and accounting functions so as to transfer the data smoothly, which improves business performance, reduces back-office costs, and increases financial close efficiency.
Accounts payable– NetSuite's Accounts Payable solution allows the processing and payment of invoices automatically.
Calculation of discounts can be done automatically which eliminates manual data entry, and associated errors and minimize the time and effort it takes to process bills from vendors.
Accounts receivable– NetSuite helps to upgrade collections processes by automating and streamlining all aspects of credit terms, invoice delivery, and collections management.
Mobile optimized– To access your data from NetSuite you just need the internet and your phone so, NetSuite is mobile optimized.
Tax management– NetSuite provides end-to-end domestic and global tax management through one simple, easy-to-use system that generates detailed reports by analyzing transactions down to line item tax details in real time.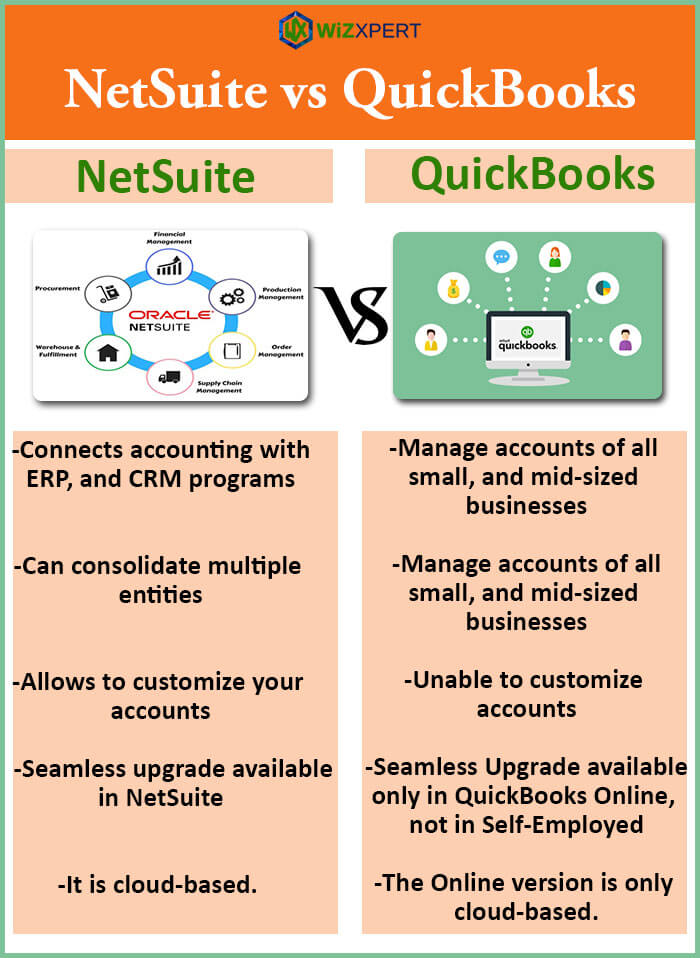 5. Wave
Wave is a web-based integrated accounting solution designed for small businesses, freelancers, and consultants. It is headquartered in the Leslieville neighborhood in Canada. The company manages more than $244 billion in income and expense transactions for its customers, including $16 billion in annual invoicing
Features and uniqueness of Wave
Record of income and expense– Keeping a record of every single unit of your money is very important in your business otherwise it will be chaos and mess only so Wave accounting software keeps track of income and expenses easily with regularity.
Invoice– Wave accounting software always creates estimates then invoices customers for your products and services, with recurring billing and built-in payment processing.
Organized– Wave accounting software keeps the data organized with automated receipt text recognition and processing.
Access control– wave gives access to control only to the owner. They can access their data anytime anywhere on their phone. Which makes it more secure and safe.
Activity tracking – Wave keeps a track record of every activity in your business whether it's a transaction activity or payment or invoice activity.
Accounting integration – The feature of the wave which makes it different from other accounting software is that all your accounts and give the measure of profit and loss.
Offline access– You can access your account without an internet connection on your phone or desktop because the wave gives offline access to the owner to access their data.
Installation process-
Wave is web-based, so you just need an internet connection and browser. You can, download and install our mobile invoicing and receipt scanning apps for iOS and Android.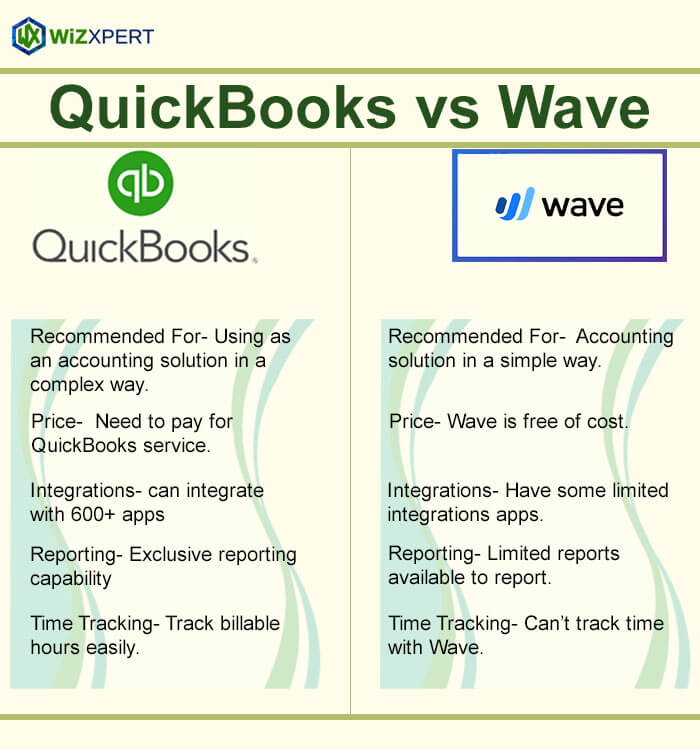 You can download the Wave software from its official site.
6. Online Invoices
Online Invoices is a web service that simplifies the way businesses manage and monitor their sales, generate invoices, receive and track payments, and more. In this invoicing solution, you can also perform business accounting and calculate taxes and leverage comprehensive real-time reporting features to precisely assess the progress of your business.
Features and uniqueness of online invoices
New invoice creation– It allows the creation of clean and professional invoices that can be customized to match your brand. The system should allow for the integration of information from projects, timesheets, and customer records.
Invoice, payment, and tax report –  Online invoices help you to perform tax reports with your same system without losing any information and without any external systems.
Predefined templates– It provides professional and predefined communication templates so that the bills and invoices look good along with good accuracy. This will not only save your time but also let you personalize your accounting and allow you to carry your brand.
Receive/send information– The function allows you to send information to your customers quickly since there is a centralized database where all their information is stored and readily made available.
Customer records creation–  In online invoices, you can summarize customers' personal and purchase information and store that data in a single, centralized database that has search filters to access customers' records.
Installation process
Online invoices can be purchased from the web easily.
7. Zoho books
Zoho Books is an accounting system software designed for growing businesses.  Generally, it can be described as an intuitive accounting solution designed for small businesses to handle their finances, and taxes and to remain on top of their cash flow. It is very simple, easy to use, and able to help you manage your business.
Features and uniqueness of Zoho books
Automates bank feeds– The distinctive advantage of Zoho Books is how it eliminates data entry, and allows you to import all bank and credit card transactions, and categorize those according to your bank's rules.
Sends and tracks invoices– You are perfectly allowed to pull off invoices for each estimate, record your offline payments, or even associate those to selected projects and invoices. The same as with regular payments, you will be able to run detailed reports on all sent retainers.
Manages stocks and inventory-Another helpful feature that is not that typical for accounting systems is inventory management, which helps you stay in control of orders and stocks in real-time. Creating and sending purchase orders takes almost no time, and inventory reports are generated automatically to ensure you will know exactly what there is in your stock.
Payment reminders– Thanks to Zoho Books, you can create personalized messages for customers to pay on time, and schedule their frequency in a way you believe would be suitable.
Operates multiple languages– Alongside English, you get to use Zoho Books in German, Spanish, French, Italian, Dutch, Portuguese, Swedish, Chinese, Brazilian, and Japanese.
Installation process
You can purchase Zoho books from its official site. There will be three options for your first one is standard which you can get at 2,499$ per organization/year next is professional which you can get at 9,999$ per organization/year and the premium which is 19,999$ per organization/year.
8. Freeagent
Accounting software FreeAgent is a powerful online tool that is designed for use by small businesses and freelancers. It is software with rich functionalities, offering small companies all that they need to keep their finances on track. It hosts a suite of tools that are meant to help users manage all aspects of their financial operations–from running payrolls to managing expenses
Features and uniqueness of free agent
Easy to use- The platform is known for being highly intuitive as the vendor has made support resources available to guide invoice users, making interface navigation comfortable. Its dashboard displays charts and graphs that reflect business activities. Users can also view invoices, timeslips and expenses, cash flow, and even profits and losses.
Invoicing management– The solution can create and send invoices with ease, with an estimate to invoice conversion taking but seconds. The visually attractive templates in the free agent can be further improved as they are customizable.
Tracking capability– The solution gives you the capability to track your business expenses with the use of bank feeds and imported bank statements as well as attach expenses to individual projects when billing customers.
Facilitates payments– To the satisfaction of businesses and end-users, FreeAgent has enabled payments directly into the system and attached links to all internationally applied payment systems in the invoicing templates. Clients can also pay via PayPal, Stripe, or GoCardless.
Tax management– FreeAgent allows you to use your reference schedule C to prepare taxes. Next, access the Journal entries and copy the tax prep totals to access tax returns and pull off debt and credit reports.
9. Tipalti
Tipalti is a cloud-based accounting management software solution that helps users automate their accounts payable process. It provides a variety of features, such as invoice automation, payment remittance, regulatory compliance management, tax calculations, supplier management, and reporting and payment reconciliation.
Features and uniqueness of Tipalti
Tipalti is cloud-based payment automation and management software that is used for managing small businesses.
Facilitated Payment-The The software makes payment easier. Users can pay across 190 countries, 120 currencies, and in 6 payment methods. It provides payment configuration like a myriad of financial controls.
Payment report-The product has an excellent payment reporting system, generating accurate payment reconciliation reports. This is done with minimal intervention from managers.
Fraud protection-Tipalti's secure payment solutions prevent fraudulent behavior by automatically checking payee records. Despite payees that have previously passed these tests, they are checked again during every payment cycle according to the US government data and Specially Designated Nationals lists being updated on a weekly basis. These fraud control features help to remove legal and financial risks.
Invoice management –When a supplier emails or uploads invoices, Tipalti scans, and stores the data. Using optical character recognition (OCR), the software extracts and settles the data. It also scans for any data changes and stores this information for future use.
Tax and regulatory compliance – This module helps companies stay in compliance with tax and other regulatory bodies. The tax form collection process is automated, so there's no paper scanning, emailing, or signatures required. The software calculates the 1099 and 1042-S year-end tax forms, as well as the correct withholding. And finally, Tipalti includes Taxpayer Identification Number (TIN) matching.
Installation process
Tipalti can be easily downloaded from its own official site.
10. Sage 50 cloud
Sage 50 cloud is an online accounting solution for small and medium-sized businesses that has features such as taxes, inventory, budgeting, cash flow, and invoicing. Plus, you get a wide range of add-ons for credit card processing, payroll, and more
Features and uniqueness of sage 50 cloud
Sage 50 cloud is an online accounting solution designed mainly to help small and medium-sized businesses. It helps the user to manage their financials and stay compliant with taxes and reporting requirements.
Flexible– Sage 50 cloud software is extremely flexible by combining the power of desktop software and the convenience of the cloud with an array of 50 features to manage your financial business operations and requirements.
Secure- You'll have your finances safe and secure in sage 50 Cloud with screen-level user access and bank-level online protection to keep your critical information safe.
Easy to use- Sage 50 cloud makes accounting very easy. Even after advanced functionalities Sage 50 is quite affordable for small-medium sized businesses. Payroll- Payroll services built right into your software make it easier to pay employees to track benefits and report taxes.
Installation process
Sage software can be downloaded from its official site in two packages one is the annual package and the second monthly package.
Further, there are three types, the first one is pro accounting the second one is premium accounting and the third one is quantum accounting their costs are 465.95$, 720.95$, and 1834.95$ per year respectively.
11. GoDaddy Bookkeeping
GoDaddy which is a very popular web hosting firm, now entering the realm of accounting software for small businesses with low-cost alternative gear that does not need an extremely comprehensive range of capabilities. In addition to importing data from your bank accounts and third-party services like Amazon, eBay, and Etsy, it also forecasts your quarterly tax obligations. This makes selling on those websites a fantastic alternative. There is very little setup required, and the UI is simple to use. It does, however, lack some of the more sophisticated functions, like inventory management and payroll, that larger firms are likely to want, despite providing an outstanding range of features and invoicing tools for a reasonable fee.
Pros: Benefits include ease of use, excellent value, and integration with top e-commerce sites like Amazon and eBay.
Cons: Payroll, international billing, and robust reporting tools are not available.
Cost: UK Starting At £2.99 Per Month, USA – $4.99/per month.
12. Sage business cloud accounting
Sage business cloud accounting is accounting software that has been designed to cater to small firms or small and medium-sized businesses. Core functionalities of sage business accounting are compliance and expense accounting management.
The factor that makes the sage business cloud from sage 50 clouds is that it allows for the integration of the latter into the cloud, resulting in cloud storage and accessibility for all your accounting data.  That is why sage business cloud accounting is better than sage 50 clouds.
Features and uniqueness of sage business cloud
Accounting tools for small businesses-  Sage business cloud helps small businesses to manage all accounting problems. It helps users manage payment processes like invoicing and price quotations. It also comes at flexible pricing terms, so that small businesses can use it.
Cloud storage – Sage business cloud accounting is integrated with sage 50 which comes up with cloud storage capability and gives users access to all accounting data.
Dashboard- Users can access all data from the dashboard that keeps them informed on receivables and cash flows.
Tax management- Sage Business Cloud Accounting also offers tax managing tools, able to calculate taxes accurately based on transaction information. It can also forecast cash flow.
Mobile optimization- Sage business cloud accounting comes with android and ios platforms which can be used in the creation of invoices, expense recording, and in viewing graphs reflecting business performance.
Installation process-
Sage business cloud accounting software can be purchased from the official site that offers a trial plan for 1 month to try it and after that, it offers you two types of plans first is entry-level accounting software that costs 10$ per month, and second is powerful accounting software that costs 25$ per month.
13. Zoho expense
Zoho expense is an accounting solution that is capable of managing accounting finance at small businesses. It can automate many expense management tasks while making a financial record of all financial transactions. With Zoho expenses, receipts can be converted into expenses, from which reports can be generated. It is integrated with Zoho's book.
Features and uniqueness of Zoho expense
Record- Zoho expense can easily record all company expenses in real-time, saving users time. It allows for the syncing of credit card transactions, which can be accessed automatically. Every smallest detail can be included in such records.
Expense reports– The user can review and approve expense reports with a click from their dashboard. Users are categorized as approvers, administrators, and submitters, who play different roles in their company's system's operations.
Integration with other Zoho products- The system is ideal for small business users as it works well with Zoho CRM and Zoho Invoice.
Installation of Zoho expense
Zoho expense offers two plans for users first one is the standard plan at 75$ per month, billed annually and the second one is the premium plan at 149$ per billed annually.
You can also download it on your android and ios from its official site.
14. Invoice meister
Invoice meister is accounting software that is designed to make sure you get
prompt payments for your products or services. Invoice meister has features like cloud-based invoicing, bank reconciliation, payment tracking as well as deep analytic reports to track the overall progress of your business.
Features and uniqueness of invoice meister
Easy, intuitive, fast- Invoice meister is designed with modern user-centric principles, Invoice Meister has an interface that is accessible to non-experts. It's efficient and fast, delivering results in no time.
Performance report- With a built-in analytics engine, you get instant reports on your balance sheet or profit and loss, which allows you to make key decisions about your business.
Provide cloud payment and updates. Invoice Meister will automatically update your invoice status based on client payments, which the application also provides.
manage expenses- Invoice meister automatically syncs each entry with your entire account, to make it easy to see where your money is going.
Verify with Sandbox- Invoice Meister keeps a history of your invoice transactions through its Sandbox, which should make tracking and clarify with your clients.
Installation process
The user can purchase invoice meister from invoice meister offers three plans first invoice meister starter which costs 7.5$ per user/month, the second invoice meister standard which costs 10$ per user/month, and the third invoice professional which costs 15$ per user/month.
15. Infor ERP Distribution
Infor ERP Distribution is a scalable accounting software solution that works with your small business by matching your specific industry requirements with its flexible financial and accounting tools such as order, purchasing, and inventory management, and a module to manage overly complex requirements, including special pricing agreements (SPAs) packaging breaks, and more.
Feature and uniqueness of Infor ERP distribution
Reduce cost – A cloud-based implementation eliminates the need to purchase expensive servers, network hardware, multiple IT personnel, as well as office real estate to house all those people and machines.
Security- Infor ERP distribution provides solid security and safeguards the integrity of your data.
Integration-Infor ERP distribution has the ability to input modify and extract data from your application in bulk through a structured file.
Reporting and analysis- In general, the Infor ERP distribution system covers all the reports of financial statements according to the need of the business.
16. Sage Intacct
Sage intact is a cloud-based financial that serves both cloud computing and financial accounting tools. It is designed to improve business and financial productivity.
Features and uniqueness of sage Intacct
Reputation- Sage Intacct is Recognized by the AICPA as a top provider of financial-related apps. It has been helping small businesses to manage and improve their financials.
Accounting features- Data entry is easier and time-saving with the general ledger. It likewise minimizes inaccuracies in financial reports.
Customized reporting- With its pre-made report templates, users can utilize balance sheets in analyzing performance and sales tracking. You can analyze financial reporting using your presentation's needs as a basis.
Fast payment processing. The platform offers highly secure and speedy credit card and bill processing. It can work seamlessly with online sellers' websites by streamlining their processes
Installation Process
You can check out 30 days trial plan of sage Intacct from the official site.
17. Keka hr
Keka hr is a comprehensive human resource platform. It is an employee experience platform that solves issues faced by every HR person such as attendance management, automated payroll processing, and talent management.
Features and uniqueness of Keka hr
Simplified payrolls- Keka hr solves the payroll problem by putting them in a single dashboard eliminating the need to open multiple screens in order to complete payroll.
Employee satisfaction-From acquisition to training and nurturing talent, Keka HR provides the employee tool to keep your employees satisfied.
Accounting-friendly expense management tool- Cost centers facilitate better expense handling, with solid reporting support.
High-level data security– Keka HR uses industry-grade 256-bit encryption to safeguard your data. Private keys provide additional measures to thwart even the most sophisticated attacks.
Key insights- Real-time analytics gives you essential access to employee information to help your next decisions and actions in your business.
Installation process
Users can easily download the Keka hr app from Google Play
18. Charge over
Charge over is a cloud-based accounting app that is used to billing customers and collects payment from them. This is a Web-based recurring billing and payments app for any business looking to save time and get paid faster.ChargeOver features payment tracking tools and automatically generates requisite notifications and courses of action that you can take.
Feature of charge over
Multiple billing methods-  There are multiple billing methods offered by the charge such as metered billing, recurring flat rates, or limited billing cycles.
Developer friendly- JSON-based REST API, webhooks, Javascript libraries that reduce your PCI compliance burden, and usage URLs for metered billing are on deck. The ChargeOver development team helps the other developers for easy integration with your own platform.
Seamless accounting integrations with QuickBooks and Xero- ChargeOver integrates with every version of QuickBooks and Xero, so no duplicate data entry is needed to use the two applications together Using ChargeOver with QuickBooks will save your business hours and hours of administrative time.
Easy subscription billing and charges- Automatically bill and/or invoice customers on a recurring basis. Accept credit cards, ACH, PayPal, and more and automatically charge credit cards every month, quarter, year, etc. ChargeOver also offers support for one-time charges, trials, discounts, and taxes.
19. Invoices
Invoice is a software-as-a-service platform that enables the user to track billable tasks, mileage, and expenses, generate and send invoices and accept online payments with its integrated payment gateway tools. The invoice provides some major functionalities of accounting with an easy-to-use interface.
Features and uniqueness of invoice
Manage multiple businesses- If you are running multiple business invoices helps you do that by setting up for individual users and clients.
Unlimited invoices- Invoices give you full command of your invoicing with unlimited invoices virtually free and for any level of account.
Never miss out on payments again- Simply define profiles for recurring invoices and let them send payment prompts automatically.
Build trust by sending regular account statements- Invoices can generate and send records of past transactions to any customer. Transparent reference lets them view your business positively.
20. Accounting seed
Accounting seed is innovative financial accounting software that transforms the way you manage your accounts. It is designed to accelerate and simplify all back-office accounting processes. Accounting seed offers a wide variety of tools that enables users to manage their account easily
Features of accounting seed
Automation features- The software can automate your work concerning payroll, billing, reports, account tracking, and more.
Accounts payable- Ability to manage, track and report on numerous payment types. Customize and automate complex purchases-to-pay workflow.
Seamless integrations- Smoothly integrate with various kinds of business applications. Furthermore, you can seamlessly integrate with Salesforce.
Integration- Provide integration with accounting and financial management software integrate with payment gateways and enterprise payments software
For more information: Read, Best QuickBooks Alternatives
Bottom line
Above is a brief review of the 20 best accounting software for small businesses. Most of the software has a free trial period why not check the application software in real time?
You can start with our top choice QuickBooks and use its feature and let your research on. Also if you are looking for the best Premium WHMCS Theme for the web hosting company, then must visit this link.