Who are QuickBooks ProAdvisors
QuickBooks ProAdvisors are basically an accountant, a bookkeeper or a CPA who have passed a certification test taken by Intuit QuickBooks and offers you a variety of services such as accounting, bookkeeping, tax, and financial planning, along with the setup of QuickBooks, installation, customizations, error fixing etc.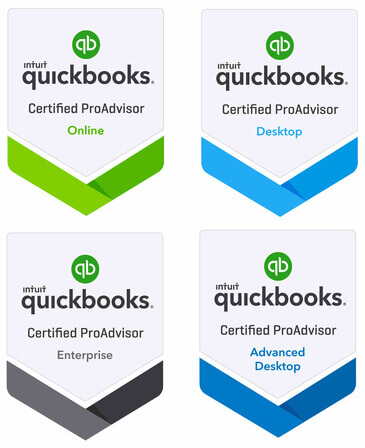 QuickBooks ProAdvisor provides the strategic tools after identifying the exact position of your business and helps you to achieve its highest position.
So QuickBooks ProAdvisor main aim is to support you to enhance your accounting management and to grow your business by using QuickBooks at its best.
QuickBooks ProAdvisor Program
The QuickBooks ProAdvisor Program is a complete process of becoming an Intuit certified ProAdvior. It empowers the accounting experts to help you to grow your business with their expert advice and guidance by providing the best tools and strategic methods that your business needs.
QuickBooks ProAdvisor Program comprises of software, tools, and resources for accountants as well as bookkeeper. This program has everything that offers you benefits and resources which helps you to grow as much as you can and improve your own practice.
In this article, we will discuss the benefits, discounts, and software used in this program.
How to become a QuickBooks ProAdvisor
There is only a way to become a QuickBooks ProAdvisor, is to clear the QuickBooks certification exams.
Read: How to become a QuickBooks Certified Proadvisor?
Benefits Of The QuickBooks ProAdvisor Program Membership
There are numerous benefits of the ProAdvisor program that will help you to know your full potential and take your business to its uttermost supreme position.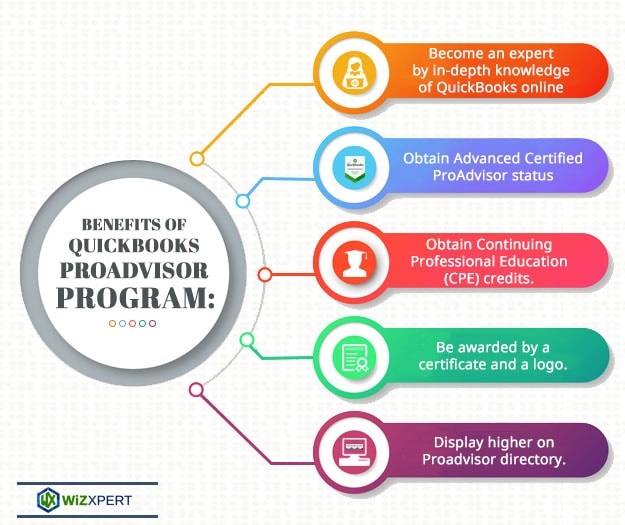 1. QuickBooks Online Accountant
When you sign up for the QuickBooks online accountant, then you are eligible to be a part of the QuickBooks proAdvisor membership program.
It is specially designed for you to enhance your accounting skills and your business. When you sign up for any version of the ProAdvisor Program, you instantly receive a free QBOA firm company. The QuickBooks Online Accountant is your all-in-one Proadvisor portal, keeping your Desktop and Online benefits with each other in one place.
QuickBooks Online Accountant gives you the following features:
Client List– You can easily access and manage all your QBO clients
Your Books– You can manage your own firm's finances for free
Practice Management– stay on top of your day-to-day work so that nothing slips through the cracks
Wholesale Billing– You can get a special discount on QuickBooks Online companies/products for your clients
The ProAdvisor tab – You can access your certifications, discounts, and software.
2. Training and Certification Courses
It doesn't matter wherever you are in your career, QuickBooks accounting products make it easy to get certified and develop your skills. You can easily get Certification Courses and training from QuickBooks ProAdvisors. All memberships come with certification courses where you can use your knowledge and earn CPE credits. Free memberships provide QuickBooks Online certifications. Deluxe and Premium memberships add certifications for Desktop software.
Became certified unlocks the new benefits for you .i.e,
A higher Proadvisor tier- from Silver to Gold
Support from US-based experts
A listing on the Find-a-Proadvisor site.
After becoming an Advanced certified, your tier increases from Gold to Diamond, proffering you higher quality support and a higher-ranked Find-a-Proadvisor listing.
3. Find-a-ProAdvisor listing
You can easily find QuickBooks ProAdvisor on Wizxpert. All versions of the ProAdvisor Program include a listing on the Find-a-Proadvisor site, a directory of accounting professionals that thousands of small businesses use to find and connect with ProAdvisors.
If you successfully achieve at least one certification, you'll be eligible to publish your own profile so that clients will discover you. For more information read how to publish and manage a QuickBooks ProAdvisor Profile.
4. Technical Support
QuickBooks ProAdvisors provide you full 24*7 technical support. All Proadvisor memberships include infinite access to chat and phone support. Free memberships include support for QuickBooks Online. Paid memberships add support for both QuickBooks Online & Desktop software.
5. Rise according to the Rank
After becoming a proAdvisor opens too many benefits for you to grown up in your business. The more you grow, the more you earn the rewards and points.
Here are the details of the points and descriptions of how to earn it.
| | | | | |
| --- | --- | --- | --- | --- |
| Marketing Tools | Silver (0-199) points | Gold (200-799) points | Platinum (800-1,599) points | Elite(1,600+points) |
| In Find-a-ProAdvisor Directory list | ✔️ | ✔️ | ✔️ | ✔️ |
| Constant Contact Email marketing tool | ✔️ | ✔️ | ✔️ | ✔️ |
| Squarespace website builder | 15% | 20% | 25% | 30% |
| Intuit Marketing Hub | ✔️ | ✔️ | ✔️ | ✔️ |
| QuickBooks ProAdvisor merchandise store | | ✔️ | ✔️ | ✔️ |
| | | | | |
| --- | --- | --- | --- | --- |
| Product Support | Silver | Gold | Platinum | Elite |
| Chat and phone support | ✔️ | ✔️ | ✔️ | ✔️ |
| Priority Chat and phone support | | | ✔️ | ✔️ |
| | | | | |
| --- | --- | --- | --- | --- |
| Training | Silver | Gold | Platinum | Elite |
| Online certification and training | ✔️ | ✔️ | ✔️ | ✔️ |
| In-the-know webinars | | ✔️ | ✔️ | ✔️ |
| Professional QuickBooks online training for your clients | | | ✔️ | ✔️ |
| Training to improve your resolute | | | | ✔️ |
| | | | | |
| --- | --- | --- | --- | --- |
| Services and Software | Silver | Gold | Platinum | Elite |
| Free QuickBooks Online Accountant | ✔️ | ✔️ | ✔️ | ✔️ |
| Payroll for firm | ✔️ | ✔️ | ✔️ | ✔️ |
| QuickBooks Online for a firm | ✔️ | ✔️ | ✔️ | ✔️ |
| Heavy discount on client QuickBooks subscriptions | ✔️ | ✔️ | ✔️ | ✔️ |
| ProAdvisor partner app discount | ✔️ | ✔️ | ✔️ | ✔️ |
| QuickBooks payment discount | ✔️ | ✔️ | ✔️ | ✔️ |
| Discounted ProConnect Tax online return | | 10% | 15% | 20% |
| Forms, checks and supplies discount | ✔️ | ✔️ | ✔️ | ✔️ |
| Tsheets time tracking | ✔️ | ✔️ | ✔️ | ✔️ |
How to earn these points?
25 Points
Add a QuickBooks independent subscription for the client.
50 Points
Add a QuickBooks online subscription for the client.
Add a QuickBooks online Payroll subscription for the client.
100 Points
QuickBooks online complete certification
QuickBooks Desktop complete certification
Buy ProAdvisor Deluxe or Premium for desktop
200 Points
For QuickBooks online, complete advanced certification is there
Intuit Launches Redesigned QB ProAdvisor Program With New Points-Based System And Innovative Benefits
Intuit has recently released a press release that providing further support to the accountants. Other than customer support, training and software discounts, the program offers some other benefits also which are as follows:
To show their expertise, they can access for gold, silver, and Elite members.
There are some guides, templates and marketing resources of the new Intuit Marketing Hub, which only a Proadvisor can access.
You have to grow your practice workshops and Masterclasses to improve the business.
There are some special discounts for the ProAdvisor who want a deeper connection with the clients.
QuickBooks Advanced Certification
As per the official website, after May 22, 2016, all QuickBooks ProAdvisor should be completed advanced certification with 9 CPE credits of Advanced Continuing Education(ACE) approved training. This is to be done within the 3 years of getting Advanced ProAdvisor Certification. And after every 3 years, you have to earn 9 CPE credits again to maintain your status.
ACE-approved training has live webinars and classroom events given by Advanced Certified ProAdvisors which is pre-approved as ACE sponsors namely Mario Nowogrodzki, CPA, CITP of Mendelson Academy, as well as Michelle Long, CPA, and Hector Garcia, CPA, of QB power Hour and attend training any of these as per convenience and your practice.
Benefits of QuickBooks Advanced Certification?
Become a professional by acquiring in-depth knowledge of QuickBooks online.
Obtain Advanced Certified ProAdvisor status and be awarded by a certificate and a logo.
Obtain Continuing Professional Education (CPE) credits.
Once Advanced Certified, then, in the ProAdvisor directory, you will display higher. ProAdvisor directory is where small Businesses find bookkeepers and hire Accountants for their business.
What You Will Learn In This Program?
Working on the data conversion process.
Payroll advanced features.
How the uncommon transactions processed.
In your client's file, how to process adjusting the transaction.
Managing users and company settings.
Managing table of accounts.
Advanced features for bank rules and online banking.
Budget setups.
Tips and Tricks.
Some Useful Tips For Advanced Certification Exam
Exam level is moderate and you just need basic knowledge of QuickBooks in order to pass the exam. You will also require a general knowledge of bookkeeping to answer QuickBooks Proadvisor Online certification exam questions.
Always remember to follow the procedure in the QuickBooks manual.
Read all the questions carefully.
Your focus should only be on the topic and question provided.
Do log in to course locker, into the Advanced certification Exam, Print the questions. It will never count as an attempt unless you tap on "Submit".
Remember to view almost every question in the course manual. Prepare yourselves according to these questions in the webinar.
This certification course helps you to be an expert in QuickBooks. Therefore, we suggest you go for this certification. Apart from this, it will help you to find a ProAdvisor website.
How long does the QuickBooks certification process take to complete the exam?
The QuickBooks Desktop Certification exam will take up to four hours. They also offer you with the certification courses to assist you to pass the exam which will take up to twelve hours to complete.
The QuickBooks online Certification exam will take up to three hours. Intuit offers you the certification courses to assist you to pass the exam which will take up to seven hours to complete.
Note: For users that have completed the previous year's certification, you'll take a shorter exam on "What's new" within the current year. This exam takes approximately half-hour to complete.
The QuickBooks Point of Sale or QuickBooks Enterprise Solutions Certification will take up to 2 hours each.
The QuickBooks Desktop Advanced Certification coaching modules take approximately ninety minutes to 2 hours to complete. The time to read and study the coaching guide depends upon you. The exam itself is extremely troublesome and can take many hours to complete. Several ProAdvisors complete the exam in many sittings, and lots of don't pass on their 1st try.
So make up your mind and do your certification as early as possible.
QuickBooks ProAdvisor Program membership and cost
When you join the ProAdvisor program, many benefits are available for you which you can grab very easily. If you have desktop clients, you can also upgrade to a paid subscription that keeps you up-to-date with the latest desktop software as it releases.
Deluxe membership provides you QuickBooks Accountant Desktop and related benefits.
Premium membership provides you Enterprise, QuickBooks for Mac and Point of sale.
Here is the list of membership type with their benefits and description.
| | | | |
| --- | --- | --- | --- |
| Type of Membership | Price | Benefits | Description |
| Free | Free | QuickBooks Online Accountant (QBOA) with a free set of books for your firm. Client File Management tools. Practice management tools. Discounts for QBO and its features. Free online Payroll subscription for your firm. Technical support. Certification courses for QuickBooks online. | Adds Desktop Accountant and everything you need to support Pro and Premier Desktop clients. |
| Deluxe | $349 per year | Includes everything from the free membership, plus: QuickBooks Accountant DesktopTechnical Support (QBO and Pro/Premier/Accountant Desktop)Certification courses for QuickBooks DesktopDiscounts for Pro and Premier Software. | Adds Desktop Accountant and everything you need to support Pro and Premier Desktop clients. |
| Premium | $549 per year | Includes everything in Free and Deluxe membership, plus: QuickBooks Enterprise solutions. QuickBooks Point of Sale. QB for Mac.Technical support. Certificate courses for Enterprise and Point of Sale. Discounts for a variety of QuickBooks products. | The ProAdvisor Program Premium package gives you the tools and skills to serve any QuickBooks client. |
| Add-ons (Requires Deluxe or Premium | Price | Benefits | Description |
| Enhanced Payroll for Accountants with ProAdvisor discount | $279 per year | Run Payroll in QuickBooks Desktop for up to 50 EINs. Access all available Federal and state forms. | Run Payroll for your Desktop Clients at a sharp discount. |
QuickBooks ProAdvisor software downloads
You can easily download the QuickBooks Proadvisor program software.
Deluxe and Premium ProAdvisor memberships include QuickBooks Desktop software to help you support your clients.
Deluxe membership provides you QuickBooks Accountant Desktop.
Premium membership provides you with add Enterprise Accountant, QB for Mac, and QuickBooks Point of Sale.
As long as your paid Proadvisor membership is active, you'll receive the latest versions of your software automatically as soon as they release. You'll also keep any versions that you received previously, so your collection of the software will grow year by year.
To download QuickBooks software for ProAdvisor you need to follow these steps.
First, login https://camps.intuit.com/app/selfservice/index.html#signin with your ProAdvisor login credentials.
Go to Products and Services, choose the name of the product to install.
Make a note of the License and Product numbers needed for installation.
Click on the Download link to start the download.
You can search for your software at our Account Management site. Log in with your Proadvisor credentials to see your list of products. Select any product for license information and download links.
QuickBooks ProAdvisor Discounts For clients
We know the expectations of our clients for all versions of the ProAdvisor Program provide you to access special discounts for you and your clients. These include special rates for QuickBooks checks and supplies and services like Intuit Payments.
You can see your available discounts on the QuickBooks Online Accountant:
First of all, in the left-hand navigation menu, select ProAdvisor.
After that, select the Discounts or the Software & Discounts
You'll view each available discount as a title on this page. Choose any title to learn more about it and see how to claim it.
In addition to the discounts listed on that page, you can also take advantage of Wholesale Billing to purchase QuickBooks Online subscriptions for your clients at a sharply discounted rate.
Some of the discounts include:
QuickBooks online direct discount.
For Accountants, there is a wholesale discount.
QuickBooks Desktop discounts.
Checks and Supplies discount.
QuickBooks Payments special pricing.
In ProConnect Tax online- Free tax return.
Discount on QuickBooks Enterprise.
Deluxe or Premium ProAdvisors can also purchase Desktop software for their clients at a discounted rate. To use this discount, you must place an order through our sales line. See our Contact us page for more.
---
I hope this post will help you to know more about QuickBooks Proadvisor Program and grow your practice and become a smart business person. In addition, if you want more discussion related to this topic then you can call our intuit certified QuickBooks ProAdvisor at our QuickBooks Helpline +1-855-441-4417 toll-free.
Thanks for visiting us. you are always welcome here anytime if you have any other queries in your mind. you can also visit our QuickBooks Community to get answers to your queries from other business owners. In case, if you cannot find your query there, you can also post your question.