QuickBooks desktop is a one-time purchasing accounting software which you can use for small and medium-sized business. QuickBooks desktop requires installation on a computer. If you have a product-based business that has complex inventory tracking needs then QuickBooks desktop is for idle you.
Features of QuickBooks Desktop
Multi-monitor support- this is one of the new features of QuickBooks desktop. You can connect up to three monitors from the menu bar in QuickBooks. For doing this go to view and select multi-monitor mode.
Payroll liability and payment reminder- this is a second new feature of QuickBooks desktop in which u can. It ensures you and your clients are reminded of upcoming payroll liabilities payments.
Past due stamps on QuickBooks- it gives u visual confirmation that a customer's Invoice is past due displays on the screen when an Invoice has a Past Due balance.
Merge vendor record-The The new Merge Vendor feature provides a consolidated window to efficiently identify and combine duplicated vendor records.
Cash toggle on reports- With the simplicity of a click, users can toggle displayed reports between Cash or Accrual Basis
Search chart of accounts- New search box on the chart of accounts window offers you to find and select a chart of account or sub-account by typing an account number and the account name or partial words of an account name.
Updated email security- now QuickBooks desktop includes securely sending of emails from Gmail, Outlook, and Windows Live accounts through QuickBooks, using improved multi-factor authentication. Security includes signing in with your Intuit ID account. Once you set up, you do not need to enter your webmail password again when emailing from within QuickBooks.
Inventory report customization- Customizable display options added to the following inventory reports: Inventory Valuation Summary or Detail, Inventory Stock Status by Item and  Assembly Shortage by Item
Sales order fulfillment workflow- Access to picklist details on a mobile device that's connected wirelessly to a QuickBooks Enterprise file with Advanced Inventory. now QuickBooks desktop also offers  Real-time access to the status of sales order fulfillment in QuickBooks Enterprise.
Mobile inventory scanning- now you can pick quantities at the warehouse using a barcode on device or Android phone to record inventory. Mobile device recording of certain quantities improves accuracy and efficiency in the sales recording process.
QuickBooks desktop products
QuickBooks desktop has three products each one is good in their own way and has its own advantage and also great features which one is suitable for your business you can find by reading further:
Here are all 3 QuickBooks desktop products:
QuickBooks Pro: QuickBooks Pro is a GST ready cloud accounting software where users can store both the software and data online. It can be used for security purposes so that we can save the data of the industry.
QuickBooks Premier: <Click on the link
If you want to do the comparison you can follow this blog: What's the difference between Pro, Premier, and Enterprise?
Download QuickBooks desktop
Quickbooks desktop can easily download from the Intuit site.
Step1- After u click the link you need to fill some information like region type of QuickBooks and product.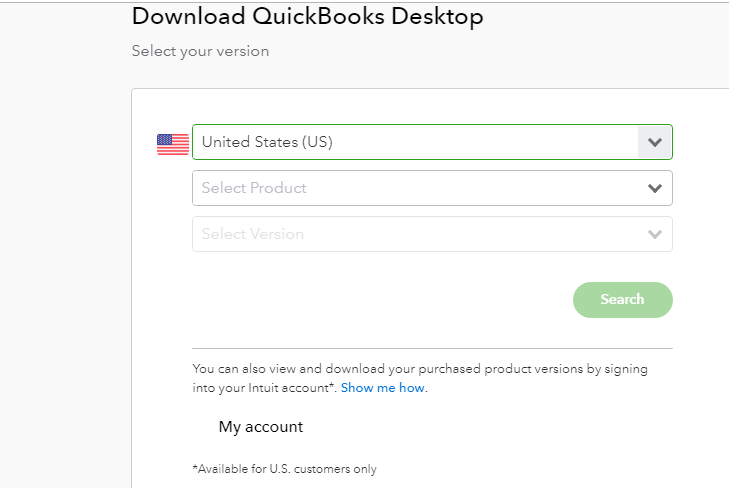 Step 2- After filling the information you can move forward to the next step and that is downloading QuickBooks desktop product you have chosen.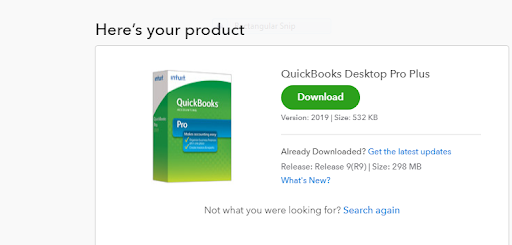 Step 3- now you have downloaded the QuickBooks desktop just install it and enjoy your business accounting easily.
Install QuickBooks desktop
 Go to the location where QuickBooks Desktop was saved when you downloaded it, and double-click the QuickBooks executable file to move further for the QuickBooks installation.
 Click Yes to All if How do I update my data to a new version of QuickBooks Desktop? prompted to overwrite the existing extracted files.
 Click Next.
 Now read the Software License Agreement and If you agree, select I accept and click Next.
 Now there must be blanks to fill license and product numbers enter your License and Product numbers and click Next.
 Click Next.
 Now select the type of installation for the computer.
Express– This allows the user to make the recommended choices for them, including replacing your previous version of QuickBooks if you have one.
Custom and Network Options: Choose this if you want to use multiple versions of QuickBooks Desktop on the computer OR if you want to use QuickBooks to share data with other users on a network.
Select where you want to use QuickBooks. Note: If you select Express in the previous step, skip to step 10.
I'll be using QuickBooks on this computer – select this if you are not using QuickBooks in a network OR if you are installing on a computer that will be used for running QuickBooks and not to store the company file.
I'll be using QuickBooks on this computer, AND I will be storing our company file here so it can be shared over our network – select this if you will be running QuickBooks and storing or sharing the company file on the network.
I will not use QuickBooks on this computer. I will be storing our company file here to share it over a network. ( license is not required for this option.) – select this option if no one will be using QuickBooks on this computer and it will be used as a file server to share the company file over the network.
Click Install to continue the process, or click Back if you need to go back and review any of the previous screens.
If any QuickBooks processes are running during the installation process, the installer will ask you to restart your computer. Otherwise, click Open QuickBooks.
After installation, activate QuickBooks and you're ready to use QuickBooks.
Conclusion
I hope now you are aware of all the features of QuickBooks desktop and you can download it easily. If you still have issues in the downloading process you can hire Intuit certified QuickBooks ProAdvisor to get help.