New to QuickBooks? Don't know how to set up and install the QB Desktop? Here's this article for you! It's a simple guide where you can learn how to download and install QuickBooks Desktop for both Windows and Mac versions. Also, get information about the different features of the QB Desktop.QuickBooks Desktop is recognized as one of the best accounting software that has to assist small and medium-sized businesses to grow. Each year Intuit arrives with a new version of the application software with the latest and enhanced features. Read the complete article to learn the downloading process, if you have any issues contact us toll-free:+1-818-295-3510
QuickBooks Desktop is a one-time purchasing accounting software that you can use for small and medium-sized businesses. It requires installation on a computer. If you have a product-based business that has complex inventory tracking needs then QuickBooks Desktop is ideal for you.
Freshly Intuit comes with a new version i.e, QuickBooks Desktop 2021. Nevertheless, the new version needs to be downloaded and then installed manually in your system. Here we will explain in detail how to do it as well as get information about its unique features. Read this article to learn how to download the QuickBooks Desktop trial version. Now, let us know some basic details about the product.
QuickBooks Desktop
QuickBooks Desktop has three versions, each one is good in their own way and has its own advantage and also great features which one is suitable for your business you can find by reading further:
Here are all 3 QuickBooks desktop products:
Features of QuickBooks Desktop
Multi-monitor support- this is one of the new features of the QuickBooks desktop. You can connect up to three monitors from the menu bar in QuickBooks. For doing this go to view and select multi-monitor mode.
Payroll liability and payment reminder- this is a second new feature of QuickBooks desktop in which u can. It ensures you and your clients are reminded of upcoming payroll liabilities payments.
Past due stamps on QuickBooks- it gives u visual confirmation that a customer's Invoice is past due displays on the screen when an Invoice has a Past Due balance.
Merge vendor record-New Merge Vendor feature provides a consolidated window to efficiently identify and combine duplicated vendor records.
Cash toggle on reports- With the simplicity of a click, users can toggle displayed reports between Cash or Accrual Basis
Search chart of accounts– New search box on the chart of accounts window offers you to find and select a chart of account or sub-account by typing an account number and the account name or partial words of an account name.
Updated email security- now QuickBooks desktop includes securely sending of emails from Gmail, Outlook, and Windows Live accounts through QuickBooks, using improved multi-factor authentication. Security includes signing in with your Intuit ID account. Once you set up, you do not need to enter your webmail password again when emailing from within QuickBooks.
Inventory report customization- Customizable display options added to the following inventory reports: Inventory Valuation Summary or Detail, Inventory Stock Status by Item, and Assembly Shortage by Item
Sales order fulfillment workflow- Access to picklist details on a mobile device that's connected wirelessly to a QuickBooks Enterprise file with Advanced Inventory. now QuickBooks desktop also offers Real-time access to the status of sales order fulfillment in QuickBooks Enterprise.
Mobile inventory scanning– now you can pick quantities at the warehouse using a barcode on a device or Android phone to record inventory. Mobile device recording of certain quantities improves accuracy and efficiency in the sales recording process.
Steps to download and Install QuickBooks Desktop
QuickBooks Desktop can be easily downloaded from the Intuit site.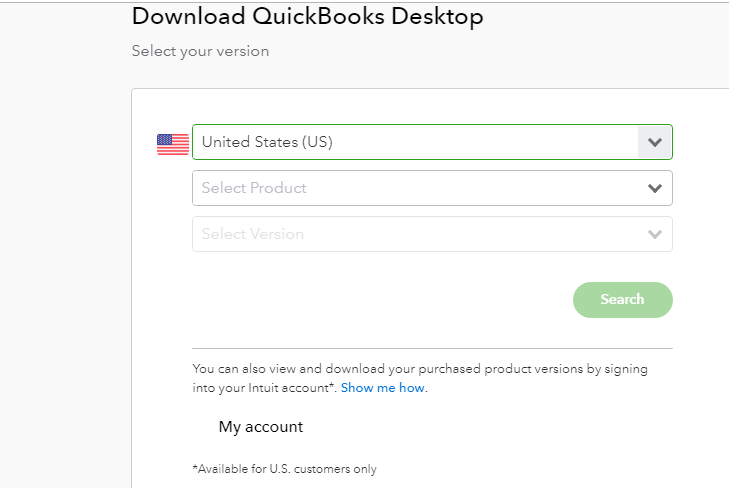 Step1- After u click the link you need to fill some information like region type of QuickBooks and product.
Step 2- After filling in the information you can move forward to the next step and that is downloading the QuickBooks desktop product you have chosen.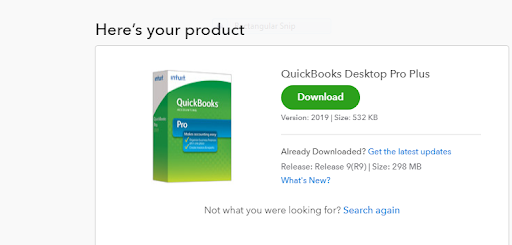 Step 3- now you have downloaded the QuickBooks desktop just install it and enjoy your business accounting easily.
Learn how to install QuickBooks Desktop step by step
After downloading QuickBooks Desktop. Now, it's time to install it. This article will help you whether you are reinstalling or installing it the first time.
Unfortunately, if you are facing any issue while installation then read this article.
First, we will learn about how to install QuickBooks for Windows:
Step: 1 Are you ready to install QuickBooks Desktop?
1. First, assured that the computer meets the QuickBooks system requirements.
System requirements for QuickBooks Pro/Premier 2019 and Enterprise 19.0
Your computer needs to meet complete system requirements to take the best experience of QuickBooks Desktop.
Operating System
* Windows 10, including all editions along with 64-bit, natively installed
* Windows 8.1 (Update 1), all editions with 64-bit, natively installed
* Windows 7 SP1, come with all editions including 64-bit, natively installed(it will only be continued until January 2020)
* Windows Server 2016
* Windows Server 2012 R2
* Windows Server 2011, Standard and Essentials
* Windows Server 2008 R2 SP1 (only supported until January 2020)
Note: QuickBooks needs you to use Windows natively and not by an emulator or practical environment.
Database Server
Windows (natively installed)
* Need Windows Server 2016
* Required Windows Server 2012 R2
* Windows Server 2011. Note: Windows Small Business Server 2011 is not perfect for QuickBooks Desktop.
* Require Windows Server 2008 R2 SP1
* Should have Windows 10
* Windows 8.1 (update 1)
* Windows 7 SP1 (Enterprise and Professional editions only, continued until January 2020)
Linux (Need to install when using QuickBooks Enterprise Solutions Database Server)
* OpenSuse 42.3
* Fedora 27
* Red Hat Enterprise 7 (RHEL 7.4)
Browser Requirement
Require Internet Explorer 11 (32-bit)
Requirement Hardware and Operating system (Client and Server)
Processor
2.4 GHz minimum
RAM
4GB minimum, but 8GB
RecommendedServer RAM Requirements
* 1-5 Users: 8GB RAM
* 10 Users: 12GB RAM
* 15 Users: 16GB RAM
* 20 Users: 20+GB RAM
Disk space requirement
* 2.5GB of disk space (additional need for data files).
* Specific software: 60MB for Microsoft .NET 4.6 Runtime, get on the QuickBooks CD.
* Offering additional services require for data protection in QuickBooks (applies to the US only).
A. Need for a minimum of 4.0GB RAM.
B. Double the size of the biggest file set to back up + 100MB or twice the size to restore. Space is only needed from the work folder LocalApplicationData+" Intuit\Intuit Data Protect".
Note: If you want to take the best experience and for best performance always store the QuickBooks data on a solid-state drive.
Windows requirements
* Require the US version of Windows.
* Regional settings are recommended when setting to English.
* Administrator rights needed for the server system when hosting Multi-User access.
* Natively installed -This means it was installed on an appropriate system or circumstances that it was designed for. This means it doesn't need to run in a virtual environment or emulation software.
Requirement Optical Drive
The requirement of 4X DVD-ROM drive CD installations (except QuickBooks is downloaded from the Intuit server).
Screen Resolution
* Should have Display optimized for 1280 x 1024 screen resolution or higher with up to 2 Outspread monitors.
* Extremely optimized for Default DPI setting for a given system.
Note: Make sure to have internet access.
Software compatibility
You can combine QuickBooks with hundreds of other apps. The following are the common apps you can use.
Note: Extra RAM can improve the use of these features.
1. Microsoft Office:
* Office 2016 (including Outlook 2016) both on 32 and 64-bit.
* Office 2010 and Office 2013 and 365 (including Outlook 2010 and Outlook 2013) both on 32 and 64 bit. Note: Office 365 is only supported when it is locally installed, not the web version.
* Email Estimates, Invoices, and other forms with Microsoft Outlook 2010-2016, Microsoft Outlook with Office 365, Gmail, Yahoo! Mail and Outlook.com, other SMTP-supporting e-mail clients.
* Preparing letters requires Microsoft Word 2016, 2013, or 2010 or Office 365 (includes 64-bit).
* Exporting reports requires Microsoft Excel 2016, 2013, or 2010 or Office 365 (includes 64-bit).
* Contact Synchronization with Microsoft Outlook requires Outlook 2010 (32-bit).
* Synchronization with Outlook requires QuickBooks Contact Sync for Outlook (the download is available at no charge). Note: Contact Sync does not work with the Microsoft Business Contact Manager Outlook plug-in. Syncing could cause duplicate records.
2. QuickBooks Point of Sale V18.0 and V12.0
3. TurboTax 2018 (Personal and Business)
4. Lacerte 2018 and 2017
5. Pro-Series tax years 2017 and 2016
6. Quicken 2018, 2017, 2016
7. QuickBooks for Mac 2016
8. Adobe Acrobat Reader: Business Planner, Payroll, and viewing forms require Adobe Acrobat Reader 9.0 or later.
9. Payroll and other online features and services require Internet access with at least a 56 Kbps connection speed (1 Mbps recommended). DSL or cable modem are recommended.
10. Gmail, Yahoo Email, Windows Mail, Hotmail, and AOL (i.e Mozilla Thunderbird Email Client*). Note: *Supports plain text version in Mozilla.
11. Internet Explorer 11
Firewall and antivirus software compatibility
QuickBooks Pro 2019, Premier 2019, and Enterprise 19.0 examined with the following firewall and antivirus programs.
Note: In some instances, you may require to modify some settings in these programs to get the best possible QuickBooks performance.
* Windows Server Firewall (all editions)
* Windows 8.1 Firewall (all editions)
* Windows 7 Firewall (all editions)
* Microsoft Security Essentials
* Avast
* AVG
* Symantec
* ESET
* Avira
* Kaspersky
* McAfee
* Bitdefender
* Malwarebytes
Note: Generally, QuickBooks will work with systems running RAID (Redundant Array of Inexpensive Disks) but this is not suggested because it may cause QuickBooks to operate slowly.
QuickBooks Desktop 2019 needs internet protection protocol TLS 1.2 for the connected services to work flatly.
2. Download your version of QuickBooks Desktop. And place the file at that location where you can easily find that.
3. You must have a product or license number.
Are you not getting a Product or License Number?
If you purchased QuickBooks directly from the official website of Intuit, then you can get this info in the original purchase email. And if you bought it from a retail store, then you can find it on the label on the original packaging.
Step 2: Install QuickBooks Desktop for Windows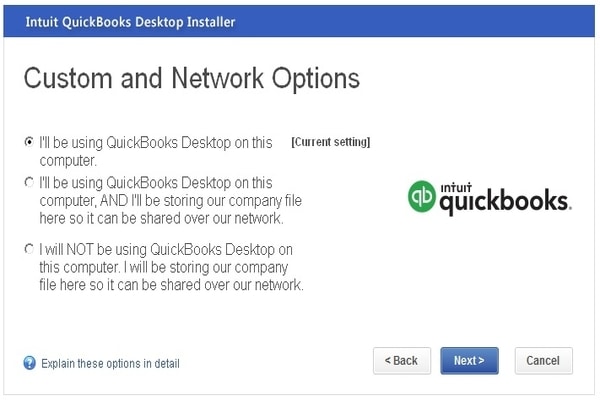 1. Open the downloaded QuickBooks Desktop version.
2. Then go through on-screen instructions. And read the license agreement and click Next for further process.
3. Mention the provided License and Product number. And click Next.
Step 3: Decide which install type is right for you
There are two options available to install QuickBooks Desktop.
Express Install
Custom and Network Install
Express Install
This installation process is recommended while:
If you are a new user
If you are trying to reinstall QuickBooks.
Want to use QuickBooks in a single system in which you are installing it (not as part of a network of computers).
To Express Install
Choose the Express and click on the Next option
Choose Install
After finishing, open QuickBooks to work on it.
Custom and Network Install
This process is recommended if:
If you want to install QuickBooks other than the default location for example on a server.
Treating your company files on a server.
If you want to set up a multi-user network.
To Custom and Network Install:
Choose the Custome and Network Options and select the Next option.
Then click on the option that helps you how you'll use QuickBooks.
Click the Change the install location on the next screen.
Then choose Browse to decide where you want to put your QuickBooks folder. Most people prefer to put it in their Programs folder.
After choosing the browser select Next to continue Installation.
When the installation is finished, click the Open option to start the QuickBooks.
Step 4: Activate QuickBooks Desktop
After installation, it will ask for activating and update QuickBooks Desktop.
Follow the given below steps to activate or register QuickBooks Desktop after installation. After QuickBooks installation, you need to activate it before starting. QuickBooks also assist you to activate it, but if you want to activate it manually so you can do so.
For activating QuickBooks:
First, Open QuickBooks.
Click Activate QuickBooks Desktop from the Help menu.
Then follow the instructions on the screen to verify your info.
After finishing all these steps, QuickBooks will be activated and you're ready to work in it.
If you want to install QuickBooks Desktop for Mac, then follow the given below steps:
Install QuickBooks Desktop for Mac
Required help to install and set up QuickBooks Desktop for the Mac version? Here are a step-by-step guide and something you should know to install QuickBooks Desktop in Mac.
Step 1: Assure that QuickBooks Mac Desktop will run on your system
Verify the minimum system requirements for Mac version of your QuickBooks for smooth work and fast installation.
System Requirements for QuickBooks Desktop for Mac
System Requirements
At least macOS 10.12 (Sierra); supported by macOS 10.13 (High Sierra), macOS 10.14 (Mojave).
Intel processor, Core 2 Duo or higher.
Multiuser Server: Intel Core 2 Duo or higher processor to run a server.
2 GB RAM (4 GB RAM recommended).
250 MB of available disk space.
CD/DVD drive or Internet connection for downloaded installation.
Printer: 100% Macintosh-compatible printer, if you plan to print invoices, checks, deposit slips, lists, purchase orders, mailing labels, reports, or graphs.
Checks: Use Intuit Checks if you plan to print checks. Canadian Image Ready Checks are not supported.
Product registration required.
Software Compatibility
Note: If the product specifications above don't accurately state an operating system, hardware, software, firewall, or antivirus is supported, it may not be tested. Intuit is not sure that it will provide you trouble-free experience. If you feel problems outside of the sustained environment, technical support will be limited to regular troubleshooting. If unsolved, the program should be delivered to a supported ecosystem for additional support.
If Microsoft doesn't support the aforementioned products, then neither shall Intuit.
Step 2: Get your license and products numbers
Download your product: You will receive a confirmation email. Which contains the license and product number. By chance, if you don't receive your license number you may regain it. Or contact support for further assistance.
Download With CD: You can see the scratch-off label of the package.
Step 3: Download and install QuickBooks Mac Desktop
Start the installer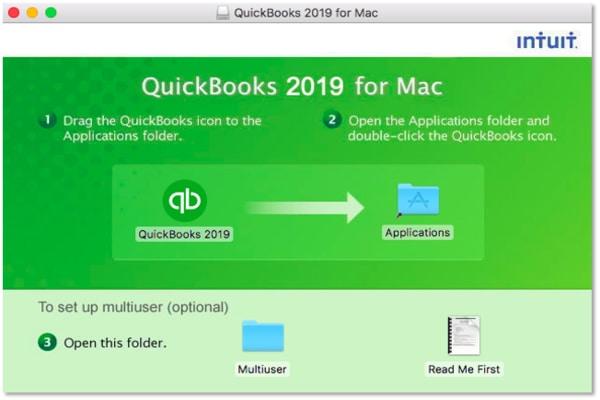 First, download your QuickBooks Desktop for Mac version
You can also use the CD installer (as you purchased from a retailer)Note: If you are undergoing difficulties with the process while downloading the installer, you may require to free up the browser's cache and cookies or try to use a different browser.
Ready for Installation
Close all running background applications.
Then enter the QuickBooks CD into the CD-ROM or can double-click the downloaded installer. Automatically the QuickBooks installation window will open.
Move the QuickBooks icon to the Applications folder. And the application folder will also automatically open.
And double-click on the QuickBooks application to open it.
Step 4: Update and convert your company file
If you upgraded from the previous version of QuickBooks then you need to update your company file to work to the newer version.
Open the company file in the latest version.
If QuickBooks prompts you to update or convert the company file, select the Upgrade option.
After you get an initial message, click on OK.
Checkout your balances, reports, and accounts to assure the correct company file is converted.
Step 5: Set up multi-user (Optional)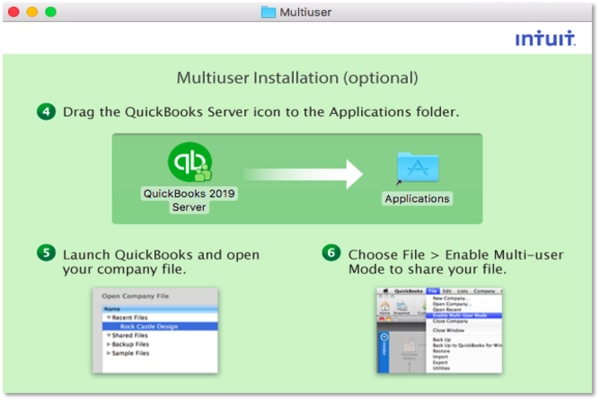 If you are using more than one user license, then you may be set up QuickBooks in multi-user mode to ensure that more users can access the file at the same time.
First, open the Multi-user folder.
Move the QuickBooks Server icon to the Application folder.
After mentioned, select Authenticate to mitigate the Applications folder and insert the Admin username and password. And click OK.
Drive QuickBooks and start your company file.
Click on File, and then choose to Enable Multi-user Mode to share your company file.
I hope now you are aware of all the features of the QuickBooks desktop and you can download it easily. If you still have issues in the downloading process you can hire Intuit certified QuickBooks ProAdvisor to get help.