Read this article to learn what is QuickBooks certification, how to access it, and what are its different levels. Also, learn why it is important to become certified in QuickBooks and how it helps you in your accounting and tax practices. Intuit always keeps updating its products. This is the reason why they always release the new version of the certification exams and offer a program to upgrade your skills to better serve your clients. This article will help and guide you through the process. If you have any queries, you can contact our QuickBooks ProAdvisor for better support. Connect by dialing our toll-free number +1-844-405-0904.
Who is QuickBooks Certified User?
Certified users earn the certification by clearing the exam. That denotes newly gained QuickBooks skills for the position of professional accountancy and effectively illustrates bookkeeping skills, including using QuickBooks purchase orders, tracking sales and expenses, monitoring financial records, and producing or maintaining invoices.
If you are thinking that why you require a QuickBooks certification then read the skills you will get by having this certification.
In QuickBooks, a variety of skills including
Working with lists
Using other QuickBooks accounts
Receiving payments and making deposits with the software
Entering and paying bills
Analyzing financial data in QuickBooks
Boost Your Career with QuickBooks Certification
If you want to become QuickBooks certified, three terms you must keep in your mind. Attend the program, prepare and take an exam.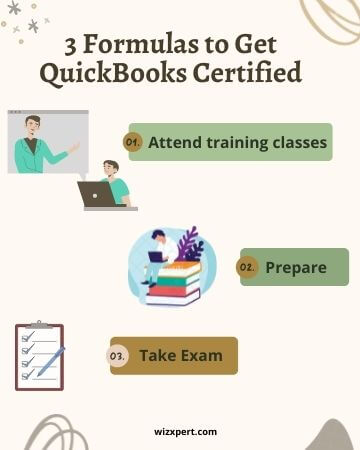 Attend Training
Intuit's two-day QuickBooks mastering class is the best way to start your journey for QuickBooks Certification. In this class, you can learn how to setting up QuickBooks to handle money in, money out, payroll, banking, and many more.
Prepare For The Certification Exam
QuickBooks training classes are the foundation of QuickBooks Knowledge. After completing the first step of training, you can prepare yourself for the exam. When the training is complete, then you will go for a QuickBooks certification study guide. You will also get the sample exam questions. The best part of all this is that these resources are free for you. So, you can prepare yourself for the exam free of cost.
Take the Exam
As you are almost done! The final step is the QuickBooks certification exam. After attending training and preparing for the exam, the official exam will open for you. The time will be of two hours (According to an official exam).
Sign up with your details and start the exam by NACPB or other official online association. The accountant training and testing center arranges the online exam.
Is the Exam Tough or Simple?
The exam consists of 50 multiple choice questions and you must score at least 80%. After clearing the exam, you will receive an official certificate.
Your certification will only be valid for one version of QuickBooks. You need to re-certify every year to keep your QuickBooks certification up-to-date.
QuickBooks Certification Levels
Intuit offers the following certifications:
QuickBooks Certification (Desktop version)
QuickBooks Online Certification
QuickBooks Point of Sale Certification
QuickBooks Enterprise Solutions Certification
Note: Advanced version of the QuickBooks Desktop certification will be discontinued on December 31, 2018.
Prerequisites for each QuickBooks Certification
Requirements depends on the courses:
QuickBooks Desktop Certification and QuickBooks Online Certification: You don't need to meet any prerequisites for these basic courses.
QuickBooks Point of Sale and QuickBooks Enterprise Solutions certifications: After you take the QuickBooks Desktop Certification exam, these courses will be available for you.
QuickBooks Desktop Advanced Certification: This course is available to you after being certified in three consecutive years of the QuickBooks Desktop Certification exam then.
QuickBooks Online Advanced Certification: This course requires an active QuickBooks Online Certification.
Why QuickBooks Certification is Required?
Explore all the ways how QuickBooks Certification can raise your business.
ProAdvisor Rewards
The payoff to match your prestige
After being QB Certified ProAdvisor, you will get a chance to earn points and rewards to grow your business and lift your clients. Some points are given below:
Free listing on Find-a-ProAdvisor, which creates almost a quarter-million leads annually worldwide.
Free QuickBooks Online, Payroll, and time-tracking
Discounted apps, services, supplies, and ProConnect tax returns
Unlimited phone, chat, and email support
Product Expertise
Techniques that inspire trust
By doing a basic setup to the latest tools, gain soup-to-nuts mastery in QuickBooks. Whether you are using new or advanced, cloud or Desktop. Intuit helps you, so you can develop your skills because your clients depend on you.
Market Resources
Trustworthiness that your clients can see
With the help of the certification, you can get access to premier marketing resources to identify your firm, get leads and build your brand.
Certification badges to let prospects know you're an expert
Free templates, guides, and more on the Intuit Marketing Hub
Discounted email marketing through Constant Contact
Discounted Squarespace website builder
ProAdvisor merchandise
Re-certification: Protect your status
As you know that Intuit regularly updated their product, that is the reason you required re-certification. Every year Intuit asks you to pass a short re-certification exam by July 31 to protect your status and for ProAdvisor rewards and points.
A crash course in what's new in QuickBooks Online is available
Training options available just for re-certification
Shorter exam than original certification
How To Become a QuickBooks ProAdvisor
If you have knowledge of accounting, you will easily understand the QuickBooks ProAdvisor program. Intuit provides free online ProAdvisor programs. If you want to use the full benefits of QuickBooks ProAdvisor, such as access to desktop versions also, there is a small annual fee involved. The fee covers access to the currents year's QuickBooks Desktop and Enterprises Solutions software.
It is already discussed that it is available free of cost. So, it depends on you whether you choose the free or paid version of the program. Training provides virtual conferences and free live training events. You can also prepare with the QuickBooks ProAdvisor certification exams Questions and answers.
QuickBooks Desktop Certification and Badges
Desktop self-placed training, exam, and certificate badge all are available in QuickBooks Online Accountant. New features are:
Updated self-placed training and exam
You can update the certification badge
Provide downloadable certificate and ProAdvisor badge.
Also updated certification history section.
After being QuickBooks Desktop certified, make an easy place in the find an accountant site to promote your firm and ProAdvisor badge.
For new QuickBooks Desktop Accountants and Bookkeepers
First sign-up for a free QuickBooks Online Accountant file.
Select ProAdvisor within your Practice option.
Choose the Certification tab.
Then review the QuickBooks Desktop Training and Certification drop-down list.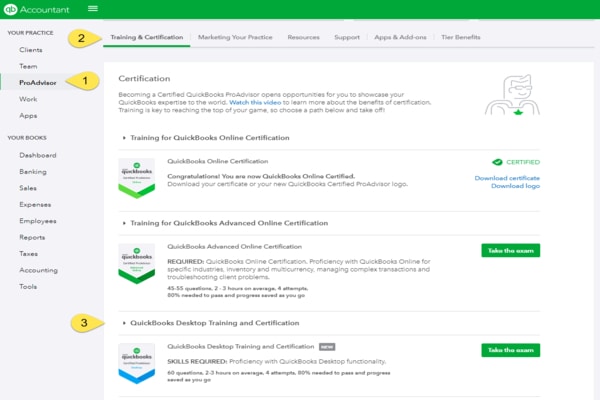 Existing certified QB Desktop ProAdvisor doesn't require recertification.
Available Training
1. Training with exam
| | | | | |
| --- | --- | --- | --- | --- |
| Certification | Allowed # of Attempts | Time To Complete Exam | Passing Score | CPE Credit for Training |
| QuickBooks Online | 3 | Approx. 6.5 hrs | 80% | 8.0 |
| QuickBooks Online Advanced | 4 | Approx. 2 hrs | 80% | n/a |
| QuickBooks Desktop | 4 | Approx. 3-4 hrs | 80% | 18.5 |
| QuickBooks Point of Sale | 4 | Approx. 2 hrs | 80% | n/a |
| QuickBooks Enterprise Solutions | 4 | Approx. 2 hrs | 80% | 4.5 |
| QuickBooks Desktop Advanced | 4 | Approx. 9.5 hrs | 80% | n/a |
2. Non-exam training
| | | |
| --- | --- | --- |
| Training | Time To Complete Exam | CPE Credit for Training |
| Introduction to QuickBooks Online for Accountants | Approx. 1.5-2.5 hrs | 2.5 |
| QuickBooks Self-Employed | Approx. 2.5 hrs | 4.4 |
Types of QuickBooks Certification
Recertification varies, and it depends on the types of certification you have:
QuickBooks certification: To always persist as a Gold Level member, you must be required to certify in one of the three most recent QuickBooks Desktop version certifications or within the past 365 days for QuickBooks Online. But, we always recommend you update your QB Certification status every year to ensure that you are providing the highest level of information and support to your clients. And one more thing is only that users who are certified in the latest version of QuickBooks are placed at the top of the QB Find-a-ProAdvisor Website.
QuickBooks Online Certification: We recommend you to give an exam every year to stay updated with your QuickBooks Online knowledge. Because QBO certification is only valid till July 31st of the following year. Like QB Desktop certification, a member who is certified for the latest version of QBO is placed at the top of the QuickBooks Find-a-ProAdvisor Website.
QuickBooks Point of Sale (POS) Certification and QuickBooks Enterprise Solutions Certification: POS and Enterprise Solution certifications are offered on a two-year cycle. For the update, you only need to certify these once every two years.
QuickBooks Desktop Advanced Certification: After completing the Advanced Certification exam, you will never require to take it again, and you will always be Advanced Certified as long as you manage your annual QuickBooks Desktop Certification and need to complete nine CPE credits of ACE-approved training, every three years.
How is QuickBooks certification beneficial?
Complete QuickBooks Certification course provides valuable benefits. QuickBooks certified experts gain good experience.
Advanced Knowledge of QuickBooks: You could learn all the things by trial and error because it is only a good learning method or tricks of QuickBooks.
Troubleshooting skills: This course guides you through how to troubleshoot technical issues, such as bank feeds, how to fix an out-of-balance sheet, and other related issues in QuickBooks.
Train to others: Once you certify by QuickBooks or as a QuickBooks expert you easily train anyone online or offline and earn money.
While using QuickBooks, users face many issues and problems such as how to use QuickBooks, how to use QuickBooks Online, how to install QuickBooks updated version, etc. QuickBooks certified trainer or QuickBooks ProAdvisor easily solves these queries.
Join the QuickBooks training college and Community college and provide the training to others.
Frequently Asked Questions
Here we are providing some frequently asked questions by QuickBooks users. Read the following to know more.
How long is QuickBooks certification?
The length of the QuickBooks certification process depends upon the certification type.
1. QuickBooks Online Certification exam can take up to 2 hours to complete. QuickBooks provides a training course that takes 7 hours. 
2. QuickBooks Desktop Certification exam can take up to 4 hours to complete. The training course is also available that can take up to 12 hours. 
3. QuickBooks Enterprise Solutions and QuickBooks Point of Sale certification exams can take up to 2 hours each to complete. 
4. If you are already certified, you can take a short "What's new" exam for the current year. It takes approximately 30 minutes.
Do you have to renew your QuickBooks certification?
QuickBooks will not ask you to submit ACE Credits to maintain your QuickBooks Certification status. You will need to take a short recertification exam each year based on your certification level, to maintain your certification. This exam focuses on the changes in the new version. 
How do I know if my QuickBooks certification is still valid?
You can see your certification anytime from QuickBooks, whether it is active or not. If the status shows inactive, you need to renew it. Look at the steps below for how you can check your certification status:
1. Sign in to the QuickBooks Online Accountant.
2. Select the Team menu.
3. Click the Training tab.
How do I download certification badges?
You can download your certification badges within 60 minutes of passing the certification exam. After that you can download your badges with the following steps:
1. Open QuickBooks and select the ProAdvisor menu.
2. Click the Training tab.
3. Look for your available certificates.
4. Click on the Download Certificate ▼ and download the badge or certificate.
We hope you understand how to become a QuickBooks Certified and learned all you should know. If you need more discussion on this topic, get connected with our QuickBooks ProAdvisor. Our experts are well trained and always there to help you. Contact our toll-free QuickBooks support +1-844-405-0904 number.