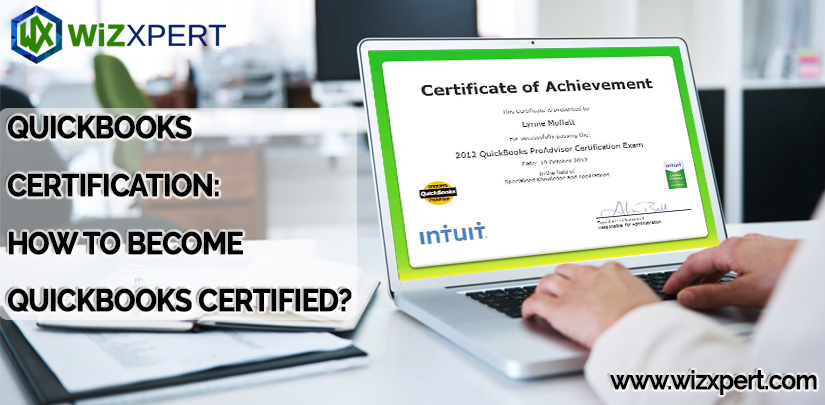 I love to share how becoming a QuickBooks Certified ProAdvisor and How important is getting QuickBooks Certification? And also how benefited it is for your accounting and tax practice! You know that QuickBooks is small business accounting software and it supports individual or small business, 2 million or more than users worldwide and 75% plus market share use this software or they prove it.
Intuit, the maker of QuickBooks bookkeeping software, many users certified with this for any number of reasons.
If you have the basic and fundamental understanding of bookkeeping so you easily learn to QuickBooks otherwise first you get more knowledge about QuickBooks then you start.
Intuit authorized QuickBooks certification are also available through NACPB(National Association of Certified public Bookkeepers).
Boost Your Career with QuickBooks Certification:
If you want to become QuickBooks certified, three-term fix in your mind Attend the program, Prepare and Take Exam.
Attend training:
Attend a class of QuickBooks training, because Quickbooks class are the great path for starting of QuickBooks certification. The trainer provides the full knowledge of QuickBooks handling money in, money out, banking, payroll etc. You search the class in your nearby location or online center.
Preparing For The Certification exam:
After completing the first step of training you prepare yourself for certification. This certificate only related to QuickBooks supporting accounting software, it does not make you certified as bookkeeper or accountant.
If you think of what to expect from the exam? You read the variety of skills of QuickBooks described Below:
In QuickBooks variety of skill included
Working with lists
Setting up the software
Using other QuickBooks accounts
Receiving payments and making deposits with the software
Entering and paying bills
Analyzing financial data in QuickBooks
Check yourself which type of certification best suited for your work:
Intuit offers different versions of Quickbooks and these versions have different certification level. Some certification are listed below
Proadvisor without Certification: On this level, you receive only QuickBooks material. You will learn the QuickBooks skill on this level.
Proadvisor with certification in QuickBooks Pro/Premier: This is simplistic certification of QuickBooks related to Pro and Premier.
Proadvisor with certification in intuiting QuickBooks Enterprises Solutions: With this certificate, your focus on Intuit Quickbooks Enterprises solutions and this certification test are more complex.
And Proadvisor with certification in QuickBooks Point of sale
Advanced certified Proadvisor: At this level, you will testes advanced functionality of product, detail job costing and several other advanced areas.
A final point of preparation is to buy an exam study guide or online tutorial guide.
Take Exam:
Firstly you practice on several free online exams of Intuit QuickBooks. The Officials exam is open book, and time them for two hours(According to an official exam).
Sign up with your details and start the exam by NACPB or other official online association. Accountant training and testing center arrange the online exam.
Strat your exam, follow the instruction and also pay the fees of the exam and if you fail in this exam you pay the reexamination fees.
How much Fees of QuickBooks Certificate?
Now one Question in your mind how much fees I paid for an exam? NACPB member pays $100 and not a member pay $150 or every association has different exam fees.
Reexamination fees are NACPB member is $50 or non-member is $75.
Is the exam tough or Simple?
An exam consists of 50 multiple choice questions, you must score at least 75 %, you clear the exam and you will receive the official certificate. Now you free to use this certificate logo on market as potential employers.
Your certification will only certify you for one version of QuickBooks, you re-certifying every year or several years to keep your QuickBooks certification current.
Sources of QuickBooks Certification:
Online Courses:
Its very simple step, Technical school or community college provide the online courses and you earn the certificate online.
Online training courses include most features like free videos on youtube, self-paced courses etc. QuickBooks online courses are few or short months courses and videos also help to learn the QuickBooks. Many online training courses available for Quickbooks.
Real World Training is also available for QuickBooks. Intuit endorsed this course and provide real-world training certificate after clear the exam of Real World Training center.
Local small business center and community college:
If you manage the small business this is the best option for becoming QuickBooks certified user. Recently retired accountants and bookkeepers to teach their QuickBooks certification courses by these type of education centers so the student learns the real-life examples. You simply ask the questions and your doubt in the classroom or training center. You choose the technical college or local community college its depend on you.
Become a QuickBooks ProAdvisor:
If you have knowledge of accounting so you easily understand with QuickBooks Proadvisor program. You use the Quickbooks online, becoming a ProAdvisor is free.  If you want to use full benefits of QuickBooks Proadvisor such as access to desktop software, there is the small annual fee involved. Fee cover access to the currents years Quickbooks Desktop and Enterprises Solutions software.
Intuit provides their Proadvisor with free certification training in all QuickBooks programs, it depends on you whether you choose the free or the paid version of the program. Training provides virtual conferences and free live training events.
QuickBooks Proadvisor has the two option of becoming or advanced certified in QuickBooks online. You choose the advanced certification, give the exam and earn the certificate.
Benefits of QuickBooks certification:
Quickbooks certification help to manage your small business very easily once you get the certificate you handle the market, there are many reasons for becoming a QuickBooks certified.
You start a new business:
You want to start a new business and probably take the responsibility of keeping your bookkeeping up to date, this certification is work as the first aid for you.  Because QuickBooks is user-friendly. Individually and small business accounts and their books are easy to manage by QuickBooks. When you certified by the QuickBooks you easily to use the software in your own end, now you can rest assured you are using it correctly.
Help you get a job:
If you expert in an account and you have good working knowledge of system or desktop and you have a QuickBooks certificate so you easily getting the job in these fields likes, Bookkeeping or office management and related work of QuickBooks. Once you make the command on Quickbooks or you confident with QuickBooks you get a high salary.
You are starting your own bookkeeping or accounting firm:
Fundamental accounting knowledge is the first key to start a new firm or business, if you have it, so anyone starting their own accounting or bookkeeping firm. One thing is also necessary for this field you easy to operate your clients' software effectively.
Bookkeeping store a record of your journal entries, its used for automation and other features of QuickBooks.
After you get a certificate of QuickBooks you will learn more features of related to QuickBooks and you easily increase the value to your clients.
Is QuickBooks certification Bad or Best?
Complete Quickbooks Certification course provides valuable benefits, QuickBooks certified expert gain good experience.
Advanced Knowledge of QuickBooks: You could learn all the things by trial and error because it is only a good learning method or tricks of Quickbooks.
Troubleshooting skills: This course guide you through how to troubleshoot everything from technical issues, such as bank feeds to how to fix an out of balance sheet and other related issues of QuickBooks users.
Train to others: Once you certify by QuickBooks or as Quickbooks expert you easily to trained anyone online or offline and earn money.
When users use the Quickbooks he has many problems and doubts also such as how to use QuickBooks? How to use QuickBooks Online? how to install QuickBooks updated version 2018? Etc. QuickBooks certified trainer or QuickBooks ProAdvisor easily to solve these Queries of users.
Join the QuickBooks training college and Community college and provide the training to others.
QuickBooks Proadvisor certification exam questions:
What are the two primary reports in QuickBooks?
Ans. Profit & loss and the balance sheet
What is the difference between ITEMS and ACCOUNTS?
Ans. Items are products and services that you sell. They are used on the transaction such as invoices and purchases orders. Accounts are categorized in which financial transactions are organized into reports, such as profit & loss balance sheet. Some accounts also carry the balance.
What is the difference between accrual and basis?
Ans. Accrual adding together of interest or different investments over a period of time. Accrual related to finance.
Only report income and expenses as they are paid in cash basis
What is the undeposited fund accounts?
Ans. Undeposited fund accounts is a temporary account when a payment is received from a client but not deposited in the bank yet.
What is a sub-account? And why would you use it?
Ans. A sub-account belongs to main or a parent account and it uses to create additional categories with the main category.
What does the collapse and expand button do on standard reports?
Ans. It shows or hides sub accounts
What is the main difference between QuickBooks Pro and Premier?
Ans. Premier can do sales orders, create P.O.'s straight from estimates or sales order, create the change order, industry specifics reports but all of these things Pro does no do.
What is the purpose of using a sales order, instead of an Invoice?
Ans. Sales order simply recorded a sale approved by a client but invoice is different, an invoice is to finalize sales once the product or services has been delivered.
How do you program QuickBooks to repeat recurring transactions?
Ans. Automatically transaction entry will create automatically the transaction in the future.
What are classes in QuickBooks and how would you use them?
Ans. Classes are used to create departments to measure profit and loss for each class.
I hope this post will help you to understand the process of getting QuickBooks Certification or become a QuickBooks Certified. If you need more discussion on this topic, Contact our QuickBooks Help number +1-855-441-4417 toll-free.