The QuickBooks Proadvisor Program: benefits, discounts and software
Last Updated on: January 17th, 2018
Posted by:

admin

Category:

Quickbooks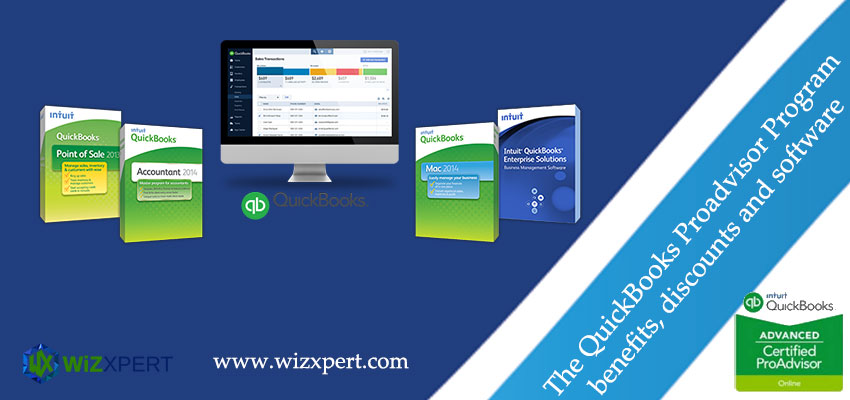 In today's article, we will discuss the QuickBooks ProAdvisor program like as benefits, discounts, and software. The QuickBooks ProAdvisor program is a collection of tools, software, and resources for accountants and bookkeepers. It's created to provide everything you need to support your QuickBooks clients and grow your own practice.
QuickBooks Online Accountant serves as your portal to all your Desktop and Online Proadvisor benefits, allowing you to manage your entire practice from just one place.
Read article: QuickBooks Auto Data Recovery-Using ADR File Sets
Many of these benefits are available when you join the ProAdvisor Program for free. If you have Desktop clients, you can also upgrade to a paid subscription that keeps you up-to-date with the latest desktop software as it releases.
Deluxe memberships provide you QuickBooks Accountant Desktop and related benefits.
Premium memberships provide you Enterprise, Quickbooks for Mac, and Point of Sale.
For more information, dial our QuickBooks Pro Support Number +1-855-441-4417
Membership Type
Price
Benefits
Description
Free
Free

QuickBooks Online Accountant(QBOA) with free set of books for your firm
Free Online Payroll subscription for your firm
Client file management tools
Practice management tools
Technical support(QBO Only)
Certification courses for QuickBooks Online
Discounts for QBO and its features

Adds Desktop Accountant and everything you need to support Pro and Premier Desktop clients.
Deluxe
$349 per year
Includes everything from the Free membership, plus:

QuickBooks Accountant Desktop
Technical support(QBO and Pro/Premier/Accountant Desktop)
Certification courses for QuickBooks Desktop
Discounts for Pro and Premier software

Adds Desktop Accountant and everything you need to support Pro and Premier Desktop clients.
Premium
$549 per year
Includes everything in the Free and Deluxe membership, plus:

QuickBooks Enterprise Solutions
QB for Mac
Technical support(All QuickBooks versions)
Certificate courses for Enterprise and Point of Sale
Discounts for a variety of QuickBooks products

The ProAdvisor Program Premium package gives you the tools and skills to serve any QuickBooks client.
Read article: How to fix QuickBooks Error 61686
Add-ons(Requires Deluxe or Premium)
Price
Benefits
Description
Enhanced Payroll for Accountants with ProAdvisor Discount
$279 per year

Run payroll in QuickBooks Desktop for up to 50 EINs.
Access all available Federal and State forms

Run payroll for your Desktop clients at a sharp discount.
Benefits of the ProAdvisor membership
QuickBooks Online Accountant
When you sign up for any version of the ProAdvisor Program, you instantly receive a free QBOA firm company. The QuickBooks Online Accountant is your all-in-one Proadvisor portal, keeping your Desktop and Online benefits with each other in one place.
QuickBooks Online Accountant gives you the following features:
Client List- You can easily access and manage all your QBO clients
Your Books- You can manage your own firm's finances for free
Practice Management- stay on top of your day-to-day work so that nothing slips through the cracks
Wholesale Billing- You can get a special discount on QuickBooks Online companies for your clients
The ProAdvisor tab – You can access your certifications, discounts, and software
After you've signed up for the ProAdvisor program, you can access QuickBooks Online Accountant by logging in at qbo.intuit.com.
Read article: Cannot Open QuickBooks Portable Company File
All memberships come with certification courses that you can use your knowledge and earn CPE credits. Free memberships provide QuickBooks Online certifications. Deluxe and Premium memberships add certifications for Desktop software.
Becoming certified unlocks new benefits:
A higher Proadvisor tier- from Silver to Gold
Support from our US-based experts
A listing on the Find-a-Proadvisor site
If you then become an Advanced certified, your tier increases from Gold to Diamond, giving you higher quality support and a higher-ranked Find-a-Proadvisor listing.
You can access the Certification page in QuickBooks Online by choosing  Proadvisor in the left-hand navigation menu, then clicking on  Certification.
Find-a-Proadvisor listing
All versions of the ProAdvisor Program include a listing on the Find-a-Proadvisor site, a directory of accounting professionals that thousands of small businesses use to find and connect with ProAdvisors.
If you complete at least one current certification, you'll be eligible to publish your own profile so that prospective clients can discover you.
For more information about how to creating, editing, and improving your profile, see Publish and manage your Find-a-ProAdvisor profile.
Read article: Fix -6000,-78 error while opening QuickBooks Company Files.
All Proadvisor memberships include infinite access to chat and phone support. Free memberships include support for QuickBooks Online. Paid memberships add support for Desktop software.
While support is convenient to all ProAdvisors, completing certification courses makes you eligible for even better support from our top experts. For more information about available support, see QuickBooks ProAdvisor Tiers and Support Eligibility.
Deluxe and Premium Proadvisor memberships include QuickBooks Desktop software to help you support your clients.
Deluxe membership provides you QuickBooks Accountant Desktop.
Premium membership provides you add Enterprise Accountant, QB for Mac, and QuickBooks Point of Sale.
As long as your paid Proadvisor membership is active, you'll receive the latest versions of your software automatically as soon as they release. You'll also keep any versions that you received previously, so your collection of software will grow year by year.
You can search your software at our Account Management site. Log in with your Proadvisor credentials to see your list of products. Select any product for license information and download links.
All versions of the ProAdvisor Program provide you to access to special discounts for you and your clients. These include special rates for QuickBooks Checks and Supplies and services like Intuit Payments.
You can see your available discounts in the QuickBooks Online Accountant:
First of all, in the left-hand navigation menu, select ProAdvisor.
After that, select  the Discounts or the Software & Discounts
You'll view each available discount as a tile on this page. Choose any title to learn more about it and see how to claim it.
In addition to the discounts listed on that page, you can also take advantage of Wholesale Billing to purchase QuickBooks Online subscriptions for your clients at a sharply discounted rate.
Finally, Deluxe or Premium ProAdvisors can also purchase Desktop software for their clients at a discounted rate. To use this discount, you must place an order through our sales line. See our Contact us page for more.
Dial our QuickBooks Support Phone Number +1-855-441-4417 for more information.