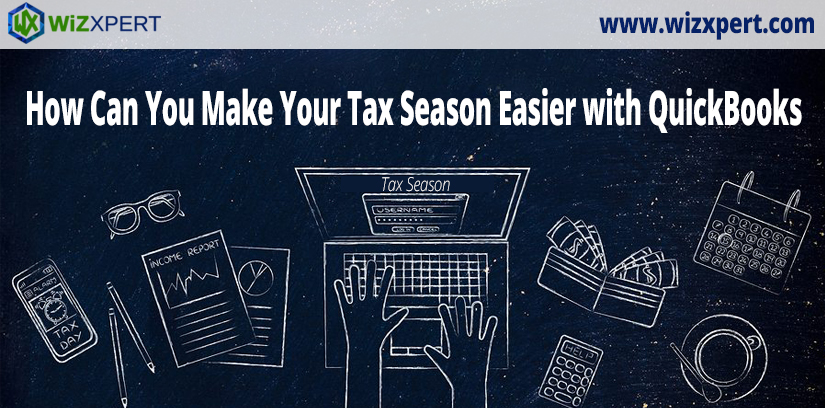 As you know, for accounting purposes QuickBooks is the best accounting product for your business because it comes with so many features and also offers you a variety of services and products. As a result, QuickBooks is software for every kind of industry and you can do every task to make your accounting easy. Now it's time to get all your financial documents for this tax season.
You know very well about the stress and burden at this time if you own a business unless you have QuickBooks accounting software. Because the software practically does everything for you. So, here we will some tricks that make your tax season easier with QuickBooks. With it, you no longer need to rush through collecting data and end up with missed assets and deductions. Purchasing QuickBooks accounting software is beneficial all year round.
Steps to make your tax season easier With QuickBooks
First Choose the best one which is suitable for your business
QuickBooks Enterprise
QuickBooks accounting software has come with many versions, but a few are very popular than others. For instance, QuickBooks Enterprise gives you three options: silver, gold, and platinum. QuickBooks Enterprise is considered the more powerful choice as it can track all your customers, inventory items, vendors, and much more.
QuickBooks Pro
Desktop Pro also has great features in it. It is the best small business accounting software. QuickBooks pro shows you exactly where your business stands financially and much more. With the help of QuickBooks Pro, you can handle daily tasks quickly and efficiently.
Note: Desktop Pro Plus has all the same features as Desktop Pro with a some added specific features to complete daily business chores.
Collect all your data with the help of QuickBooks software
This software helps you organize everything in one place. You don't have to worry to collect all your expense reports, financial records, and receipts. As a result, this software is very easier to access and more user-friendly. You can handle everything through software like all your expenses by tracking and paying bills. It also gives you the option to sync with your online banking straight to QuickBooks. The feature called Income Tracker will help you to create a transaction report for your entire year or a specific period. You will receive automated reports that you can choose to customize and schedule. Getting reports and answers has never been easier.
Eliminate Ghost Assets
QuickBooks accounting software is the best solution for ghost assets. Ghost assets are when an item is lost, stolen, or broken it no longer has any value for your business, but are still a fixed asset in your main account. Not properly recording these collapse could lead to negative results in your taxes. Thankfully, using an inventory management software helps you avoid these ghost assets, and benefits your business every tax season.
QuickBooks accounting software has tools to aid in keeping track of your inventory. Additionally, some of the software choices even include advanced inventory tracking and also provides inventory reporting. You can even customize these reports to include a valuation summary, assembly summary, and inventory stock by item. As a business owner, you know the benefits of these powerful features, you know exactly what you do and do not have without going through everything physically.
Remember Deductions
Maybe you know a few deductions, but you could forget some that might have an impact on your taxes. The government uses deductions as a way to encourage spending in places that they want you to. Possible tax deduction examples include the use of vehicle expenses, contract labor, then rental of business property, supplies, utilities, and more. Unfortunately, many business owners forget about certain deductions, resulting in fewer tax breaks than deserved.
QuickBooks software can track your business with a click of a button. Information will be available in reports that are easy to use and organized by category. The income tracker will have all this information saved to reports and ready for you to view. It even covers all income-related transactions with an end-to-end view of everything. This will help you make minimal mistakes and help maximize either money back or less money to pay.
The benefit of Accounting Software
Using accounting software has many benefits, and as a business owner, using it to track things like accounts, expenses, and payroll can save you valuable time. The benefits of accounting software are available during more than just tax season. They can benefit you throughout the whole year. The features that help assist with tracking accounts, expenses, and payroll only keep getting better with each update. All of QuickBooks software is getting faster and more powerful with each new edition.
This tax season does not have to be complicated, and you can still use an accountant. However, with QuickBooks software, the entire process will run smoother. You no longer feel rushed and stressed trying to gather everything because the software organizes the data into tax-friendly reports. Accounting software benefits your business all year long and makes every day easier.
I hope you enjoyed the article, we try our best to guide you and provide you the best information for your Queries. If you still have any other questions or need further information you can simply call us at our toll-free QuickBooks customer help service +1-855-441-4417. Our Intuit Certified QuickBooks Expert will give you a Quality and instant Support for all your Queries.