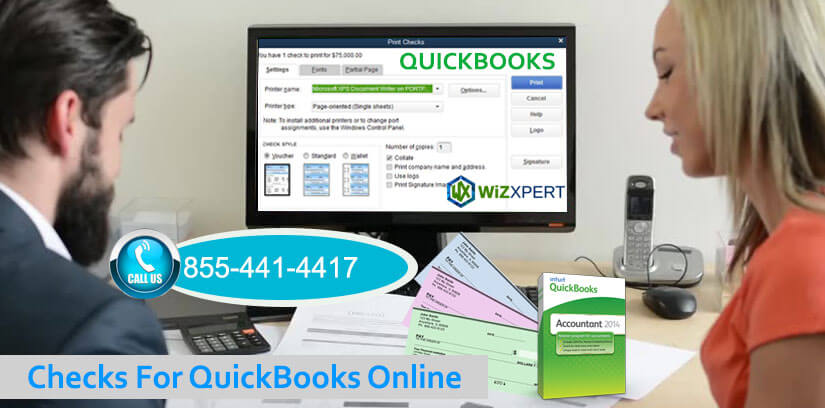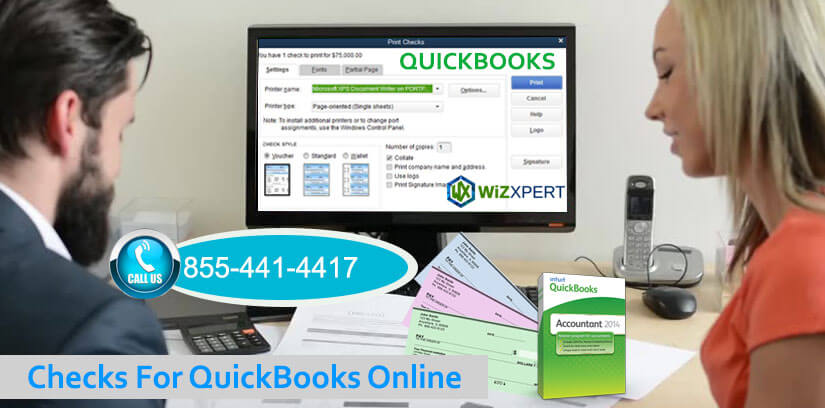 Here, in this article, we'll discuss how to print checks in QuickBooks Online in detail.
If you have any queries related to this you can hire our QuickBooks ProAdvisor by dialing our toll-free number +1-855-441-4417.
Related article: How to Create Paychecks in QuickBooks Desktop
Let's start with order checks and supplies. You can order supplies from Intuit, contained:
Checks

Tax forms, such as 1099s and W- 2s

Envelopes

Deposit Slips

Additional supplies
Important: QuickBooks only prints on printed Voucher or three part check and only prints the payee, check date and amount.
You can order Voucher checks directly anytime from the banking web page.
Similar Article: How to print checks from the Quickbooks App on an iPhone or iPad?
Or if you want another way for this just visit https://Intuitmarket.intuit.com and find supplies.
Why some checks are missing
Sometimes this issue is very critical for the business owner. If you recognize few checks to Print later but do not see them on the list, try this:
Is the selected account is right or not?
Ensure to select the right bank account on the Print Checks page. It is the correct bank, but there are no checks available, you might have selected the incorrect bank account when creating the check. Search for the transaction and confirm that the selected bank account is correct.
Are other users able to print checks?
If another user printed checks, they may have already prints checks you expected to see.
Steps to Print checks in QuickBooks Online
Follow steps when you are ready to print checks for QuickBooks Online:
First of all select any of the following to go to the print checks for QuickBooks Online page:

Click Transactions > Expenses. Then click the print checks

Click the

Print check

during writing a check.

Choose the bank account which you want to use.

Now choose the checks to print.

Enter a starting check number. This should be the first number.

Click Print Preview. A preview window appears, which you can scroll to view the checks.

What to do next depends on your browser:

Most common: The preview window displays a floating toolbar or a toolbar at the top of the window. Click the printer icon.
Fairly common: A split window opens with another preview. Click the icon of the printer.
Less common: The preview may display blank, or it may download a .pdf automatically. If blank, click the link to download a .pdf. Open the .pdf and print from there.

When printing completed, close any open previews or print windows.

Answer the question that shows whether your check sprinted click OK. If you want to reprint your checks, you'll need to repeat steps 3–8 again.
You May also like: How to do Payroll Checks in QuickBooks?
How do I order checks from QuickBooks online?
Quickbooks only printed on the pre-printed voucher or 3-part checks and only prints the payee, amount, and check date. you have to order basic voucher checks directly from the banking page. select the arrow next to update in the upper right and select the Order Checks. These IntuitMarket site opens to the basic voucher checks page.
Tips to remember while printing checks on Quickbooks online.
You need to have an updated Adobe PDF reader, download the latest version if yours is outdated and install it on your computer.
Alignment should be made perfect before printing a check using QuickBooks online.
Always perform a print test on a blank paper before actually printing on check this will also allow you to align your samples more effectively.
For further assistance, you can contact our QuickBooks support team at +1-855-441-4417. Our team will help to solve all your issues. We are always ready to help users so feel free to contact us.
Suggested Read: Fix sign-in QuickBooks Online Problems