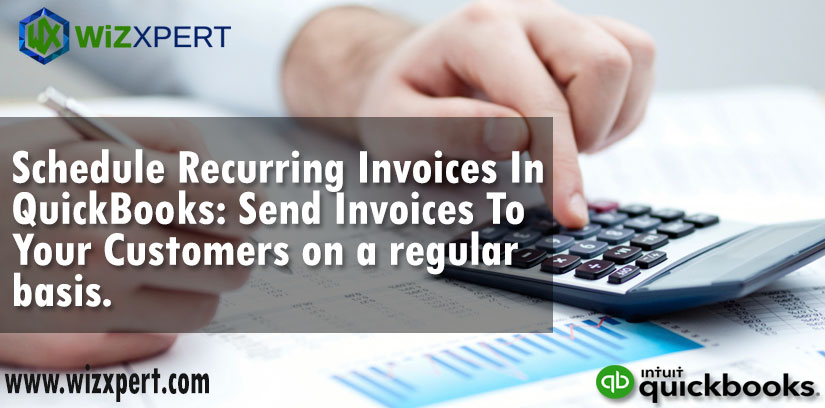 If you need to send invoices to your customers on a regular basis? You can make it very easy with QuickBooks to set them up automatically. You just need to schedule recurring invoices. Eg. if you have two customers and provide lunch and drinks every day and it is the same order every day. And you want to email an invoice to your customer the next day for the assessable price. Follow the given steps:
Steps To Create recurring invoices
Click on the Gear icon > Select Recurring Transactions > then New.

For Transaction Type, Choose Invoice and then click OK.

For Type, select Scheduled.

Click and Select Automatically send emails.

Select Save template after Complete the rest of the form.

Repeat the steps above for each customer you'd like to create a recurring invoice for.
Manage recurring transactions
Here are the steps to manage recurring transactions, check it out:
First, click on Settings ⚙.
Click on the Recurring Transactions, Below Lists,
Now, click on the recurring invoice that you require to manage.
Steps to memorize recurring invoices
Go to 'create invoice'.

Click on 'invoice to be memorized' or 'create a new one'.

Select the Edit and check ' memorize invoice'.

Select the desired options from a new window.

Click on OK.

Select the memorize transaction list from the list bar and see whether your task is completed. You can choose to create groups from the, memorized transaction list and directly open the weekly, monthly, and Quarterly transaction groups.

For all the automatic transactions, QuickBooks will verify by asking you to click 'yes' during sign up.
Automatically cc yourself
As a sanity check, set QuickBooks to automatically email you a copy of all sent invoices:
Click on the Gear Icon > Choose Company Settings.

Select Sales > Messages > Email me a copy1.
How To Confirm that invoices were created?
Okay, now it's Monday. Last Friday's Lunch was delivered and ravenously consumed.
Here are the few steps to confirm that the invoices were created:
First Check your inbox

When you automatically cc'ed yourself, you should have received a copy of every invoice that was sent.

View an automatic transactions report grouped by customer

From the left navbar, select Reports.

Click the Go to report field and select Recent Automatic Transactions.

After that, click Customize.

Click Rows/Columns in the left column.

For Group By, choose Customer.

Click Run Report.

To save the report for future use, click Save Customizations.

You can also print, email, and export the report to Excel.

View the customer page and invoice

Select Customers from the left navbar.

Click the customer with the recurring invoice. You'll see Open (Sent) in the Status column.

Click the invoice. You'll see a Last Delivery timestamp.
Notes
If you don't see this option, select Form Delivery > Copy me on all forms sent by email.

Recurring transactions are available in QuickBooks Essentials and Plus only.

Want to try recurring transactions using sample data? Check out the QuickBooks Online test drive.
I hope this will help you to Schedule Recurring Invoices. If you want more discussion on this topic you want to get QuickBooks support then you can call our toll-free number +1-855-441-4417 and talk to a QuickBooks ProAdvisor Now.
Thanks for visiting us. You are always welcome here anytime soon if you have any other queries to ask.